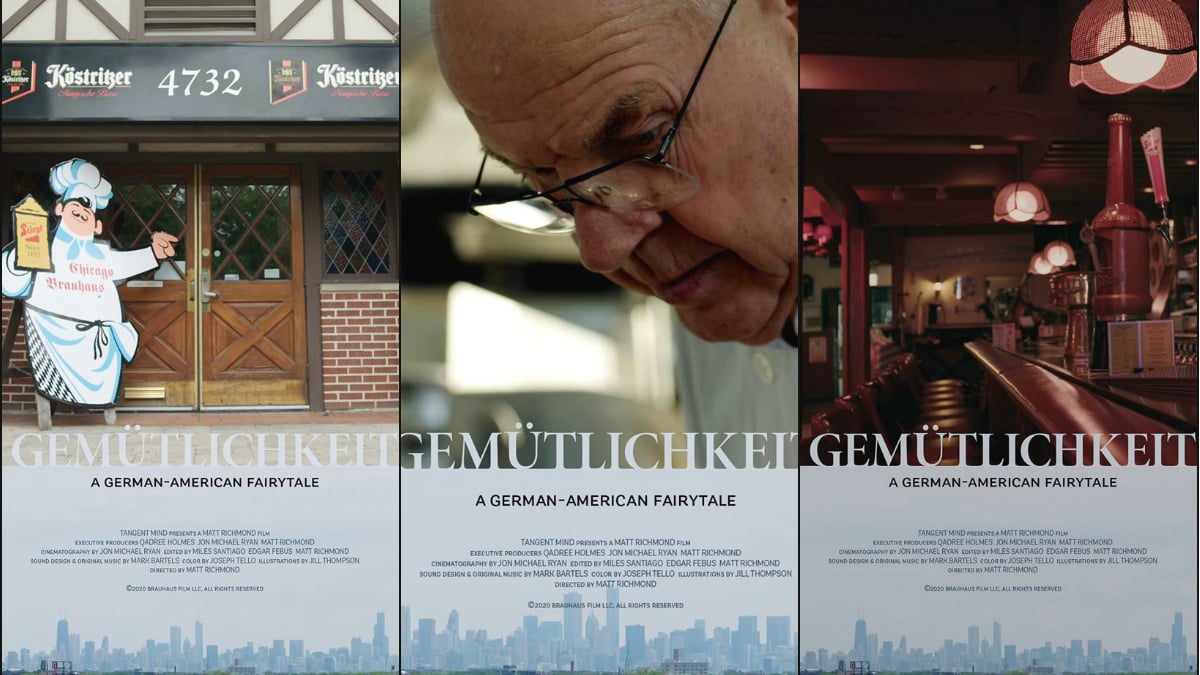 A documentary about the last days of the Chicago Brauhaus will debut online April 30. (Courtesy of Brauhaus Film)
In Spring 2017, brothers Harry and Guenter Kempf announced they were closing their restaurant, the Chicago Brauhaus, a Lincoln Square institution for more than 50 years and the beating heart of the neighborhood's German-American community.
Like a lot of people, Matt Richmond, a onetime bartender at the Brauhaus back in the early 2000s, wondered why.
Unlike a lot of people, Richmond is a filmmaker. Close to the Kempfs, he had already started working back in 2012 on a documentary about the restaurant, but dropped it after struggling to tease out a compelling storyline. 
When Richmond learned the brothers had decided to the pull the plug on the family business, his narrative quandary was solved. A Kickstarter fundraiser gave him the money to get the cameras rolling again, and the result is "Gemütlichkeit" (loosely translated as "coziness"), a documentary about the Kempfs and the last days of the Brauhaus.
The movie, drawn largely from footage shot in 2017, will have its premiere at 7 p.m. April 30, streaming for free on Facebook  and on Richmond's website. 
Spoiler alert: Richmond circles around that question of "Why" in "Gemütlichkeit" but draws no simple conclusion.
"By the end, we don't answer the question, but we hear from everybody," said Richmond. "This place was beloved. There were options to keep it going, but they chose instead to close. It gives everybody's point of view, and kind of leaves it at that."
In addition to interviews with the Kempfs, who offer a rare glimpse into their harrowing childhood flight from Germany after WWII, Richmond spoke with longtime employees, patrons and other business owners, in order to paint a picture of what the Brauhaus meant to Lincoln Square.
"It hurts every time I walk through Lincoln Square and the Brauhaus is not what it used to be. It aches a little bit because that was the anchor for the whole neighborhood for a long time," said Richmond, who moved back to Chicago from L.A. in 2018 and bought a home near the Square. "I'm sure everybody feels that. And that's ultimately why we made the film, because I couldn't imagine Lincoln Square without it."
Though in many ways "Gemütlichkeit" is a classic telling of the American dream come true, with the added trope of an inter-generational familial clash, the story also very much speaks to this specific moment in time, something Richmond could never have anticipated as he pieced together the film.
"The whole thing just took on a whole different resonance in the last couple of months. It changed how this film feels," Richmond said. "In light of current events, it's about the importance of shared space. And the importance of those places that are there long enough and have organic connection to the neighborhood. It's the value of gathering with family and friends."
Though Richmond and his producing partners, Qadree Holmes and Jon Michael Ryan, had originally intended to shop the documentary at film festivals and were hoping to arrange a screening at Lincoln Square's neighborhood theater, the Davis, releasing it online became their only option.
"My hopes for premiering the film in a theater are all mixed up with what it means to be a filmmaker and to have the big screen experience and all that. There's something really cool about that. And I don't know what happens from here," said Richmond. "We just want to share it, get it out there. It's really just a thing to share right now because we all could use something." 
While the public will get their first look at "Gemütlichkeit" on April 30, Richmond already showed an early cut of the documentary to the Kempfs. 
Nothing terribly controversial emerges in the film, Richmond said, but he felt it was important to give the brothers the courtesy of seeing it before anyone else, because it's their lives on screen and he wanted there to be no surprises. 
The Kempfs did have "some notes and some concerns," said Richmond. "They had anxiety, like anybody would. Closing something down, against the wishes of customers, who thought of that place as home forever, it puts them in a light where they felt anxious they might not get to tell their best version of the story."
But ultimately, after a frank conversation, in which Richmond told them, "This is how I approached it, and this is the way it looked to me," they told him, "You tell your story."
As he prepares to release "Gemütlichkeit" into the world after nearly a decade of work, the moment is particularly bittersweet for Richmond in that it will, temporarily at least, bring back the Brauhaus, which closed it doors for good in December 2017. The building has been sold and is slated for redevelopment as offices for Northwestern Medicine, news that largely met with disappointment from neighbors.
"No matter what it was going to turn into, my heart was going to be broken a little bit," Richmond said. "The fact that it's not the Brauhaus is what hurts to me." 
Gemütlichkeit: Trailer from TANGENT MIND on Vimeo.