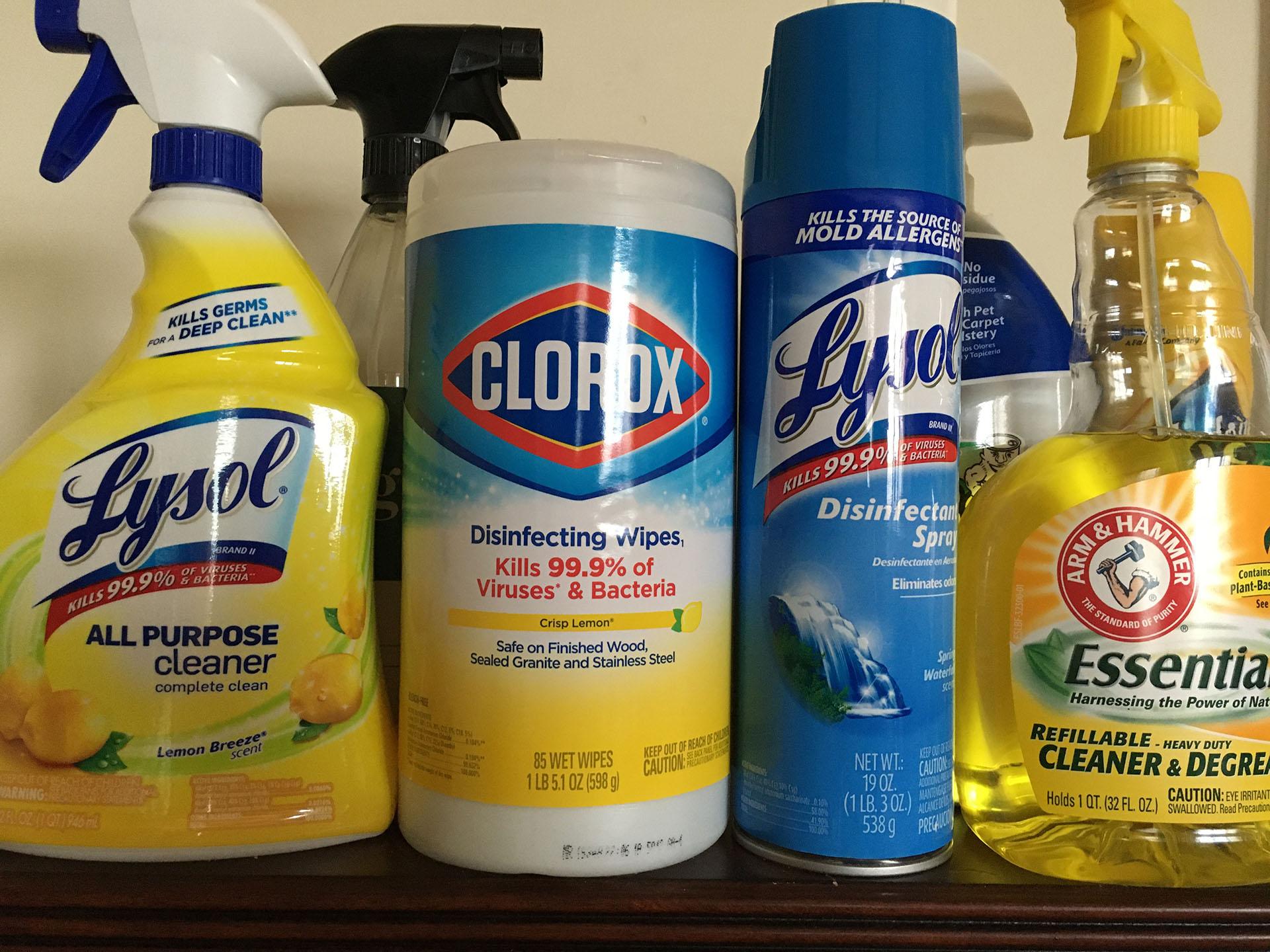 (Kristen Thometz / WTTW News)
Concerns about the new coronavirus have unleashed a cleaning frenzy and, along with it, a rise in reports of exposure to household cleaning products.
Between March 1 and April 20, the Illinois Poison Center says it received 1,024 calls of exposures to household cleaning products. During the same time period last year, the IPC received 750 calls.
The center believes that 36.5% increase is associated with people taking precautions to prevent the spread of COVID-19.
"While good hand hygiene and household disinfecting efforts are important in the fight against COVID-19, people must remember to use cleaning products for their intended use," said Carol DesLauriers, assistant vice president of the IPC, in a statement. "It is critical that consumers read all cleaning product labels carefully before use and heed any warnings."
The IPC has received reports of people using non-traditional chemicals to wash their hands, such as bleach or hydrogen peroxide, instead of regular soap and water. The use of such products has resulted in rash, skin irritation and cracked skin, according to the center. (The Centers for Disease Control and Prevention recommends washing your hands for at least 20 seconds with soap and water or using hand sanitizer with at least 60% alcohol to slow the spread of COVID-19.)
People have also reported using chemicals like bleach, cleaning powders and wipes to wash their groceries, including produce, and expressed concerned about toxicity upon ingestion, according to the IPC.
The CDC notes "there is likely very low risk of spread from food products or packaging" and "it seems unlikely that COVID-19 can be transmitted through food – additional investigation is needed."
According to the FDA, there is "no evidence of food packaging being associated with transmission of COVID-19." But the agency says people can wipe down product packaging with cleaners and allow them to air dry as an extra precaution. It also recommends cleaning the lids of canned goods before opening them. As for produce, the FDA recommends rinsing fresh fruits and vegetables under tap water, and scrubbing produce with a clean produce brush.
The IPC has also received calls about children getting into household cleaning products that were left open and/or unattended, as well as reports of people mixing chemicals together and inadvertently creating toxic gas.
To prevent accidental poisonings, the IPC recommends reading cleaning products' labels and using products according to label directions; keeping products in their original containers with original labels; storing products out of sight in locked cabinets and separate from food products; using cleaning products in well-ventilated areas; disposing of products according to instructions on product labels; and never leaving cleaning products open and unattended.
About 90% of poison exposures can be treated safely and effectively at home by calling the poison center and providing the name of the substance and approximate amount involved in the exposure, according to the IPC.
In case of a poisoning exposure, the IPC recommends following these steps before calling the poison center (800-222-1222).
— If a product was ingested, have a few sips of water. If the person who ingested the product is unconscious, call 911 or take them to the nearest emergency department. Never try to chemically neutralize any poison.
— If the skin was exposed, remove contaminated clothing and wash skin gently with soap and cool water.
— If a product got into the eyes, rinse eyes with lukewarm water for 15 minutes.
— If there are fumes, get yourself and/or whoever was exposed to fresh air. If the person who was exposed to the fumes isn't breathing, call 911 and start artificial respiration until medical help arrives.
The Illinois Poison Center can be reached 24 hours a day, every day of the year, including holidays. If you suspect that you or someone you know has been exposed to a potentially harmful substance, call the IPC (800-222-1222). Calls are free and confidential. For more information, visit the IPC's website.
Contact Kristen Thometz: @kristenthometz | (773) 509-5452 |  [email protected]
---