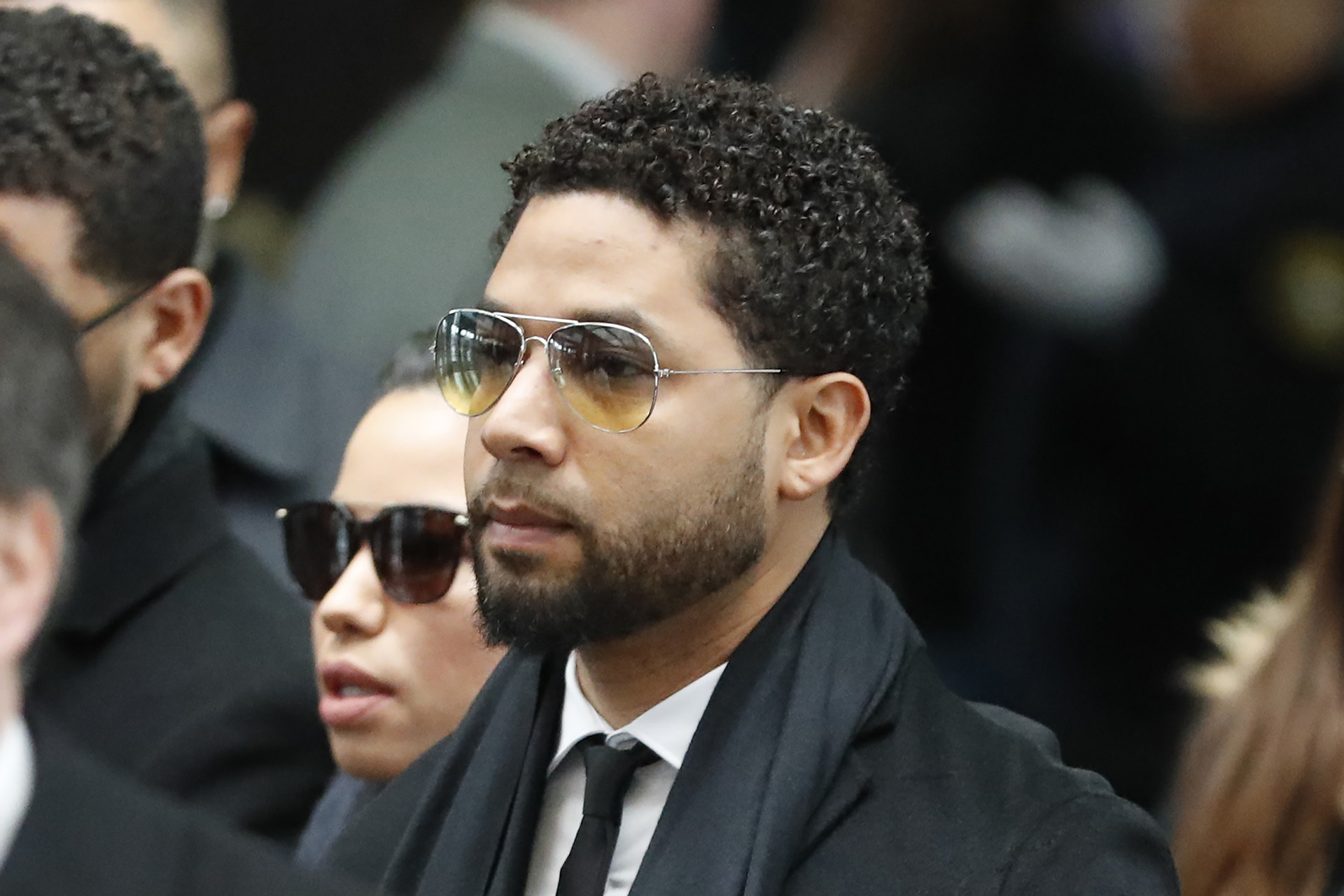 Former "Empire" actor Jussie Smollett, center, arrives for an initial court appearance Monday, Feb. 24, 2020, at the Leighton Criminal Courthouse in Chicago, on a new set of charges alleging that he lied to police about being targeted in a racist and homophobic attack in downtown Chicago early last year. (AP Photo / Charles Rex Arbogast)
A federal judge has dismissed a countersuit filed by former "Empire" star Jussie Smollett, who claimed he was maliciously prosecuted for the alleged hoax attack Chicago police say he orchestrated on himself last year.
In a 15-page order entered Wednesday, U.S. District Court Judge Virginia Kendall tossed out the actor's lawsuit against the city of Chicago, ruling Smollett – who again faces criminal charges stemming from that alleged attack – can't raise a "malicious claim until proceedings have been terminated."
Smollett was first charged with disorderly conduct in February 2019 after Chicago police determined that he filed a false police report claiming he was the victim of a racist and homophobic attack near his Streeterville home. Investigators said Smollett had instead paid two brothers, Abimbola and Olabinjo Osundairo, to stage the attack in an effort to raise his public profile.
Cook County prosecutors dropped those charges in a surprise move weeks later, but the city followed up by filing a lawsuit against Smollett seeking to recoup $130,000 in overtime expenses paid out to police investigating his claims.
His attorneys eventually filed a countersuit, claiming police investigators "disregarded or ignored" key evidence while relying on "self-serving and unreliable" statements from the Osundairo brothers  in crafting the criminal charges against him.
That suit claimed police officials "knowingly made false statements" to prosecutors and the public and "covered up" exculpatory evidence, resulting in the allegedly malicious prosecution.
Since then, Smollett has again been charged with disorderly conduct for allegedly filing a false police report following a new investigation by special prosecutor Dan Webb. He was appointed to the case last August to determine if Smollett had, in fact, committed a crime and whether Cook County prosecutors had acted improperly in dismissing the initial charges.
Smollett pleaded not guilty to those new charges in February. But with that case pending, Kendall determined the actor's malicious prosecution lawsuit could not continue.
"In a malicious prosecution case, all elements cannot be pled until the proceedings are terminated in the plaintiff's favor," she wrote in the ruling, adding that Smollett cannot allege the case was truly resolved in his favor due to the existence of the special prosecutor.
"The case that was once dismissed has returned in the form of a Special Prosecutor who had the ability to investigate and press criminal charges against him," Kendall wrote. "It could hardly be said that the case is over since the Special Prosecutor has charged him again."
Contact Matt Masterson: @ByMattMasterson | [email protected] | (773) 509-5431
---