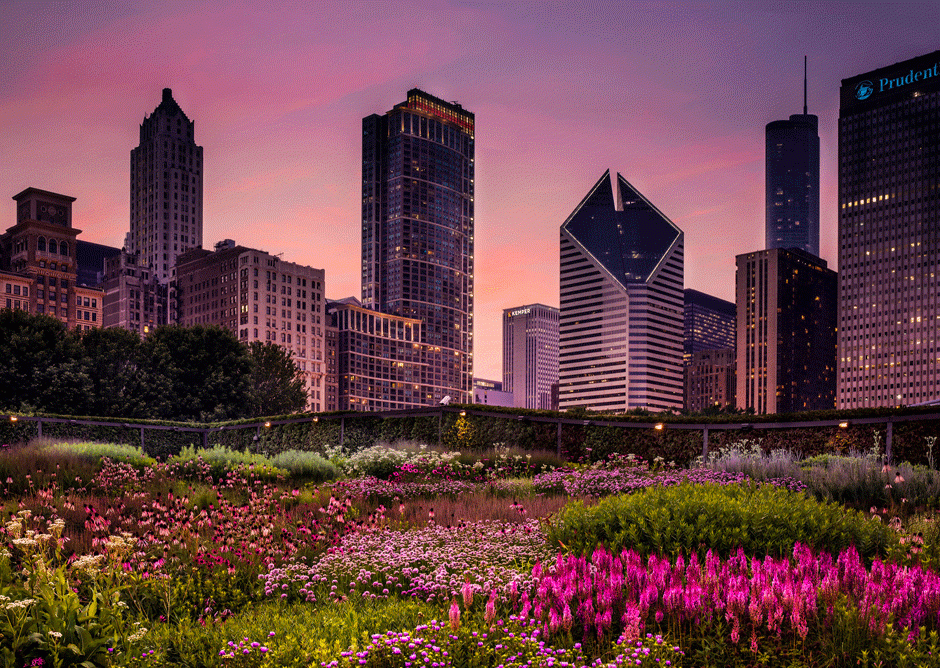 An image of Lurie Garden took top prize in the Royal Horticultural Society's 2020 photo competition. (Helen McLain / Royal Horticultural Society)
Chicago's reputation as the muscular city of big shoulders—with its skyscrapers, meat-packing plants and clattering elevated trains—has always stood in contrast to its official motto, "Urbs in Horto," city in a garden.
That juxtaposition has been captured to stunning effect in an image just announced as the overall winner in the Royal Horticultural Society's (RHS) annual photographic competition. 
The UK organization awarded its top prize, chosen from thousands of entries, to Helen McLain's photo, titled "Chicago prairie," of Lurie Garden in full summer bloom, set against the Chicago skyline.
"The dramatic and imposing backdrop of Chicago's skyline at sunset contrasts with swaths of mostly native plants flowering in Lurie Garden, Millennium Park—all infused with pink tones and a wonderfully romantic glow," the RHS posted to its website.
In announcing the 2020 winners, Chris Young of the RHS said, "At a time when so many of us are staying at home due to COVID-19, these photographs give a much needed connection to the outside world. For me they are a real visual tonic, a boost to help with our personal health and wellbeing, and a positive reminder of the wonderful world that lies outside our doors."
Lurie Garden is closed to the public during Illinois' stay-at-home order. Images of what's currently in bloom are being posted to the garden's Facebook, Twitter and Instagram accounts. 
Contact Patty Wetli: @pattywetli | (773) 509-5623 |  [email protected] 
---