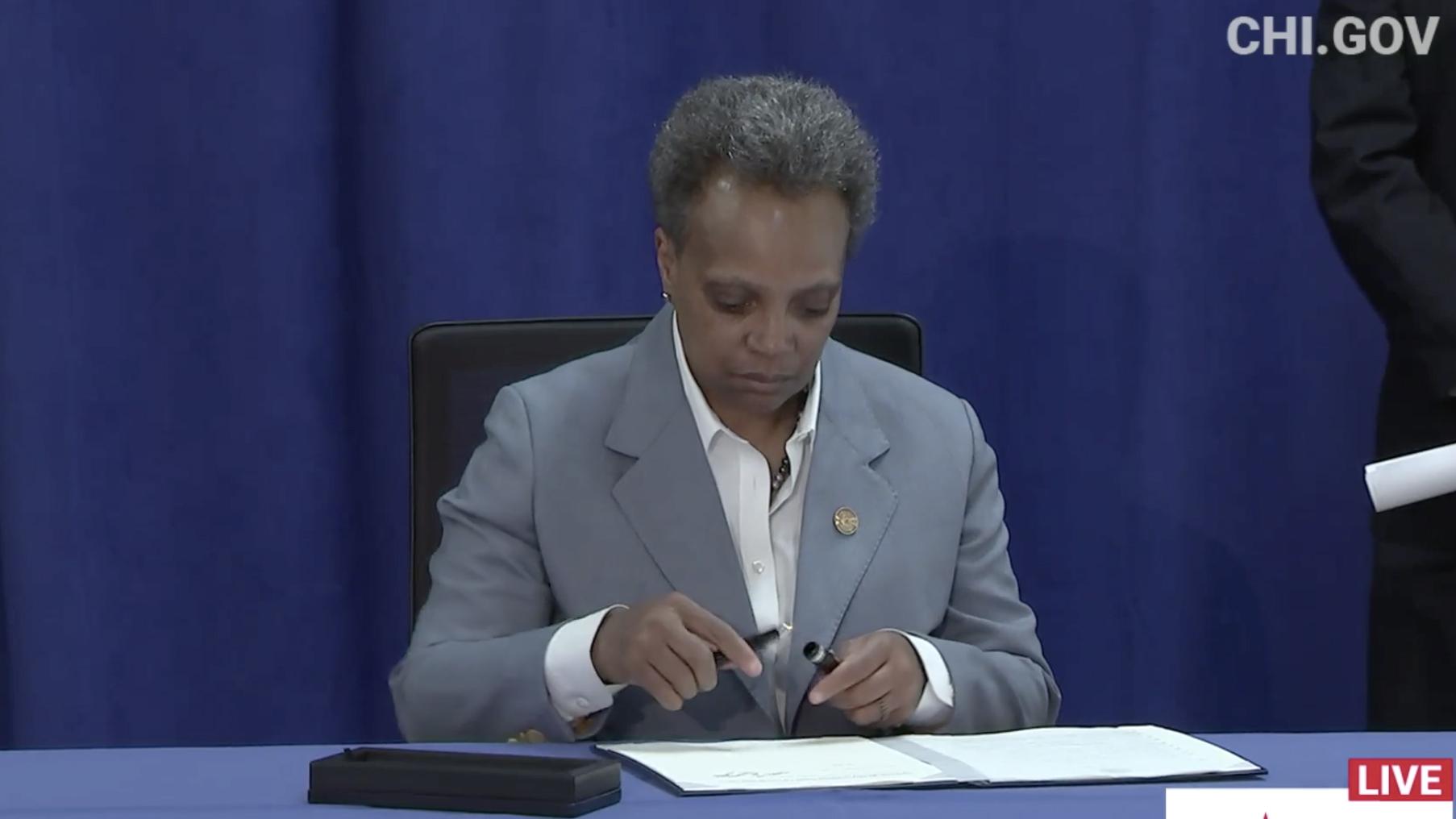 Mayor Lori Lightfoot signs an executive order ensuring all Chicago residents have equal access to COVID-19 aid programs regardless of citizenship status on Tuesday, April 7, 2020. (Chicago Mayor's Office / Facebook photo)
As communities across Chicago grapple with the novel coronavirus, Mayor Lori Lightfoot signed an executive order Tuesday morning ensuring all residents, regardless of citizenship status, have equal access to COVID-19 aid programs provided or administered by the city of Chicago.
"This order is more than just an official decree. It's a statement of our values as a city and as Americans," Lightfoot said Tuesday morning. "Since COVID-19 first reached our city's doorstep, we have been working around the clock to ensure all our residents are secure and supported, including our immigrant and refugee communities, who are among the most vulnerable to the impact of this pandemic. Here in Chicago, saying 'we are all in this together' means that during this crisis, no one gets left out and no one gets left behind."
Ald. George Cardenas, whose 12th Ward includes parts of Little Village, said his community has been "shocked to its core" by the novel coronavirus.
"Congress's response to this crisis has completely excluded immigrants that pay billions of dollars in taxes, but more importantly, they're the heart and soul of the service economy," Cardenas said. "The ones that keep us safe. The ones that feed us, provide shelter for us across industries. These individuals are getting hit the hardest."
"We must meet this moment together, and this executive order ensures everyone in Chicago regardless of their status has somewhere to turn for support," he said.
To address the pandemic, the city has implemented several programs to aid all residents, including the COVID-19 housing assistance grant program and the creation of the $100 million Chicago Small Business Resiliency Fund, which is available to any entrepreneur, including immigrant business owners, according to a city press release.
Officials will work with community-based neighborhood organizations across the city to provide technical assistance to people applying for aid, according to Lightfoot. "Having trusted community partners be the face of this outreach effort is intentional."
The personal information of those applying for relief services will not be collected and stored in a database, according to Lightfoot. "Our sanctuary city ordinance specifically precludes the sharing of information."
Contact Kristen Thometz: @kristenthometz | (773) 509-5452 |  [email protected]
---