2020 was supposed to be the Year of Chicago Music. Now, of course, the vast and vibrant local music scene lies dormant. We've been checking in with select players to hear their thoughts and even some music. 
Here's a Chicago family that can play guitars – and make them, too. 
TRANSCRIPT
Goran Ivanovic, musician: Obviously it's a very strange feeling to completely stop playing [outside] in clubs and concert halls for the first time.
You know, I prefer live audiences. [Laughs] I prefer being in a real crowd. This is where my music was crafted, and we all have to be patient and just wait and we'll get back to normal at some point.
Marc Vitali: Goran Ivanovic plays classical guitar without borders — from his own Balkan roots to the Pakistani and Chilean influences of his frequent musical partner, Fareed Haque. 
On this day, Haque stayed home with his family.
Ivanovic met us at a park in Noble Square and played a pair of new, still untitled songs.
He talked about one of his final shows, in Wisconsin.
Goran Ivanovic: I remember we did a show three weeks ago and what's normally a sellout in Madison and maybe 10-15 people showed up and we were like, OK this is getting serious. We started getting news that the venues are closing down, tours are being canceled and within 24 hours I had like 10 shows canceled and that, you know, just like everybody else.
Vitali: For Goran Ivanovic, guitar playing doesn't just run in the family. It is the family business.
At Danche Guitar Company in Forest Park, Goran's brother Mickey works with their father, Danche.  
The family dog, Bucky, keeps them company.
Danche Ivanovic doesn't just repair guitars – he makes these beautiful instruments. These days, he has time to finish a few new creations.
Danche Ivanovic, Danche Guitar Company: I have like a … let's say part-time vacation. You know in vacation time I spend time what I want to do. Finish my guitars.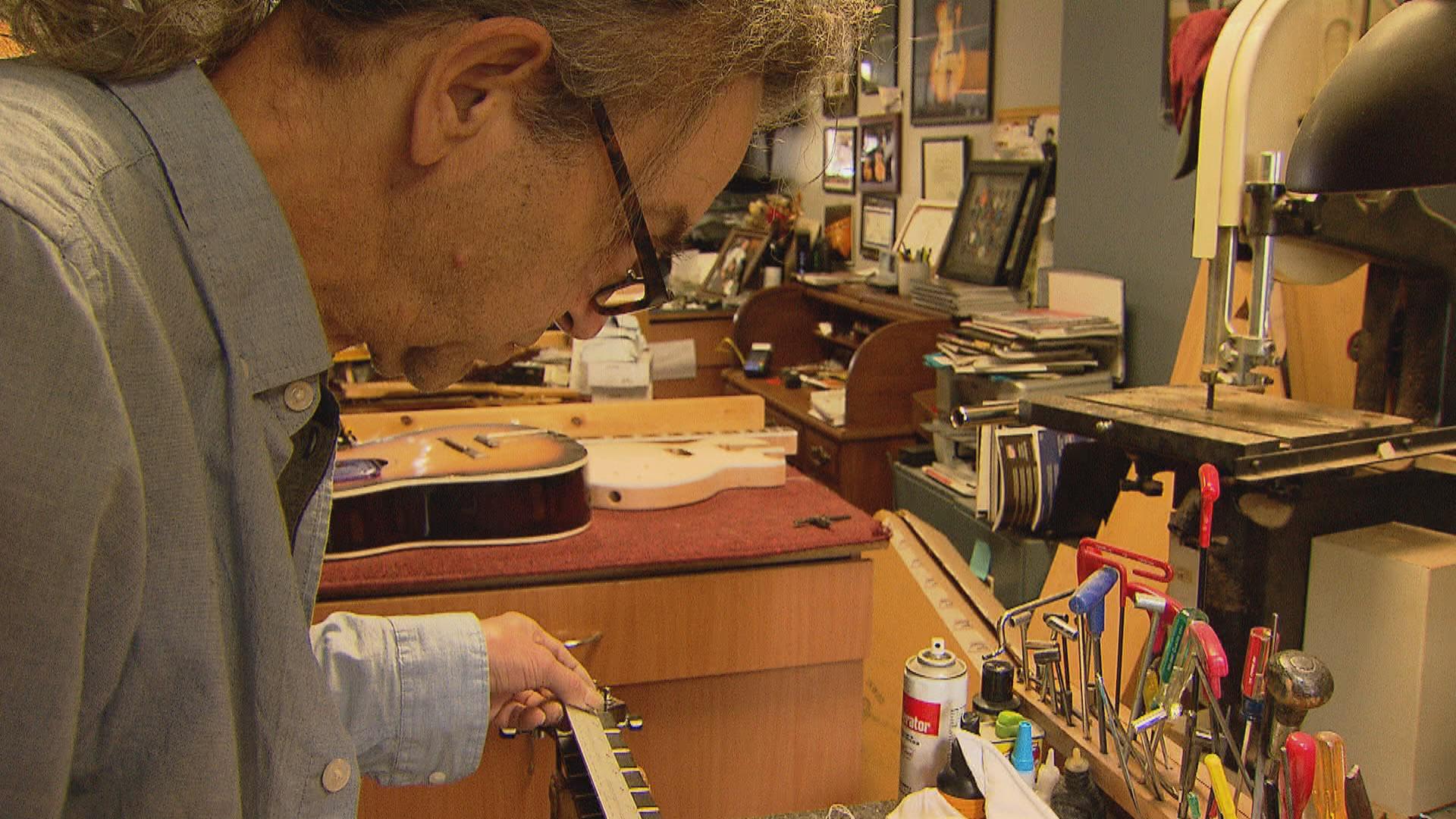 Danche Ivanovic
I came from former Yugoslavia, where they have the war start in '91 and my wife and me we was mixed marriage, that means Croatian-Serbian, and it was not our war. We just escaped. We actually run away from this bloody war.
Vitali: Back in the 1970s, Danche played lead guitar in a Yugoslavian hard rock band, the Milky Way.
Goran Ivanovic: My father's mostly a blues and rock musician and, you know, I've studied classical music and all sorts of Balkan folk styles so we love music and I still go there and spend a lot of time with my dad in his shop and I love what he does. He's able to build so many cool instruments for different people and just bring joy to the community.
Danche Ivanovic: I have job who is best job in the world, you know. Put me in China and I will enjoy it, my life, because I'm doing what I like to do. Or France. 
Goran Ivanovic: Now more than ever we realize how much we depend on family and friends. You know it's only been three weeks in a lockdown and all we keep talking about is who we're going to invite to our house for dinner when this is over.
---
More on this story
Goran Ivanovic is currently teaching guitar lessons online. He and Fareed Haque have a new recording "Indo-Balkan" on Chicago's Delmark Records.
Note: This story was first published on April 4, 2020. It has been updated.
Follow Marc Vitali on Twitter: @MarcVitaliArts
---