Making a career in music and the arts is tricky in the best of times. These days, the struggle is surreal. Here's our latest check-in with a few players on Chicago's music scene where, to quote a famous Chicago soul singer, "Only the Strong Survive." 
TRANSCRIPT
Marc Vitali: We first met Nnamdi Ogbonnaya rehearsing in his basement studio. It was just before his Pitchfork Music Festival debut in 2018.
This time Nnamdi met us outside with just a guitar and a looper pedal.
Nnamdi Ogbonnaya, musician: Even though I have more time, it's just harder to get things done.
Just the uncertainty of when I'll be able to do the things I want to do. Just a looming anxiety, a looming fear, but still trying to remain consistent in my work.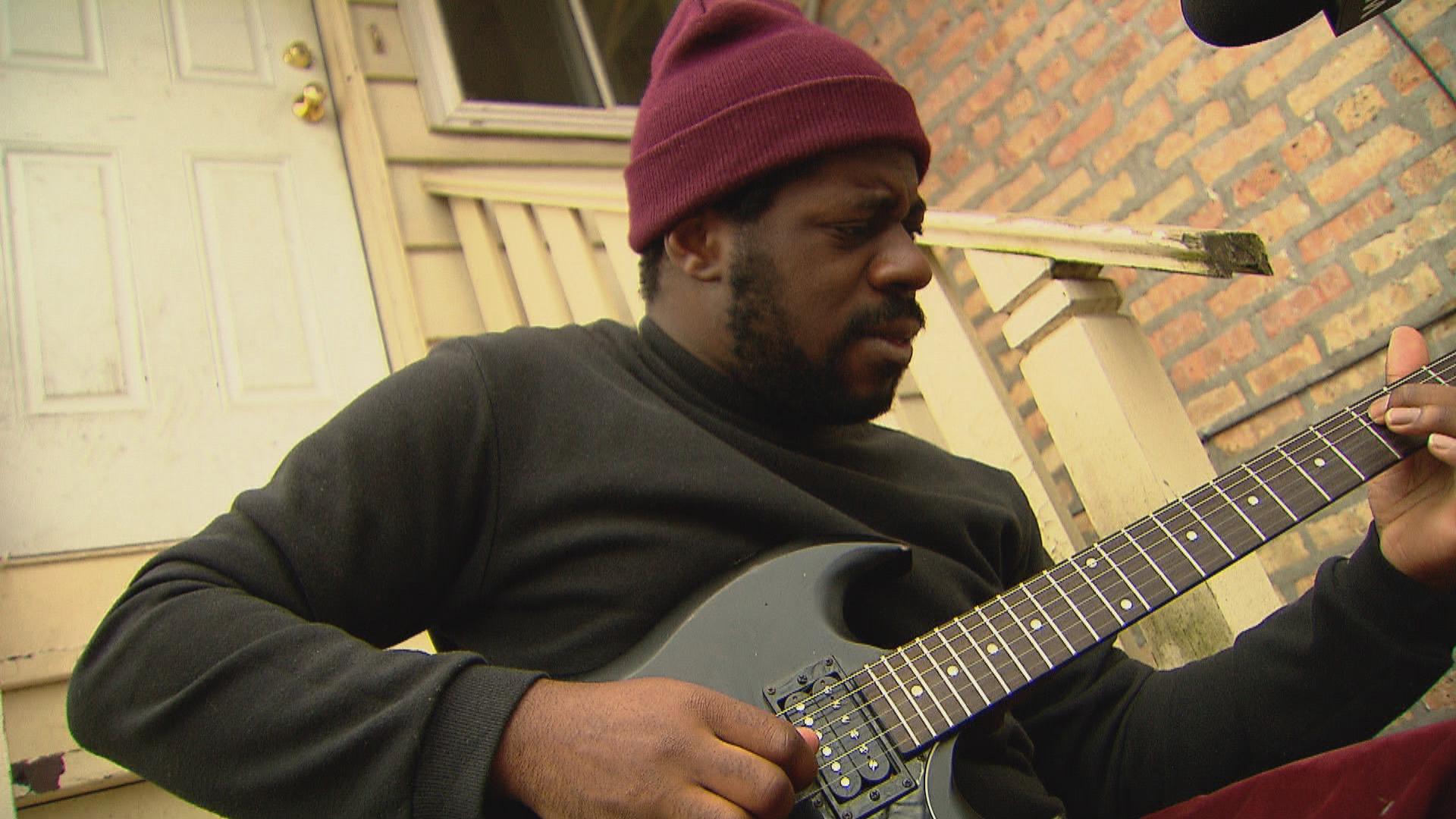 Nnamdi Ogbonnaya (WTTW News)
Vitali: That work earned him an opening slot on tour with Wilco – but the Wilco tour is now postponed.
Nnamdi's new album "Brat" comes out this week, but the record release show at Lincoln Hall has been canceled.
Ogbonnaya: All of these tours and events, like South by Southwest was one of the first big events to get canceled, and you just kind of watched the trickle effect of all these musicians I know, their gigs were getting canceled. A lot of people I know are out of jobs right now, which is very stressful.
Vitali: Nnamdi's labelmate on the local Sooper Records is a rising Chicago singer named Kaina.
Kaina is still scheduled to make her Pitchfork Music Fest debut in July. 
She's staying home now, so we spoke to her musical partner, Sen Morimoto.
Sen Morimoto, Sooper Records: Our tour was canceled. We had a duo tour planned together to go down to Texas together for South by Southwest, but obviously because of COVID-19 it's not going down anymore. Music's the same as freelance anything. You just got to pray the money's still coming in for rent. 
It's kind of a tricky time for everybody.
Vitali: Just west of Chicago in Berwyn, there's a different challenge.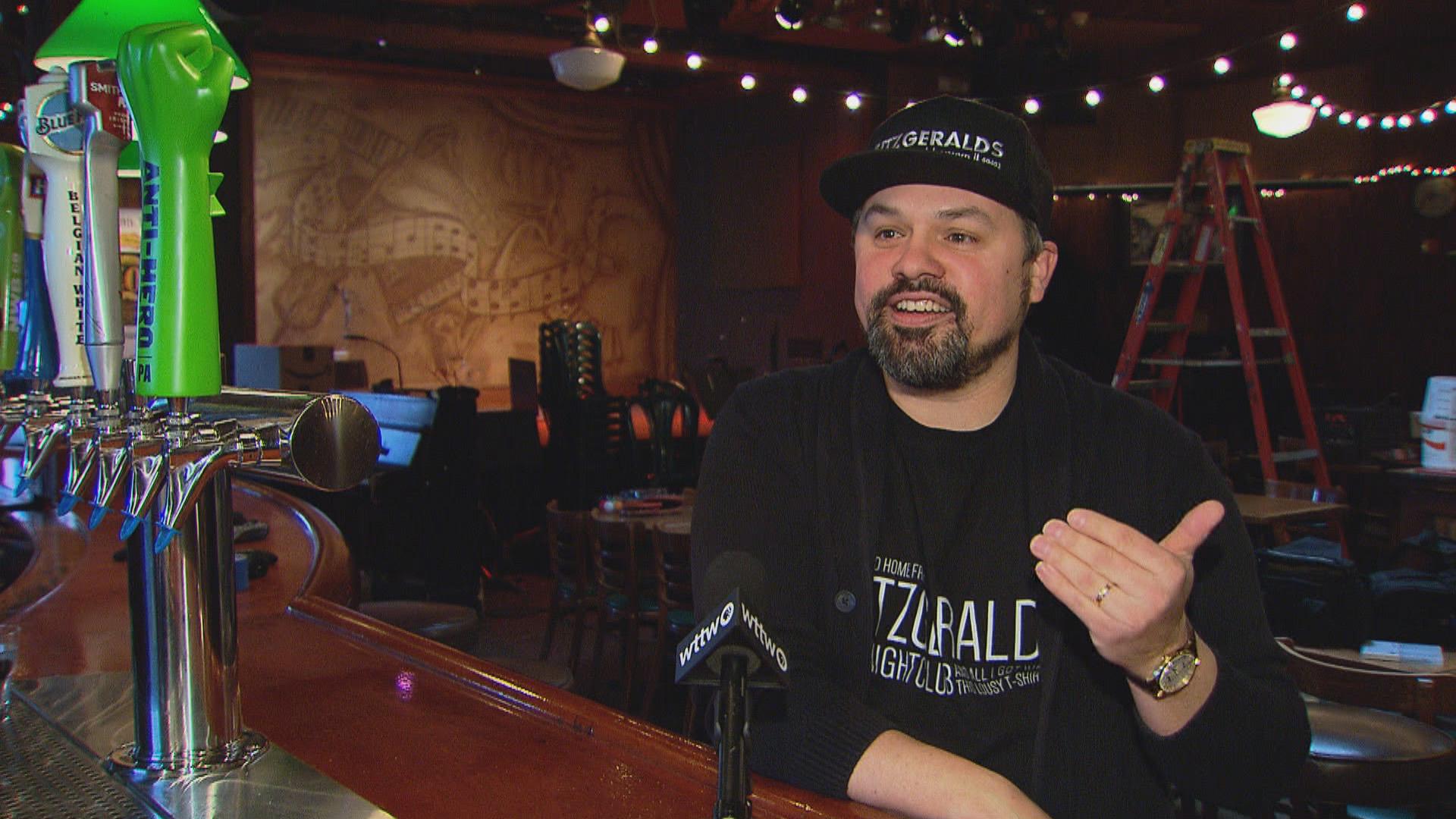 Will Duncan (WTTW News)
A new owner bought the respected music venue Fitzgerald's in early March. And then he had to shut it down.
Will Duncan, Fitzgerald's Nightclub: Well the first week was incredible. I love this place and to take this project on, to collaborate with the Fitzgerald's family on a seamless transition, to keep the place running for our regular guests. It's a dream come true for me.
And we were open about a week until recent events.
Vitali: Now the 40-year-old club is shut down for deep cleaning and inventory.
Duncan: I don't think anybody could've predicted this particular set of circumstances, but you know being ready for hardship and being able to pivot and adapt is part of what I think being a small business owner is all about.
Vitali: One person currently missing Fitzgerald's is the man who runs the weekly open mic night.
He met us at his home to play a song he composed – before the rain chased us onto his porch.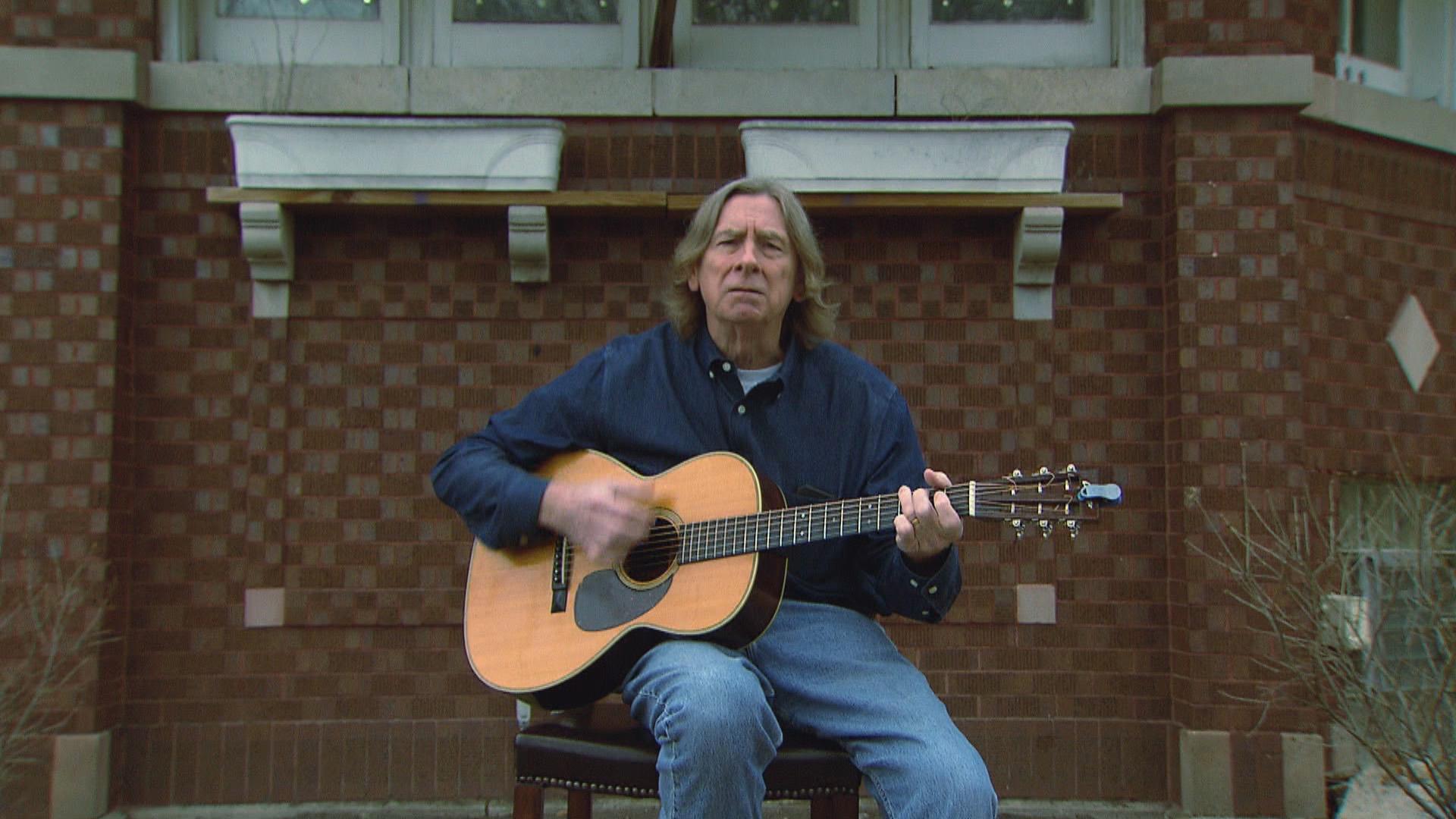 Jack Swain (WTTW News)
Jack Swain, musician: Fitzgerald's is a great place. I'm sorry we're on hiatus right now.
Just like everyone else I'm just staying at home and trying to keep to myself as much as possible. I have my daughter who lives here with me.
She's just finishing medical school. She's about to move to her residency which is gonna be in New York, which is right in the heart of all this coronavirus stuff.
Vitali: Whatever the demands of making music in a time of pandemic, the players find solace in each other.
Ogbonnaya: I think it's just important to stay in communication with friends and family. It's been helpful for me to FaceTime and chat with people.
Morimoto: Stay positive, talk to friends everyday, call your family. 
We'll get through it together.
---
More on this story
Fitzgerald's is launching a stay-at-home concert series this weekend.
And that song we mentioned earlier, "Only the Strong Survive": That was the biggest solo hit by Jerry Butler, who later became commissioner of Cook County.
Video: Jack Swain sings his composition "Lonely Town," and Nnamdi Ogbonnaya performs "Flowers to My Demons" from his upcoming record "Brat" on Chicago's Sooper Records. 
---