Ridership on city bus and train lines dropped nearly 80% in the days after Gov. J.B. Pritzker's stay-at-home order went into effect, according to preliminary data the Chicago Transit Authority shared with WTTW News. Despite that drop, the CTA is still operating on a regular schedule, but some of its employees believe the agency isn't doing enough to keep them safe.
To protect passengers and employees from potential exposure to the novel coronavirus, the CTA says it has ramped up cleaning of its buses, trains and stations. Also, it's only using buses that have plastic shields to protect drivers, and it has posted notices encouraging social distancing. One thing the agency's not doing yet: allowing riders to board the bus through rear doors.
"I just don't understand why the mayor and the CTA won't take the same measures here to protect their operators," said Keith Hill, president of ATU Local 241, which represents CTA bus drivers. He's been calling on the CTA to temporarily waive fare collection and let passengers board through the back doors of buses, which many cities have done, including New York, Philadelphia, Milwaukee and Atlanta, and which allows for appropriate social distancing between passengers and bus operators.
"My members are very frightened," Hill said. "We don't know who we're picking up or what we're picking up. And a lot of people … disregard the shield, they stick their head around the shield to talk directly to us, which is putting us in a situation. So there is a large fear out there from the members."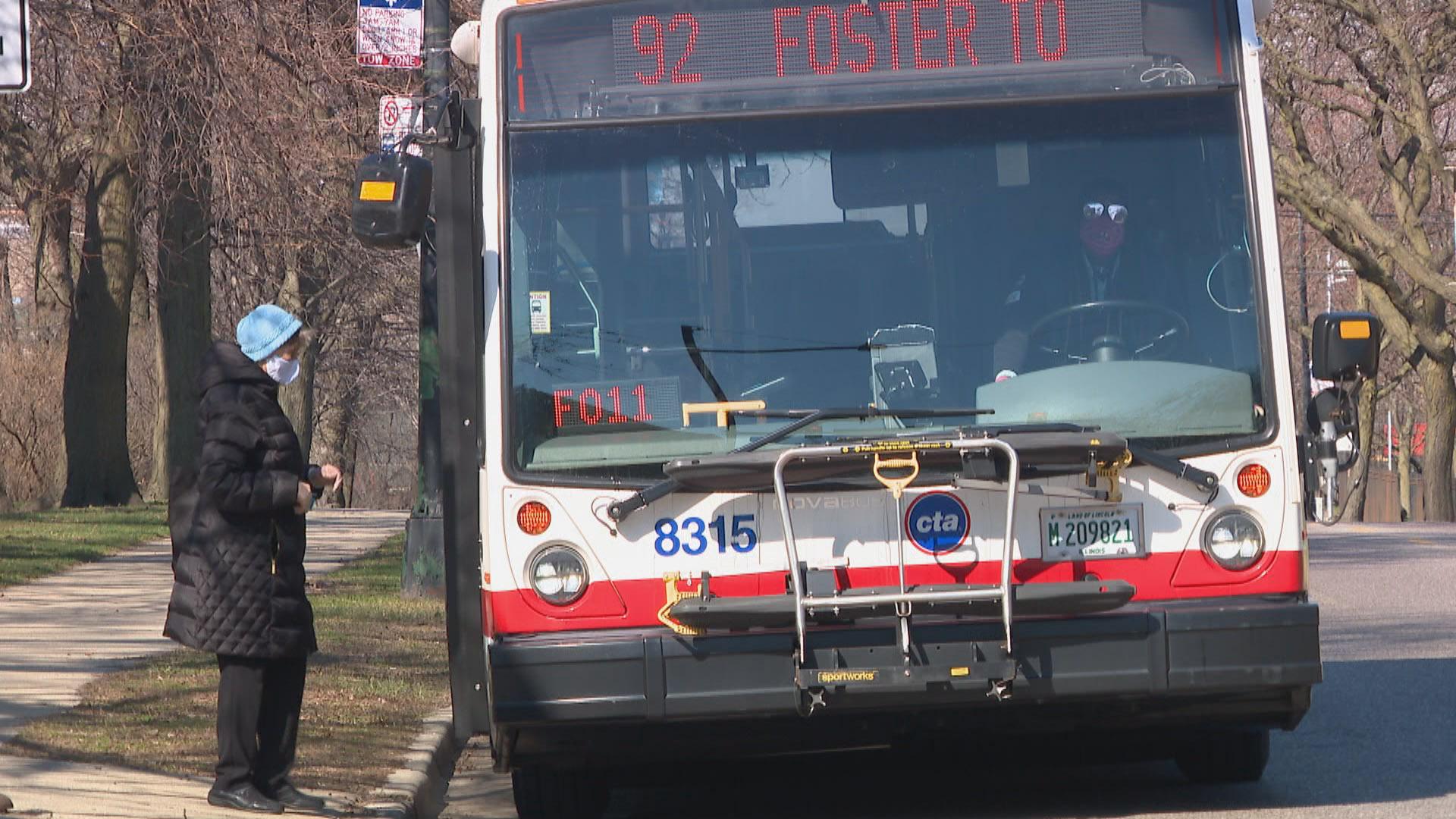 A person wearing a face mask boards a CTA Foster bus on Thursday, April 2, 2020. (WTTW News)
Passengers who aren't physically able to board a bus via the rear doors would still enter at the front. Hill has reached out to the CTA and the mayor's office and says he thinks the idea is stalled. In response to a question from WTTW News, the CTA said it "continues to look at a variety of measures to employ against COVID-19, including the possibility of rear door boarding. We are also monitoring the steps peer transit agencies are taking, and we continue to monitor CTA ridership and riding conditions."
Asked about back door boarding at a press conference last week, Mayor Lori Lightfoot said: "We're aware of the fact that other cities have gone to rear boarding. Obviously that has a cost component to it, because then people won't be charged for the ride, but we're looking at all options that may need to be taken to add another measure of safety for people to ride public transit."
Bus and rail workers have also called for protective gear, like masks and gloves, and widespread COVID-19 testing. And Hill acknowledges potentially frustrating situations for riders, like being asked by drivers to wait for another bus in order to keep crowding to a minimum.
"We're in a bad situation like everybody else, work with us as we try to do our job," Hill said. "All we're asking is to be protected while we do it."
The CTA also says that because ridership has declined so steeply, there's enough space on most buses and train cars for appropriate social distancing.
---