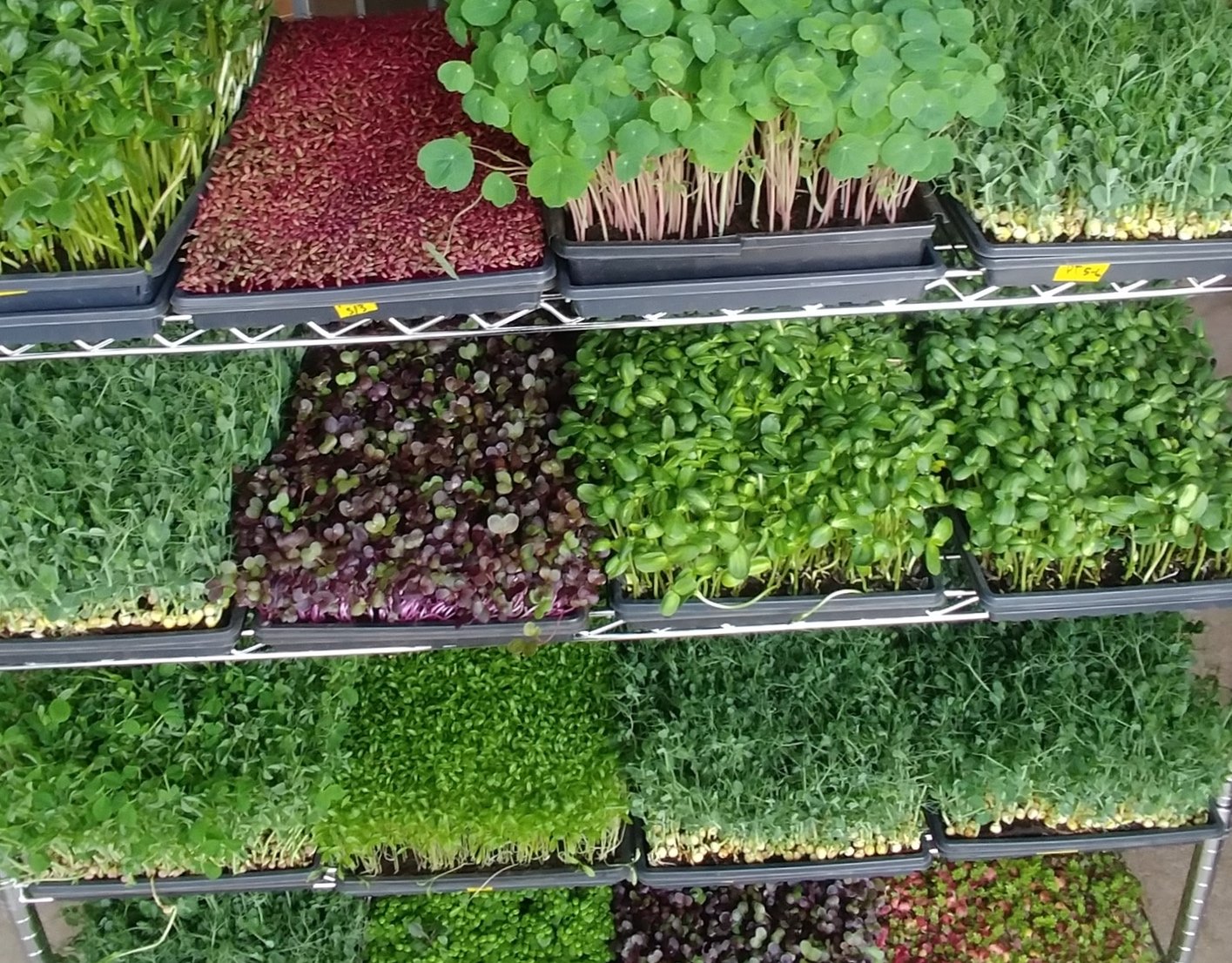 Closed Loop Farms specializes in microgreens, grown indoors. These are very young versions of vegetable plants, packed with nutrients. (Courtesy of Closed Loop Farms)
Farming has always been a risky proposition. Seasonal in nature, a lot of variables are outside of a grower's control.
So an indoor farm, focused on steady, yearround production of microgreens for an exclusive clientele, should be a safer bet. But in the midst of the coronavirus pandemic, as we've seen, all bets are off.
Two weeks ago, Closed Loop Farms, a small indoor/outdoor growing operation located at The Plant in the Back of the Yards neighborhood, was providing pea shoots, micro herbs and other baby greens to 100 Chicago restaurants, including Alinea and Oriole. 
Today, that number is down to one, said Closed Loop owner Adam Pollack. (Tempesta Market on Grand Avenue, for the record.)
Though traditional Midwest farmers haven't even planted their crops yet, Pollack's advantage as an indoor farmer has become a liability, with inventory on hand and seeds sprouting for the next harvest cycle.
"For a lot of farms, they weren't relying on revenue right now. We have over $10,000 of microgreens" and no takers, he said. 
Some, he's donated. Some he's turning into pesto or salad dressing. 
But then what?
With an obligation to his 12 employees — eight full-time and four part-time — and no revenue, it was time for Pollack to rethink Closed Loop. 
Already worried about a business model completely reliant on a single customer channel, Pollack had planned to diversify into consumer sales come May. That deadline just got pushed up.
Along with other local growers and food producers, Pollack has launched what's essentially a farmers market to go. Customers can order everything from Closed Loop's Michelin-worthy greens to locally made chocolate bars to pasture-raised, organic-fed meat from some of Closed Loop's co-tenants at The Plant, a small food business incubator, including Tuanis chocolate, Bike a Bee honey, Xoca cacao fruit soda, Kombuchade sports drinks and Four Letter Word coffee, as well as Pleasant House Pub, Mint Creek Farms, Catalpa Grove, Timberfeast, First Curve Apothecary and Windy City Mushroom.
Free, contactless pickup can be arranged via text; delivery costs a flat $10, with a minimum $25 order, and is free for orders over $200. 
Some of the Closed Loop marketplace vendors were, like Pollack, completely dependent on restaurants; others have seen their retail orders dry up. All have recognized the power of pooling their resources and tapping into each other's customer networks. 
"Yeah, it was a big wake-up call for everybody," said Pollack. "No one saw this coming. No one really knows how this is all going to play out."
In just two weeks, Pollack and his team have built a new company, billing it as a farmers market to your door. They've set up a website to handle online sales, created a system for tracking participants' inventory and are figuring out how to pack orders for twice-weekly delivery. 
"We're learning all of this on the fly," Pollack said.
He's got delivery vans of his own, and more workers and vehicles at the ready from Plant colleagues like Just Ice, which had been supplying crystal-clear cubes and blocks to bars and restaurants. "No one's buying cocktail ice right now," Pollack said. 
Though it may seem counterintuitive in these highly uncertain times, Pollack has  invested precious capital in things like packing boxes, which he purchased by the thousands in case he couldn't replenish them later, and also took on an extra delivery of soil.
"We're having to hedge our bets," he said, and that includes reconsidering what he plants in the outdoor farm he also co-owns. 
"Our main crop was edible flowers and herbs for restaurants," he said. "Now, are home consumers looking for edible flowers?"
The farmers market to go may seem like a gamble but Pollack said he's hopeful the concept will hit home with Chicagoans who've realized how fragile supply chains are.
"We're so dependent for our most crucial things, like food, on places that are out of reach," he said. "The source of our food should be near."
Deliveries are made to Chicago on Tuesdays and Fridays, the north suburbs on Fridays, and west suburbs on Tuesdays. Orders must be placed by 2 p.m. the day before delivery. For more information or to place an order, visit closedloop.farm.
Contact Patty Wetli: @pattywetli | (773) 509-5623 |  [email protected]
---