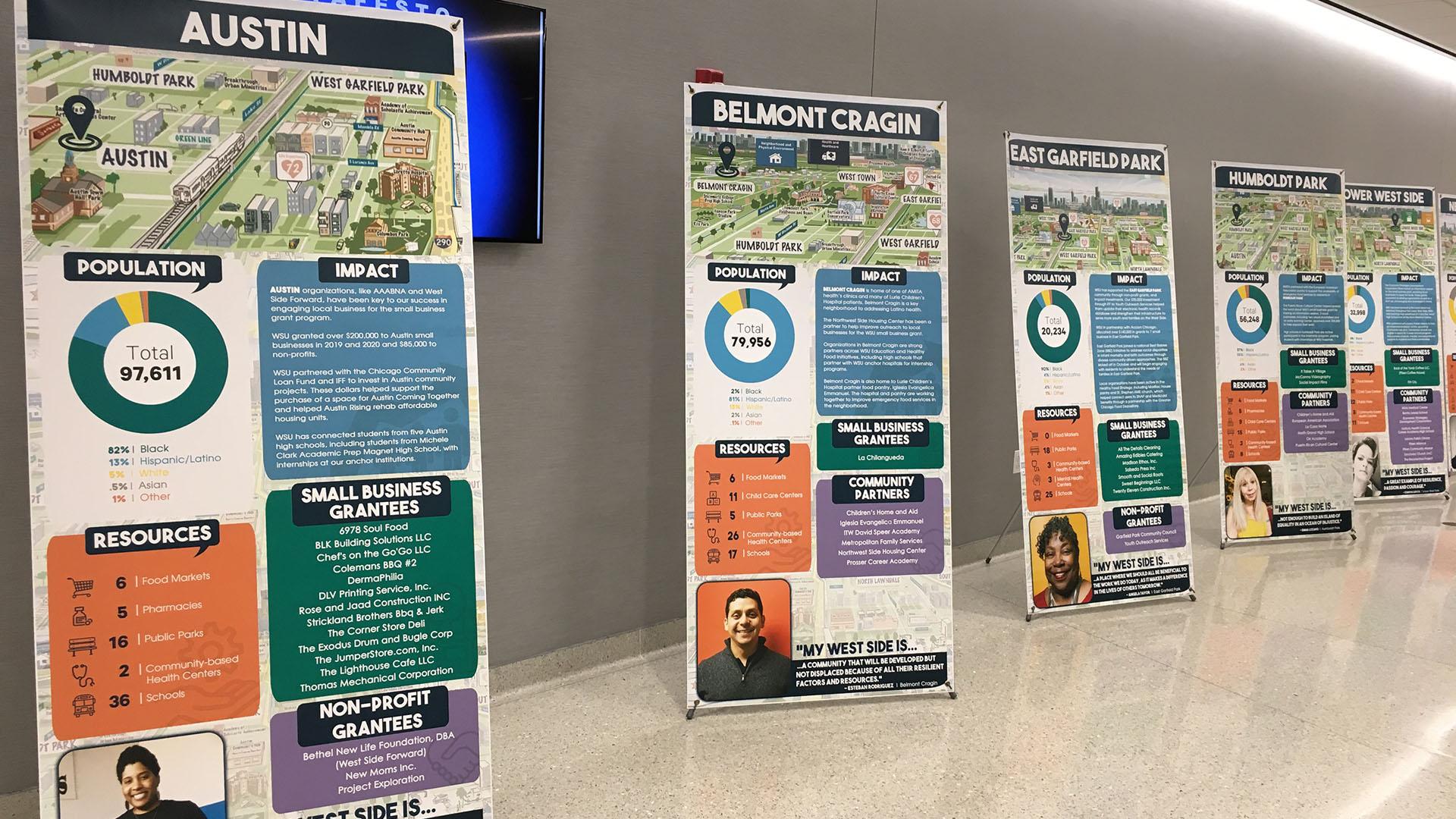 Poster boards about each of the 10 West Side United communities are set up Thursday, March 5, 2020 at Malcom X College. (Kristen Thometz / WTTW News)
A coalition of health care institutions and professionals awarded dozens of businesses on the city's West Side $500,000 in small business grants last year, doubling the goal it had set to achieve by 2021.
The grants are part of the group's revitalization efforts in nine West Side communities that are home to more than 480,000 people: West Garfield Park, Austin, East Garfield Park, Humboldt Park, Lower West Side, Near West Side, West Town, North Lawndale and South Lawndale. 
The group behind those grants, West Side United, is working toward a broader goal of reducing a 16-year life expectancy gap between residents in the Loop, where the average life expectancy is 85 years, and those West Side neighborhoods, where it's just 69 years. They're hoping to cut that gap in half by 2030.
Cedric Strickland was among those awarded a small business grant for his company, Strickland Brothers BBQ & Jerk. He says the funding will allow him to employ up to four more people, purchase a food truck and expand his brand and business.
West Side United also recently announced it had received $2 million in funding from the American Medical Association for community improvements across the West Side. With the AMA's commitment, the group exceeded its goal of securing $7.5 million by 2021, raising $7.7 million last year.
In addition, West Side United provided 694 paid internships and apprenticeships to high school students last year, exceeding its 2019 goals.
During its annual status report last week, the group also provided an update on its plans to build community hubs in two schools that will provide children and their families wraparound services, like literacy classes and family health services. A location for the first such hub will be determined this spring and open in the fall.
The six hospitals partnering with West Side United say they are on track to hire 3,500 West Side residents by 2021 and have hired 1,825 to date.
They're also prepared for the novel coronavirus, said Dr. Matthew Davis, senior vice president and chief of community health transformation at Ann & Robert H. Lurie Children's Hospital of Chicago.
"Each hospital is preparing and working with the Chicago Department of Public Health and Illinois Department of Public Health to make sure we're providing the best care to individuals who are ill with novel coronavirus and may need care in our facilities," Davis said. "We need to recognize that all of us as a community have a role to play to help reduce the chances that our community members will fall ill from novel coronavirus."
People should take preventive measures to slow the spread of the virus, such as frequent handwashing, covering coughs and sneezes and using fist bumps instead of handshakes, he said. People should also avoid touching their faces and, most importantly, stay home when they are sick.
In addition to reflecting on 2019 achievements, West Side United members called on the 500 audience members to join its cause for the next 1,000 days.  
"If you want things to change, you have to be the change," said Debra Wesley, president of Sinai Community Institute and board chair of WSU's leadership council.
Wesley, whose mother died at age 38 from heart disease, said she's all in. "I'm very passionate because I'm going to too many funerals unnecessarily. I'm committed as one West Side working together over the next 1,000 days as we approach our goal in the next decade," she said. "We're changing the narrative for our community and that's so important."
Contact Kristen Thometz: @kristenthometz | (773) 509-5452 |  [email protected]
---