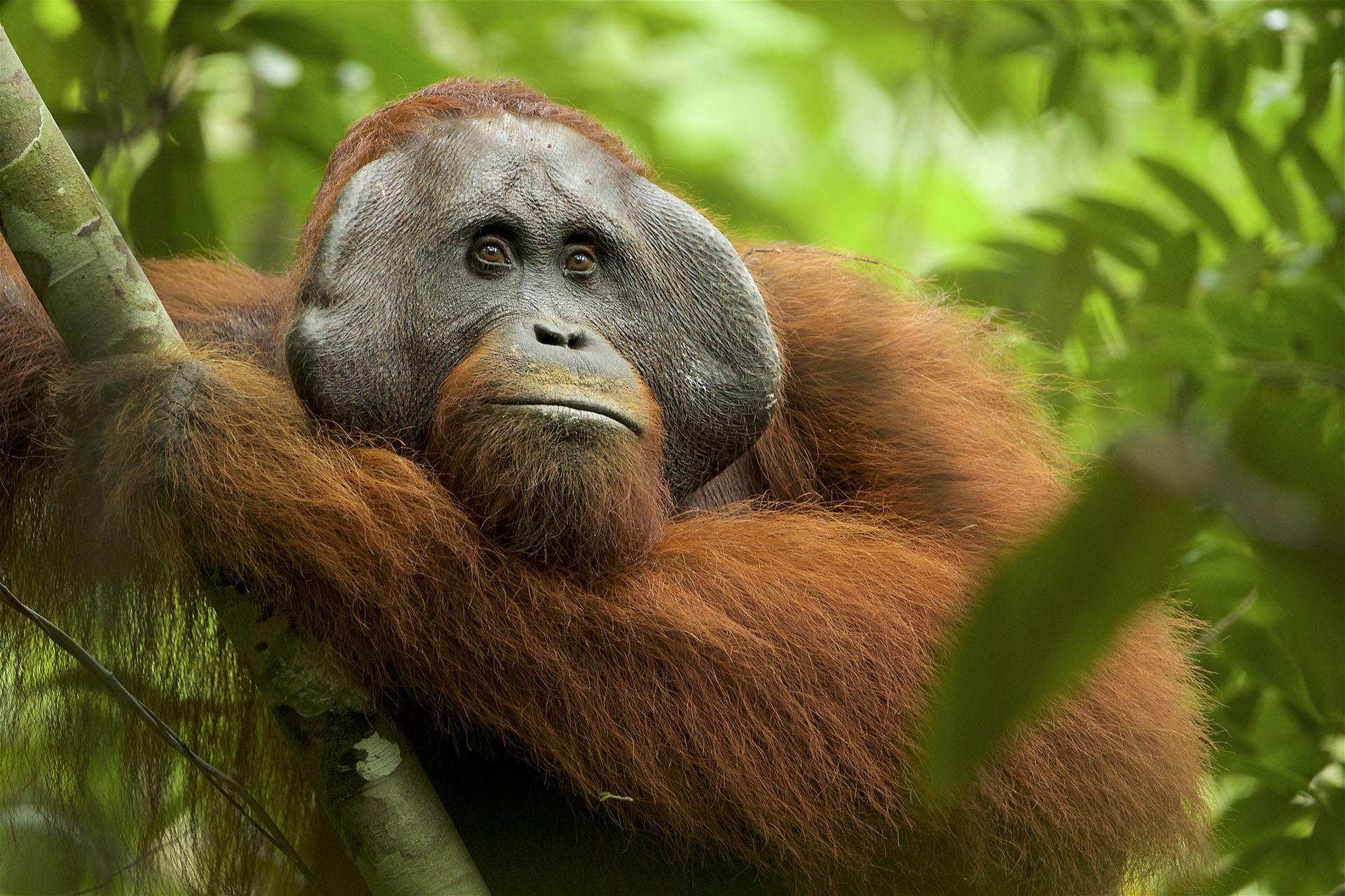 (Photo by Tim Laman)
Orangutans share 97% of their DNA with humans but these highly intelligent and resourceful creatures face extinction amid a myriad of threats from habitat loss to poaching.
Cheryl Knott and her husband Tim Laman will highlight the great ape's plight with a talk called "Adventures Among Orangutans" at the Auditorium Theatre on Tuesday evening as part of the National Geographic Live speaker series.
Knott is a primatologist, biological anthropologist and professor at Boston University, and Laman is a wildlife photojournalist and filmmaker with major film credits for the BBC, National Geographic and Netflix.
For the past 25 years, they have dedicated their lives to the orangutans that live in Borneo's Gunung Palung National Park.
What initially began as research has also turned into a conservation effort, and Knott has led the Palung Orangutan Conservation Program for the last 20 years. Initially that meant being in Borneo to do field work for years at a time but now Knott and Laman visit for just one month each year in the summer. Knott runs the program remotely for the rest of the year.
It was their similarity to humans that first attracted Knott to the study of the great apes.
"I'm interested in studying our closest relatives and the kind of big picture is that studying the great apes teaches us how we are similar and how we are different," said Knott.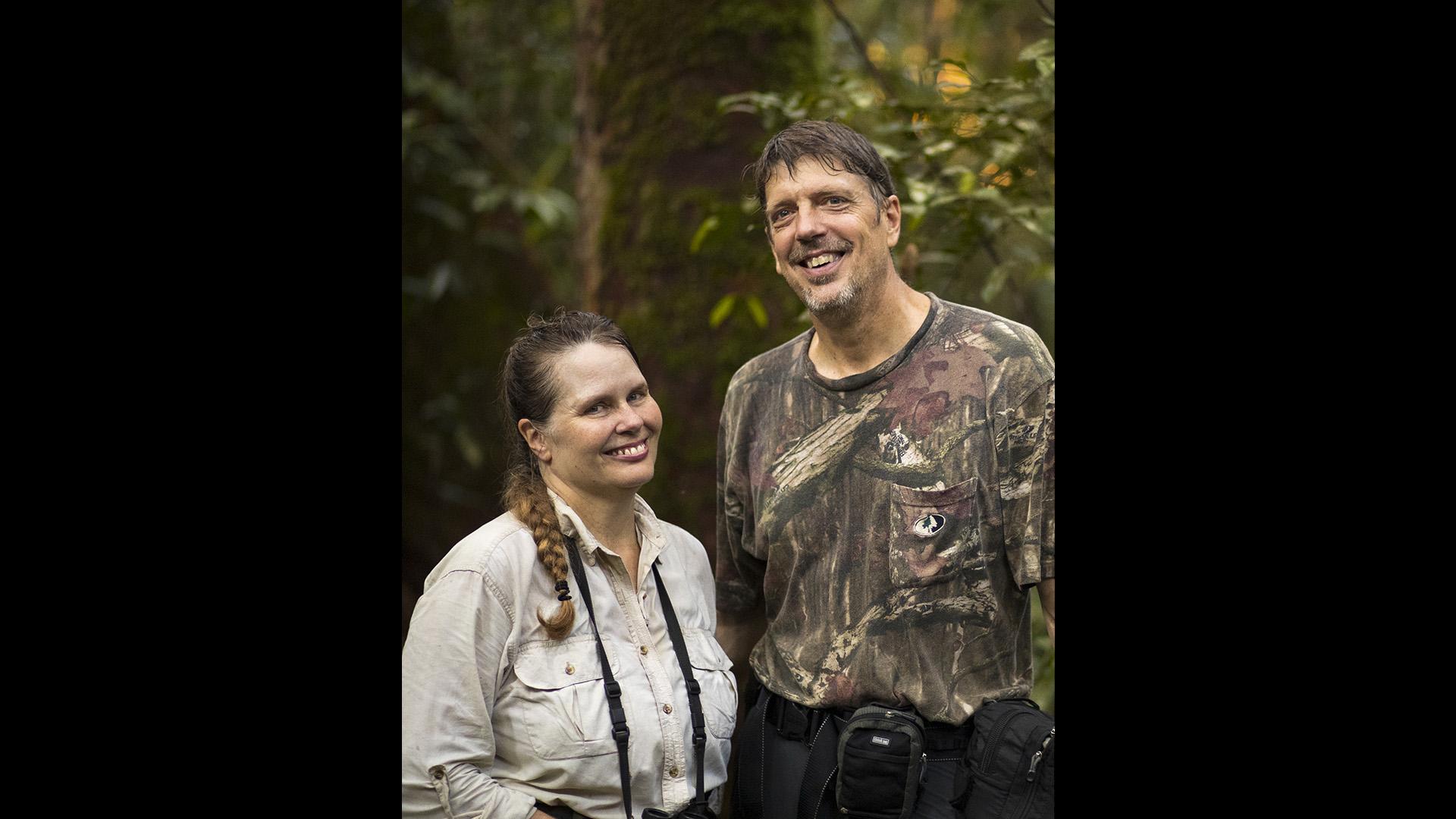 Cheryly Knott and Tim Laman (Photo by Jessica Laman)
Although some wild animals may be difficult to study in nature, it turns out with orangutans, a little persistence pays off.
"It's kind of an advantage that they live up in the trees and they are not really superfast at traveling through the trees so you can usually keep up with them on the ground," said Laman. "You can just keep following them on the ground and eventually after a couple of days they just kind of decide that you're harmless and ignore you."
Orangutans are native to Indonesia and Malaysia, and are among the least understood of large animals because of their solitary nature living in dense rainforests. The population in Borneo, where the vast majority of orangutans live, is estimated to have fallen more than 60% since 1950.
Current estimates put the total population at around 40,000 in Borneo and 7,000 in Sumatra.
Roughly 80% of the rainforest habitat in which orangutans live has been lost in the last 100 years.
Poaching for the illegal pet trade has also taken a toll on the population because females only give birth every seven to eight years.
"They have the longest birth interval of any mammal," said Knott. "Because they reproduce so slowly it makes them really vulnerable to extinction."
But while much has been lost, Knott emphasized that conservation efforts have had success both in changing attitudes towards orangutans and helping locals finding sustainable alternatives to illegal logging.
"It's important to realize that there is a lot of good habitat left – it's not hopeless or anything," said Knott. "The park where we work, Gunung Palang, is a great forest refuge for orangutans. There's a lot of really great habitat left… and our effort is aimed at saving the orangutans by saving the habitat."
Laman says Tuesday's talk aims to both entertain and inform.
"It's a sort of mix of our adventures in the field and some of our life story of our work together studying orangutans. But then also a lot of information about orangutans, their behavior and biology," said Laman. "It also has a conservation section where we inform people about the challenges that orangutans are facing."
National Geographic Live – "Adventures Among Orangutans" takes place at the Auditorium Theater at 7 p.m. on Tuesday. Learn more about Knott and Laman's conservation work at www.savewildorangutans.org.
---