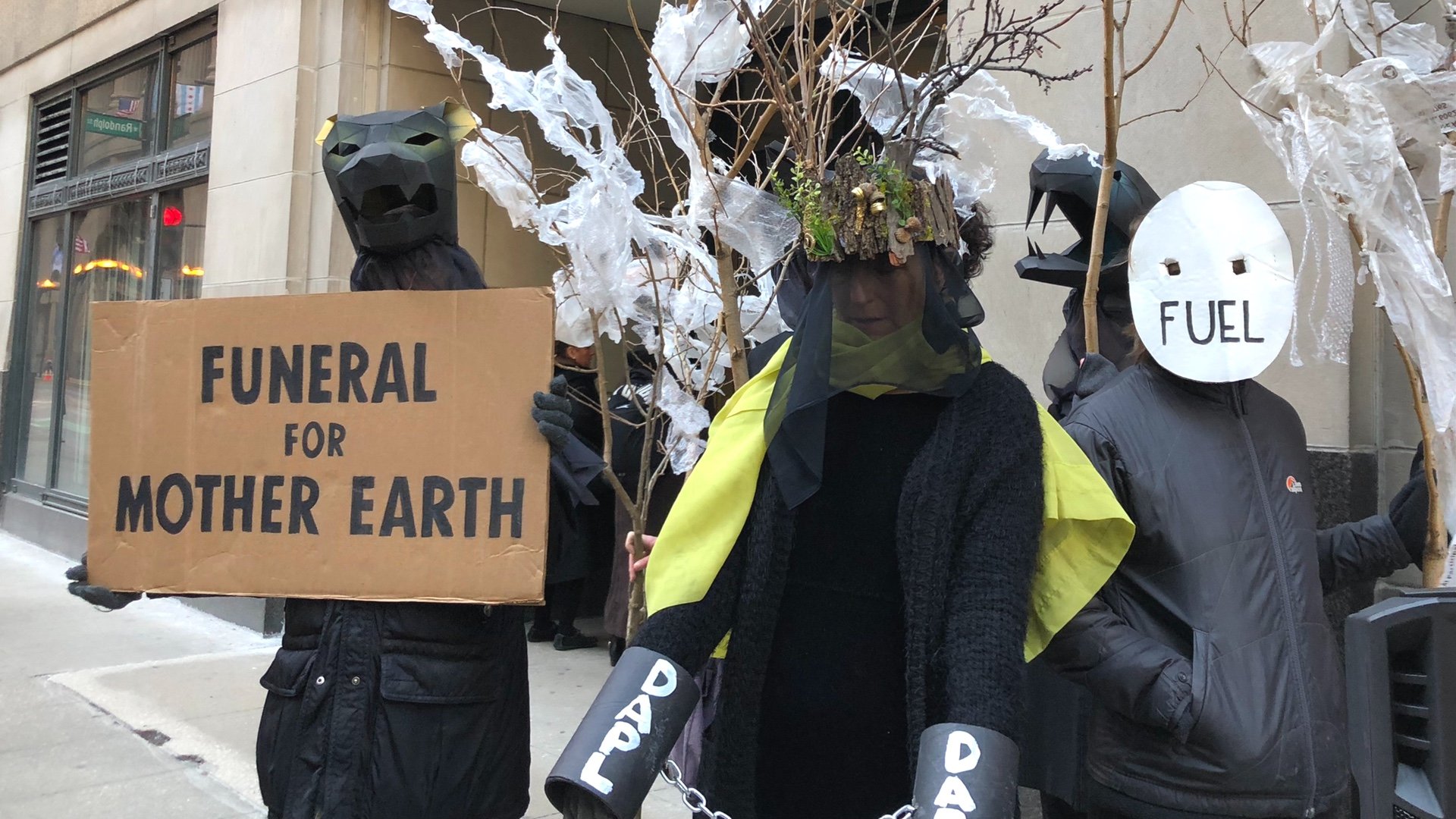 Climate activists oppose the expansion of the Dakota Access pipeline. (Patty Wetli / WTTW)
A long-awaited, oft-delayed hearing got underway Thursday to determine whether owners of the controversial Dakota Access pipeline, which originates in North Dakota and terminates nearly 1,200 miles later in Patoka, Illinois, will be granted permission by the Illinois Commerce Commission to double the pipeline's capacity.
Both those in favor of and opposed to the expansion turned out in equally large numbers for the evidentiary hearing, the tediousness of which belied the proceeding's high-stakes consequences, with many environmental activists viewing the issue as a referendum on the state's commitment to combating climate change. 
"Every decision made on behalf of the people must consider the impact of climate change above all else," said Deni Mathews, president of Save Our Illinois Land (SOIL), one of the organizations challenging the pipeline's expansion. "We can not continue with business as usual."
Pledges like Chicago's commitment to transitioning to renewable energy by 2035 would be rendered meaningless if the expansion is approved, said David O'Donnell of Extinction Rebellion. "No way do we do that if we increase the amount of fossil fuel going through the pipeline."
While the hearing afforded no opportunity for public comment — it was limited to pre-submitted witness testimony and cross-examination by lawyers — spectators' mere presence, regardless of which side of the debate they were on, was designed to send a message: "We're watching."  
"I wonder how many decisions are made in rooms like this?" asked protester Catherine Garcia-Goettling. "It's crazy that we don't get a vote."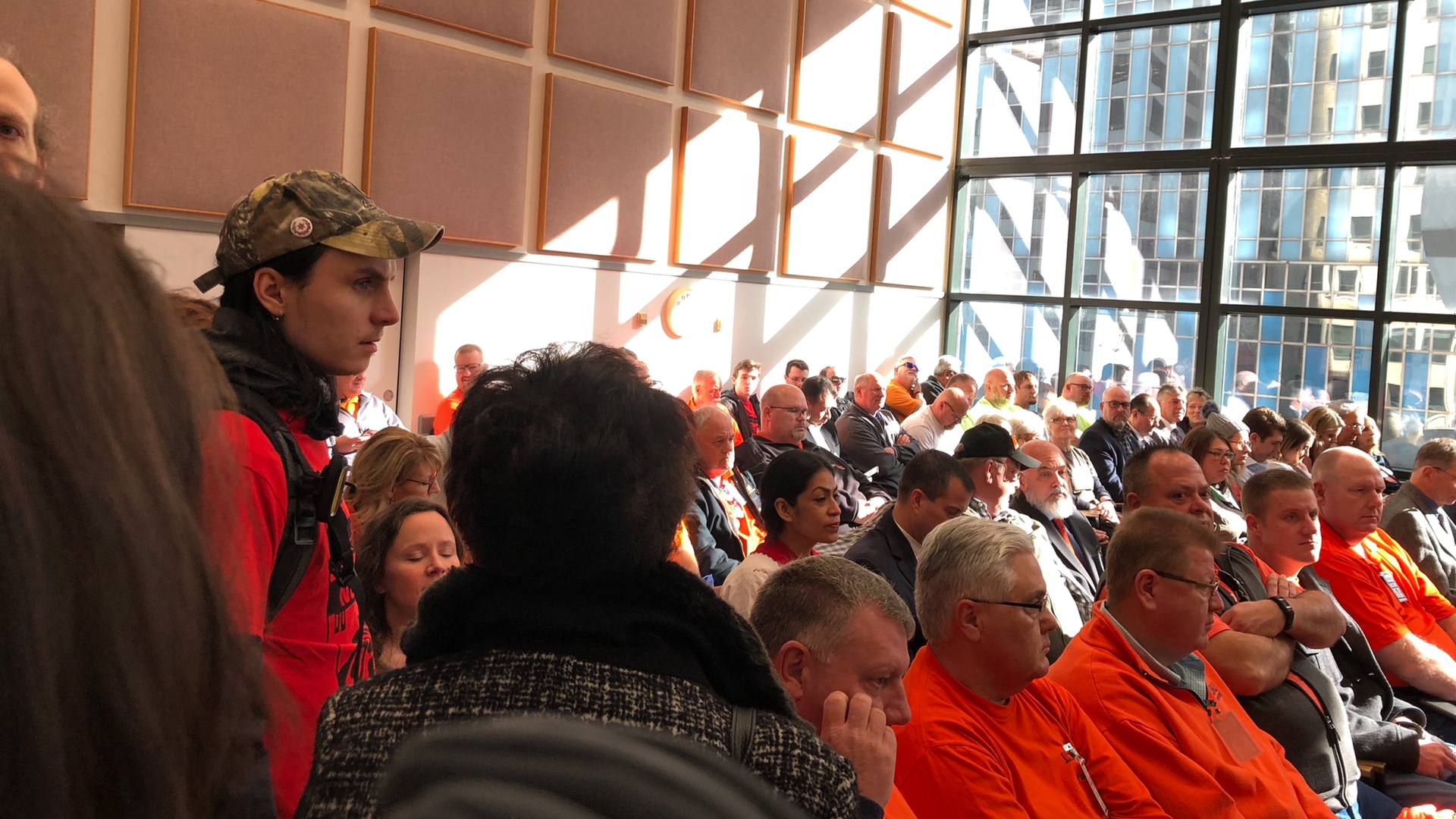 People for and against the pipeline expansion packed the Illinois Commerce Commission hearing. (Patty Wetli / WTTW)
Thursday's hearing, postponed for months due to legal wrangling, represented the midpoint of a process that likely won't reach resolution for several more months.
The saga began in June 2019, when Dakota Access and Energy Transfer Crude Oil Co. (ETCO), which owns a pipeline that originates in Patoka and terminates in Texas, submitted a joint petition with the ICC to install additional pumping stations and pumping facilities in Illinois. The infrastructure upgrades would allow the pipeline, in operation since 2017, to increase its flow from 570,000 barrels a day to 1.1 million. 
According to testimony filed with the ICC by Dakota Access-ETCO, demand for crude petroleum transportation service on their pipelines has far exceeded anticipated levels. Expanding the pipeline's capacity, without altering its footprint, is safer, more efficient and less expensive than shipping hundreds of thousands of additional barrels via rail or truck, the companies stated.
The companies initially proposed an expedited schedule of 14 days for the petition to be reviewed in Illinois. Environmentalists immediately coalesced to oppose the petition on several grounds, chief among them their view that Dakota Access-ETCO is doubling down on carbon emissions, as well as concerns about the increased potential for leaks or ruptures along the pipeline.
"It's double the pressure, double the extraction, double the emissions," said protester Haley Crim. "It's introducing more risk into a system that doesn't need it."
Protesters drove home their point with a bit of street theater prior to the hearing, holding a "funeral for Mother Earth" outside the commission's offices in the Bilandic Building. Susana Sandoval, a member of Mexico's indigenous Purepecha people, gave a blessing, cleansing the area with burning sage. "The Earth does not need us to save her, we need to save ourselves," said Sandoval, who spent three months protesting Dakota Access at Standing Rock, in North Dakota. "The people who sit in these buildings think they have the power. The reality is we all have the power."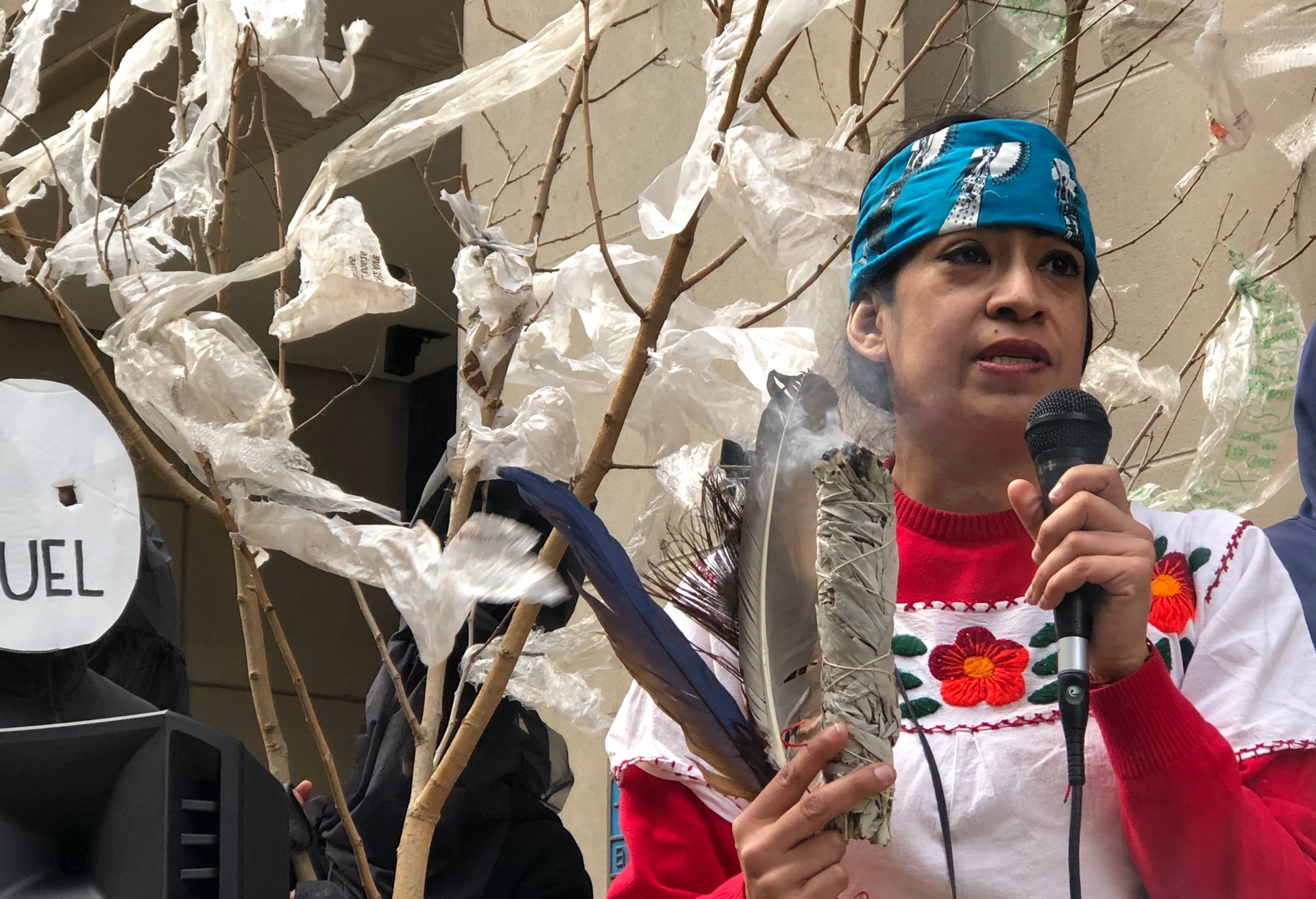 Susana Sandoval gave a blessing before the start of the pipeline hearing. Sandoval, a member of Mexico's indigenous Purepecha people, spent three months protesting Dakota Access at Standing Rock. (Patty Wetli / WTTW)
Though less vocal, supporters of the pipeline were no less visible, dressed in bright orange shirts, the color of their labor union, the Laborers' International Union of North America (LiUNA).
"We're not climate change deniers," said Randall Harris, director of the union's labor-management initiative in the Midwest.
LiUNA members work on wind and solar projects as well, with the union backing an "all of the above" approach to energy, Harris said. They have, for example, been battling for three years to get a wind farm approved in Illinois' DeWitt County.
But as long as petroleum remains an energy and materials resource — "Your pen's made with oil, your eyeglasses are made with oil," Harris said — construction workers need the jobs that come with projects like the pipeline expansion, a point Dakota Access has hammered home in a blitz of television, radio and print ads.
"They're the people living in these communities every day. They're the T-ball coaches, the PTA members," said Harris. "And in many cases they can't meet basic necessities."
Climate activist Dave Davis empathized with the workers' rock-and-a-hard-place situation.
Renewable energy companies can't match the deep pockets of pipeline companies when it comes to wages, and projects like wind farms have to clear substantially more hurdles, Davis said, thanks to eminent domain laws that are favorable to pipelines and nonexistent for turbines. 
But what price do the rest of us pay for those pipeline jobs? Davis questioned.
These are the pros and cons being placed in front of the Commerce Commission, and which side they'll come down on is anyone's guess. But people are watching.
Contact Patty Wetli: @pattywetli | (773) 509-5623 |  [email protected] 
---