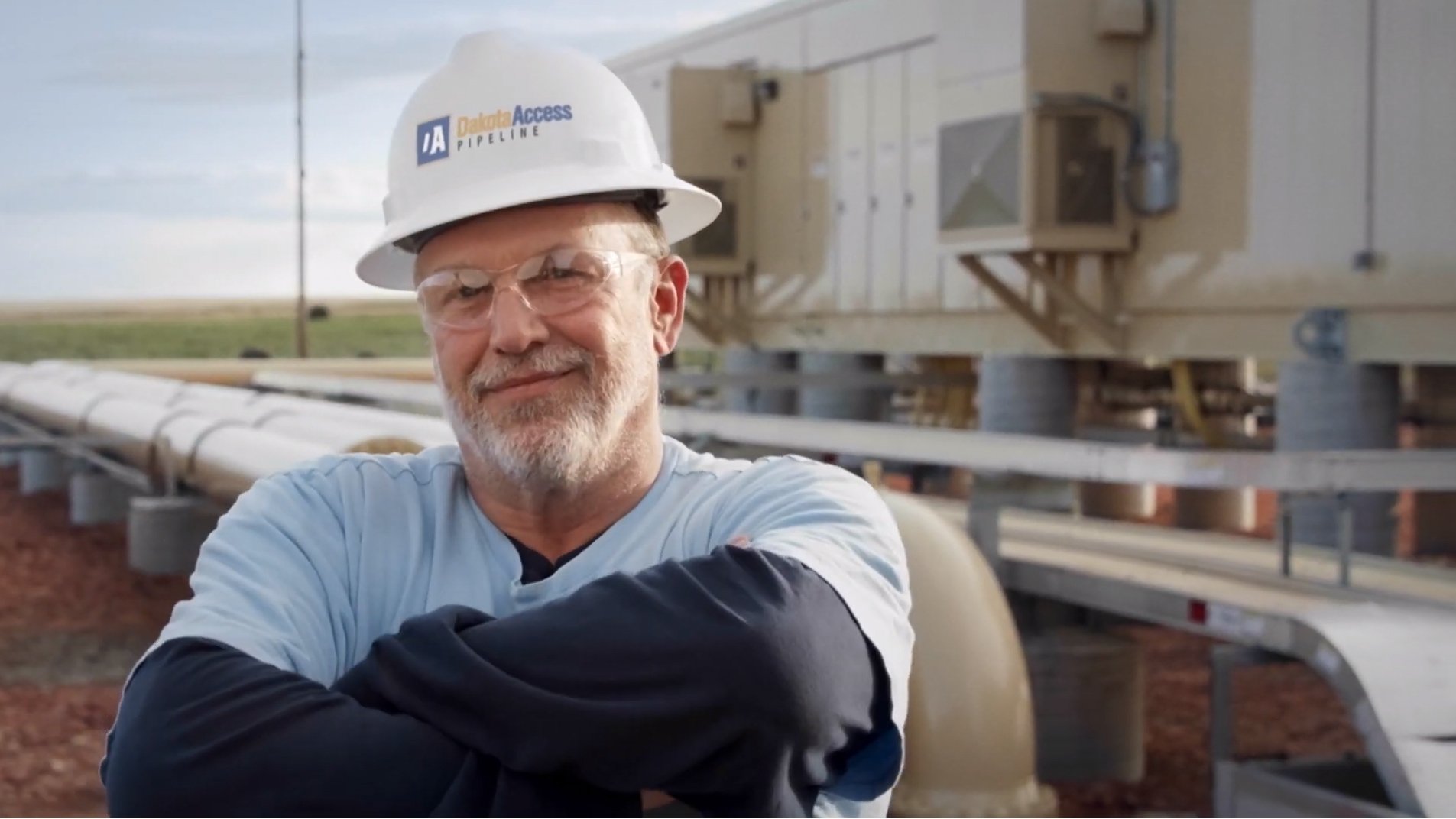 Illinois workers, and jobs, were front and center in a Dakota Access pipeline ad that aired during Super Bowl LIV on Sunday, Feb. 2, 2020. (Energy Transfer / YouTube)
Between Bill Murray's "Groundhog Day" sequel for Jeep and Google's tear-jerking reminder that death is sad, it was easy to miss the one Super Bowl commercial that had a very specific message aimed at the Chicago market.
That would have been the 30-second spot from Dakota Access, which ran at least twice during Sunday's broadcast of the big game on FOX.
"Tomorrow, millions of Americans will go to work, and our children will go to school. Some will travel to visit loved ones and others will simply come home. America will move tomorrow because of the oil and gas we produce today," a narrator intones. "Dakota Access pipeline is proud to stand alongside the more than 14,000 oil and gas workers from right here in Illinois who work in the oil and gas fields along the pipelines and in the oil refineries to provide the energy that makes our economy strong and our communities stronger."
Absent a product, per se, to sell to the year's largest television audience, the ad was a head-scratcher to some Super Bowl viewers:
Lmao we turned on the tv to watch shakira and got an ad for the DAKOTA ACCESS PIPELINE

POISON!!!!!

— crab raver (@annierebekah) February 3, 2020
---
Dakota Access Pipeline commercial during the #SuperBowl #SuperBowlLIV pic.twitter.com/jm77vdDGH2

— David Pinsonneault (@dcpinsonn) February 3, 2020
---
I was not emotionally prepared for the Dakota access pipeline commercial

— maldito sudaca (@diegbro) February 3, 2020
---
But to Deni Mathews, president of Save Our Illinois Land (SOIL), the timing of the commercial was not surprising.
The controversial Dakota Access pipeline, which originates in North Dakota and terminates nearly 1,200 miles later in southern Illinois, became operational in 2017, carrying an average of 560,000 barrels of oil a day. Its ownership consortium, led by Texas-based Energy Transfer, petitioned in summer 2019 to increase that flow to 1.1 million barrels. For that to happen, owners need to obtain permits from each state the pipeline runs below — North Dakota, South Dakota, Iowa and Illinois — in order to add pumping stations and make other necessary infrastructure upgrades.
SOIL is part of a coalition of organizations fighting to block Energy Transfer's request in Illinois, and that battle is soon coming to a head. After months of legal wrangling and more delays than Mathews can count, an evidentiary hearing by the Illinois Commerce Commission is, for now, scheduled to take place the first week in March. The commercials, Mathews surmised, appear to be a bid to win over hearts and minds and pocketbooks, particularly given the commercial's emphasis on jobs.
Environmentalists denounced the message.
"While the Super Bowl was being played in a stadium that is projected to experience significant flood risks if climate change continues to go unabated and sea levels continue to rise, we weren't surprised to see large oil and gas companies funding high-dollar Super Bowl ads perpetuating a disinformation campaign to keep states tied to dirty fossil fuels," said Jennifer Walling, executive director of the Illinois Environmental Council. "Now is the time to unite behind bold climate solutions, not double down on destructive fuels sources that we don't need or want in Illinois."
Mathews, who lives in Chicago's western suburbs, suspects that many of her fellow Illinoisans have little inkling that the state, better known for its corn production, is at the heart of a fight over oil.
"I think that in general, unless you're a landowner (affected by pipeline construction), you're totally unaware of the pipelines that crisscross the landscape. They really are everywhere," she said. "Building pipelines has just been accepted."
Residents originally formed SOIL when they got wind of a report that Canadian-based Enbridge, owner of a massive pipeline network in North America, was planning to build a "twin" to an existing Illinois spur. The group expanded its focus to take on Dakota Access as part of an overall mission to put an end to business as usual and revoke oil companies' "automatic license to build and build and build," Mathews said.
Energy Transfer initially proposed an expedited schedule of 14 days for its petition to be reviewed in Illinois and it's a small victory that SOIL and its partners derailed that timeline, Matthews said. 
"Here in Illinois, we feel like we have the best chance to stop this expansion," she said. "We have allies up and down the length of the pipeline."
Along with concerns about the potential for pipeline leaks and infiltration of soil, the broader issue of climate change underlies environmentalists' campaign against the Dakota Access expansion.
"Doubling the capacity, that's a lot of burning oil," said Mathews.
Though it's impossible for her to anticipate how the commerce commission will ultimately rule, Mathews said it's important that the process behind such significant decisions has been made more transparent.
"We want things out in the light of day," she said.
Contact Patty Wetli: @pattywetli | (773) 509-5623 |  [email protected]
---