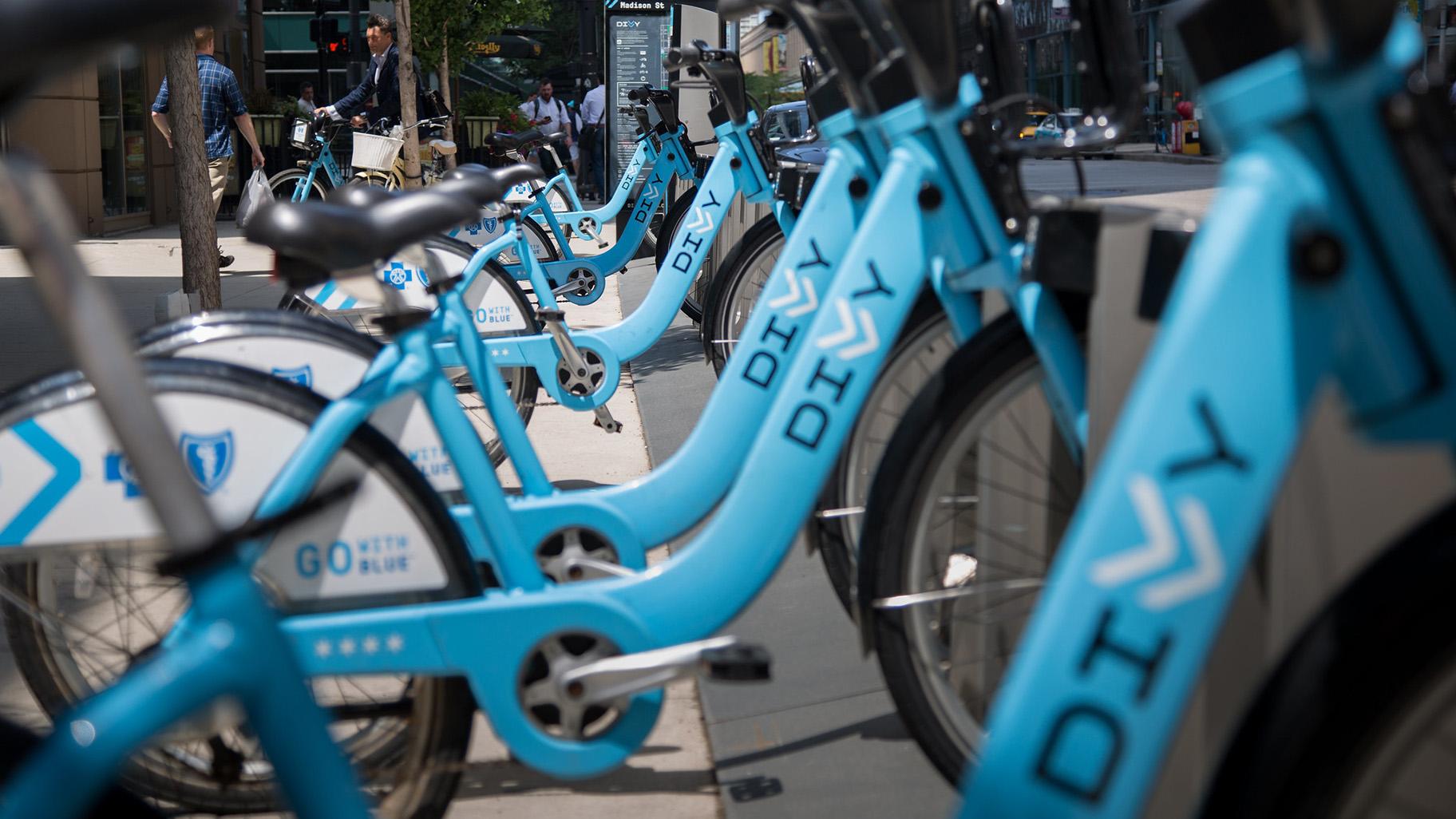 A Divvy docking station in the Chicago's West Loop. (Tony Webster / Flickr)
The long-awaited expansion of Chicago's Divvy bike-share program on the Far South and Southwest sides is set to kick off this spring — and 10 new miles of bike lanes are on the way too, according to the Chicago Department of Transportation.
The expansion will feature two types of bikes: the familiar blue bikes that have to be docked at Divvy stations, and new black hybrid electric bikes with pedal assist and a top speed of 15 mph. The pricing model for the e-bikes has not yet been determined.
The rollout will also feature two types of stations: 66 of the familiar blue stations with bike docks and 12 slim new "hubs" that more closely resemble bike racks. That's because the new hybrids can be locked at a traditional Divvy docking station, or locked to a bike rack or other legal bike parking location with a built-in cable lock included on each bike.
While there's no firm launch date in place, CDOT says it's on track for a spring rollout of the new stations, bikes and lanes.
The proposed new bike lanes were developed in part through community engagement sessions in the run-up to the Divvy expansion. The lanes are funded by revenue from the Divvy program, CDOT says. Under its contract with the city, Lyft (which owns Divvy) must pay at least $7.5 million a year toward transportation infrastructure upkeep and improvements, including new bike routes.
Lyft is also required to expand Divvy to the entire city by the end of 2021. Even after the Far South Side expansion, large swaths of the city's South, West and Northwest side neighborhoods won't have access to the bike-share program.
At meeting Wednesday of the Mayor's Bicycle Advisory Council, during which the Divvy expansion details were announced, CDOT said to expect Divvy bikes citywide by spring 2021, with a total fleet of 16,500 bikes by spring 2022.
CDOT says the hybrid pedal-assist bikes will eventually replace the traditional pedal-only bikes when the blue models reach the end of their useful life, but that those bikes are still holding up very well and not likely to be retired anytime soon.
---