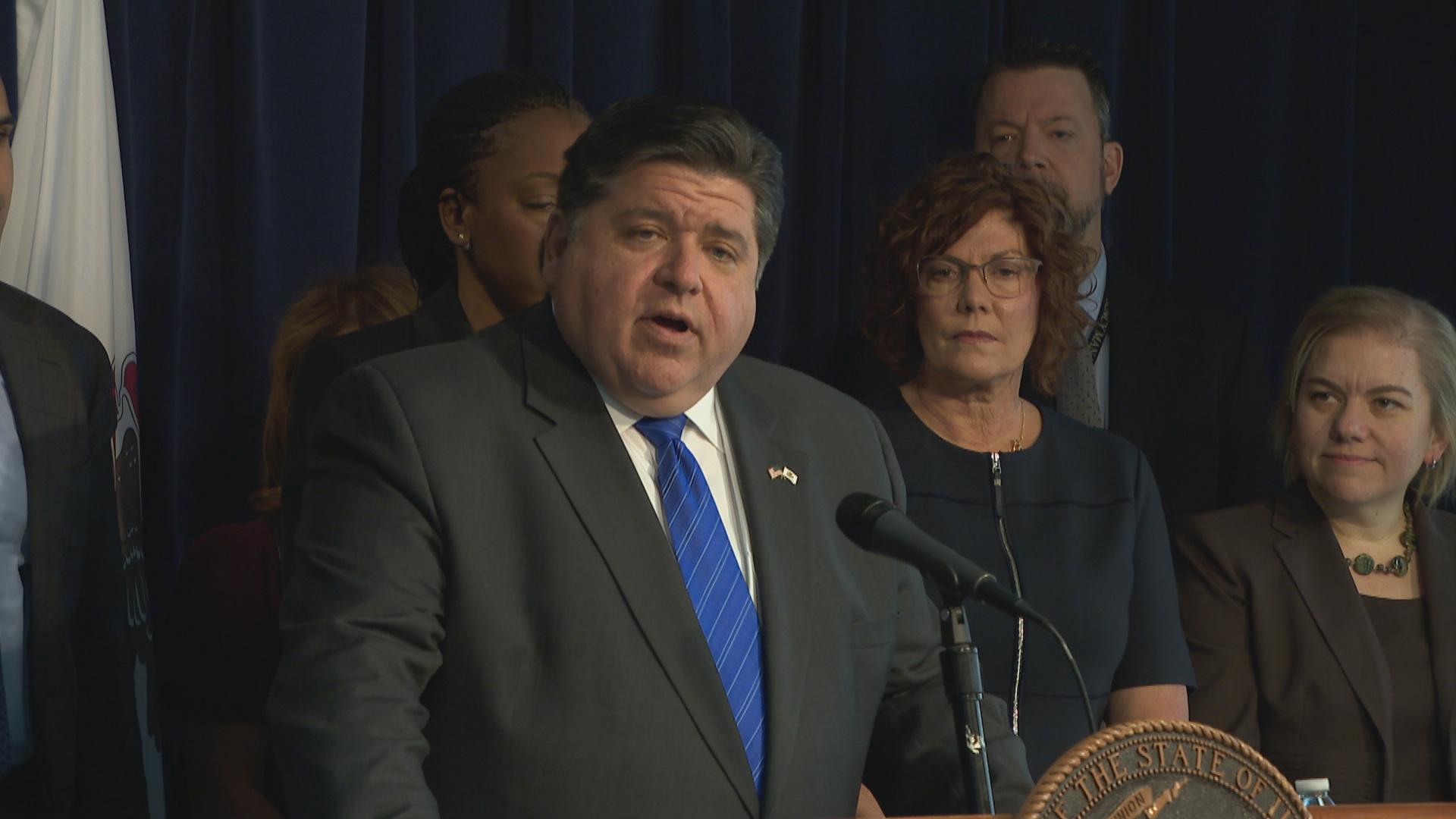 Illinois Gov. J.B. Pritzker talks Friday, Feb. 28, 2020 about the novel coronavirus. (WTTW News)
State and local officials are again saying the risk of catching the coronavirus remains low in Illinois after federal health officials on Tuesday warned that the U.S. should be prepared for a potentially severe outbreak of the illness, called COVID-19.
Illinois Gov. J.B. Pritzker and Chicago Mayor Lori Lightfoot outlined several initiatives at a press conference Friday in Chicago. Among them, the state is expanding its capacity to test for the virus, and will also begin testing patients with flu-like symptoms for COVID-19 at select hospitals as a precautionary measure.
"Our top priority is keeping Illinoisans safe and to this point Illinois has contained the virus to two confirmed patients, and both patients have fully recovered and returned home," Pritzker said Friday. "While the risk to the general public remains low, we want you to know our state and local agencies and officials are using every tool at our disposal to ensure the public's health and safety our well-guarded."
On Tuesday, the Centers for Disease Control and Prevention said it "is operationalizing all of its pandemic preparedness and response plans, working on multiple fronts including specific measures to prepare communities to respond to local transmission of the virus that causes COVID-19."
Next week, local health officials will begin testing for COVID-19 at two additional state labs – one in central Illinois, the other in southern Illinois, according to Pritzker. Currently, state health officials are testing for the virus at a Cook County lab.
Testing patients with flu-like symptoms will expedite diagnosis of COVID-19 cases, Chicago Mayor Lori Lightfoot said, adding officials are monitoring the situation closely. "I want to stress to residents the chances of contracting the virus continue to remain low. Our residents should continue to enjoy the city, its neighborhoods, particularly Chinatown, and its amenities that they normally do," she said. "Fear cannot guide us in this moment. Thoughtfulness and preparation are the rule of the day."
The testing will be voluntary, according to Pritzker.
Chicago public health officials are monitoring hundreds of recently returned travelers for symptoms, such as fever or cough, and will arrange for COVID-19 testing if needed, said CDPH Commissioner Dr. Allison Arwady.
"We know it is not possible to quarantine the whole globe, and that as this virus continues to spread throughout the world, we want to be ready here," Arwady said. "We'll be ramping up (the ability to do) testing. … And we'll be developing very specific guidance based on the planning we've done to date for child care facilities, schools, universities, businesses, communities and faith-based organizations."
In Illinois, 76 people have been tested for the virus. Two have tested positive for the disease, 70 tested negative and four results are pending as of Friday afternoon, according to IDPH.
Health officials will also introduce community mitigation strategies to slow the spread of the virus using everyday preventive strategies, such as frequent handwashing, routine cleaning of frequently touched surfaces and objects, and covering coughs and sneezes. People should stay home when they are sick.
These types of efforts represent "our first lines of defense," Pritzker said.
Coronaviruses are respiratory viruses that range from the common cold to more serious illnesses, like SARS and MERS, and are generally spread via droplets in the air when people cough or sneeze, as happens with the common cold, according to officials.
"Our knowledge of the coronavirus increases every single day. We understand that the virus is primarily spread through person-to-person transmission," said Illinois Department of Public Health Director Dr. Ngozi Ezike. "It causes mild illness in otherwise healthy people, but potentially serious illness in the elderly and immunocompromised persons. We know its most contagious when sick persons' symptoms at their peak."
There is no treatment or vaccine for the virus.
"I want to be clear: The best thing the general public can do at this time is to continue with the same precautions you take during flu season with renewed vigilance," Pritzker said. "There is no need for folks to go out and get face masks."
For more information about the coronavirus, visit IDPH's website, call its dedicated COVID-19 hotline (800-889-3931) or send an email.
Contact Kristen Thometz: @kristenthometz | (773) 509-5452 |  [email protected]
---