Video: "Chicago Tonight" discusses the latest coronavirus news with Dr. Allison Bartlett, a pediatrician and infectious disease expert at UChicago Medicine.
---
The Centers for Disease Control and Prevention is preparing for the spread of the novel coronavirus in U.S. communities amid an uptick in cases of the illness, known as COVID-19, across the globe.
More than 80,000 cases have been reported in 34 countries, with nearly 2,500 of them outside of China, where the virus was first reported, according to the World Health Organization. 
"As we've seen from recent countries with community spread, when it has hit those countries, it has moved quite rapidly. We want to make sure the American public is prepared," said Dr. Nancy Messonnier, director of the CDC's national center for immunization and respiratory diseases. "As more and more countries experience community spread, successful containment at our borders becomes harder and harder."
On Tuesday, Italian officials reported 10 deaths and 322 confirmed cases of the virus, 100 more than a day earlier, according to The Associated Press. Italy has closed schools, museums and theaters in two regions where clusters of the virus have formed. Italian officials haven't yet identified the source of the outbreak, the AP reports.
Across the U.S., 14 people have been diagnosed with the virus, all of whom had traveled to China or had been in close contact with those travelers. More than 40 Americans who were evacuated from Wuhan, China, and/or traveled aboard the Diamond Princess cruise ship have also been diagnosed with the virus, according to the CDC, which has so far tested 426 Americans for the illness.
"Ultimately, we expect we will see spread in this country. It's not so much a question of if this will happen anymore, but rather a question of exactly when this will happen and how many people in this country will have severe illness," Messonnier said Tuesday.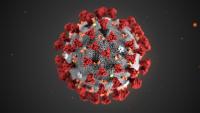 This illustration provided by the Centers for Disease Control and Prevention in January 2020 shows the 2019 Novel Coronavirus (2019-nCoV).
Americans should begin preparing for a larger and potentially severe outbreak, according to the CDC, whose community mitigation plans include possible school closings, telecommuting, and canceling or postponement of large events. These plans are based upon the CDC's plans for responding to pandemic influenza and will be tailored to address COVID-19, officials said.
"I understand this whole situation may seem overwhelming and that disruption to everyday life may be severe, but these are things people need to start thinking about now," said Messonnier, who told her own family to begin preparing for community spread and the resulting "significant disruption" of their lives.
"Right now CDC is operationalizing all of its pandemic preparedness and response plans, working on multiple fronts including specific measures to prepare communities to respond to local transmission of the virus that causes COVID-19," Messonnier said. "Now is the time for businesses, hospitals, communities, schools, and everyday people to begin preparing as well."
Coronaviruses are respiratory viruses that range from the common cold to more serious illnesses, like SARS and MERS, and are generally spread via droplets in the air when people cough or sneeze, as happens with the common cold, according to officials. There is no treatment or vaccine for it.
To help prevent the spread of coronaviruses, officials advise avoiding people who are sick and washing your hands often with soap and water for at least 20 seconds. If you haven't washed your hands, don't touch your eyes, nose or mouth.
Visit the CDC's website for more prevention tips.
Contact Kristen Thometz: @kristenthometz | (773) 509-5452 |  [email protected]
---