It's an art collection unlike any other.
Upon entering Patric McCoy's home, visitors are greeted with an array of eyes sizing them up before they can get through the door.
Down the main hallway sit clusters of framed men and women.
As the hallway continues, so do the themes. McCoy, a retired environmental scientist, is an art collector whose assemblage numbers at least 1,400 works dating back to 1968.
"I bought these two posters here," he says.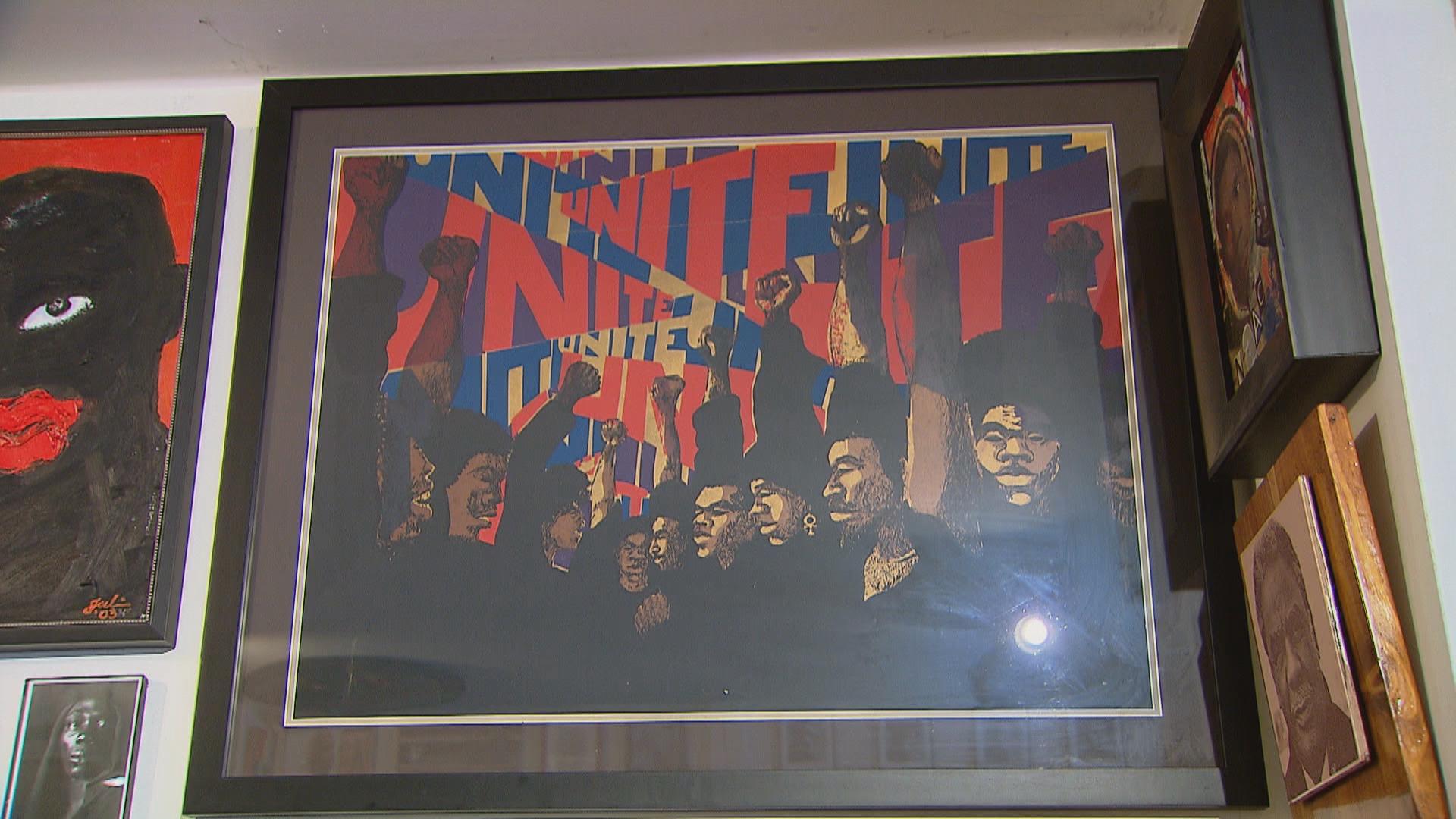 "This poster I've had for about 50 years, and it has gone from being in my house, to being in shows and in the museums around Chicago. Then last year I got a request for it to go to Miami to be during the Miami Basel. So this piece went to the Venice Biennale. Now this is a $10 piece a young college student is buying and all of a sudden what I have bought is in the highest, most respected art scene in the world."
McCoy is president of Diasporal Rhythms, an art collectors' organization he co-founded that's dedicated to exposing the public to art of the African diaspora.
"It's about exposure, we want to expose our community to what's available in the community," said D.E. Simmons, the group's executive director. "The bulk of the artists that we collect are right here within walking distance. They're doing museum-level quality of work. Unless you have the experience of walking and seeing these collections, you don't know that it's possible, and how to live with art."
The organization was founded in 2003 by McCoy, Carol Briggs, Joan Crisler and Daniel Parker after they were each asked to be on a panel about art collecting. That's when they realized how their passions aligned. They say it's the only organization of its kind in the country, and it now includes 80 art collectors. Together, they organize partnerships with schools and museums and host annual home tours to ensure the public is properly exposed to artists of the African diaspora.
McCoy frequently hosts field trips and public tours of his home, where you'll find a poster of Chicago's first jazz festival. Stained glass hanging in every window. Outlet sockets covered with painted frames and even a tableside statue created from forks and spoons. Nearly everything in McCoy's home has taken on some artistic form.
We asked Simmons how group members determine which pieces they add to their collection. His answer was simple:
"Do what you like, hang it where you like it, buy what you like and invite us to come see," he said.
That's how McCoy added a collection of mini bicycles (he's a fan of cycling). And a photo from the Bud Billiken Parade. And all of the other artwork you see taking over nearly every inch of his home.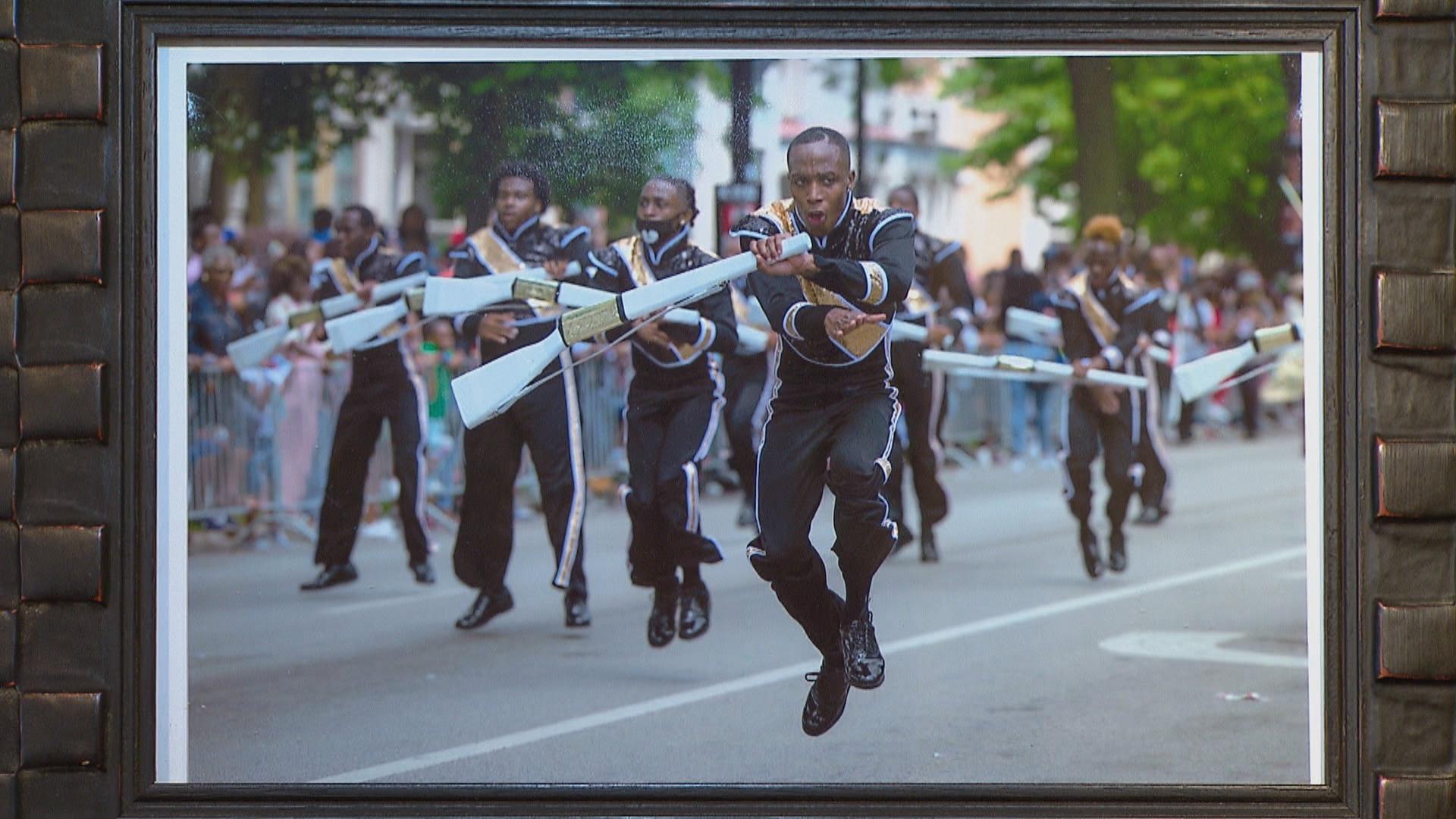 McCoy says Diasporal Rhythms is preserving a significant cultural element of Chicago. That's why he already has a plan in place for his collection when he dies.
"I'm going to leave my collection to the organization to do something with it," he said. "To create an institution around it so that it's always available to the public. Too often when the collector dies, it's all of a sudden dispersed. We just saw it, the Johnson collection is gone. That should have never have left Chicago, never should have been broken up. I'm not going to let that happen."
But the future of Diasporal Rhythms does not end with McCoy's collection. In fact, it's propelling the group to expose the next generation of art collectors.
"He's given us the next generation's seeding of what we're doing, and that is to create a home of our home," Simmons said. "So when a collection like the Johnsons are looking for a place to be, because there's no contemporary museum African American art that I know of, but we're going to build it."
---
More on this story
If you're interested in taking a tour of McCoy's home, visit the group's website.
Follow Angel Idowu on Twitter: @angelidowu3
Angel Idowu is the JCS Fund of the DuPage Foundation Arts Correspondent.
---