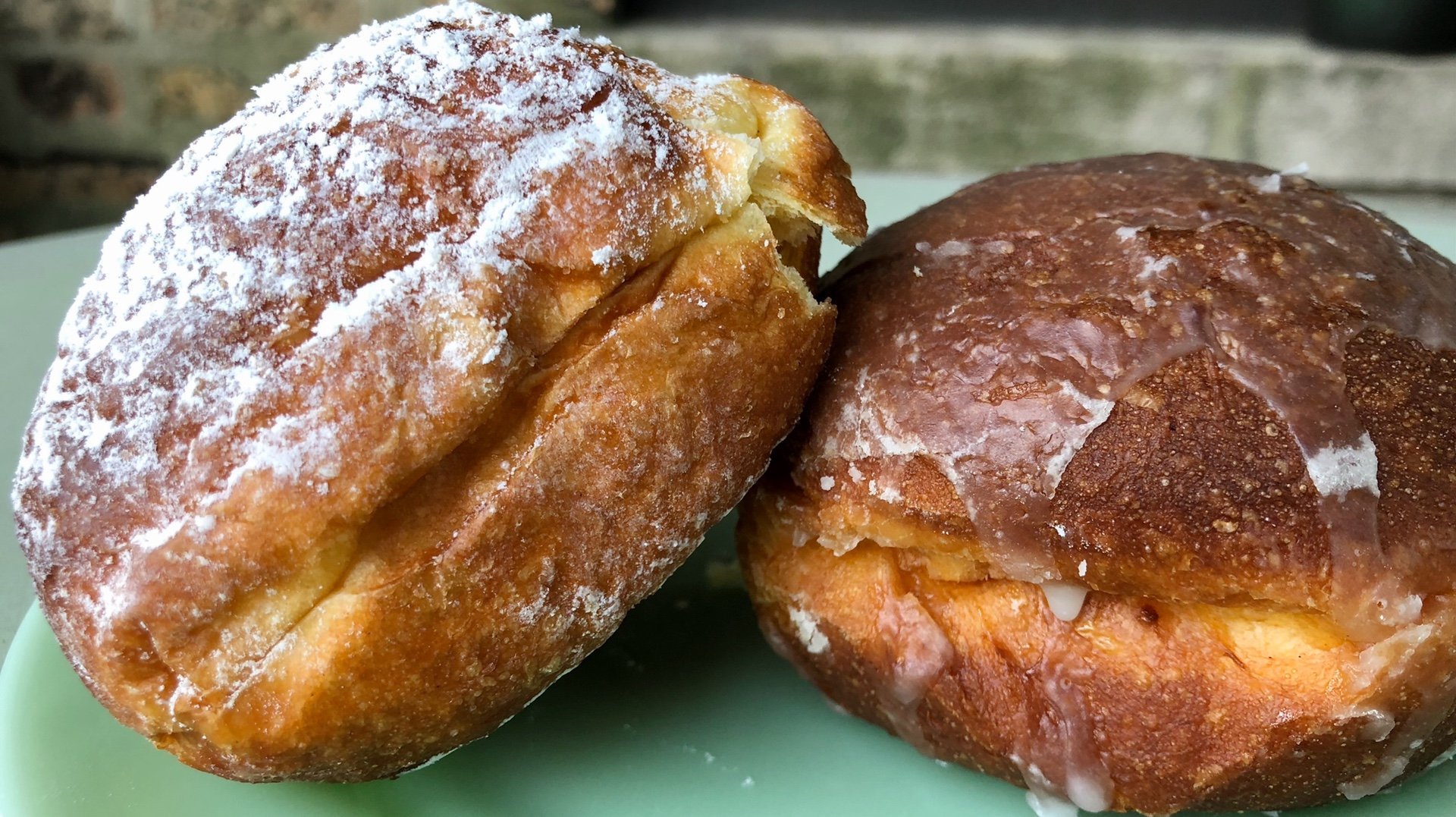 Chicago bakeries will sell tens of thousands of paczki on Fat Tuesday. Patty Wetli/WTTW
It's deja vu all over again for Chicago's Polish bakeries as they brace themselves for the annual Fat Tuesday rush on paczki – they've already survived the "real" Paczki Day, celebrated by Poles in the old country and abroad on Fat Thursday (Tłusty Czwartek in the mother tongue).
Bart Kolatek, the second-generation owner of Kolatek's Bakery & Deli, 2445 N. Harlem Ave., will leave it to others to debate which date is more authentic. He's too busy filling orders. 
"Oh my god, we sold about 10,000 Thursday, and we'll probably do the same on Tuesday, plus a bunch on Monday. It's a crazy little holiday," said Kolatek, who was a small boy when he immigrated to Chicago from Poland with his parents in the early 1980s.
He estimates that 80% of the shop's Fat Thursday customers were Polish, looking for a taste of home. And plenty of them will double dip on Tuesday because, yes, Kolatek, confirmed, Poles really are that wild about paczki during Carnival.
"I read that every Polish person eats 2.5 paczki on Fat Thursday," he said. 
And no, paczki aren't just a jelly doughnut dressed up in a name most non-Poles struggle to pronounce, Kolatek said. They're a confection unto themselves, made from a rich yeast bread dough, and the fillings should be decadent and excessive.
"It's supposed to glob onto your shirt" after taking a bite, he said. 
Paczki can be found in the pastry case at Kolatek's yearround, but in the week before Ash Wednesday, the menu balloons from the usual three flavors a day to 24. Despite a valiant effort from caramel bacon, the most traditional flavors continue to reign supreme: custard, raspberry, rose and prune.
Sorry, scratch prune.
"Nobody likes the word prune, so we call it plum," Kolatek said of what happens to be his personal favorite. "It brings me back to my childhood."
Rose, he said, is the flavor that tends to prompt the most questions and produce the most split reactions.
"It's very intriguing to people. They always ask, 'What does it taste like?' It tastes exactly like a rose smells," he said. "You have to really like it."
While Kolatek's has introduced a number of atypical fillings to keep its selection from becoming stale, the majority of those flavors have been inspired by staples of Polish cuisine. Or should we say: the Polish liquor cabinet. 
There's a filling that incorporates Adwokat, a Polish egg liqueur ("Kind of like egg nog without the nog," Kolatek said), and another is laced with Wiśniówka, a cherry cordial.
This year, the new limoncello (or Cytrynówka) paczki were a huge hit with the Fat Thursday crowd. "Even the old-timers," Kolatek said.
Cytrynówka, he explained, is a lemon liqueur Poles often make at home and serve at weddings and family gatherings (same with Wiśniówka). Polish customers will still very much recognize these new paczki as representing the Old World, Kolatek said.
If Fat Thursday is all about honoring Kolatek's roots, Fat Tuesday is all about staying relevant in 2020.
Paczki have been around for centuries, a way for families to use up all the lard, sugar and fruit that would be forbidden during Lent. (Other countries have their own version of paczki, most notably Germany.)
But it's only within the last few years that paczki have become a pop culture sensation. Between the memes and the tweets asking, "How do you pronounce paczki?" (answer: kind of like "ponch-key"), the pastry has been transformed from niche ethnic item into household name, and no one wants to be left out.
"It kind of blew up. I think social media kind of made it being 'in.' There's the jealousy factor of 'Hey, I got mine. Did you get yours?'" Kolatek said. "There are paczki wars where everybody brings paczki to the office from a different bakery. Where's the best?"
Then there are the selfies.
Loads of new customers will file into Kolatek's on Fat Tuesday, having ventured to Chicago's western limits in search of the most authentic paczki experience to share on their Instagram or Facebook feed. 
"Nobody's taking a selfie with a paczki from Jewel. Nobody's going to do a selfie with a Costco paczki," he said.
Kolatek gets it, he's happy to play along. The upside, he said, is that maybe in between choosing the perfect filter and painstakingly crafting a caption designed to sound spontaneous, some of those folks will notice the bakery's other offerings — cookies, cakes, sprouted-grain breads — all made from scratch on-site. And maybe they'll come back. 
Because business, like man, cannot survive on paczki alone.
Kolatek's is still taking pre-orders for paczki on Fat Tuesday but will have plenty for walk-in customers, Kolatek said. "Come in before noon and you're good to go."
(Have a favorite paczki flavor? Head to our Instagram Stories (@wttwchicago) where we've got live polls and more. And be sure to watch "Chicago Tonight" on Tuesday at 7 p.m. for special paczki coverage.)
Contact Patty Wetli: @pattywetli | (773) 509-5623 |  [email protected]
---