The Museum of Science and Industry is celebrating 50 years of African American artists at its Black Creativity exhibit.
What started as a way to highlight emerging African American artists has since grown into an annual celebration of black fine art.
There are over 200 pieces of work on display, ranging from digital art to sculptures to paintings, all part of the nation's longest-running exhibition of its kind. Participating artists are from around the country and also Chicago.
Local emerging artist Blake Lenoir is based at the Blanc Gallery in the Chicago Defender building. It's his first year participating in the exhibit. While the experience is a breakthrough for his career, Lenoir says he's also grateful for the relationships this opportunity has helped foster.
"You get to see the contemporaries around you," Lenoir said. "You get to see the different types of art movements, you get to be inspired, inspire others in the same way or in a different way. Different connections, it's all more an each-one-teach-one and we can all progress together, so to say."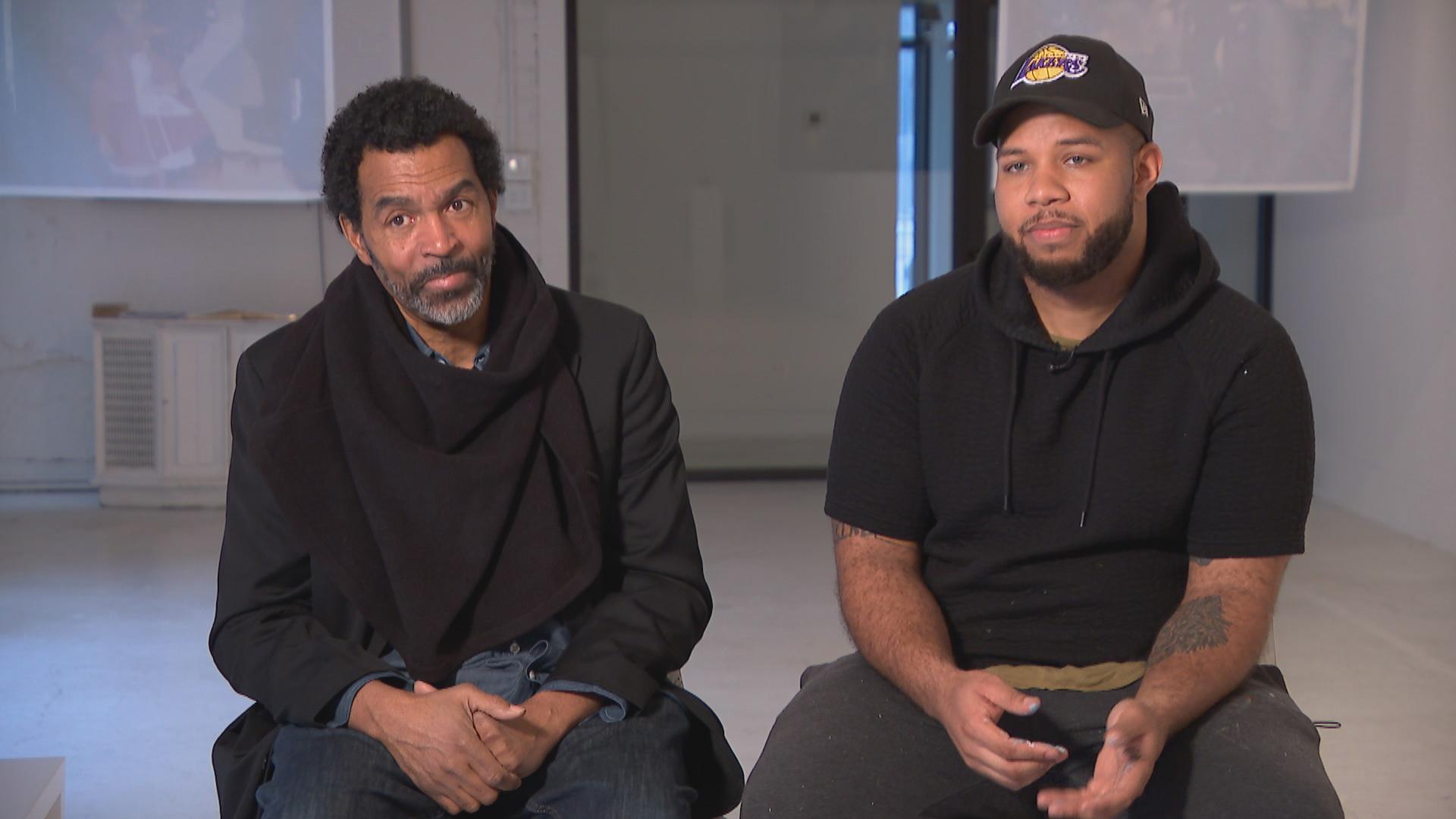 Artists Arthur Wright, left, and Blake Lenoir speak with WTTW News about the Black Creativity exhibit.
It's because of the Black Creativity exhibit that Lenoir was able to connect with established artist Arthur Wright, who is showcasing his work for the fourth year. He says one of his pieces, "The Gift," depicts the same message the exhibit evokes: helping one another.
"It's a collage and paint combination," Wright said. "What it's showing is a woman with extended harms holding a globe and basically my expression was trying to depict someone again sharing, someone giving of themselves freely to one another, to the world."
Lenoir's piece "Opaque Metropolis" is his own depiction of "Bronzeville Boys," originally created by Russell Parks.
Despite meeting for the first time during our WTTW News interview, both artists agree that the diverse community of artists reminds them they are not alone in their challenges.
"At one point I was afraid to collaborate because that meant my identity (could) be taken away or having to share with someone else. When in truth I'm learning so much," Wright said. "Now, art to me is about the relationships."
"The relationships are what pay it forward for you," Lenoir added.
"It's important for students and older people to understand you're a scientist, you're a designer, you are an engineer, you are a lawyer, you are a doctor because your art heals people. You're all these different careers wrapped in one. Then you get a chance to meet those personalities," Wright said.
"Exactly," said Lenoir. "Then you see how what you contribute is interchangeable, based on those different types of relationships with those people."
The Black Creativity exhibit works to bridge that gap between age groups by also featuring a student exhibition with work from more than 100 youth artists.
When we asked Wright and Lenoir what they would say to those developing artists, they said:
"Realize you don't have to be an artist. You can just have a hobby. Or an interest of doing art which makes you happy, which will help you be good at your job," Wright said.
"Find your yes and also maintain a childlike disposition about what you do," Lenoir said. "Find what makes you act childlike; what makes you happy just as you were as a child."
---
More on this story
The Black Creativity exhibit is on display at the Museum of Science and Industry in Hyde Park through March 1, 2020.
Follow Angel Idowu on Twitter: @angelidowu3
Angel Idowu is the JCS Fund of the DuPage Foundation Arts Correspondent.
---