Hours after returning to his Ravenswood Manor home following a nearly eight-year stint in federal prison, a defiant Rod Blagojevich attacked the prosecutors who put him behind bars and again proclaimed his innocence in one of the most infamous public corruption cases in Illinois history. 
Speaking to a throng of reporters during the first press conference since President Donald Trump commuted his 14-year sentence, the impeached former governor on Wednesday expressed his appreciation for the man who put into motion a whirlwind of events over the past 24 hours.
"We want to express our most profound and everlasting gratitude for President Trump," Blagojevich said, calling his release an act of kindness that turned "an act of injustice into justice."
"It's a broken criminal justice system, and it's a racist one. And nobody is working harder to fix it than Trump," he said. "I'm returning home today from a long exile as a freed political prisoner."
Scenes from the Blagojevich home as crowds await the press conference:
Dressed in a blue sweater and dabbing blood from his face following a shaving accident, Blagojevich stood beside his wife Patti and two daughters as he gave a 20 minute statement before leaving without taking questions from the throng of media gathered on his front lawn. (Watch the full press conference here.)
He spoke about reuniting with his family, described his incarceration inside a 6-foot by 8-foot cell at the federal penitentiary in Colorado beside "drug dealers, cartel members, gangbangers (and) bank robbers,"
But mostly he heaped praise on the president who freed him, calling trump "a man who gets things done."
"He's the one who is fighting to bring real change," Blagojevich said. "That's why he gets so much pushback. But notwithstanding being tough, he's also a man with a kind heart. He sees wrong and he tries to right it."
The governor-turned-convicted felon even added an endorsement of Trump's bid for a second term.
"I'm a Trumpocrat," said Blagojevich, flanked by his wife and two daughters. "If I had the ability to vote, I would vote for him."
Blagojevich was convicted on charges including wire fraud, attempted extortion, bribery and conspiracy for attempting to sell the Senate seat vacated by President Barack Obama.
He landed at O'Hare airport hours after walking out of a Colorado prison where he served eight years, promising to work for judicial and criminal justice reform while repeatedly maintaining his innocence.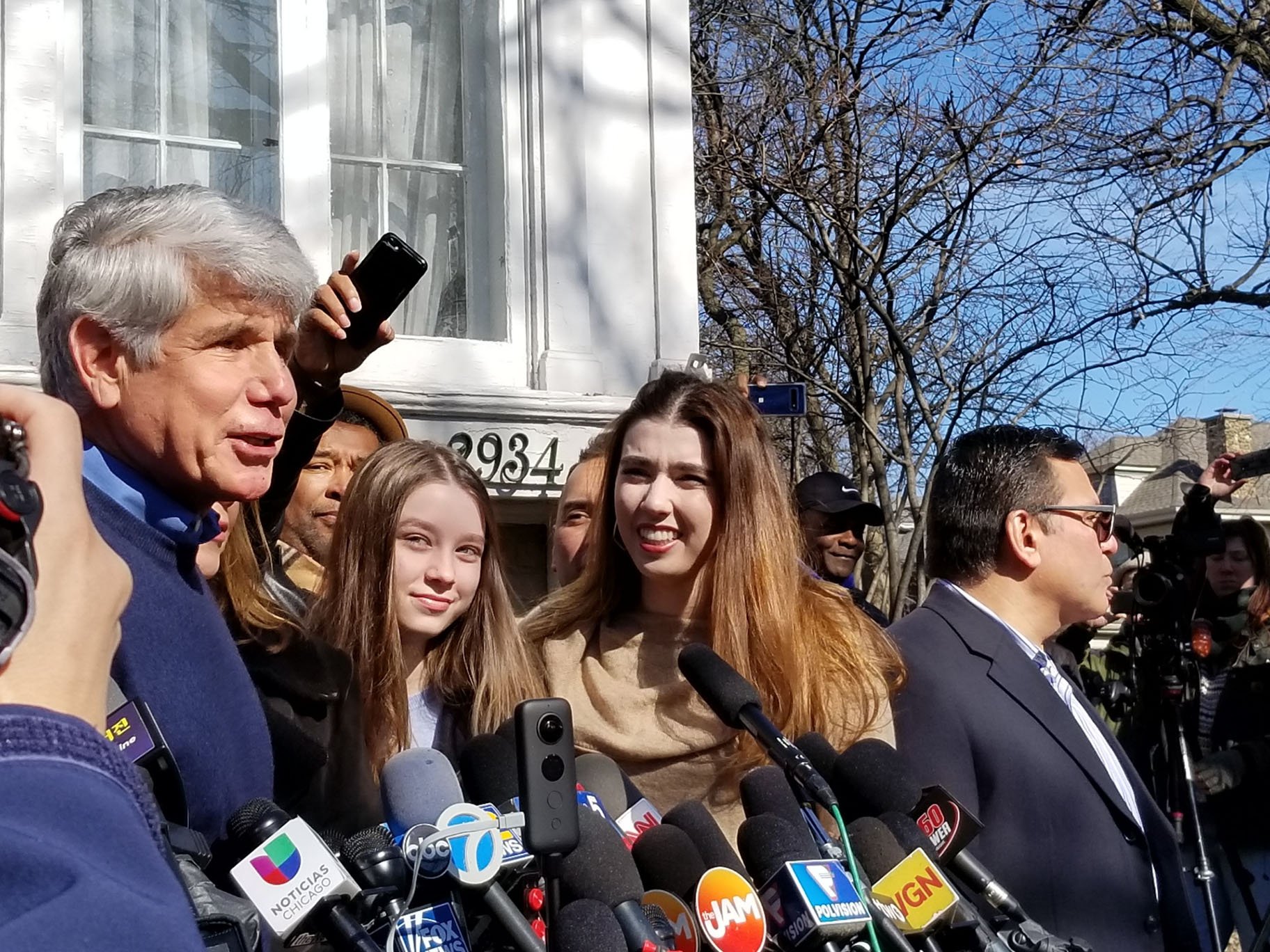 Former Illinois Gov. Rod Blagojevich speaks to the media on Wednesday, Feb. 19, 2020. (Matt Masterson / WTTW News)
"I didn't do the things they said I did and they lied on me," Blagojevich, a one-time contestant on Trump's reality TV show "Celebrity Apprentice," told WGN-TV as he walked through the airport greeting travelers who welcomed him home.
On Wednesday, he again spoke about the "virtually uncontrollable" power given to federal prosecutors to indict government officials for "routine practices."
"From beginning to end, this was persecution masquerading as prosecution," Blagojevich said.
He was found guilty on 18 counts during a trial in 2010 and re-trial in 2011, but the 7th U.S. Circuit Court of Appeals in Chicago in 2015 tossed five those convictions, including ones in which he offered to appoint someone to a high-paying job in the Senate.
While Blagojevich has shown no remorse for his crimes, the federal prosecutors who convicted him issued a statement Tuesday saying he "remains a felon, convicted of multiple serious acts of corruption as governor."
Mayor Lori Lightfoot on Wednesday also blasted the ex-governor for his failure to show even "one ounce of contrition."
"Every week, every month, there are men and women who return from incarceration, particularly from the Illinois Department of Corrections into the city, many times in worse circumstances than what they left," Lightfoot said after Wednesday's City Council meeting. "None of those people are going to get the kind of attention that you're apparently going to pay to Rod Blagojevich and that's a shame, because many of them have great needs, great needs that we are trying to address as a city."
Video: Watch the full press conference.
The Associated Press contributed to this report.
Contact Matt Masterson: @ByMattMasterson | (773) 509-5431 | [email protected]
---