Chicago Mayor Lori Lightfoot said the city "will not be bullied" amid reports that federal immigration authorities will deploy specialized teams to sanctuary cities across the country to help boost immigration-related arrests.
The New York Times reported last week that President Donald Trump will deploy U.S. Immigration and Customs Enforcement (ICE) tactical units from the U.S.-Mexico border to nearly a dozen so-called sanctuary cities including Chicago, New York and Los Angeles.
Lightfoot responded to that news in a video message Saturday, telling the city's immigrant and refugee populations that "Chicago will always stand strong and we will use all of our tools to make sure everyone is safe."
"We will not be bullied. Period," the mayor said. "Especially by a bully like President Trump, who trades in hatred and scare tactics. To all our neighbors and friends, I want you to know that Chicago stands with you and will always fight to keep you safe."
According to the New York Times, some of the ICE agents being deployed include members of the Border Patrol Tactical Unit (BORTAC), which is described as a "SWAT team" that typically conducts high-risk operations.
"They are people who are chosen from individual Border Patrol units. They undergo specific training – it's similar to Army Rangers or to Special Forces – they're sniper certified, they have (flash bang) grenades. … So they're very much a militaristic squad from within the Border Patrol," New York Times reporter Caitlin Dickerson told the "PBS NewsHour" on Saturday.
The deployments will reportedly begin this month and continue through May, during which time BORTAC agents will be tasked with supporting run-of-the-mill immigration arrests, according to the New York Times.
The Trump administration has repeatedly tried to crack down on sanctuary or welcoming cities, which refuse to cooperate with federal authorities in turning over information about residents who may be targeted by ICE for deportation.
That included withholding federal grant money from those cities and states, including Illinois, which last year went to court in order to ensure it received more than $6 million in Edward Byrne Memorial Justice Assistance Grant funding it had been allocated from the feds.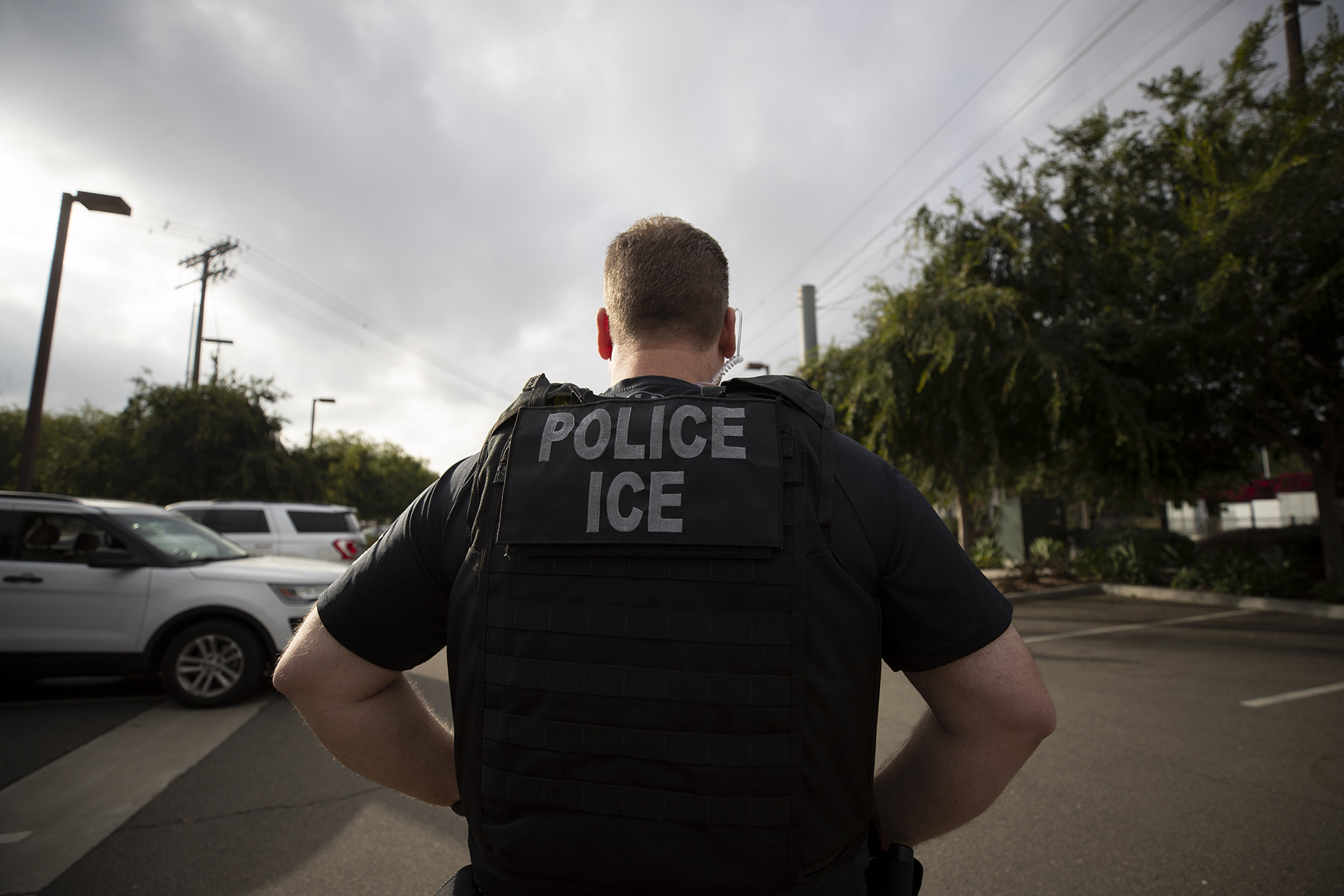 In this July 8, 2019, file photo, a U.S. Immigration and Customs Enforcement officer looks on during an operation in Escondido, California. (AP Photo / Gregory Bull, File)
Last week, the Department of Justice filed a lawsuit against the state of New Jersey and its governor for their refusal to comply with ICE. That came as U.S. Attorney General William Barr promised a "significant escalation" against sanctuary cities.
"This is the continuation of a battle that began in January 2017 when President Trump took office," Dickerson said. "Even earlier in 2016, he campaigned on the idea of cracking down on sanctuary jurisdiction."
While previous threats of mass immigration raids have not materialized as described, "we always need to prepare as if it was a real threat," said Erendira Rendon, vice president of the Immigration Advocacy and Defense Project at the nonprofit Resurrection Project. "The last time the president tried these scare tactics it didn't result in what he expected, mainly because organizations across the country and states and cities know the value of immigrants and have been taking proactive steps."
Rendon says her group is planning a training session this weekend for organizations that educate immigrants about their rights when dealing with law enforcement. She thinks the move to send Border Patrol agents into Chicago isn't rooted in sound policy. "This is just another way to attack our community," she said.
But attorney David Applegate, a member of the conservative and libertarian legal organization The Federalist Society, thinks the issue is "a tempest in a teapot."
"This is not some kind of barnstorming, kick down the door, grab everybody in sight, put them on a plane, ship them out of the country and figure out after if they're legally or illegally here," Applegate said, but an attempt to support "overburdened" ICE agents.
In her message, Lightfoot reiterated that the Chicago Police Department and other city agencies are banned from assisting federal agents in any civil immigration enforcement efforts. She also reminded immigrants and refugees of their rights, stating that ICE agents cannot enter their homes without a signed warrant from a judge.
"If anyone thinks that they can come here, to our city, and terrorize our residents into the shadows, let me say this," she said, "they've got another thing coming."
Contact Matt Masterson: @ByMattMasterson | (773) 509-5431 | [email protected]
---