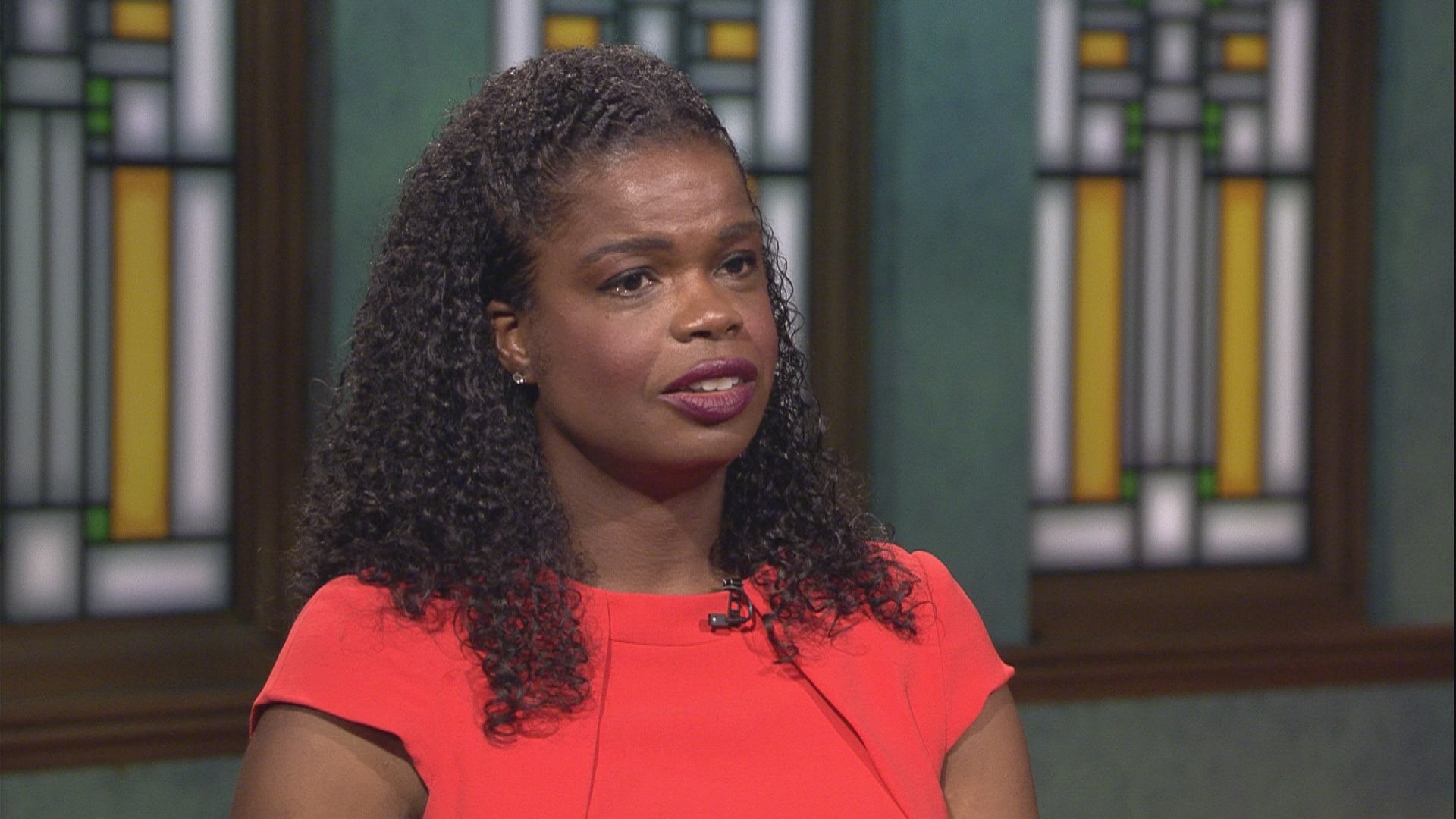 Cook County State's Attorney Kim Foxx appears on "Chicago Tonight" on Sept. 17, 2019. (WTTW News)
Cook County State's Attorney Kim Foxx can continue using taxpayer dollars to pay for outside legal counsel as a special prosecutor investigates her office's handling of the Jussie Smollett case, a judge ruled Friday morning.
Judge Michael Toomin denied a petition from retired appellate Judge Sheila O'Brien, who argued that Foxx's hiring of attorneys from outside her office should not be allowed under state statutes.
O'Brien filed a petition last year that led to the appointment of special prosecutor Dan Webb to review the Smollett case. But Toomin on Friday said that once that appointment was made, O'Brien's role in the case had concluded.
"I'm gonna have the state's attorney prepare an order so that there will be no pleading, no motion, no complaint, no petition heretofore filed by you in this matter involving Mr. Smollett … until this court has allowed such a pleading or document to be filed by you," Toomin told O'Brien. "You don't have standing, we appreciate what you've done earlier in the case."
O'Brien last month filed a petition for a writ of mandamus, asking Toomin to order Foxx to "cease and desist" using public funds to cover the costs of the attorney she hired to represent her in the ongoing probe into Smollett's alleged hoax attack.
Foxx has retained former Northern District of Illinois Chief Judge Ruben Castillo, now of the Akerman law group, and planned to use tax dollars to pay him to assist in the Smollett case.
Assistant State's Attorney Cathy McNeil-Stein said there's nothing unusual about that hiring. She told Toomin that the State's Attorney's Office has already reviewed 100,000 pages of documents in the high-profile case and doesn't have the capacity to respond to Webb's team promptly without additional help.
"This office has taken lawyers that are supposed to be doing the good work of the county … and pulled them away from that," she said.
Speaking briefly, Webb told the court he had no issue with Foxx bringing in outside help on the case, calling it "routine and ordinary."
"As the Office of Special Prosecutor, I did not find anything unusual or out of the ordinary about that," he told Toomin.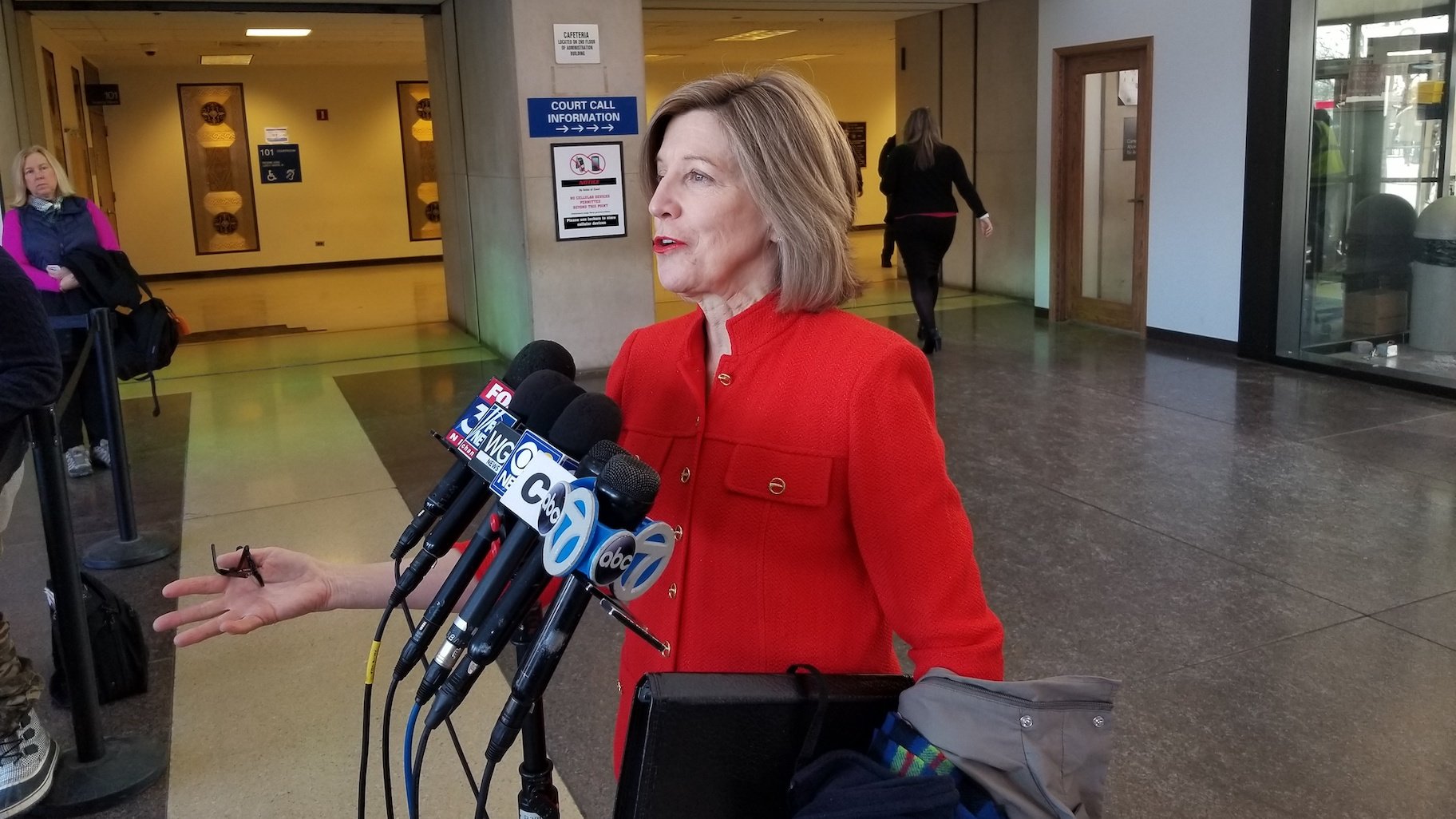 Retired appellate Judge Sheila O'Brien speaks to reporters inside the Leighton Criminal Court Building on Feb. 14, 2020. (Matt Masterson / WTTW News)
Foxx's office issued a statement after the hearing, saying it agreed with Toomin's ruling, calling O'Brien's mandamus petition "inappropriate, unwarranted, and without merit."
"The State's Attorney's Office (SAO) has clear authority to retain outside counsel and routinely does so in matters that require additional capacity or expertise," Foxx's office said. "The SAO continues to fully cooperate with the special prosecutor's review and looks forward to its resolution."
A grand jury this week returned a new six-count indictment against Smollett, nearly a year after he was first charged with disorderly conduct for allegedly lying to police about being the victim of a racist and homophobic attack near his Streeterville home. Chicago police eventually determined he had orchestrated the attack on himself. 
Those original charges were dropped last March, prompting O'Brien to seek a special prosecutor to reinvestigate both Smollett's allegations and how Foxx's office handled the prosecution of his case. In announcing the new charges this week, Webb said his team has "reached no conclusions" thus far in determining whether anyone in or out of Foxx's office engaged in any wrongdoing related to the case. That investigation remains ongoing.
While her motion was denied Friday, O'Brien said she was satisfied with Toomin's ruling.
"I'm a private citizen and I'm doing this on my own, so part of me says, 'Oh, I'm out.' That's fine," she said, "I'm one person doing it. Dan Webb's a competent attorney and he's gonna take the ball and lateral it and I'm off the field. I'm off the field. When you're fighting hard and working hard, when you get taken off the field you're kind of a little happy about that."
Contact Matt Masterson: @ByMattMasterson | [email protected] | (773) 509-5431
---