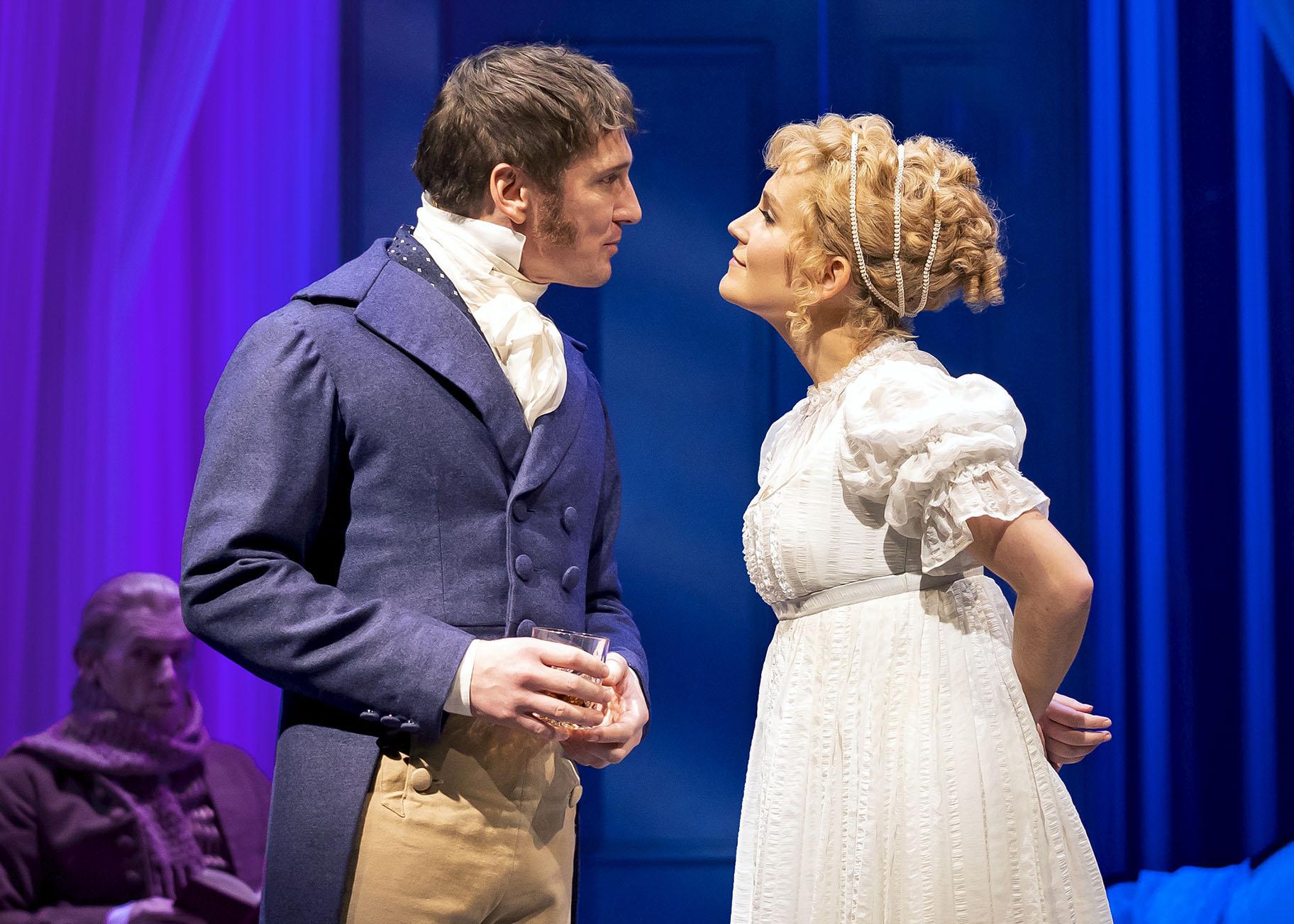 Lora Lee Gayer and Brad Standley in Chicago Shakespeare Theater's production of "Emma." (Photo by Liz Lauren)
The manners, mores and rights of women may have changed quite radically since Jane Austen penned her major novels in the early decades of the 1800s. But the more things change the more human nature remains the same. And it is Austen's spot-on depiction of the vagaries of the human heart and the pernicious impact of differences in social status, as well as her razor-sharp wit, that continue to make her work the focus of popular stage and screen adaptations, television series and movies.
The flaws and fancies, and triumphs and comeuppances of Austen's characters continue to ring true two centuries after the publication of her books. The latest proof can be found in "Emma," Chicago Shakespeare Theater's utterly charming and disarming production of Paul Gordon's 2006 musical version of Austen's 1815 novel that has been ideally cast and directed by Barbara Gaines. (It is worth noting that at the very same moment this musical has arrived on a Chicago stage, a new film version of "Emma" is about to be released, and Northlight Theatre is still basking in the success of its productions of two plays by Lauren Gunderson and Margot Melcon that riff on Austen's most famous novel, "Pride and Prejudice.")
This is not the first time Gaines has tapped into the delights of composer-lyricist Gordon's work. Her 2015 world premiere of his musical based on Austen's "Sense and Sensibility" was a beauty. "Emma" is an ideal follow-up.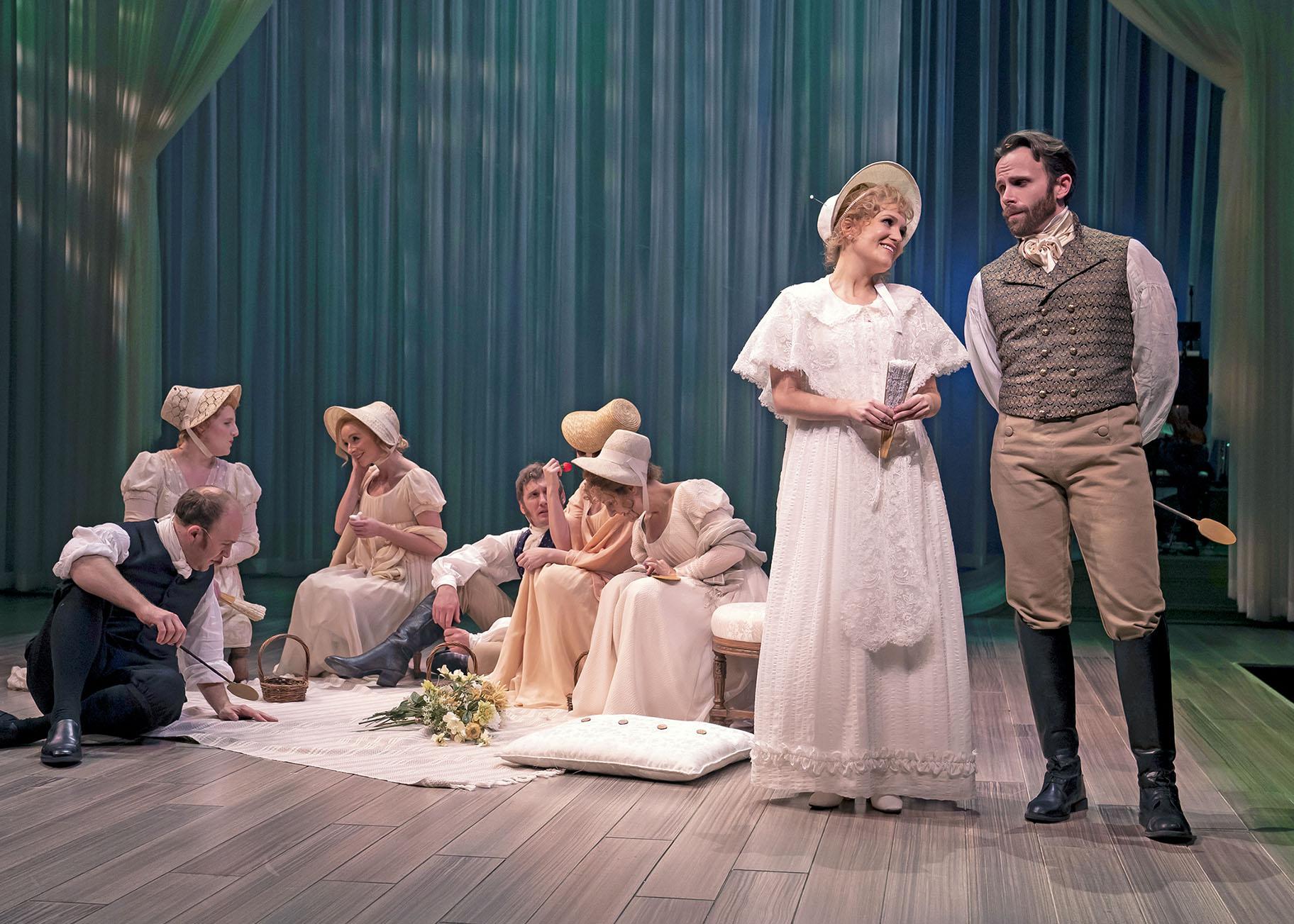 Lora Lee Gayer and Devin DeSantis, front, in "Emma." (Photo by Liz Lauren)
Set in an upscale English village of fine estates, the driving force in the story is Emma Woodhouse (played with just the right quality of "blonde ambition," privilege and naive arrogance by Lora Lee Gayer). But the real strength of the show lies in the fact that every character in the musical's cast is portrayed to vivid effect.
After successfully serving as a matchmaker for her governess, Emma – whose own need to marry is far less pressing given her family's wealth – decides that she is worldly wise enough to make matchmaking a full-time preoccupation. Her efforts are often bungled and wrongheaded, and when she sets her sights on love objects of her own things can go very wrong, at least until she learns some hard truths about herself.
The musical – with its bright, character-defining, verbally clever score – is ultimately a series of character studies as Emma's acquaintances, both male and female, are subjected to her marital machinations, snobbery, insecurities and jealousy. Very much a product of her class, she understands that unless a woman has the sort of insured inheritance she does, financial considerations are of vital importance when choosing a mate. Yet as Austen knows, visceral attraction, and a meeting of minds (and/or sheer willfulness) cannot be denied.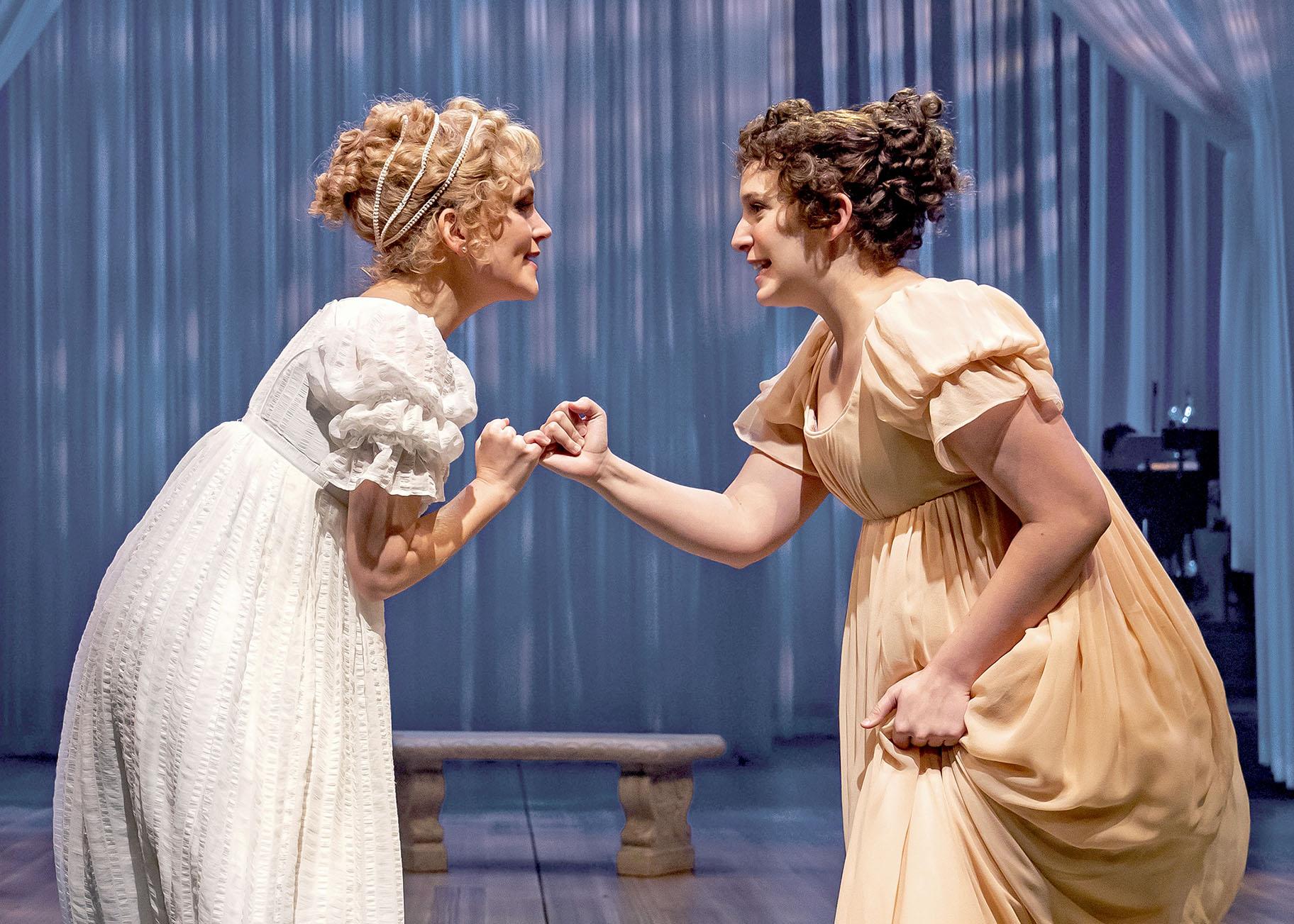 Lora Lee Gayer, left, and Ephie Aardema) in "Emma." (Photo by Liz Lauren)
Early on, Emma sets her sights on matching up her financially iffy, down-to-earth young friend, Harriet Smith (a lovely, heartfelt turn by Ephie Aardema) with the rather unappealing and status-seeking local vicar, Mr. Elton (deft work by Dennis William Grimes), who, as it happens, has a hankering for Emma herself. Harriet has already captured the heart of the shy but deeply decent and loving young farmer, Robert Martin (winningly played by Ian Geers), but in what is perhaps her greatest mistake, Emma snobbishly steers Harriet away from him. The vicar, it should be known, will get his just rewards in the most hilarious pairing of the story when he "marries up" to Augusta Hawkins (Bri Sudia, who instantly stops the show with her brilliant comic turn as a well-off but decidedly vulgar and emasculating woman).
And then there is the matter of Emma, whose contentious and challenging relationship with her insightful, strong-minded brother-in-law, Mr. Knightly (an impeccable turn by Brad Standley), is ongoing, despite her brief but feverish attraction to the handsome Frank Churchill (the easily charming Devin DeSantis). Churchill has his eye on someone else. And Emma's breakthrough to maturity only comes with that realization, and with her coming to terms with her intense but carefully sublimated rivalry with Jane Fairfax (the delicate, perfectly understated Erica Stephan), a pretty, talented, well-educated and modest young woman who has been cared for by a family friend since she was orphaned, yet seems destined to spend her life working as a governess.
Generating laughs with every brief appearance in the show is Emma's doddering father, Mr. Woodhouse (with Larry Yando in his usual peerless form as a man who abhors change of any kind). And completing the stylish cast are Kelli Harrington, Marya Grandy, Michael Milligan, Brandy Cheyenne Miller, Emily Goldberg, Liam Quealy and Maxwell J. DeTogne.
Ephie Aardema and Brad Standley, front, in "Emma." (Photo by Liz Lauren)
Scott Davis' simple but elegant set of cloud-like white curtains and crystal chandeliers suggests the elegant simplicity of the Regency period, as do Mariann Verheyen's costumes.
And, most crucially, director Roberta Duchak and conductor/keyboardist Kory Danielson serve the score ideally, along with musicians Charlotte Rivard-Hoster (keyboard), Andrew McCann (violin), Jill Kaeding (cello) and Mike Matlock (reed), and the singing of the cast that has the feel of extended conversation.
Given the temper of her times, Jane Austen never published her novels using her name. The jackets of her books read simply "By a Lady." Indeed. And a good deal more.
"Emma" runs through March 15 at Chicago Shakespeare Theatre, 800 E. Grand Ave. on Navy Pier. For tickets ($35-$90) call (312) 595-5600 or visit chicagoshakes.com. Running time is 2 hours and 20 minutes with one intermission.
Follow Hedy Weiss on Twitter: @HedyWeissCritic
---