There's been a lot of off-the-field news since the White Sox and Cubs wrapped things up last fall, and spring training is right around the corner.
The first training workouts for pitchers and catchers on both teams is Feb. 12. The first full-team workouts are set for Feb. 17.
We asked White Sox broadcaster Jason Benetti and Cubs broadcaster Len Kasper about the upcoming season.
The following Q&As, conducted separately via email, have been edited for clarity.
---
Many observers say the White Sox "won" the offseason. What's your general take on everything the team did over the winter?
Jason Benetti: It's been tremendous for Sox fans to see the team be one of the leaders of the offseason, not only in volume but also in timeline. The Sox made one of the first major splashes of free agency with Yasmani Grandal, then continued to push forward.
If the White Sox were noted for their flurry of activity this offseason, it seems the Cubs offseason was pretty much the opposite. What were the factors that led the team to pretty much stand pat this winter?
Len Kasper: The Cubs already have one of MLB's highest payrolls and while no fans like to see their team stand pat, you have to consider the Darvish and Kimbrel deals in particular the last couple years affected what the Cubs could do this off-season. And we always focus on "who's new" but rarely discuss "who can get better" and this roster, on paper, could be the most talented in the division. Internal improvement will tell the tale in 2020. Lack of depth is probably the biggest issue at the moment. But for a team that didn't make many moves, there really aren't a ton of roster questions to be answered going into spring training (aside from bullpen makeup).
On "Chicago Tonight" last week, we asked Sox GM Rick Hahn about Luis Robert. Sox fans are excited about him after an incredible season in the minors in 2019 and what seems to be almost unlimited potential. At the same time, the team has invested in Robert more than $100 million ($76 million in salary and signing bonus, plus another $26 million in international bonus pool penalties). How do you assess the risk/reward with numbers that high, and how much pressure do you think he will be feeling?
Benetti: He's an ultra-talented young man, and the game is leaning toward locking stars and future stars up early. I'm not him, so I'd prefer not to speak for him (about how much pressure he will be feeling). He'll have a good core of people around him who've been through it.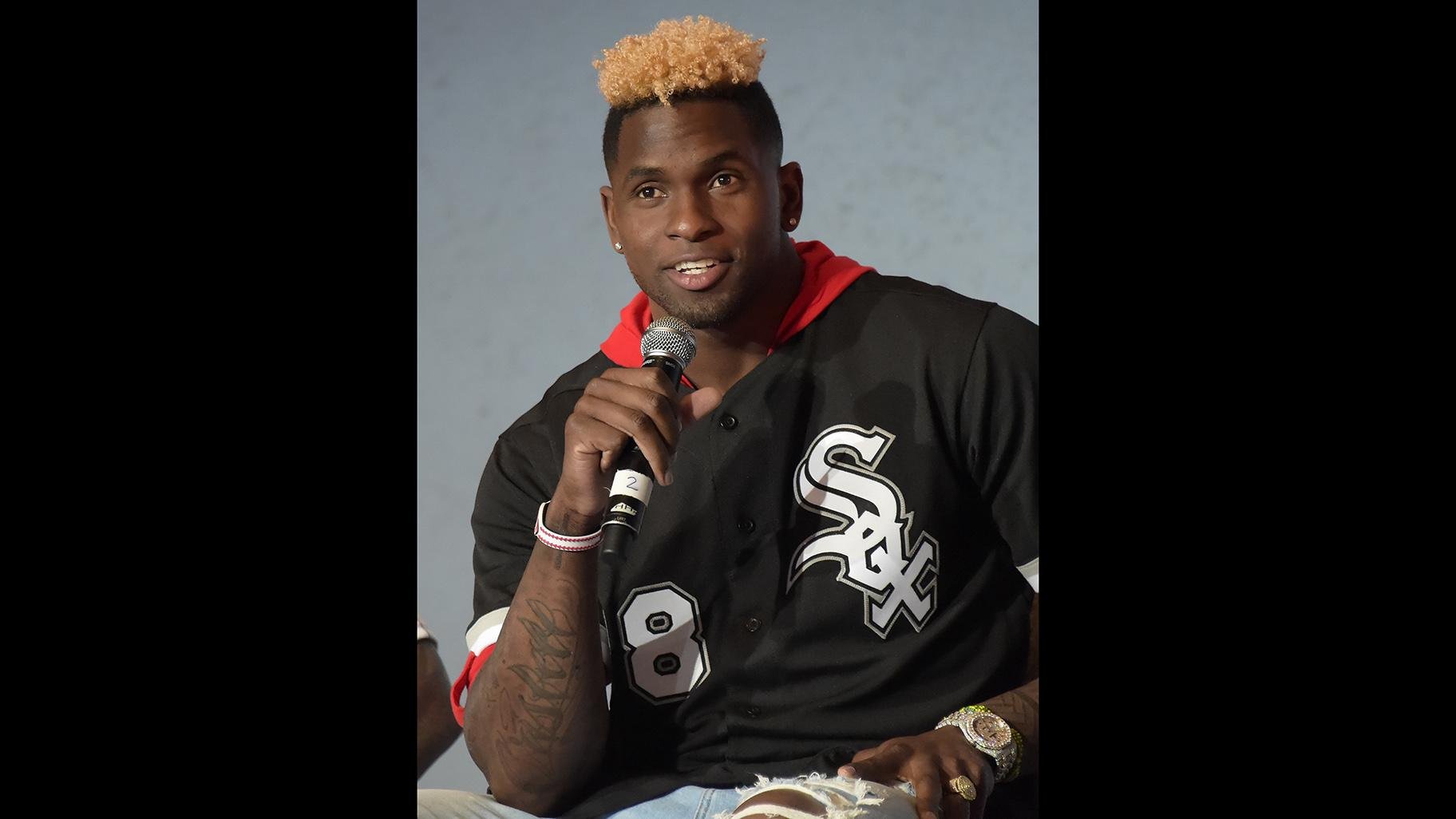 Caption: Sox rookie Luis Robert talks to fans at the recent SoxFest. (Courtesy Chicago White Sox / Ron Vesely)
As for the Cubs, I guess the biggest moves this offseason were saying goodbye to manager Joe Maddon and hiring former catcher David Ross. Ross has served as a special assistant to the team, but doesn't have any managerial or even significant coaching experience. Len Kasper, how do you think he will fare and what do you expect his learning curve to be? How do you think he will do managing his former teammates?
Kasper: He should be a quick study. He's very upfront about what he knows and doesn't know and has said having Andy Green as his bench coach is huge since Andy just managed for 4 years in SD. Spring training will be big for him as he gets 30-odd games in order to think about strategy in a low-pressure environment. It doesn't happen overnight and he will learn a lot but he seems very up for the challenge.
Fans have the Grandpa Rossy persona in their brain but I can assure you that is not how he operates within the clubhouse. He was a large presence as a player and will carry even more weight as the manager. Teammates have a special bond which can last a lifetime but once that relationship becomes manager-player, it changes it fundamentally while at work. I have zero doubt he will be able to put the hammer down when necessary. In fact, I think it's one of the big reasons he got hired.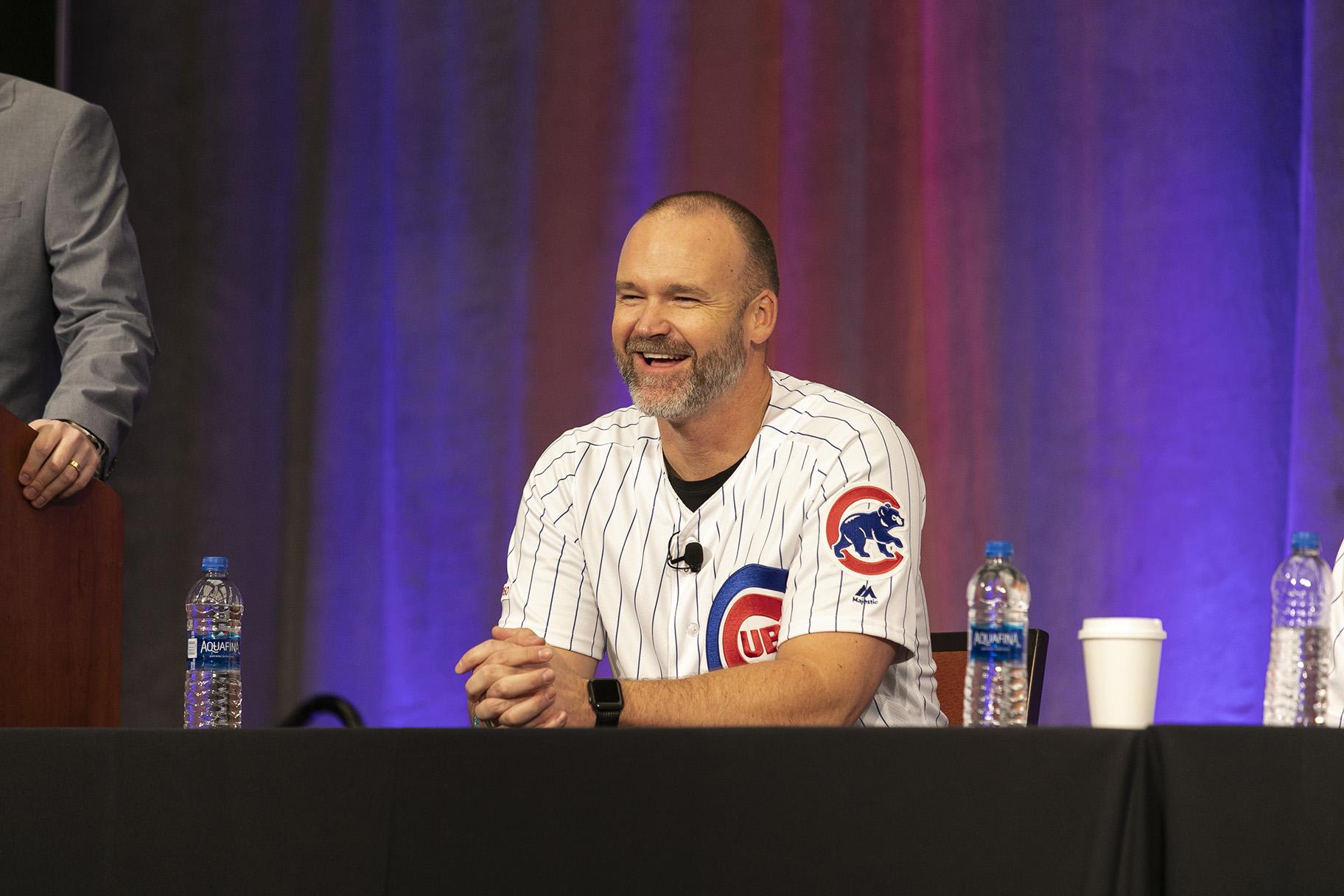 David Ross laughs during a panel discussion at the recent Cubs Convention. (Courtesy Steve Green / Chicago Cubs)
Let's go from a former catcher taking over for the Cubs to a new free agent catcher on the South Side. Jason Benetti, the Sox had an All-Star behind the plate in James McCann last year. Now, McCann is a backup to free agent signee Yasmani Grandal. What makes Grandal so special?
Benetti: Grandal is an All-Star. He's a tremendously prepared catcher. He cares deeply about information. And, he's a strong pitch framer by reputation and by stats.
Speaking of pitching, the Sox 2019 pitching staff was riddled with problems. That seems likely to change now that the team has signed former Cy Young Award winner Dallas Keuchel and Gio Gonzalez to shore things up. Michael Kopech will be back from Tommy John surgery and is expected to play a major role. Lucas Giolito had a break-out season last year and Reynaldo Lopez seemed to regress while still showing flashes of brilliance. How do you think the rotation will shake out, and what do you think the team will get out of Keuchel and Kopech?
Benetti: Dallas Keuchel has been extremely consistent in his career. He'll eat inning, get ground balls and generally be a positive educational presence in the clubhouse when it comes to the intricacies of pitching, I presume. As for Kopech, he intimated at SoxFest that he may be a different type of pitcher once he returns. So, we'll see, but it seems as though he's dedicated himself to adding to his finesse.
How do you think the Sox bullpen is shaping up?
Benetti: Seems like it'll be strong in the late innings with Colome and Bummer, who were exceptional last year. If Jace Fry regains his 2018 form and Steve Cishek does what he typically does, along with a copy of Evan Marshall's 2019, it should be a strength.
As for the Cubs pitching staff, the team lost Cole Hamels to free agency. Jon Lester, Kyle Hendricks, Yu Darvish and Jose Quintana should be in the rotation. Len Kasper, do you expect the team to look for a fifth starter from outside the organization?
Kasper: They like their internal candidates, but the answer is always yes – you want as many candidates as possible. Ideally, you go into spring training with 8-10 legitimate starting candidates. I don't see the Cubs utilizing an opener like many teams have so I think they are focused on a 5th starter in the traditional sense.
What are your thoughts on Yu Darvish, who's battled injury problems and inconsistency in his two years with the team? And what about 36-year-old Jon Lester?
Kasper: (Darvish) was the Cubs' best pitcher last year and could arguably be the Opening Day starter. His second-half run was jaw-dropping in terms of K/W ratio. After watching him these last two years, it seems simple to me – if he's healthy, he's elite. He clearly wasn't healthy in year one.
I never bet against Jon (Lester), even considering he had his worst year as a Cub last year. The stuff still plays, even though it's not as good as it once was. He seems more than willing to make adjustments, something he admits can be tricky. You never want to go against what makes you successful, but you also can't keep doing something that isn't working. Last year, his cutter/change/curve usage was up and his traditional fastball usage was down. I will be curious to see what those trends look like this year.
Can Craig Kimbrel be the Craig Kimbrel of old? And Pedro Strop is among a number of bullpen arms that are gone. How do you assess the bullpen in general?
Kasper: That remains to be seen. Clearly Kimbrel had an odd year considering how late he signed. He had 2 IL stints as well. The HRs allowed was alarming to say the least, even in this homer-happy environment. If you grade players, I would give him an incomplete at this point. You hope he rebounds like Darvish did in year two as a Cub. The bullpen could look pretty unfamiliar and the "mainstays" are mostly guys who emerged last year like Brad Wieck, Rowan Wick and Kyle Ryan. I expect a few new names in the mix and that's where much of the spring training competition comes in.
Back to the Sox: Jerry Reinsdorf once said about former GM Larry Himes that he was the person to get the team "from point A to point B. (But) We need to get to point C." Is manager Rick Renteria the person who can get this White Sox team to "point C"?
Benetti: Ricky's a tremendous clubhouse guy. He's kept the atmosphere around the team positive and moving forward even in some tough win-loss seasons. I'm excited to see what he'll do with a deep, talented, powerful lineup.
Free agent signee, designated hitter Edwin Encarnacion has hit 30 home runs for eight straight years and seems to be an all-around fun player. But he is 37 years old. Any concerns his productivity could fall off?
Benetti: No, but you never know.
How good is second base prospect Nick Madrigal, and do you think he'll be with the team early this season?
Benetti: I loved him when I saw him in college, have been very encouraged by how well his eye has translated to pro ball in the minors. He's a baseball-lover. He'll keep getting better and better.
Len Kasper, there's been lots of talk about third baseman Kris Bryant's future with the team. Bryant just lost his grievance case, meaning the Cubs can keep him for the next two years (instead of just one) before he becomes a free agent. But now that the case is over, his value as a trade chip has increased. Do you think it's likely he will be moved before the season starts, and what kind of trade value do you think he has?
Kasper: I hate making predictions because you're always right until you're wrong. Having said that, I'd say he is a Cub until he isn't and that it will take a really big haul in order for the Cubs to move him. I don't believe they are in a hurry in that regard. At his best, he is the best player on this team so you have to be careful about the "move him just to make a move" mindset. I see his trade value as very high. Especially with that extra year before free agency.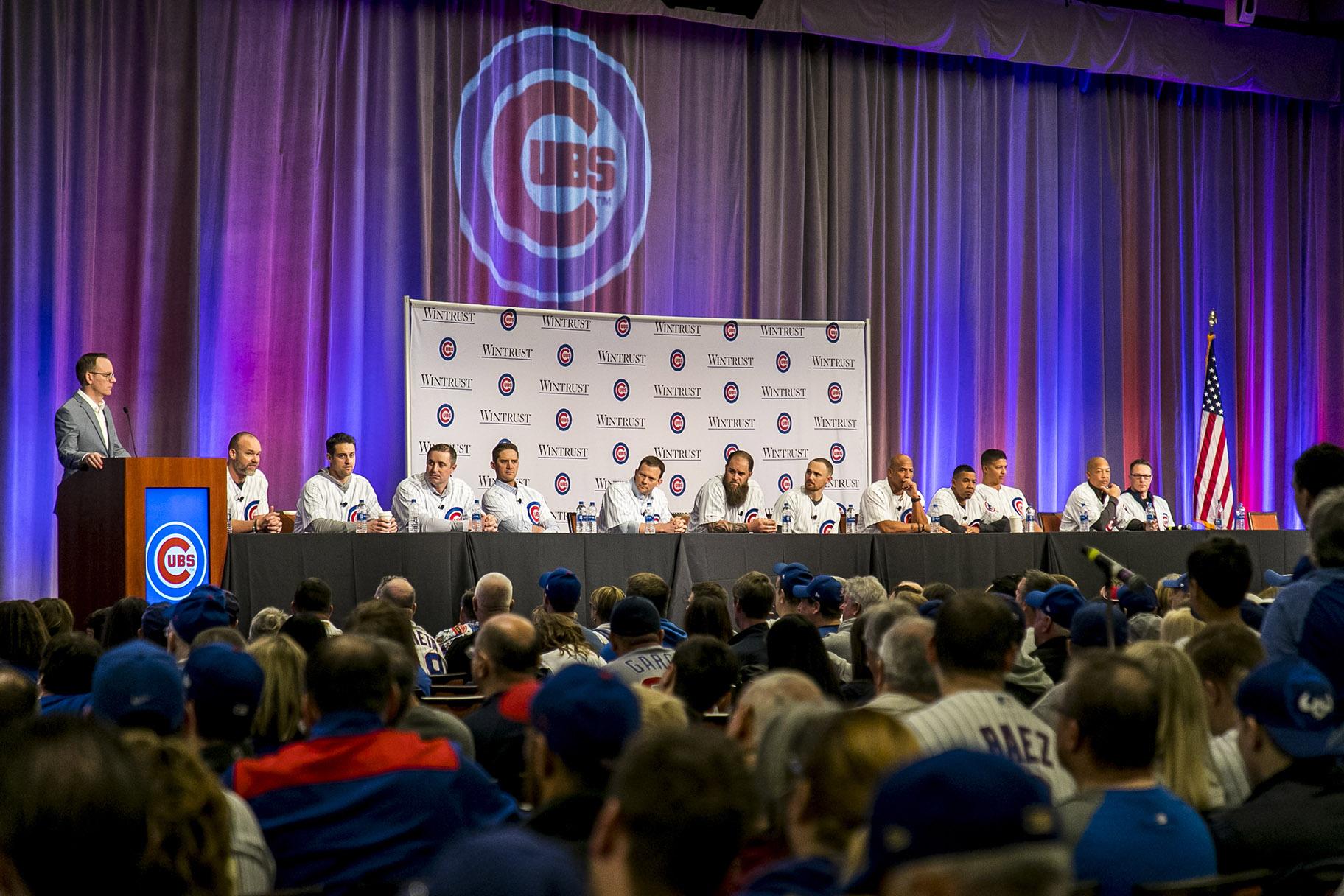 Cubs broadcaster Len Kasper leads a panel of Cubs players at the recent Cubs Convention. (Courtesy Steve Green / Chicago Cubs)
There were also trade rumors surrounding catcher Wilson Contreras this offseason, even though he's thought of as one of the best catchers in the game. What do you think his future is with the Cubs and why would the team consider trading him?
Kasper: I would be surprised if he is traded. The reason you hear his name is simple – organizational depth. The Cubs have more catching depth than at any time since I've been here certainly. Victor Caratini is a fine backup who pushed for more starts last year and arguably the Cubs' #1 prospect is Miguel Amaya, who still isn't quite ready, but will be sooner than later. And if the Cubs need to make a paradigm-shifting move, it will have to be moving a guy like Bryant or maybe Contreras. You never want to trade away at a position lacking depth.
The Sox traded for right fielder Nomar Mazara, a 24-year-old who already has four years of major league experience. He's been seen as a disappointment in Texas, mostly because his potential was thought to be so huge. Do you think a change of scenery could help him live up to that potential?
Benetti: Sure. That's what the Sox are banking on.
Do you have any thoughts about players who could surprise fans this year?
Benetti: Nomar Mazara could be that guy. He's got some outstanding tools.
Kasper: Last year I said Ian Happ was a key guy and I predicted a bit of a breakout year. I was wrong in that he spent much of the year back at AAA. He had a great finish to the season and I'm going to say much of the same thing this year with a tweak – if the Cubs are going to be division contenders, they have to get way more production out of CF. I think the opportunity is all his to emerge.
Jason Benetti, what do you think success look like for this team this year? A .500 record? 90 wins? Playoffs?
Benetti: Success comes in the form of competitiveness and fun at the ballpark.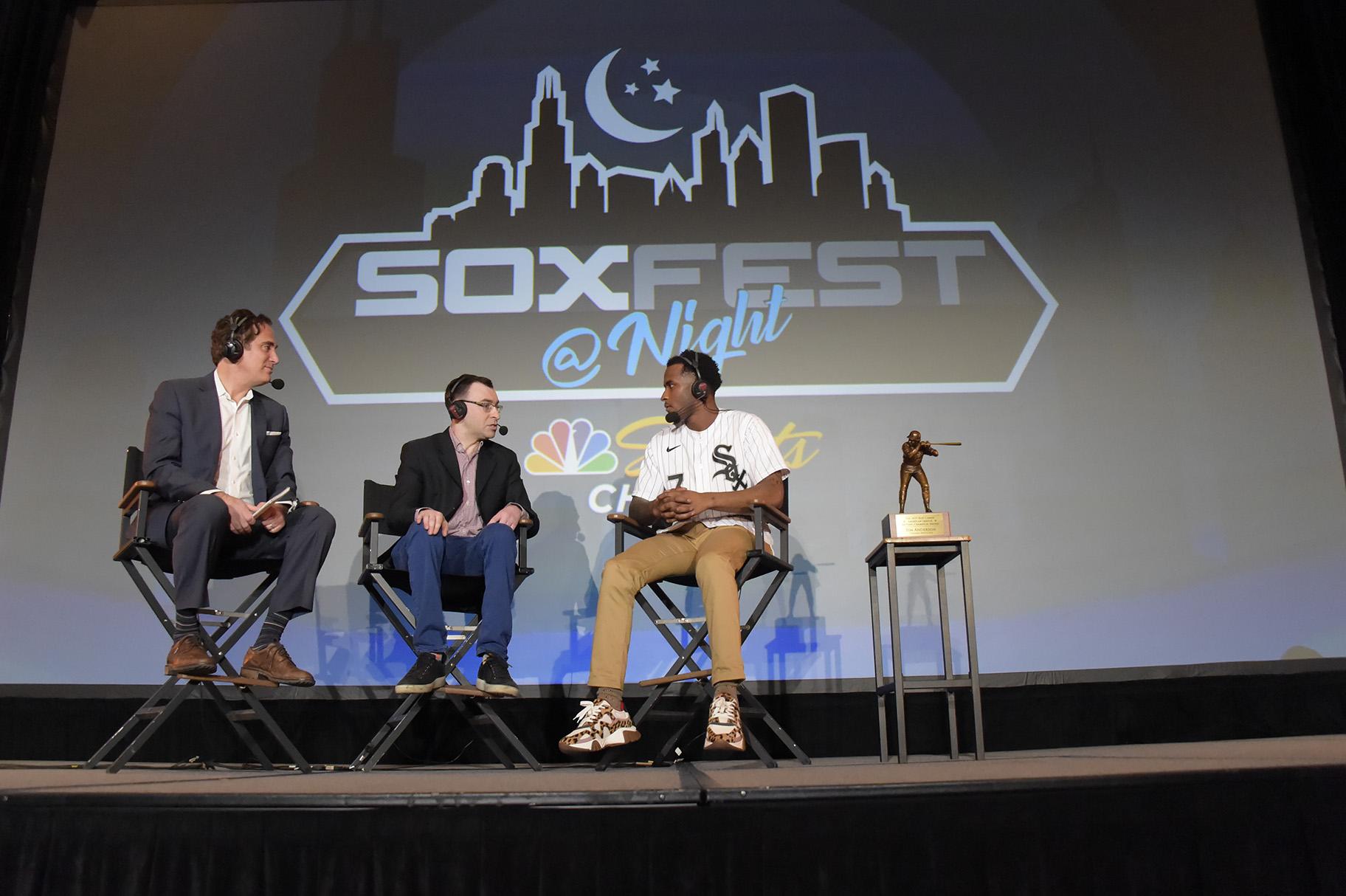 White Sox broadcaster Jason Benetti, center, talks with 2019 American League Batting Champion Tim Anderson, right at SoxFest 2020. Also pictured: Chuck Garfien of NBC Sports Chicago. (Courtesy Chicago White Sox / Ron Vesely)
Len Kasper, you'll be broadcasting on the new Marquee Sports Network. There has been backlash among some fans to the Cubs pulling the last of their "free TV" games off the air and moving them to this new Cubs pay channel. Tom Ricketts got booed over the issue at the Cubs convention. Are you sensitive to the concerns of those fans? Do you expect Marquee to make a deal to be on Comcast before the season starts?
Kasper: I'm always sensitive to fan concerns and change is really hard. We just finished a run of 72 seasons on WGN TV. Nobody brushes that off or takes that legacy lightly. In terms of the cable landscape, that's a question for people with much more impressive titles than mine. I just can't wait to broadcast the first (spring training) game on Feb. 22!
I'd like to get your thoughts about the Houston Astros sign stealing scandal. Do you think the Astros organization get punished severely enough?
Benetti: That's not for me to decide. I'll let MLB handle that.
Kasper: Yes. Stripping a title was never in the cards. It would open a can of unintended consequences we can't even begin to contemplate. The stain of the scandal will be stuck to the 2017 championship forever no matter what. There are a lot of really angry people in the game about what happened and I'm guessing you will hear a lot of apologies coming out of Astros camp in a couple weeks.
What about the continued improvement in advanced statistics and data analytics? Are they things fans want more of during broadcasts? How much are teams relying on them?
Kasper: It's astonishing how much progress is made on an annual basis. It's hard to keep up honestly. I think as long as we make graphics and numbers EASY TO DIGEST, it's great. We never want a broadcast to be a math class. Teams rely on the data more than ever and that's an understatement. And that's also why this stuff is important to talk about.
Benetti: People use "advanced stats" and "analytics" in a derogatory way. It's just more information. Nothing scary. Just information to help us learn about players. I don't know what "enough" is. I'm also not in the day-to-day, so I'm not able to accurately represent what the Sox use. (As far as using such stats during broadcasts), fans want to know more about their players. Information which tells a story is useful.
Jason Benetti, tell us about your relationship with your broadcast partner Steve Stone? How has that relationship grown over the years?
Benetti: Steve's a fantastic partner. We have similar senses of humor. I'm grateful for his kindness, his welcoming and his belief in us as a partnership. His baseball mind is one of the most astute in the world and his willingness to grow and be curious even after a long time in the game is truly impressive.
How important is social media to your broadcasting?
Kasper: It's huge. Being accessible I think creates a nice bond. You have to have thick skin in order to put yourself out there but I have fun with it.
Benetti: We use social media in our broadcasts, whether through #SoxMath, #IsItRaining, or simply reading peoples' tweets or other posts.
Jason Benetti, you and your partner Steve Stone have a healthy competition to see who can get the most Twitter followers (at last count, Jason is ahead of Steve). But why do you think that your friend Len Kasper has almost 100,000 more Twitter followers than you do?
Benetti: Len's been doing his job longer than me, and also is 100,000 people smarter than me, so the number is precise.
Kasper: It's the power of Cubs baseball as an international brand mainly. And my good looks maybe?
---