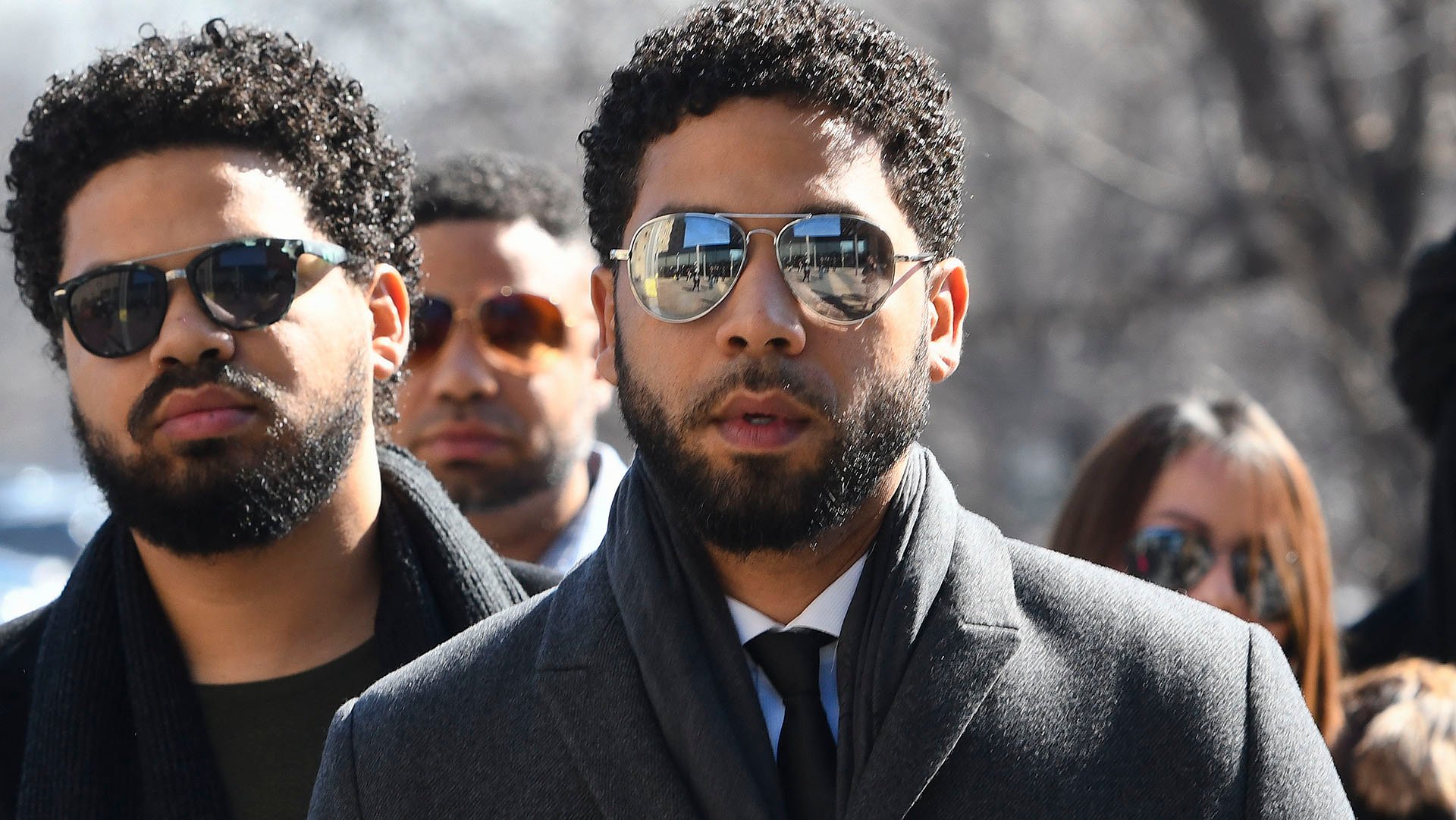 "Empire" actor Jussie Smollett, center, arrives at Leighton Criminal Court Building for a hearing to discuss whether cameras will be allowed in the courtroom during his disorderly conduct case on Tuesday, March 12, 2019, in Chicago. (AP Photo / Matt Marton)
A full year after Jussie Smollett first reported to police that he'd been the victim of a bigoted attack near his Streeterville home, the case, the scandal and the multiple investigations remain top of mind for many, especially with an upcoming election for Cook County's top prosecutor.
Wednesday marks one year since the Smollett incident, in which the "Empire" star told Chicago police that two men shouting racist and homophobic slurs beat him and wrapped a rope around his neck before fleeing into the night.
Timeline: The Jussie Smollett incident.
The case exploded from there. After police detectives determined Smollett orchestrated the attack on himself, a grand jury indicted the actor on 16 counts of felony disorderly conduct for filing a false police report. But those charges were quickly dismissed, leading to calls for Cook County State's Attorney Kim Foxx to resign and a deluge of lawsuits involving Smollett, the city and the two brothers who say they were paid to stage the attack.
On Monday – less than two months before Foxx faces off against three competitors in a Democratic primary for her job – Chicago Tribune editors and reporters spent more than half of a 60-minute forum with those candidates discussing the Smollett case.
Foxx has admitted the situation should have been handled better. In March, before charges were even filed, Foxx announced that she'd recused herself from the investigation "out of an abundance of caution" after she had contact with Smollett's family and helped set up interviews with police.
But rather than allowing an outside attorney to come in as a special prosecutor on the case, Foxx appointed her top assistant to take over. That prompted a challenge from former appellate Judge Sheila O'Brien, who successfully petitioned the court to appoint a new special prosecutor to reinvestigate Smollett's case and look into whether anyone from Foxx's office committed any criminal offense.
Highly regarded litigator Dan Webb was appointed to that role in August, and his investigation is ongoing.
Foxx on Monday reiterated that she should've done a better job communicating about the case with the public.
"I don't believe that everyone would have found consensus that in thinking the outcome for Mr. Smollett would have been right, but if they didn't understand how the process worked, and that obligation fell on us, then that leads to further questions," Foxx said during Monday's forum.
But she has refused to answer specific questions in deference to Webb's ongoing investigation – which could result in additional criminal charges filed against Smollett.
Beyond his criminal case, Smollett has also been sued by the city of Chicago, which is demanding he pay back $130,000 in police overtime costs spent investigating his claims. Smollett has maintained his innocence and filed a countersuit against the city, claiming he was the victim of a malicious prosecution.
The state's attorney's primary election is scheduled for March 17. The general election will be held in November.
Timeline: Highlights from the Jussie Smollett case following his initial police report on Jan. 29, 2019.
---
Contact Matt Masterson: @ByMattMasterson | [email protected] | (773) 509-5431
---