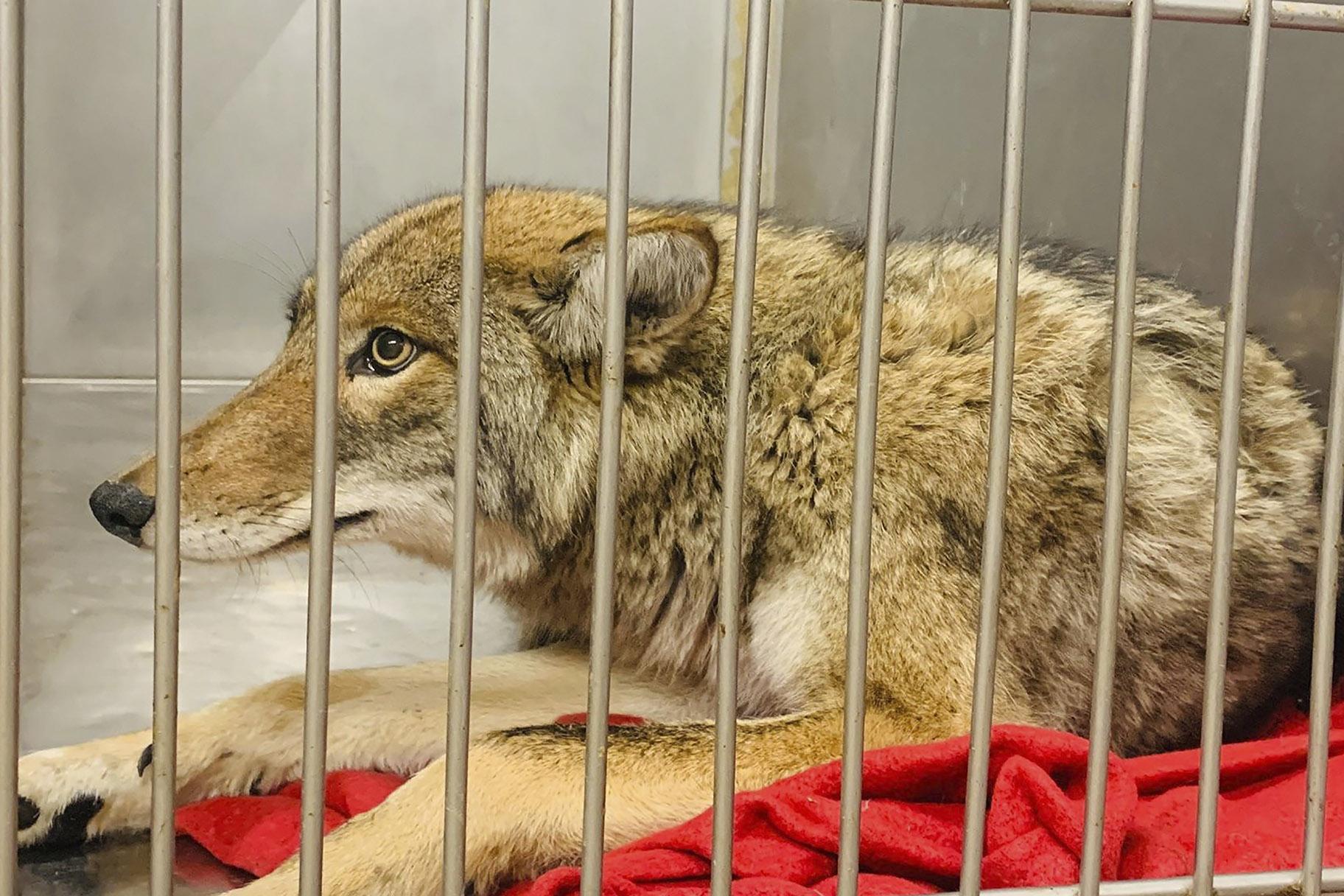 The injured coyote after it was captured by Chicago Animal Care and Control. (Chicago Animal Care and Control via AP)
Chicago's headline-making coyote, captured after biting a 6-year-old boy, now has a name — Mercy — and that's what the creature is receiving from its caretakers at Flint Creek Wildlife Rehabilitation in suburban Barrington.
Staff at the rehab center announced Tuesday that Mercy will not be euthanized, nor will the coyote be released back into the wild, but rather will be placed in a "permanent educational setting with specifics yet to be determined," according to a statement released on the center's Facebook page.
DNA tests confirmed that Mercy, captured on Jan. 9 by Animal Care and Control, was indeed the coyote that bit the young boy. But it also came to light that the animal had been shot through the neck with a BB gun, with a pellet still lodged deep in its chest, Flint Creek noted.
"We cannot definitively determine the extent to which this recent injury may have contributed to the coyote's behavior at the time of the incident but suspect that it was a contributing factor. The coyote was extremely frightened upon admission to our facility. Although the coyote exhibited definite signs of stress and trauma, we have witnessed absolutely no aggressive behavior while in our care," Flint Creek said in its statement.
"Mercy is not the first coyote we have treated that was harmed by humans. We hope that Mercy, as an educational ambassador, will serve as a reminder regarding the need for peaceful coexistence," Flint Creek said.
Coyotes were present in the Chicago area in the 18th century, but disappeared for much of the 19th and 20th centuries, according to the Urban Coyote Research Project. The animals returned decades ago and are now estimated to number between 1,500 and 2,000 in Cook County.
According to experts, the surest way to prevent human-coyote conflicts is for people to not feed the wildlife.
The complete statement from Flint Creek:
Contact Patty Wetli: @pattywetli | (773) 509-5623 |  [email protected]