The American Cancer Society reported last week the largest ever single-year decline in deaths from cancer.
From 2016 to 2017 – the most recent year for which complete statistics are available – the cancer death rate dropped by 2.2%.
The overall cancer death rate has fallen 29% from 1991 to 2017. That translates to 2.9 million fewer deaths from cancer than would otherwise have occurred had mortality rates remained unchanged.
Cancer specialists say there are a number of reasons for the falling rate, including more disease screening, better-targeted treatments and the development of immunotherapies that use the body's own immune system to identify and fight cancers.
Carolyn Bruzdzinski, vice president of cancer control for the American Cancer Society's north central region, which serves Illinois, Indiana and other Midwestern and southern states, said death rates from cancer have been trending downward since the early 1990s.
"We've been seeing a downtrend since 1991. The total downtrend is about 29% in the past 26 years until 2017," said Bruzdzinski.
She noted there are four major cancers that drive the death numbers: lung, colorectal, breast and prostate cancer.
"As we look at that 2.2% drop that occurred in 2016 to 2017, a huge part of that is due to the drop in mortality in lung cancer. And that's primarily due to both people stopping smoking … and secondly, improvements in therapy," said Bruzdzinski.
She noted there had also been a drop in the number of deaths from colorectal and breast cancer thanks at least in part to early detection through better and more widely available disease screening.
While the overall trend is positive, there are noticeable disparities that appear to be linked to race and gender.
"We do unfortunately see differences. Survival rates and mortality rates are worse for African Americans than for the white population – there are a lot of things that contribute to that including access to care," said Bruzdzinski. Death rates were even worse for Native Americans, according to Bruzdzinksi, who says that while ongoing studies are trying to determine if biological reasons are behind the disparities, a lack of access to health care and early disease screening likely plays a part.
"Access to care is very important because it effects when something is getting diagnosed, and earlier diagnosis leads to better health outcomes," said Bruzdzinski.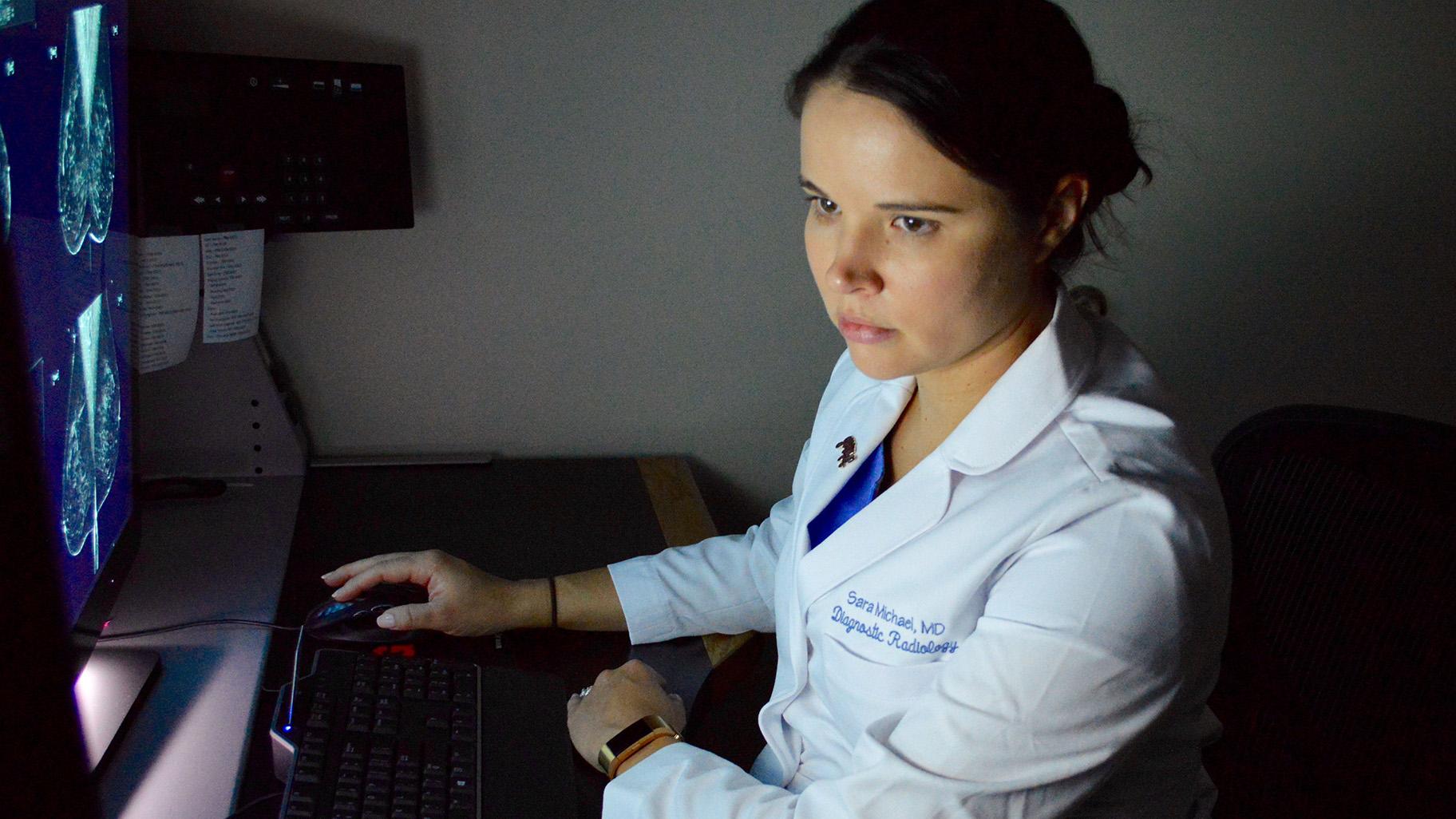 Blanchfield Army Community Hospital Chief of Mammography and Ultrasound, Maj. Sara Michael, a diagnostic radiologist, reviews a mammogram Oct. 11 to look for any abnormalities in the breast tissue that could require further testing. (Photo Credit: Maria Yager)
Dr. Everett Vokes, physician in chief at University of Chicago Medicine where he is an expert in the treatment of head and neck as well as lung cancer, credits more targeted drugs, better supportive care as well as the growth of immunotherapies for much of the improved outcomes.
"We can do much more meaningful interventions," said Vokes. "So the drugs work better but so too does the supportive care. When I look back at when I started in this field, the treatments had a horrible reputation – you were going to lose your hair. You were going to get sick and you were going to be nauseated. We have much more effective drugs now – not necessarily for the hair loss, but certainly for the nausea and vomiting."
Vokes says the development of a new class of drugs called tyrosine kinase inhibitors – matched to a specific cancer mutation – are having a profound impact on some patients.
"This is something that came out in the 2000s – and it is a smaller fraction of patients – but when the patient has that mutation then they respond to oral drugs very well and for a good period of time. They may not be cured but they respond for a long period of time," said Vokes.
Dr. Jeffrey Cilley, who specializes in oncology and hematology at Swedish Hospital on the North Side of Chicago, said that probably the single biggest change he's seen in cancer treatment is that diagnoses are getting much more specific, allowing for more targeted treatment.
"Breast cancer used to be just breast cancer but now there are many different types – upwards of four – and the treatment nuances for each of those different types has become very important," said Cilley. "Even with lung cancer, really teasing out what particular type of drug (to use against a particular type of tumor) it is much more precise now."
And when paired with immunotherapy, the combination of more targeted drugs and waking up the power of the patient's own immune system is producing more effective treatments with fewer side effects.
"We definitely have a ways to go in terms of curing cancer – especially when it is metastatic or widely spread. I just think patients are getting better and more durable responses from the newer treatments that are available with less toxicity and fewer side effects," said Cilley. "I think that's really the key with a lot of these new treatments – the quality of life for the patients is better."
---