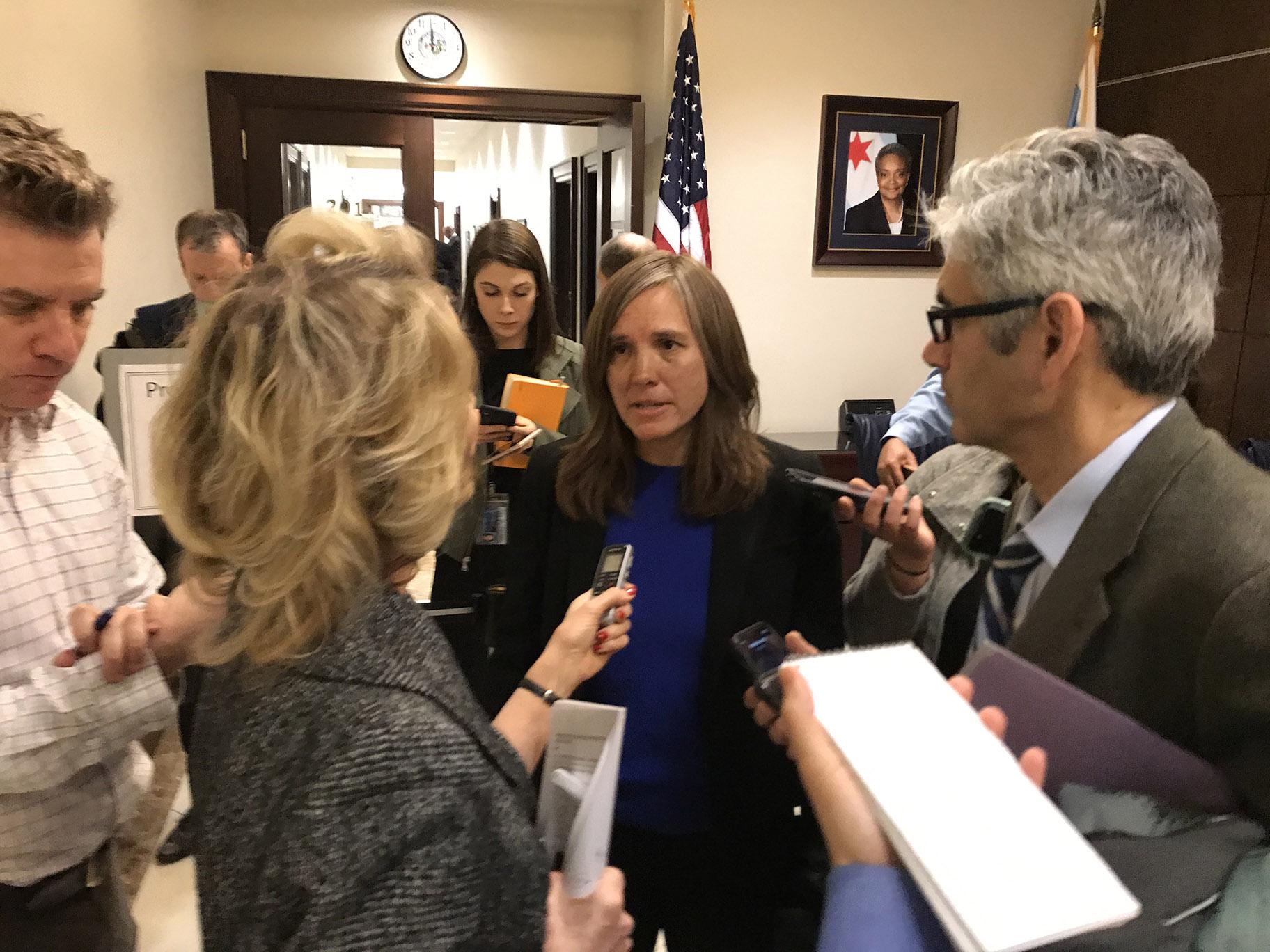 Presumptive Chicago Department of Transportation Commissioner Gia Biagi speaks with reporters at City Hall after the City Council's Transportation Committee advanced her nomination on Tuesday, Jan. 7, 2020. (Nick Blumberg / WTTW News)
A key City Council committee on Tuesday approved the nomination of Gia Biagi, Mayor Lori Lightfoot's pick to lead the Chicago Department of Transportation.
Testifying before the City Council's Transportation Committee, Biagi received acclaim for her work at the Chicago Park District and at Studio Gang, the Chicago-headquartered architecture and design firm founded by award-winning architect Jeanne Gang. Biagi fielded questions from aldermen about equitable distribution of CDOT funding across Chicago in terms of maintenance and improvements, and contract dollars awarded and area residents hired. Aldermen also pressed Biagi on the need to make CDOT services more efficient and find better ways to work with residents. But on the whole, the friendly tone of the hearing was unlike other appearances by Lightfoot nominees that have faced tough questions from aldermen.
For her part, Biagi highlighted the importance of equity, involving multiple departments and city residents in planning, and touched on specific issues like bus rapid transit, bike lanes and creating pedestrian-friendly streets. She also discussed work she did at Studio Gang using urban design in New York as a way to prevent violence.
"If our primary question was reducing violence, what would we design? What would we do differently?" Biagi said, highlighting the concept that by designing public spaces that make people feel comfortable and sociable in low-stakes settings, they're likely to better handle higher-stakes problems. She also said a key part of the work was engaging residents and local leaders as much as the specific projects that came out of it.
"We can always design things," Biagi said. "It was (about) valuing local knowledge and local know-how, investing in maintenance because you're telling a community what you think of it by the way that you maintain it."
Speaking with reporters after the hearing, Biagi was largely noncommittal about her priorities, noting she's only been at work for 11 days. Asked whether the city should remove any additional red light or speed cameras, which then-candidate Lori Lightfoot opposed in instances that were designed for generating revenue rather than public safety, Biagi said: "We definitely looked at (the program) recently. Of course we'll take this opportunity to look again, but we think we're in pretty good shape."
She also highlighted a Northwestern University study showing red light cameras can create safer streets. Ald. Derrick Curtis, 18th Ward, raised the issue of corruption related to red light cameras, indirectly referencing federal investigations that appear to be eyeing red light camera operators and Illinois Comptroller Susana Mendoza's decision to stop collecting red light ticket fees for some Illinois municipalities other than Chicago. Biagi told him she's confident Chicago's program is not facing corruption.
Biagi also spoke about the city's just-implemented congestion fee for downtown ride-hailing trips, and said she's waiting for more information before she assesses how it's working and whether it should be expanded to other vehicles.
"We're one day in on the congestion fee, so part of that study is also to say, 'Does it make a change?'" Biagi said. She highlighted work that other cities around the world have done to reduce congestion and said city leaders can draw ideas from them, but that "we want to make sure what we do is right for Chicago, not just sort of cut and paste from somewhere else."
Asked about the city's pilot electric scooter program last year, Biagi wouldn't say whether she supported a permanent program, but did say the city's report on the pilot program is being compiled and is set to be released in the coming weeks.
Biagi's appointment as CDOT commissioner now heads for a full City Council vote. The council's next meeting is scheduled for Wednesday, Jan. 15.
---