A slate of new laws is set to take effect Wednesday, none bigger than the legalization of recreational adult-use marijuana in Illinois.
Local officials say they aren't 100% sure what to expect when sales kick off Wednesday. On Monday, regulators and a handful of dispensary shops in Chicago were scrambling to prepare for the coming rush.
In Lakeview, workers were busy putting the finishing touches on the Sunnyside dispensary. The store – owned by cannabis giant Cresco Labs – underwent a recent name change and brand overhaul as it prepares for its first recreational marijuana customers at 6 a.m. Wednesday.
"We're fully prepared, we're stocked up," said Sunnyside spokesman Jason Erkes. "And we have a process in place to manage the line, to make sure the crowd is managed efficiently so everyone has a good experience."
---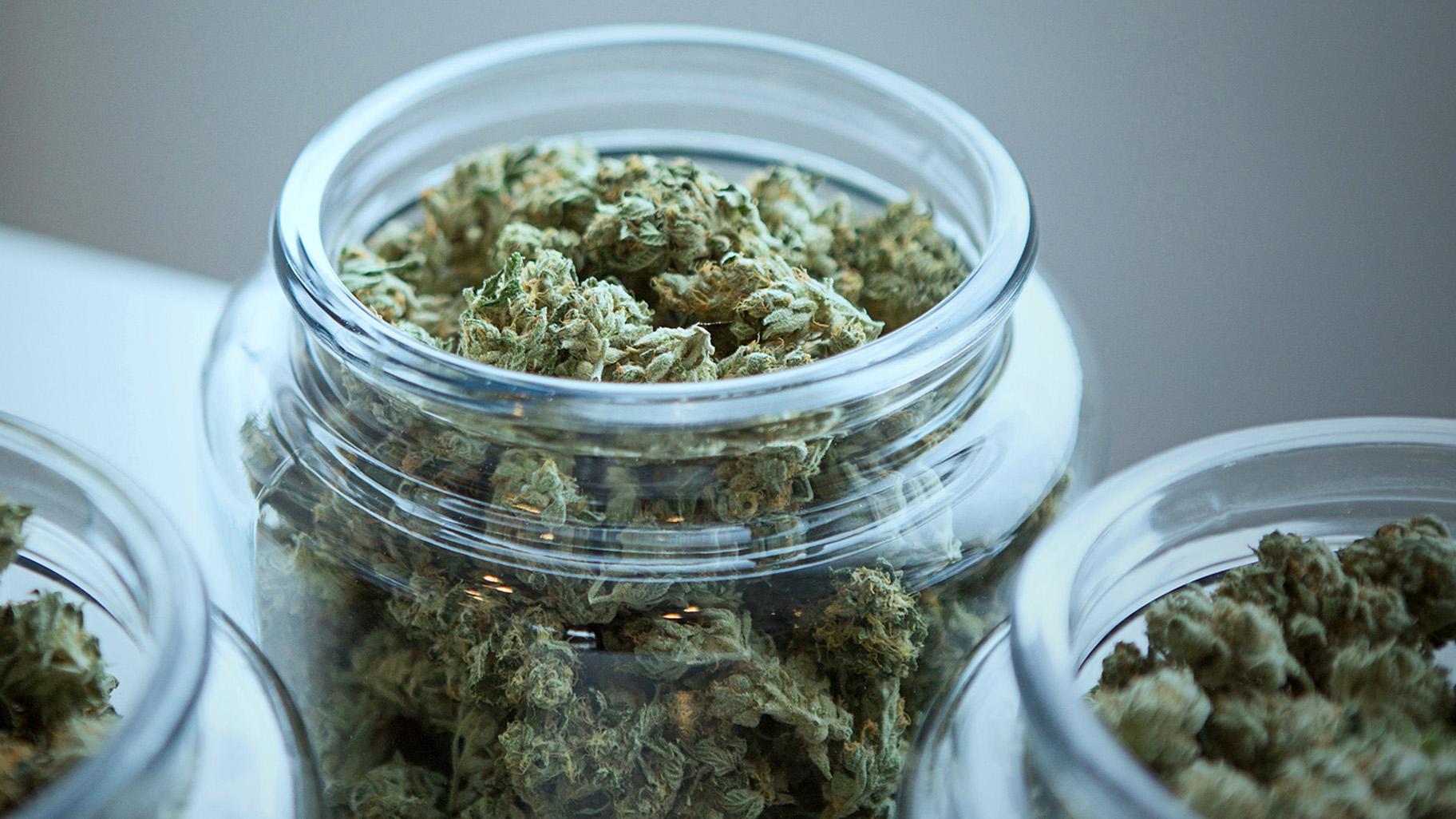 More: Your Guide to Marijuana in Illinois
---
WTTW News on Monday noticed some customers with medical cannabis cards trying to make their purchases ahead of the new year. Sunnyside is one of 11 medical dispensaries across the city authorized to open doors to recreational users. One authorized dispensary on the city's Southwest Side, Maribis, announced it would sit out the initial round of recreational sales and wait until the dust settles.
Paul Stewart, Mayor Lori Lightfoot's top aide on cannabis issues, says he anticipates a few hundred people lining up at each store.
"We're looking forward to a controlled environment," he said. "We're working with dispensaries, their security teams, as well as the Chicago Police Department that will have a presence in the community as well. So we don't anticipate any major issues."
There were already some hiccups Monday, however. The ATM network around Sunnyside went down for a few hours in the afternoon. And some customers said they were skeptical the state is fully prepared for the coming onslaught of sales.
"I expect there not to be any pot left," said Paige, who was waiting in line to purchase medical cannabis. "There's already shortages, there's been shortages for months. We haven't been able to get stuff that we needed for a while now."
Erkes says there might eventually be shortages – but that customers shouldn't worry.
"The launch of anything new, where there's excitement – whether it's a shoe or an iPhone – it's hard to meet that initial thrust of demand. But if there are shortages, I don't think it will be all products and there will be a replenishment of supply really quickly," he said.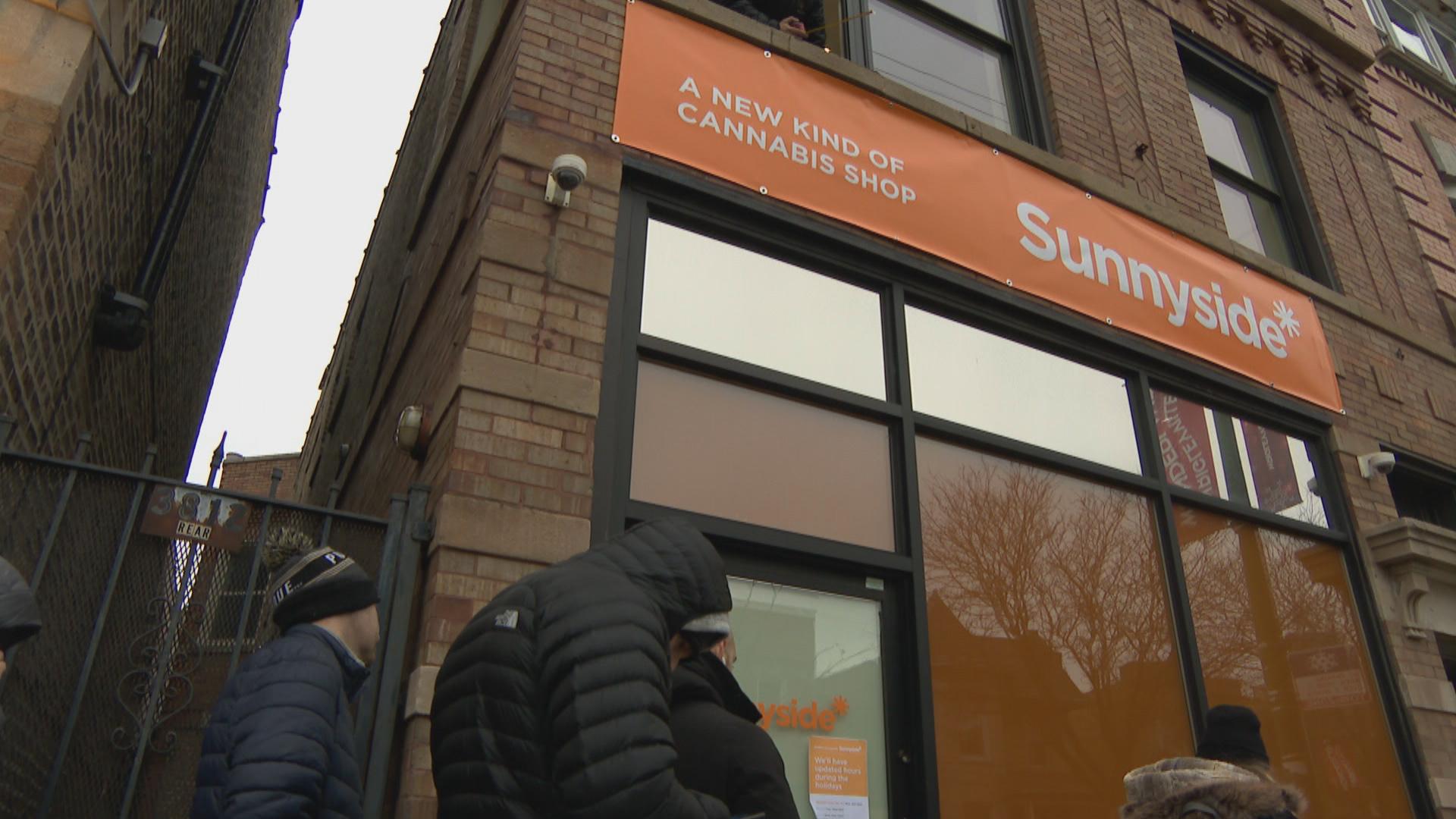 In Lakeview, workers were busy putting the finishing touches on the Sunnyside dispensary just two days before recreational marijuana becomes legal in Illinois. (WTTW News)
The Chicago Police Department is also preparing officers and residents for how it will enforce the new rules on pot. Marijuana use will still be illegal in public places like sidewalks, streets and parks – with $50 fines for first-time offenders, and $100 fines for a second offense within three weeks. But the department says a lot will be left up to the discretion of officers.
"We put out bulletins so officers will have clear and direct guidance as to what officers can and cannot do," said CPD Chief of Patrol Fred Waller.
Also up in the air: how to tell whether motorists have had too much marijuana to get behind the wheel. Illinois state patrol officers admit there isn't yet an accurate scientific method, like a Breathalyzer, for testing marijuana impairment.
But they say they can conduct field sobriety tests to determine impairment.
"Whether it was alcohol or any other controlled substance, those indicators will present themselves in a standard field sobriety test," said Lt. Colonel David Byrd, Illinois State Police assistant deputy director.
Ready or not, sales are expected to be robust this week. Erkes advises customers to do some homework online in advance of showing up at a store so that the whole process goes faster.
"Try and understand the difference between an indica and a sativa, or a hybrid, or different consumption methods, whether it's using a concentrate or an edible, so when they come here they're informed," Erkes said.
While the business is supposed to boom on Wednesday and throughout the beginning of the year, the city won't be able to collect tax revenue on sales until the summer. The city has budgeted an expected $3.5 million to its coffers from recreational pot sales.
Follow Paris Schutz on Twitter: @paschutz
---
Related stories:
Legal Marijuana Sales May Spark Midwest Interstate Tension
Starting Jan. 1, Demand for Legal Pot Likely to Exceed Supply
Council Rejects Recreational Marijuana Delay After Chaotic Meeting
---