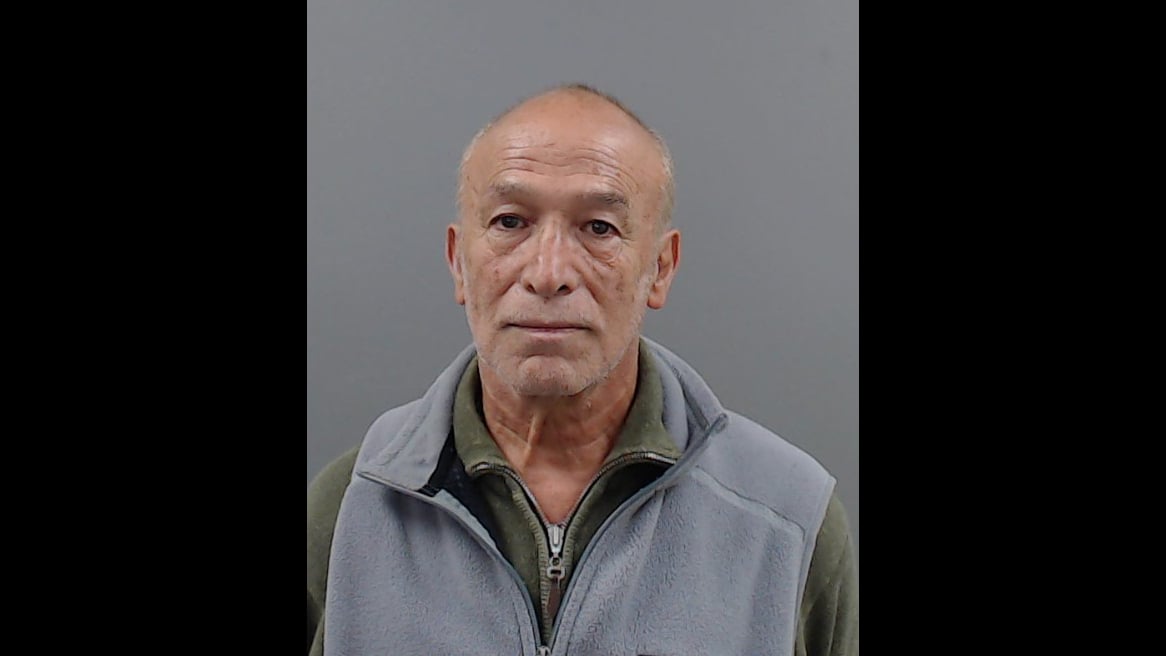 Jose Vilchis (Will County Sheriff)
The U.S. government is moving to revoke the citizenship of a longtime Chicago-area gymnastics coach who's been accused of sexually abusing multiple underage girls over the course of the past three-plus decades.
The Department of Justice on Monday filed a civil lawsuit against José Vilchis, a Mexican immigrant and former Olympian who allegedly concealed from U.S. immigration authorities that he'd abused at least three minor female athletes before he became a permanent U.S. citizen.
"Vilchis fraudulently gained U.S. citizenship by lying about the horrific, ongoing crimes he was committing against innocent children," acting Immigration and Customs Enforcement Director Matthew Albence said in a statement. "His crimes and his fraud have justifiably returned to haunt him as the government pursues his denaturalization. The United States will not allow itself to be a safe haven for sexual predators."
According to a complaint filed in federal court in the Northern District of Illinois, Vilchis' abuse spanned multiple years while working both at the Beverly Gymnastics Center in Chicago and the American Academy of Gymnastics in Wheeling. That abuse allegedly included digital penetration, groin massages and oral sex performed on three girls between the ages of 12 and 16.
Vilchis is also currently awaiting trial in Will County, where he faces 18 criminal charges for sexually assaulting a minor in 2013 and 2014, though those charges are separate from the allegations included in the DOJ's lawsuit. WTTW News reported on Vilchis' Will County case and his decades-old allegations last year.
A spokeswoman for the Will County State's Attorney's Office declined to comment on the lawsuit Tuesday.
The abuse outlined by the feds dates back to 1985, when Vilchis allegedly began molesting a 14-year-old girl identified in the complaint as "M.B." In the complaint, she states that over the course of two years while she was a student at the Beverly Gymnastics Center, Vilchis – who worked there as a coach – touched her vagina approximately 10 times.
"In 1987, when M.B. was 15 years old, Defendant took her to a secluded area where he massaged her groin and labia," the complaint states. "Defendant's acts against M.B. constituted Criminal Sexual Abuse in violation of … the Illinois Statutes Annotated 1985, and met the essential elements of other criminal acts."
During that same period, Vilchis was allegedly abusing another student from the Beverly gym, 16-year-old "C.B.," who said that during a private gymnastics lesson in 1986, the coach digitally penetrated her vagina.
The third victim, "G.R.," began training with Vilchis at the Wheeling gym in 1990 when she was 12 years old. According to the complaint, Vilchis on multiple occasions pressed his penis against her buttocks and performed oral sex on the girl. That victim eventually reported the abuse to the Wheeling police in 1997, but Vilchis denied any wrongdoing and no charges were filed.
One of the victims previously told WTTW News that her coach had sexually abused her for two years, and that she "felt helpless to do anything."
In May 1991, Vilchis submitted a Form I-485 seeking permanent residency within the U.S. Included in that application was a question asking whether Vilchis had ever "knowingly committed any crime for which you have not been arrested." He checked the box indicating "no," and swore to the accuracy of his answers during an interview the following month.
That October, his application was approved and he became a permanent U.S. resident. In 1997, when Vilchis applied for naturalization, he similarly denied ever having committed any crimes while under oath, according to the DOJ. That June, he took the oath of allegiance, admitting him to U.S. citizenship.
The DOJ complaint alleges Vilchis illegally procured his naturalization through fraud or willful misrepresentation and demands his naturalization be revoked.
"The Department of Justice will do everything in its power to hold accountable those who sexually abuse minors," Assistant Attorney General Jody Hunt of the DOJ's Civil Division said in a statement. 
"This individual's abuse of his position of authority and trust to prey on his students is reprehensible, and but for his fraud on our immigration process, he never would have been granted a green card and never would have been permitted to naturalize as a U.S. citizen."
Contact Matt Masterson: @ByMattMasterson | (773) 509-5431 | [email protected] 
---
Related stories:
Ex-Gymnastics Coach Faces 18-Count Indictment in Sexual Assault Case
Chicago-Area Gymnastics Coach Arrested on Sexual Assault Charges
'That's Not Where it Hurts': Gymnast's Former Coach Under Investigation for Sexual Abuse
Gymnastics Coach Accused of Sexual Abuse Remained in Chicago-Area Gyms for Decades