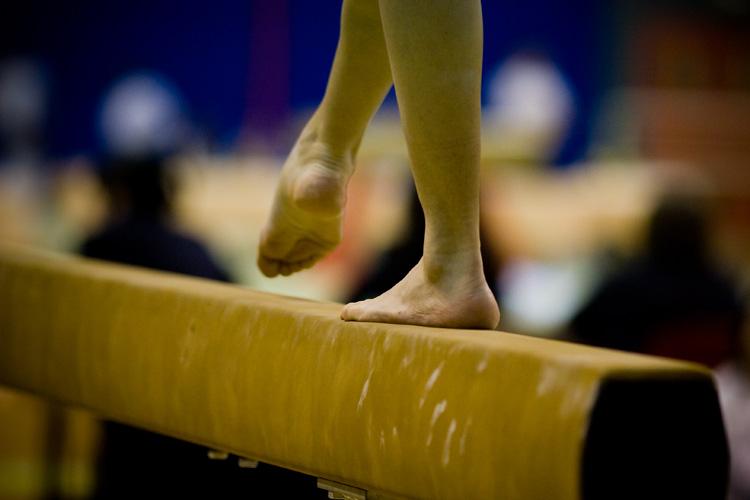 (Raphael Goetter / Flickr)
UPDATE: Chicago-Area Gymnastics Coach Arrested on Sexual Assault Charges
From the age of 6, Gena Romagnoli dreamed of being an Olympic gymnast. She spent more than 25 hours a week at a gym in suburban Wheeling. That's where, around 1990, she met and began training with coach Jose Vilchis, a former Mexican Olympian. Under his training, Romagnoli became an elite gymnast and went on to compete in national events.
Romagnoli says she considered Vilchis a good coach and trusted his guidance. Her parents also trusted Vilchis. Romagnoli's father, a personal injury attorney, helped the 40-year-old coach negotiate a settlement after a bad car accident and, through a friend, obtain U.S. citizenship, according to Romagnoli and her father.
Romagnoli's parents said Vilchis won them over, in part, by praising their daughter and telling them how successful she could be. "And your kid is happy to hear that too," said Romagnoli's mother, Valerie Gruss.
In 1992, Romagnoli moved on to another suburban gym in order to train with a larger team. She left her coach behind but took a troubling secret with her: Vilchis had sexually abused her for nearly two years, she says, starting when she was 12 years old.
That secret followed Romagnoli to the University of Illinois, where she won a full scholarship for gymnastics. But in 1996, during her freshman year, she was depressed and began seeing a therapist, staying out of the gym for four months.

Romagnoli's parents said Vilchis won them over, in part, by praising their daughter.
---
On the advice of her therapist, Romagnoli went to the Wheeling Police Department in early 1997 and told them that Vilchis had sexually abused her from 1990 to 1992.
Romagnoli told police that during a gymnastics exchange trip to Russia in the summer of 1990 Vilchis would give her unsupervised body massages in his dorm room. While they made her uncomfortable, she did not recall any sexual contact, according to the police report. Then in seventh grade, Vilchis frequently sexually abused her in a private room at the Wheeling gym, according to the police report. Romagnoli says she "felt helpless to do anything."
The police report detailed other instances of abuse, both at the gym and at Vilchis' apartment in Prospect Heights.
Wheeling Police interviewed Vilchis about two weeks after Romagnoli spoke with them. According to their reports, Vilchis stated that he did not engage in unsupervised training sessions with Romagnoli and denied "ever taking any improper sexual liberties" with Romagnoli or any other students. Records show that because of the delay in reporting the incidents and the lack of physical evidence, no charges were filed.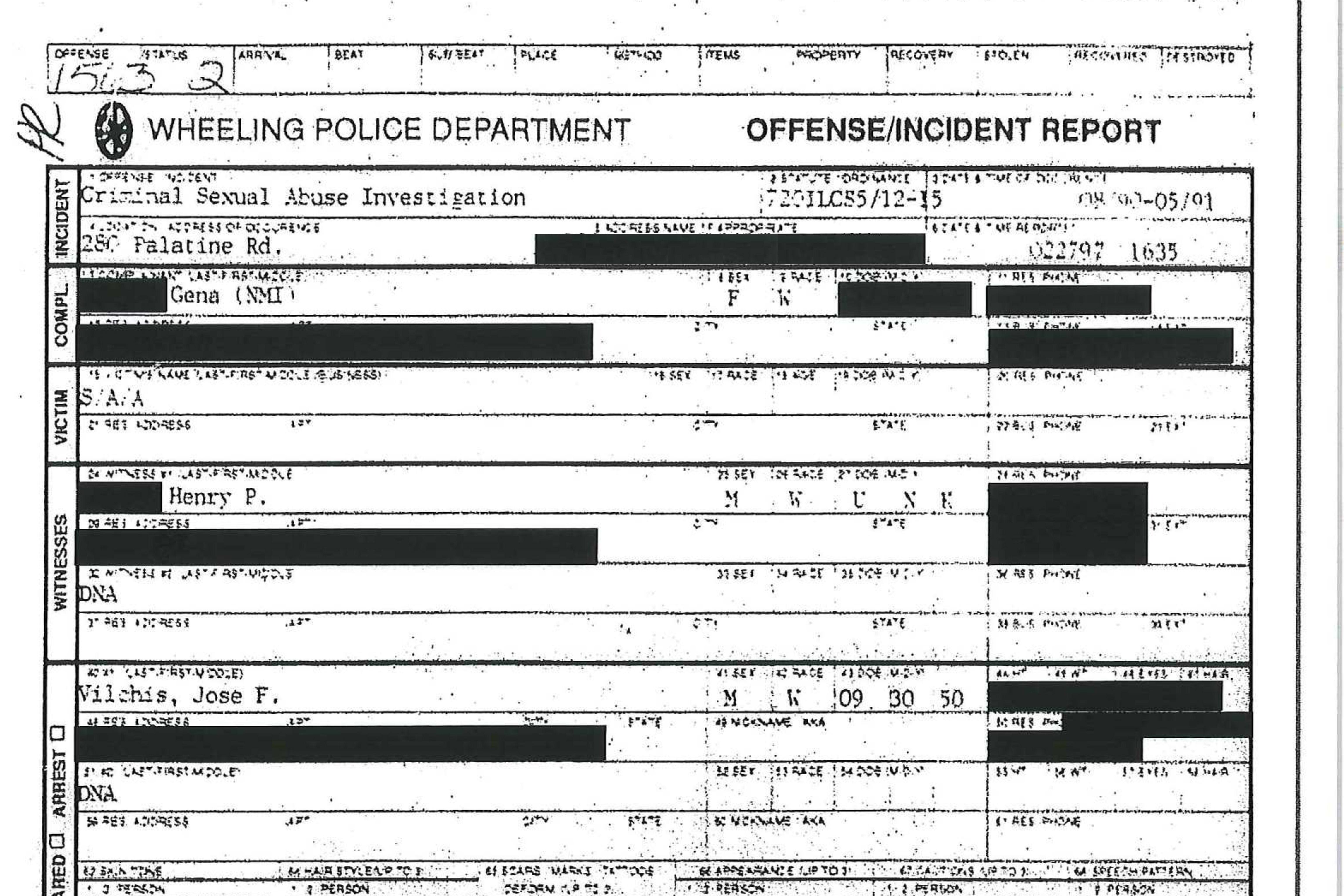 Page one of Gena Romagnoli's 1997 police report (redactions by Wheeling Police and Chicago Tonight)
Looking back, Romagnoli says she felt powerless. "It was very much like, 'You do what you're told and you don't talk back. Don't complain. If you're getting yelled at, you're doing something wrong,'" she said. "I mean, I was so little."
After making the police report, Romagnoli returned to her U of I gymnastics team and went on to enjoy a successful college career, helping the 1998-99 team qualify for regionals. But she says memories of Vilchis haunted her.
"I really struggled with this for years, and it's still part of [me]. It's still part of you that never goes away," Romagnoli said.
Then, two decades after she went to police in Wheeling, Romagnoli stepped forward again. Her decision was prompted by a former teammate who said she had been sexually abused by another coach.
In May 2017, Romagnoli called a hotline operated by a new organization dedicated to investigating complaints of sexual abuse, the U.S. Center for SafeSport, which the U.S. Olympic Committee created in the wake of the scandal involving convicted sexual abuser Larry Nassar, former doctor for USA Gymnastics' national team. (Romagnoli said Nassar treated her during regional events but there was no inappropriate contact between them.)
This time, her complaint had an impact. In November 2017, USA Gymnastics banned Vilchis, citing "sexual misconduct – involving a minor." The ban prohibits him from ever working for or associating with USAG member clubs or participating in USAG events.
"I thought he was retired, and I thought that [coming forward] would not really change anything," said Romagnoli, now 39. "But I still thought it was the right thing to do, that at least finally people are listening."
What Romagnoli did not know was that others had spoken up, too.
In 2014, two teenage girls told police in southwest suburban Channahon that Vilchis had sexually abused them over a period of months at a local gym. The teens told police they knew of two other gymnasts who had similar claims against Vilchis, but police were unsuccessful in their attempts to interview them.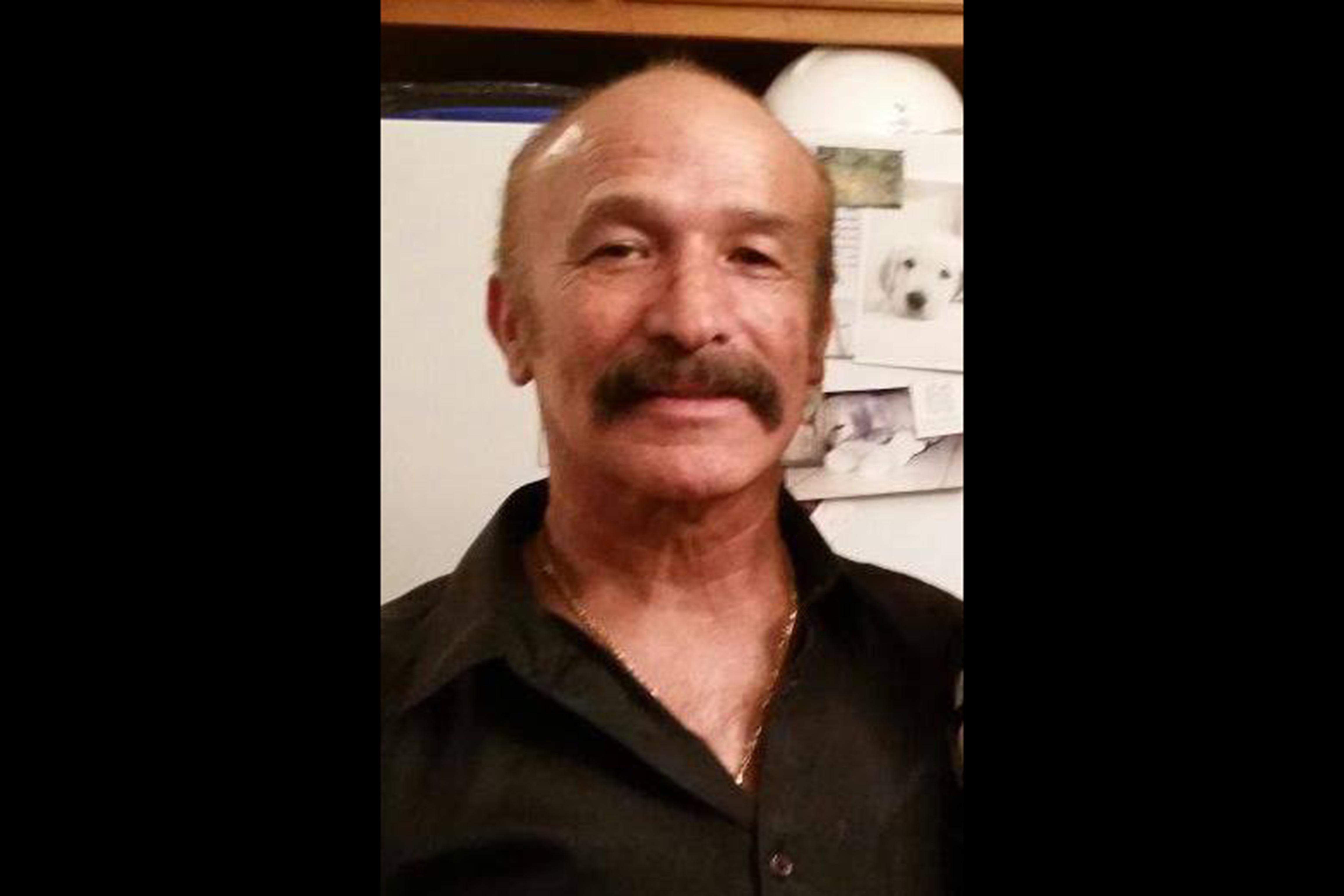 Jose Vilchis has coached youth gymnastics in the Chicago area since the mid-1980s. Vilchis, a former Olympian from Mexico, is accused of sexually abusing three gymnasts between the ages of 12 and 16. (Jose Vilchis / Facebook)
The abuse, detailed in Channahon police reports, includes massaging thighs with a lotion described as "snake oil" and pulling back leotards to touch and kiss the girls on their hips, including near their genitalia.
Again, no charges were filed.
"I always feared that he did this to other people," Romagnoli said when she learned of the girls' reports to Channahon Police. "I just wonder how many others are out there."
Channahon Police say they were not aware of Romagnoli's 1997 report or the SafeSport investigation into Vilchis, which led to his ban from USAG. Following Chicago Tonight's inquiry, Channahon Police Deputy Chief Adam Bogart said the department has reopened its investigation of Vilchis.
"It is an open and active investigation," Bogart said. "We want any victims to come forward."
Video: Chicago Tonight reporter Alex Ruppenthal talks about his investigation into this story.
Over the past 20 years, records show Vilchis moved from one Chicago-area gym to the next, despite the police reports filed in 1997 and 2014 by the three young gymnasts. According to interviews and a copy of his resume, Vilchis has worked in about a dozen gyms in Chicago and its suburbs, including Warrenville, South Chicago Heights, Glenwood and Mokena. Records show that from 1992 to 2000, he and his wife operated their own gymnastics facility in South Holland, and that he worked briefly as a gymnastics instructor and supervisor for the Chicago Park District.
While Vilchis was her coach in Wheeling, Romagnoli says that he abused her more than 100 times. "Everything that happened to me I think people should know," she said.
"All I can say is [USAG-Illinois] was not notified [in 1997]," said Norbert Bendixen, the head of USAG-Illinois since 1988. "We would have no way of knowing what police actions there were, especially if there were no convictions."
Don McPherson, a member of the USAG-Illinois State Committee since 1978, said he knew in 1997 that a police report accusing Vilchis of sexual abuse had been filed, but that there was nothing he or USAG could have done because Vilchis was not charged or convicted. McPherson also said that under USAG's Code of Ethics, he feared that his own membership status would be at risk if he shared information about Vilchis related to the police report.

"I really struggled with this for years ... It's still part of you that never goes away."
– Gena Romagnoli
---
Nearly 400 gymnasts across the U.S. have made allegations of sexual abuse against their coaches and gymnastics officials over the past 20 years, according to a landmark 2016 investigation by the Indianapolis Star. Among those named in the series was Nassar, the disgraced former team physician who was sentenced in January to 40 to 175 years in prison.
Romagnoli's story follows a similar pattern of reported abuse and inaction within youth gymnastics. The three gymnasts who filed police reports against Vilchis say they know of four others who claim to have been abused by him.
"You can be certain that there are likely dozens of victims that haven't come forward yet," said Marci Hamilton, CEO of Child USA, a research and advocacy group based at the University of Pennsylvania, who has condemned groups such as USA Gymnastics and USOC for failing to protect youth athletes from sexual abuse. "You can be certain that you've seen just the tip of the iceberg."
It's not clear when USA Gymnastics first learned of sexual abuse allegations against Vilchis. Leslie King, a spokesperson for the organization, confirmed that Vilchis was banned from USAG but did not respond to a number of other questions, including when USAG first learned of reports against him and whether the organization notified affiliated gyms after banning him last year. Records show Vilchis' USAG membership remained active until at least 2015.
Vilchis, now 67, did not respond to calls and text messages to his last known cellphone number. Other attempts to reach Vilchis, including through an attorney who represented him in the past, via social media and a letter mailed to his last known address, were unsuccessful.
Romagnoli is now a personal injury attorney and works alongside her father. She also recently started coaching youth gymnastics – a sport she still loves. Since agreeing to tell her story to Chicago Tonight, Romagnoli says she now plans to provide a statement about Vilchis to Channahon Police.
"I have this feeling of hope that he'll be brought to justice, which I had really – which I let go [of] a long time ago," she said. "I had given up on that. And [now], this thing in my brain is like – [there's] just hope that he'll be held responsible."

Next in our series: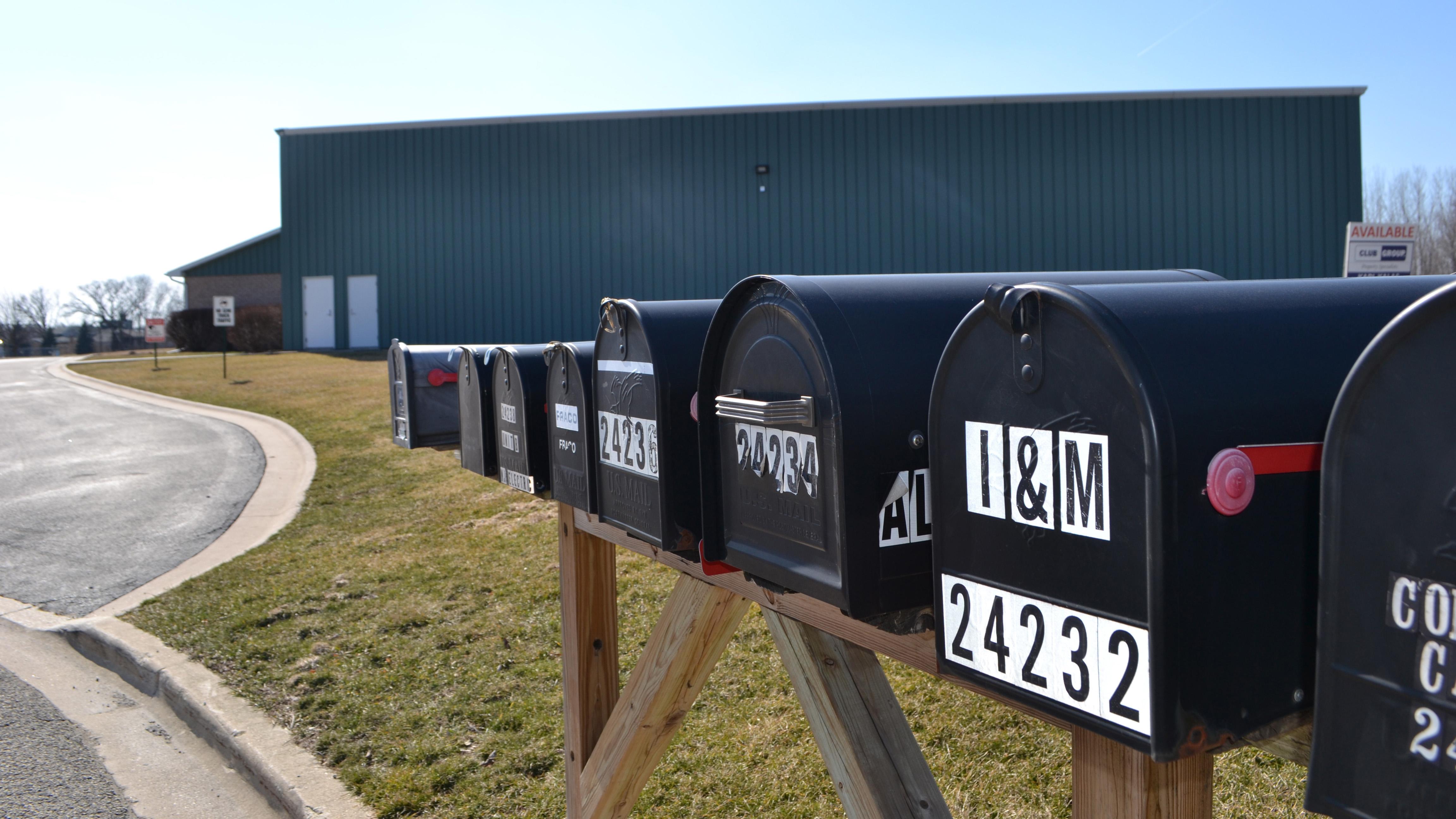 'That's Not Where it Hurts': Gymnast's Former Coach Under Investigation for Sexual Abuse
Part 2: The story of what happened following the 2014 allegations at the Channahon gym.
---
Contact Alex Ruppenthal: @arupp | [email protected] | (773) 509-5623
---