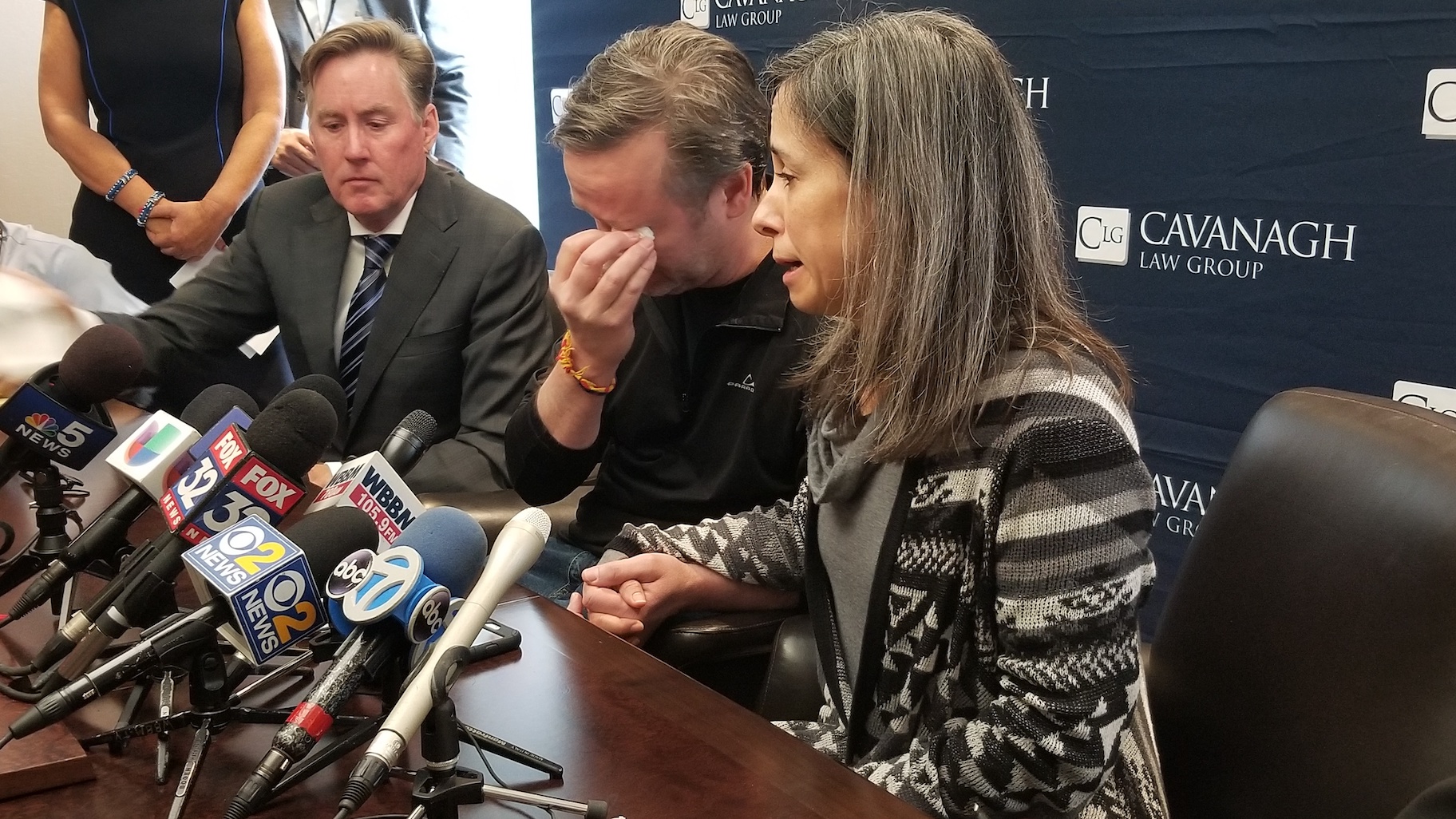 Tom Wilder, center, and Lucia Morales, right, say they're unsure if their son Rylan will ever regain full use of his arm after he was shot last week in an incident involving bank robbers and police. (Matt Masterson / WTTW News)
Music was Rylan Wilder's life. The 15-year-old grew up playing guitar and violin. He's the lead singer and guitarist of the rock band Monarchy Over Monday and in September, he became the youngest performer ever to take the stage at the Chicago music festival Riot Fest.
But he may never be able to play music again. Last week, Wilder was shot by a Des Plaines police officer during an incident at a Northwest Side music store that also left one man dead and a Chicago police officer injured. And his family wants answers.
Wilder's parents on Monday filed a lawsuit against the lone surviving suspect in a Des Plaines bank robbery that preceded their son's shooting. But they're also asking multiple police agencies to preserve footage and records of the Nov. 19 shooting so they can piece together exactly what happened.
"The reason we want all this," Chicago attorney Tim Cavanagh said, "is because the family has questions."
The lawsuit names 32-year-old Maurice Murphy, who was arrested and charged in federal court with participating in the Des Plaines robbery.
But along with that lawsuit, Wilder's family has also filed an emergency protective order that would force the Chicago and Des Plaines police departments, as well as UpBeat Music and the Illinois State Police, to preserve any and all surveillance audio and video from the day of the shooting.
The incident began Tuesday, Nov. 19 when Christopher Willis and Murphy allegedly attempted to rob a Bank of America at gunpoint in Des Plaines. Murphy, the alleged getaway driver, was arrested shortly after the robbery, but Willis stole another vehicle and led officers on a high-speed chase into Chicago.
After exiting I-90, Willis crashed his car on Irving Park Road and fled toward the UpBeat Music store, where Wilder was working as an intern. Des Plaines and Chicago police officers arrived on the scene and a Des Plaines officer opened fire, killing Willis and wounding Wilder.
A 46-year-old Chicago police officer was also shot in the head outside the store. He's since been released from the hospital and is recovering at his home.
Cavanagh, who is representing Wilder and his parents Tom Wilder and Lucia Morales, said the Chicago Police Department initially said there was a shootout inside the music store, but later changed its story, which Cavanagh said could indicate that Willis never fired his weapon and all bullet casings found at the scene were connected to the Des Plaines officer's weapon.
He wouldn't rule anything out when asked if the Chicago and Des Plaines police departments could eventually be added as defendants to their lawsuit.
"We are going to follow the evidence," he said, "and where that evidence leads, we'll make the appropriate legal conclusion."
In a statement Monday, CPD spokesman Anthony Guglielmi declined to comment on any possible future litigation against the department. The CPD investigation into the shooting remains ongoing, but Guglielmi said the Des Plaines officer engaged the gunman inside the music shop and "there is no evidence that the offender had time to return fire."
A Des Plaines Police Department spokesperson did not immediately respond to a request for comment Monday.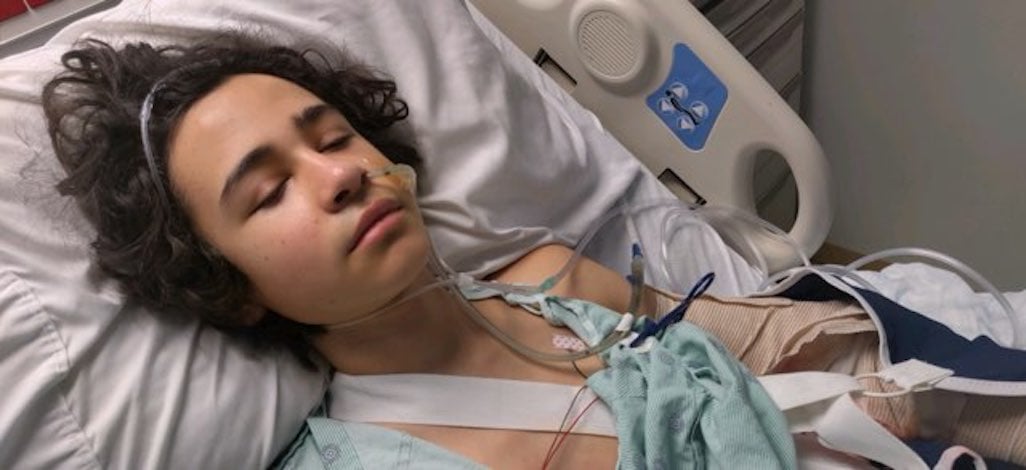 Rylan WIlder recovers from a gunshot wound at Lurie Children's Hospital in Chicago. (Courtesy Vicky Rehberg / Cavanagh Law Group)
Wilder's family declined to speak about what their son remembers about the shooting, and Cavanagh said it will remain unclear what exactly happened until they're able to review police reports and video evidence. But they did describe their own panic during the incident as Rylan stopped responding to text messages and Tom Wilder found police blocking off the streets near the store where his son worked.
"I just started crying hysterically," Morales said of learning her son had been shot.
Even with his own serious injuries, Morales said the first thing Rylan said when he saw her was that he hoped no one else had been hurt.
"This just shows what kind of person he is," she said, "putting others before himself even in this moment when we were not even sure what his prognosis would be, all you see is how terribly wounded your child is and how much pain he's in, and he's just worried about other people."
Wilder remains at Lurie Children's Hospital, where he is expected to stay for the "foreseeable future." His parents are still unclear if their son was struck by one or more bullets. 
Surgeons removed one bullet that was lodged inside Rylan's stomach. But his left arm was more severely injured, which was shredded from bicep to forearm.
The nerve that controls his thumb, middle and index fingers was severed completely, according to Morales. It was reattached during surgery, but she said her son still doesn't have feeling in his index finger.
"At this moment we don't know if he'll recover from that," she said.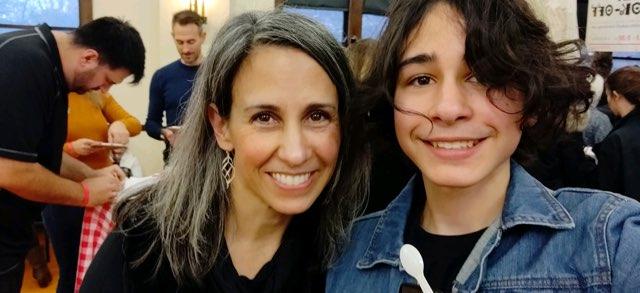 Rylan Wilder and his mother, Lucia Morales. (Courtesy Vicky Rehberg / Cavanagh Law Group)
A metal rod was also inserted between his wrist and elbow to aid in mobility and healing. But even after five surgeries, he may have to undergo additional procedures depending on how things progress.
A GoFundMe campaign has already raised more than $39,000 as of Monday afternoon to help cover his hospital costs.
Morales said her son has asked her if he'll ever be able to play guitar again. She told him it'll only happen if he keeps thinking positively.
"There are so many success stories out there of people who have overcome incredible difficulties and reached their full potential despite the challenges that they have encountered," she said. "And then I just repeated, if you have negative thoughts, no, never again. If you have a positive mindset, (then) possibly."
---
Related stories: 
Police: Chicago Teen Hurt in Gunfire Likely Shot by Officer
Expungement Request Denied for Ex-CPD Detective Dante Servin in Rekia Boyd Case
Top Cop Eddie Johnson on Gun Violence, Police-Community Relations
Federal Prosecutor Targets Chicago Violence
---