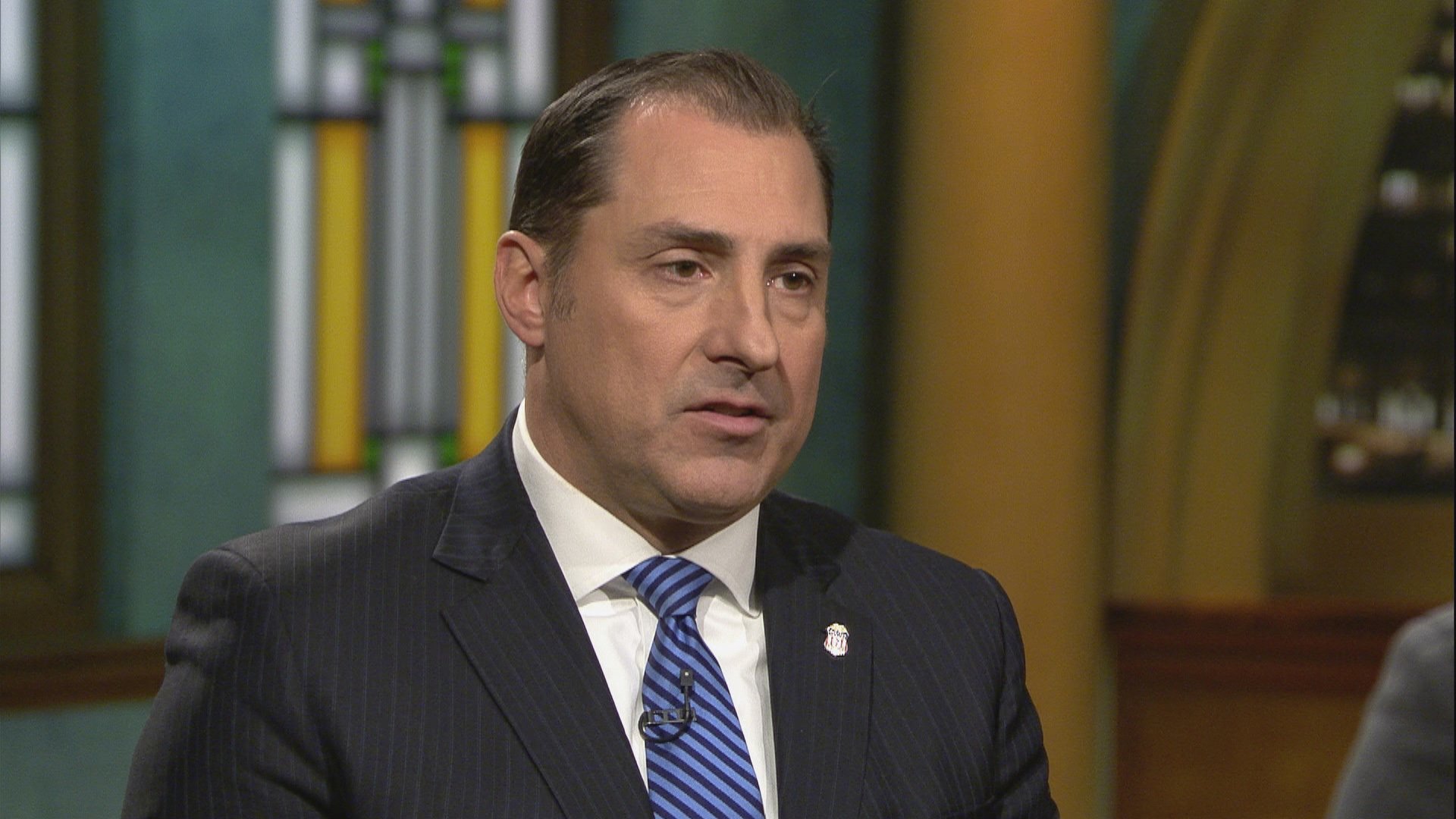 U.S. Attorney John Lausch appears on "Chicago Tonight" on Nov. 13, 2019. (WTTW News)
Federal prosecutors in Chicago this week announced their office is entering into a new Department of Justice initiative aimed at reducing gun violence through coordinated prosecutions and new or improved background check enforcements.
Northern District of Illinois U.S. Attorney John Lausch Jr. on Thursday said his office will participate in Project Guardian, a new federal program that's focused on investigating, prosecuting and preventing gun crimes.
"Reducing gun violence and enforcing federal gun laws have always been among our office's highest priorities," Lausch said in a statement. "As part of Project Guardian, we will work closer than ever with federal, state, and local law enforcement partners to reduce the unacceptable level of violent crime and help keep our citizens safe."
Project Guardian – a complementary project to the existing evidence-based violence reduction initiative Project Safe Neighborhoods – is a five-point program based around "all modern technologies" available to law enforcement and prosecutors to promote gun crime intelligence.
Those points include:
Coordinated Prosecutions – Local, state and federal officers and prosecutors will collaborate on cases involving specific violent gun offenders to determine if federal charges are warranted.
Enforcing the Background Check System – Lausch and other U.S. attorneys will create or update guidelines for prosecuting those who lie about their criminal histories on background checks when attempting to legally purchase a firearm.
Improved Information Sharing – The Bureau of Alcohol, Tobacco and Firearms will provide state law enforcement departments with a list of names of individuals who've been denied firearm purchases by the National Instant Criminal Background Check System (NICS).
Coordinated Response to Mental Health Denials – The U.S. attorneys' case-management system will be regularly updated with the federal case information of those individuals who have been denied a firearm purchase by NCIS under a mental health prohibition.
Crime Gun Intelligence Coordination – Prosecutors and law enforcement departments will utilize the ATF's Crime Gun Intelligence Centers and related resources to "maximize the use of modern intelligence tools and technology."
Through fiscal year 2019, Lausch's office charged more federal firearm offenders than it had in any of the previous 15 years, according to preliminary numbers. That includes a 44% increase over FY18 and a 60% increase over FY17.
Lausch told WTTW News last week that his office has focused more on individual gun prosecutions as "a response to what we're seeing on the streets."
"We're seeing individuals possessing, using and transferring firearms in a way that this is leading to a lot of the violence," he said.
Lausch also described the collaborative process by which he and Cook County prosecutors determine which jurisdiction should take certain cases.
"I mean, sometimes actually the state statute is more powerful than the federal statutes for certain gun possession offenses," he said. "And so we just work with them to really take a look at the evidence, look at the offender, look at their criminal history, the nature of this particular incident in which we were able to recover the gun and determine, is it better that this case goes to federal versus state? And what we're looking for there is ultimately holding that offender accountable."
---
Related stories:
Federal Prosecutor Targets Chicago Violence
Police Board Prepares Search for Eddie Johnson's Permanent Replacement
Justice Department Rolls Out New Program to Combat Gun Violence
What Policymakers Can Do to Help Reduce Gun Violence
'Firsthand' Accounts: How Guns Changed the Course of Their Lives
Meet John Lausch, Northern Illinois' New U.S. Attorney
---