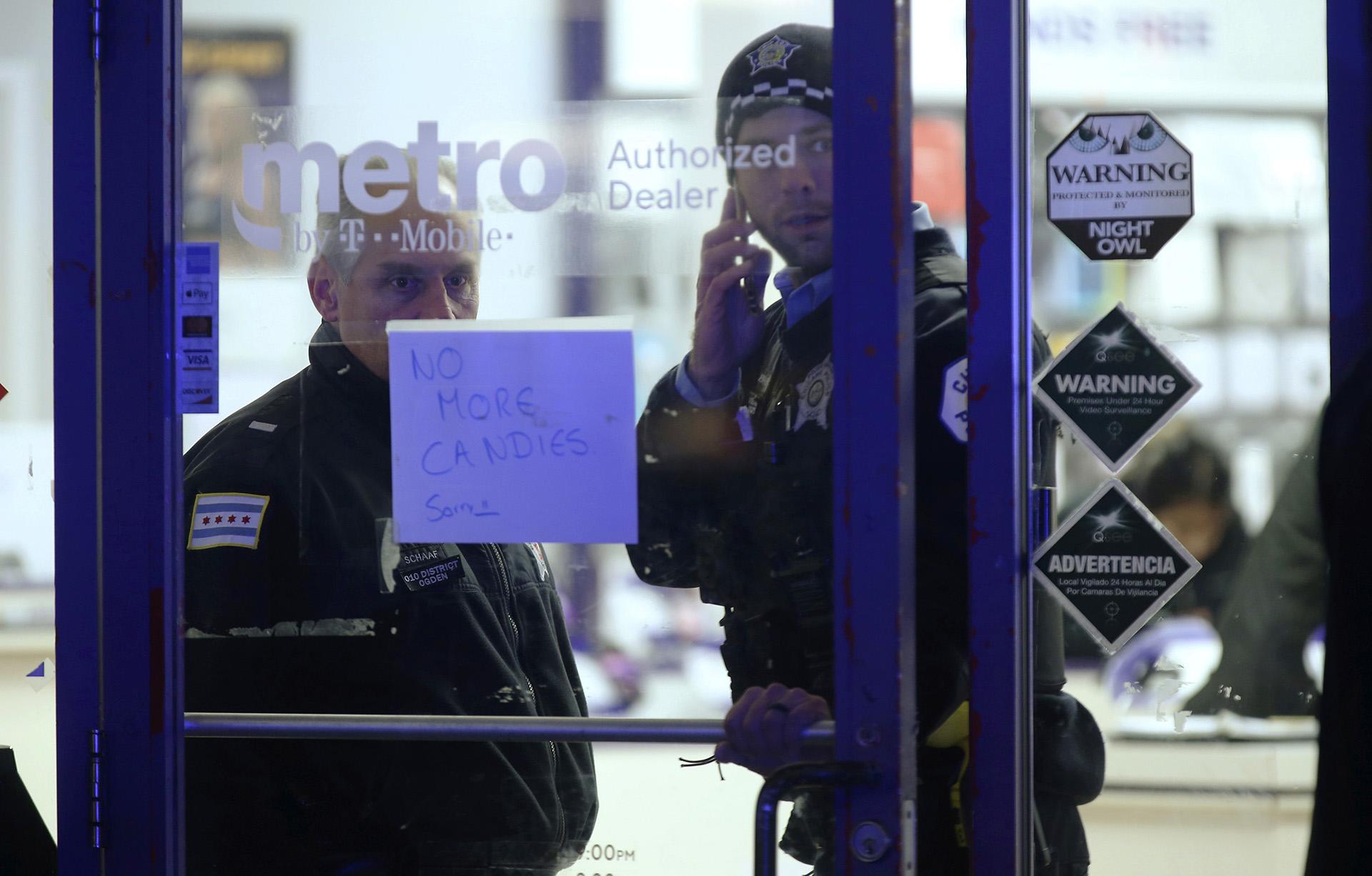 A police supervisor and officer stand inside a cell phone store in the 3700 block of West 26th Street, where a 7-year-old girl was shot while trick-or-treating Thursday, Oct. 31, 2019, in Chicago. (John J. Kim / Chicago Tribune via AP)
A gunman donning a "Jason" Halloween mask is being sought by Chicago police for the Thursday evening shooting in Little Village that left a 7-year-old trick-or-treater clinging to life Friday morning.
The Halloween shooting occurred as the female victim was walking with her family and other trick-or-treaters along a street in the Little Village neighborhood. The victim, who was dressed as a bumblebee, was struck in the neck and back.
"The shooting yesterday was reprehensible," Chicago Police Superintendent Eddie Johnson said during a press briefing Friday morning. "Those involved don't deserve to be in our city. So I'm disgusted, but committed to doing everything we can to find the cowards who engaged in a gun battle in the early evening hours while children were trick-or-treating."
The young girl was struck during what is believed to be a gang-related shooting in the 3700 block of South California Avenue. She has been stabilized but remains in critical condition, Johnson said. 
Police said a group of males was chasing another male along the street when someone in the group fired at the intended victim. Johnson believes members of two gangs came into contact with one another and one of the sides started shooting.
"She just was in the wrong place at the wrong time," Johnson said.
A 30-year-old man was also shot in the hand in the same incident, but was listed in good condition. He may have been the intended target, but Johnson would not say whether he's cooperating with investigators.
Police are searching for multiple offenders. CPD spokesman Anthony Guglielmi said Friday afternoon one juvenile person of interest had been taken into police custody and was being interrogated by Area Central Detectives.
Johnson said police have identified the man they believe fired the shots that hit the girl. He was seen on video wearing a mask resembling that of movie killer Jason Voorhees from the "Friday the 13th" horror franchise.
Johnson's statements Friday came at a press conference that had been called to discuss the police department's latest crime numbers through the month of October. Instead the superintendent shifted his comments to this shooting in hopes of generating more leads for detectives.
"None of that matters," he said of the crime data, "if parents that live in certain communities can't even take children out on Halloween."
Superintendent Johnson announces a person of interest identified in the despicable shooting of a 7 year old girl. Response from community has been overwhelming and we thank Little Village for all the information being shared. pic.twitter.com/o9BjocJfiw

— Anthony Guglielmi (@AJGuglielmi) November 1, 2019
---
Johnson wouldn't specify just how many offenders are being sought in relation to the shooting, simply stating there are "multiple." He did say there is a "great possibility" the one man they have identified is the shooter.
That suspected gunman was identified through a combination of private surveillance and police camera footage in the area and a multitude of tips that have come in from residents in the Little Village neighborhood. 
Johnson called the community response "overwhelming," and said phones in the Ogden police district have been ringing off the hook with concerned citizens seeking to help.
"There's no place for offenders to hide when all eyes are searching," he said. "There's no place for this savagery in our city. Together we can be one set of eyes and one set of ears."
---
Related stories:
Police Department Accepts New Recommendations to Boost Homicide Clearance Rate
In Chicago, Trump Calls the City an Embarrassment to the US
Eddie Johnson Responds to Trump Barbs: 'I'm Doing the Right Thing'
NIH Awards DePaul University $6.6M for Violence Prevention Research
---