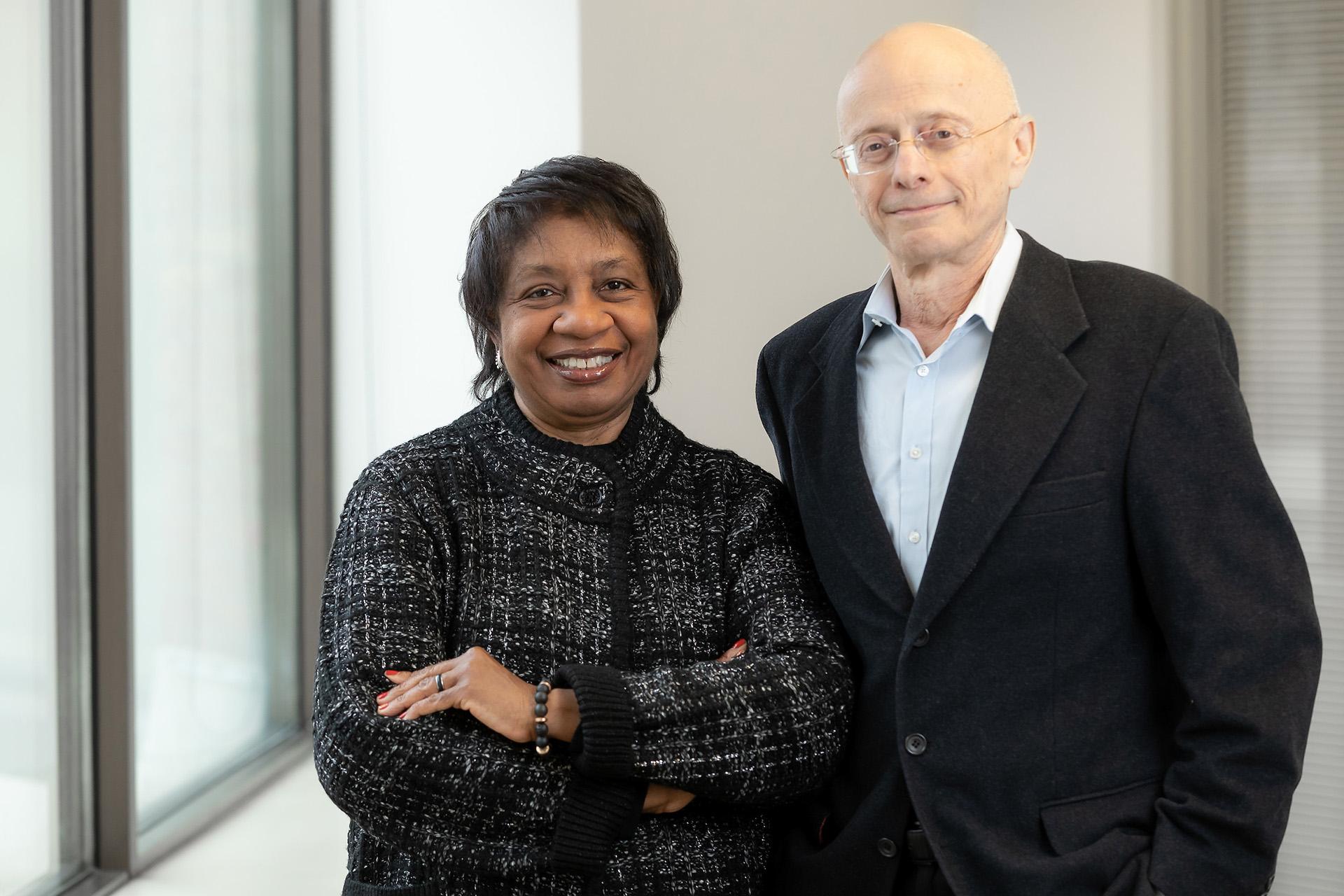 DePaul University psychology professors W. LaVome Robinson, left, and Leonard A. Jason have received a $6.6 million grant to fund research to reduce African American youth violence. (DePaul University / Jeff Carrion)
A pair of psychology professors at DePaul University has received a $6.6 million grant from the National Institute of Mental Health to teach stress-reduction techniques to Chicago students as a way of reducing violence.
"In communities hard-hit by poverty and drugs, children witness violence and it leads to more violence," said grant recipient W. LaVome Robinson, who will lead the research project. "We are giving children ways to minimize the likelihood they are going to be exposed to, participate in or experience violence."
The Success Over Stress Violence Prevention Project was previously tested by Robinson and fellow grant recipient Leonard Jason in a number of Chicago Public Schools on the city's South and West sides. About 80% of participants said the course helped meet their stress-reduction goals, according to a university press release. Robinson and Jason will implement the program at a handful of CPS schools as part of the five-year research grant.
The program is tailored to the experiences and needs of African American students.
"We're not taking a generic stress reduction program. We're taking a program that's adapted to them," said Robinson. "It's a culturally adapted curriculum, so a lot of stress the children experience has to do with matters related to the fact that they're African American."
For instance, the program includes shared experiences common among African American youth, such as being followed around in a store and suspected of stealing, or being profiled by police on the street, Robinson said. "We have scenarios and opportunities for them to talk about occasions that happened to them and how they feel, and how they can problem solve around that," she said.
At participating schools, groups of 8-10 ninth-graders will get lessons on how to recognize and cope with stress, such as relaxation training and positive thinking, during 45-minute sessions over the course of 15 weeks.
"We're teaching them multiple strategies so they have a toolkit or toolbox that they can go to and draw upon" when stressed, said Robinson. "They come to understand the strategies that work well for them in different scenarios."
With the NIMH grant, researchers will train school social workers to deliver the curriculum as well as a train-the-trainer component. "We have demonstrated in the past with our trained staff that we get good outcomes," said Jason. "The next step is saying, 'What happens when people in the system implement the program?'"
Collaborators on the project include Rush University Medical Center and Heartland Health Centers, which administer the school-based health centers in Chicago Public Schools. Other co-investigators include Kate Keenan, professor of psychiatry and behavioral neuroscience at the University of Chicago; Sally Lemke, director of community health clinics at Rush University Medical Center; and Donald Hedeker, professor of biostatistics at the University of Chicago.
Contact Kristen Thometz: @kristenthometz | (773) 509-5452 |  [email protected]
---
Related stories:
With Business Community's Help, CRED Fights Chicago Violence with Jobs
Southwest Side Bungalow Provides Shelter from Street Violence
Research Collaborative Partners with Communities to Address Chicago's Gun Violence
Chicago Responds to Weekend Carnage With Condolences, Calls for Action
How Exposure to Violence Impacts Young Children in Chicago
---