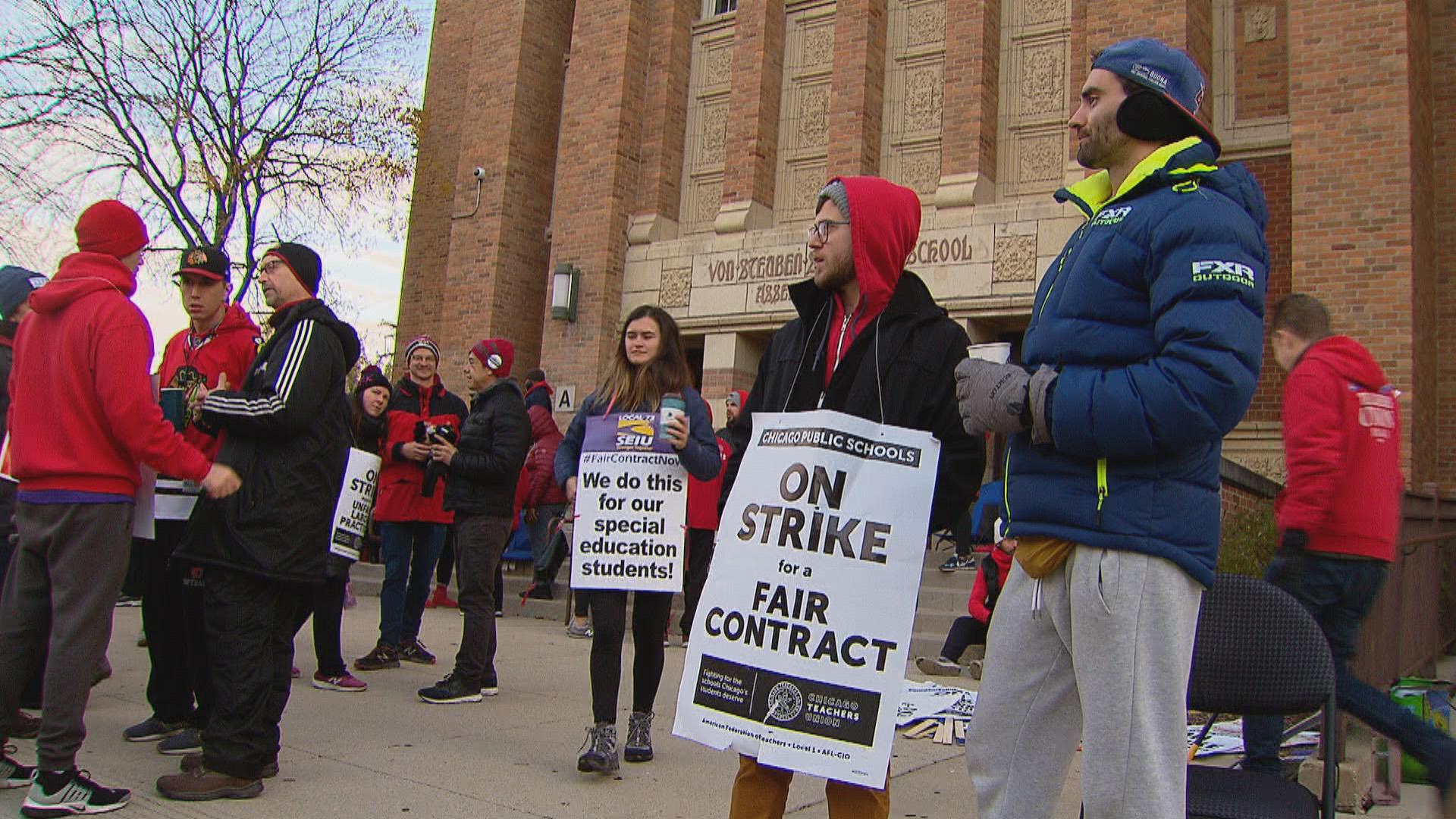 Striking teachers at Chicago Public Schools gather outside a CPS school on the city's North Side on Monday, Oct. 28, 2019, day eight of the Chicago teachers strike. (WTTW News)
With classes canceled for the eighth day Monday, the Chicago Teachers Union strike has surpassed its 2012 work stoppage in terms of missed school days.
City negotiators did reach a tentative agreement Sunday with striking members of SEIU Local 73, meaning support staff including speech, occupational and physical therapists and special education assistants could return to school soon.
But a deal with the CTU has remained elusive. CTU leaders said bargaining Sunday night ended with the same contract offer on the table that was there after a session Saturday. They say they and the city are separated by some $38 million in negotiations.
"CPS has $38 million to settle a contract in one of the richest cities in the richest countries in the world," CTU President Jesse Sharkey said Sunday. "Yet today, their misplaced priorities will put us on the picket lines again tomorrow."
I'm incredibly disappointed that classes won't resume tomorrow. We have to be realistic about the state of our finances, and we won't have a deal until CTU figures out that we're a family putting gas and groceries on the credit card. https://t.co/UzGZqlAsK8

— Janice K. Jackson, EdD (@janicejackson) October 28, 2019
---
One major development that did come over the weekend: Chicago Public Schools CEO Janice Jackson's first appearance at the bargaining table, which some saw as a sign a deal could be close. But on Sunday night, Mayor Lori Lightfoot said she was "enormously disappointed" that a deal had not yet been finished.
"This is, by any estimation, an incredible offer," Lightfoot said. "And despite all of this, the CTU has not accepted it."
Teachers continued picketing at schools across the city Monday morning and are expected to join a youth-led march before a rally at City Hall.
Contact Matt Masterson: @ByMattMasterson | (773) 509-5431 | [email protected]
---
Related stories:
CPS on Teachers Strike: 'This Cannot Go Into Next Week'
Striking CPS Teachers, Staff Take Message to City Hall
How CPS Strike is Impacting High School Seniors Applying for College
Lightfoot Asks CTU to End Strike Before Contract Agreement is Finalized
How Parents of CPS Students Are Coping With Canceled Classes
---