Chicago Public Schools classes are again canceled Thursday as the Chicago teachers strike enters its sixth day.
Tens of thousands of protesters rallied, marched and sat on city streets outside City Hall on Wednesday morning as Mayor Lori Lightfoot delivered her first budget address.
Rather than starting day five of the strike on picket lines at schools across the city, the Chicago Teachers Union and SEIU Local 73 held a massive demonstration in the Loop, starting at four different locations in the area before converging on City Hall.
The CTU and city negotiators have been going back and forth over a number of issues, including class sizes, staffing for nurses, counselors and librarians, and teacher prep time.
But all of that comes down to money – not just salaries for current workers, although CTU and SEIU are asking for higher wages for their lowest-paid members – but also money to hire these additional staffers.
"Don't be fooled. This city has the funds to provide what we're asking them for, they have it," CTU Recording Secretary Christel Williams-Hayes told a crowd of marchers at the Thompson Center.
"We know that the money is there, just tax the rich and give it to the Chicagoans!" state Rep. Delia Ramirez (D-Chicago) said.
"We know the money is in those TIF funds!" said Grassroots Collaborative's  Amisha Patel. "And they need to go into our schools and our communities."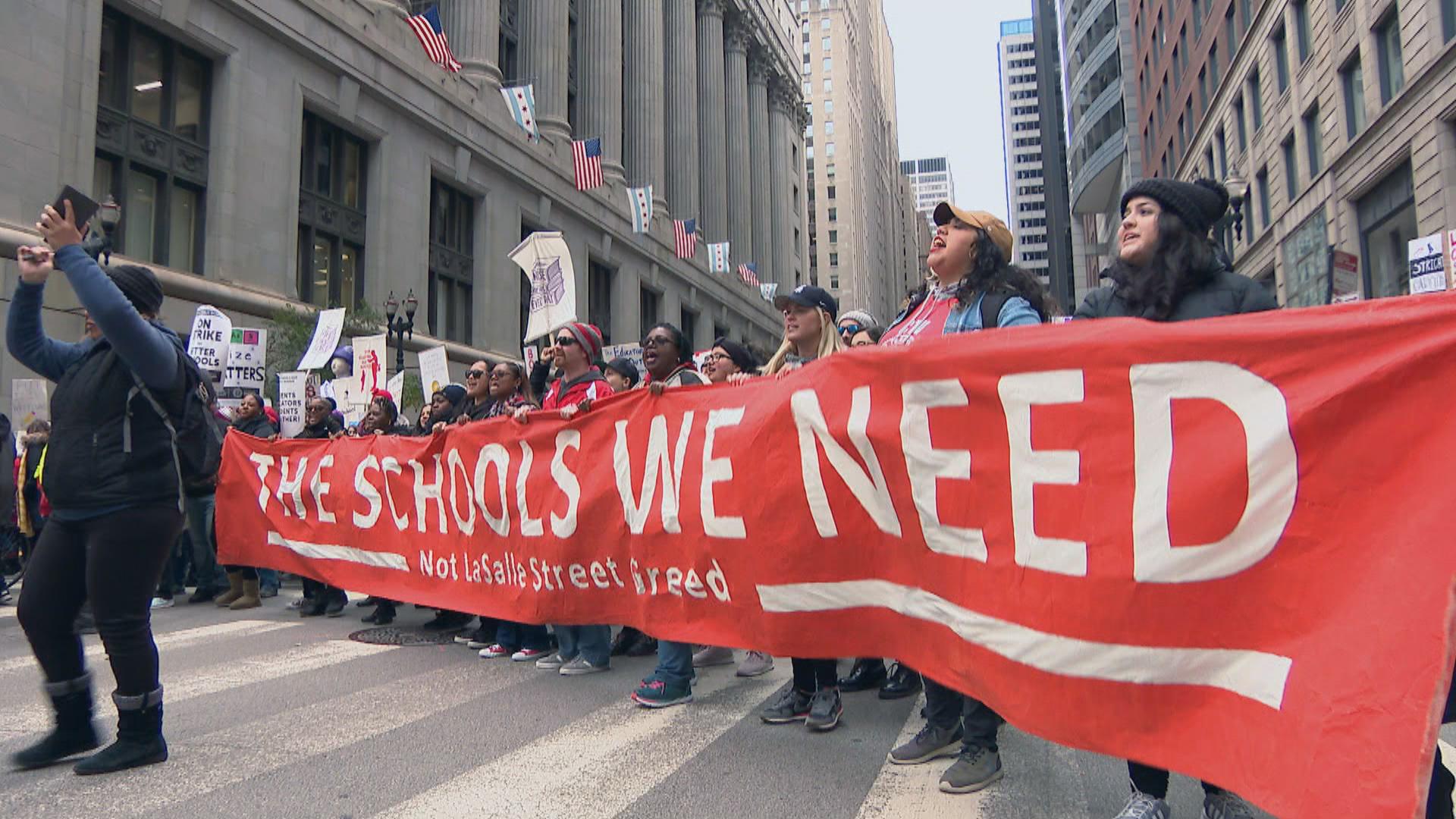 The Chicago Teachers Union and SEIU Local 73 hold a massive demonstration in the Loop on Wednesday, Oct. 23, 2019 -- day five of the Chicago teachers strike. (WTTW News)
The unions have repeatedly argued that the funding from tax increment financing, or TIFs, should be used for schools rather than development projects like Lincoln Yards.
They have also argued that the $1 billion in additional revenue the district receives under the state's evidence-based funding formula should be more than enough to cover the cost of what they're asking for.
Earlier this week, the mayor said the city does not have the money.
"Find it. Because we know it's there," said CTU Vice President Stacy Davis Gates. "You got a billion dollars to lower class size, you got a billion dollars to fund special education, you got a billion dollars to fund bilingual education services. You have to use those things for what we need."
Lightfoot has said she's done all she can, that her office has made proposals – and put in writing, as CTU requests – demands for a nurse and social worker in every CPS school over the next five years, and that they've made proposals to reduce class sizes in the most high-poverty schools first.
One step she did take Wednesday was to declare a TIF surplus of $300 million. Of that, $163 million will go toward Chicago Public Schools – but these additional funds won't meet all of CTU's demands, they'll just help cover the existing contract offer.
Some budget experts say that's the best the city can do.
"From the rating agencies, the financial condition of Chicago Public Schools remains precarious," said Laurence Msall of budget watchdog the Civic Federation. "It's better than it was, but it's hard to see where they get any large sums of money that haven't already been tapped into."
"CTU is making claims that additional state aid, this $1 billion in state aid should be able to fund their demands," said Adam Schuster of the Illinois Policy Institute. "More than two-thirds of it is already going to their pension payment. All along what we've been saying is that if CTU really cares about these other issues – class sizes and staff support – then maybe they should be offering to give something up when it comes to pay and benefits."
On Thursday, picket lines at all 500-plus schools will resume in the morning – as well as another charter school strike that started at Passages Charter School this week.
Follow Brandis Friedman on Twitter @BrandisFriedman
---
Related stories:
How CPS Strike is Impacting High School Seniors Applying for College
Lightfoot Asks CTU to End Strike Before Contract Agreement is Finalized
How Parents of CPS Students Are Coping With Canceled Classes
---