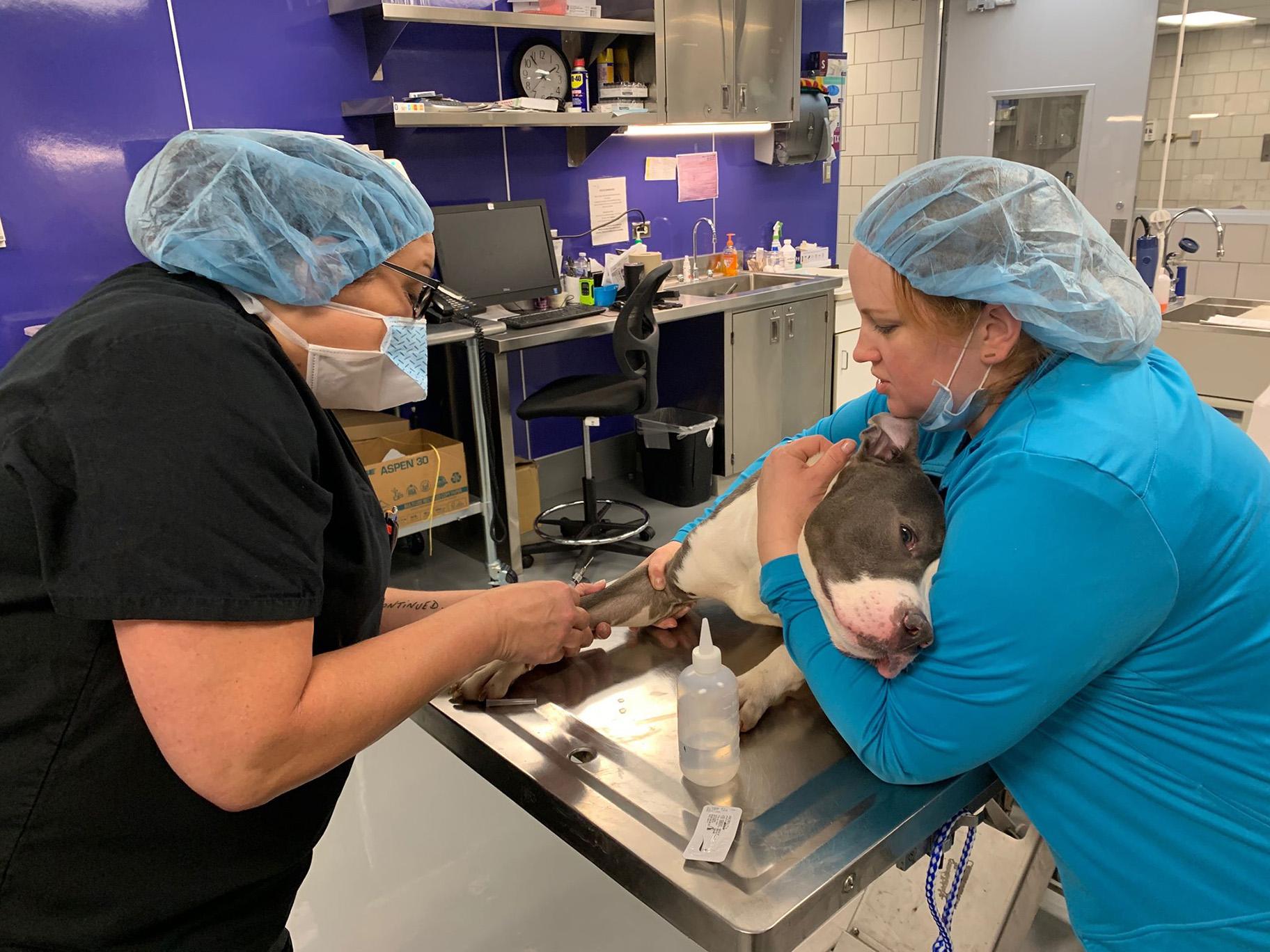 Chicago Animal Care and Control staff prepare a dog for surgery inside the shelter's renovated medical unit. (Courtesy Chicago Animal Care and Control)
Chicago's city-run animal shelter recently completed a $1.5 million renovation of its medical facility that it says will allow staff to enhance care for critically ill or injured animals.
The shelter's medical unit had not been significantly updated since the building opened in 1980, said Chicago Animal Care and Control Executive Director Kelley Gandurski.
"The space before was very compartmentalized," Gandurski said, adding that the area lacked windows and felt like a "bunker." "There was no way for the medical staff to work more collaboratively."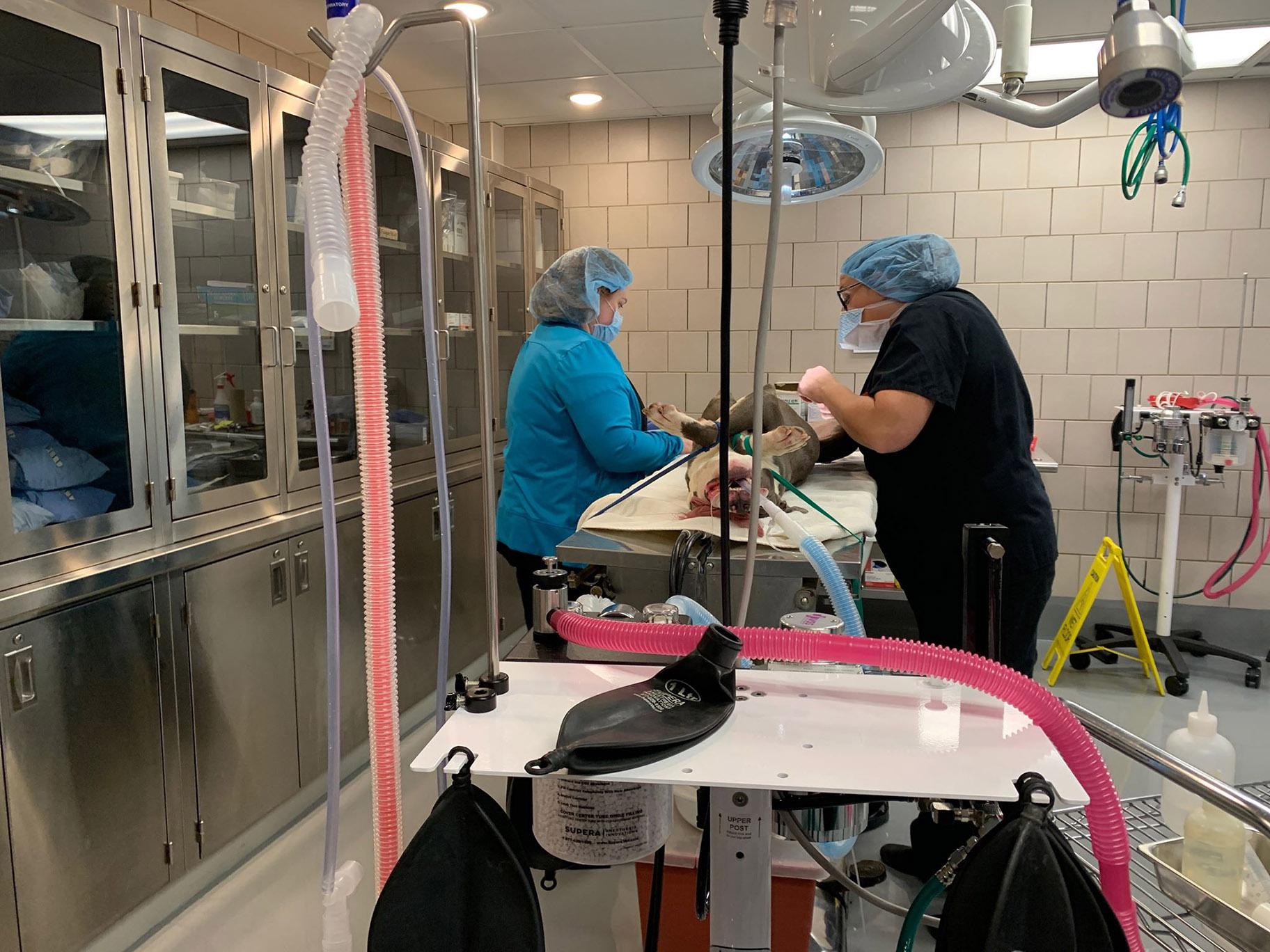 Chicago Animal Care and Control staff conduct a surgical procedure on a dog inside the renovated medical unit. (Courtesy Chicago Animal Care and Control)
Under the Illinois Veterinary Practice Act, non-veterinarian staff are allowed to perform hands-on work with animals as long as they are within view of a supervising veterinarian. But that wasn't possible in the old medical unit because of its disjointed layout and opaque walls, Gandurski said. 
The new medical unit incorporates glass walls that Gandurski said both gives the space a more open feel and will allow CACC's team of three veterinarians and seven assistants to work together more effectively.
Along with a new design, the upgraded unit features a host of new equipment, including a sterilizer, anesthesia machines, surgical lights and tables and a wet prep table to treat animals with matted fur.
Gandurski said the space includes three triage tables – as opposed to one, previously – to treat animals in need of urgent care, such as those brought in after being struck by a vehicle.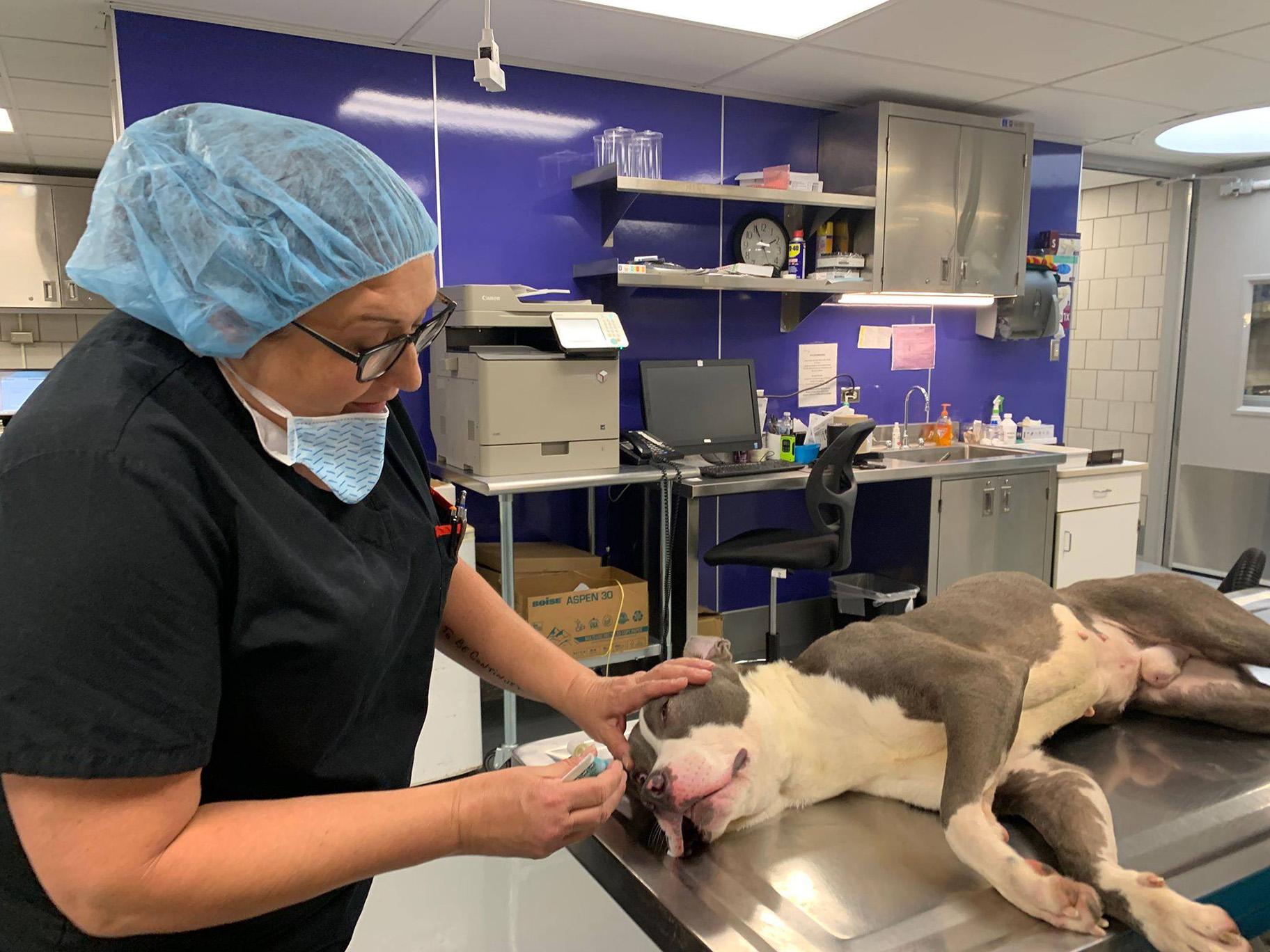 A dog receives an intra-nasal vaccine in the new medical unit at Chicago Animal Care and Control. (Courtesy Chicago Animal Care and Control)
The unit also includes an "essential isolation area" to help reduce the transmission of infectious diseases.
CACC says the renovated facility and new medical equipment will allow staff to evaluate animals more quickly and carry out surgical procedures that will ultimately lead to more adoptions. The shelter will also be able to increase the number of spay and neuter procedures it performs.
"It allows us to grow," Gandurski said. "In the future if we are able to receive more medical staff, there's more space back there."
Contact Alex Ruppenthal: @arupp | (773) 509-5623 | [email protected]
---
Related stories:
City Animal Shelter to Get $1.5 Million Upgrade for Medical Unit
Chicago Shelter Launches Partnership With Facial Recognition App to Find Lost Pets
With New Screening Process, City Shelter is 'Fast-Tracking' Cat and Dog Adoptions
Chicago Announces Record Release Rate at City Animal Shelter
---