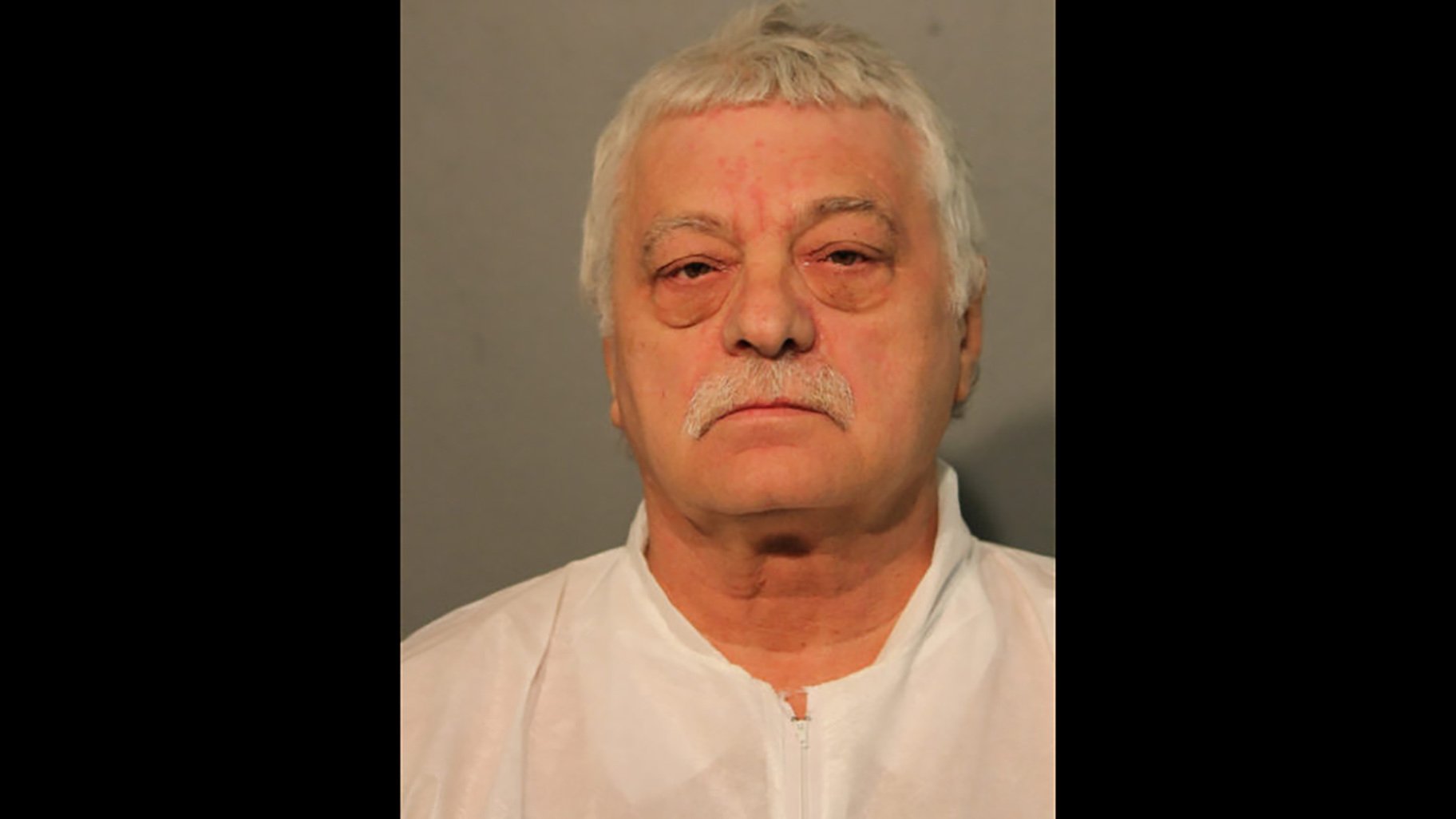 Krysztof Marek (Chicago Police Department)
The man who allegedly gunned down five neighbors in a rampage inside a Dunning condo building Saturday had planned out his attack, according to letters found inside his home in which he said he would have "no mercy" for the victims.
A Cook County judge denied bail for 66-year-old Krysztof Marek, who was charged Monday with five counts of first-degree murder. Cook County prosecutors allege Marek ambushed a family as they sat for dinner inside their home before moving to a second unit where he executed another woman.
"What I just heard," Judge John Fitzgerald Lyke Jr. said, "is evil on steroids."
In denying bail, Lyke said it was evident based on the allegations that Marek poses a threat to any living witnesses, the community and "any human being he comes in contact with."
The murders may have stemmed from an impending eviction, according to Assistant State's Attorney James Murphy, who said that Marek hadn't been paying his mortgage nor his building association fees after living in the building for 25 years.
The first set of victims included 43-year-old Kostadinova Tsvetanka and 43-year-old Ivaylo Popov, a married couple who lived on the second floor of the building, along with Popov's mother Iskra Pourel-Popova, 65, and her boyfriend David Hanik, 61, who were visiting for dinner.
As they sat around a set table waiting for another family member to arrive, Marek allegedly entered through the front door carrying a .40 caliber handgun, which he used to shoot and kill all four people inside.
"All four bodies dropped to the floor around the table," Murphy said.
He then moved up to the third floor where he entered an unlocked apartment where the fifth victim, 53-year-old Jolanta Topolska, was lying on a couch.
Marek shot Topolska once in the abdomen, Murphy said. She fled out a rear exit, leaving a trail of blood out the door. Marek then allegedly pursued her outside and shot her again in the back of the head.
After the shootings, Marek went back to his home and placed the gun on a coffee table. When officers arrived on the scene, Marek allegedly told them "I think you're looking for me. I did it."
Inside his home, investigators found two notes written in Polish. The first read "No Mercy!!! Remember Whatever s--t they did to you You control it yourself not them!!! Enough!! They have to pay for it!!"
The second similarly stated: "Tomorrow!! No Mercy. Without any stupid hesitation!! Remember who you are!! Remember what this piece of s--t is doing to you!! Enough!!"
A witness who saw Marek said he was "shaking" following the first shootings as he walked to Topolska's apartment, according to the prosecution's bond proffer. That witness said he immediately locked his door and rushed his wife and child to the back of their apartment for safety.
Another witness saw Marek as he pursued Topolska out of her apartment and "knowing what was about to happen," turned away just as Marek shot her in the head, the proffer states.
Multiple other "cryptic letters" written by Marek that addressed specific issues with his neighbors were also allegedly found in his home.
Marek appeared in court and was silent as the allegations against him to read to the judge. He faces a possible life sentence if convicted.
In a tweet Monday morning, Chicago Police Department spokesman Anthony Guglielmi said, "What he's being accused of is nothing short of savagery." 
Krysztof Marek, 66, formally charged by Detectives & Prosecutors with 5 counts of Murder in connection with Saturday's devastating shooting on the NW side. Incident stemmed from a dispute between Marek & his neighbors and what he's being accused of is nothing short of savagery. pic.twitter.com/U15Mg036cH

— Anthony Guglielmi (@AJGuglielmi) October 14, 2019
---
This is a developing story, check back for updates.
Contact Matt Masterson: @ByMattMasterson | (773) 509-5431 | [email protected] 
---
Related stories:
Gunman Guilty in Brutal Slaying of 9-Year-Old Tyshawn Lee
5 Chicago Teens Charged with Murder Under Controversial Illinois Law