A controversial land deal on the North Shore tied to Illinois Senate President John Cullerton is under fire. The deal would allow a private developer and his financial partner – Cullerton – to build a road on a public golf course leading to a private property they jointly own, and it has neighbors upset. Now, the deal is raising the question of whether Cullerton is using political clout for financial gain.
Canal Shores is an 82-acre public golf course that runs through Evanston and Wilmette. Wilmette Park District Commissioner Bryan Abbott says the course is a valuable public space for local residents.
"People come here they walk their dogs, they hike," Abbott said. "Golfers help subsidize the management of this land."
Directly to the west of the 10th hole, on the border of Evanston and Wilmette, is an undeveloped piece of private residential property that has had one nagging problem: there is no way to access it from the nearest roads.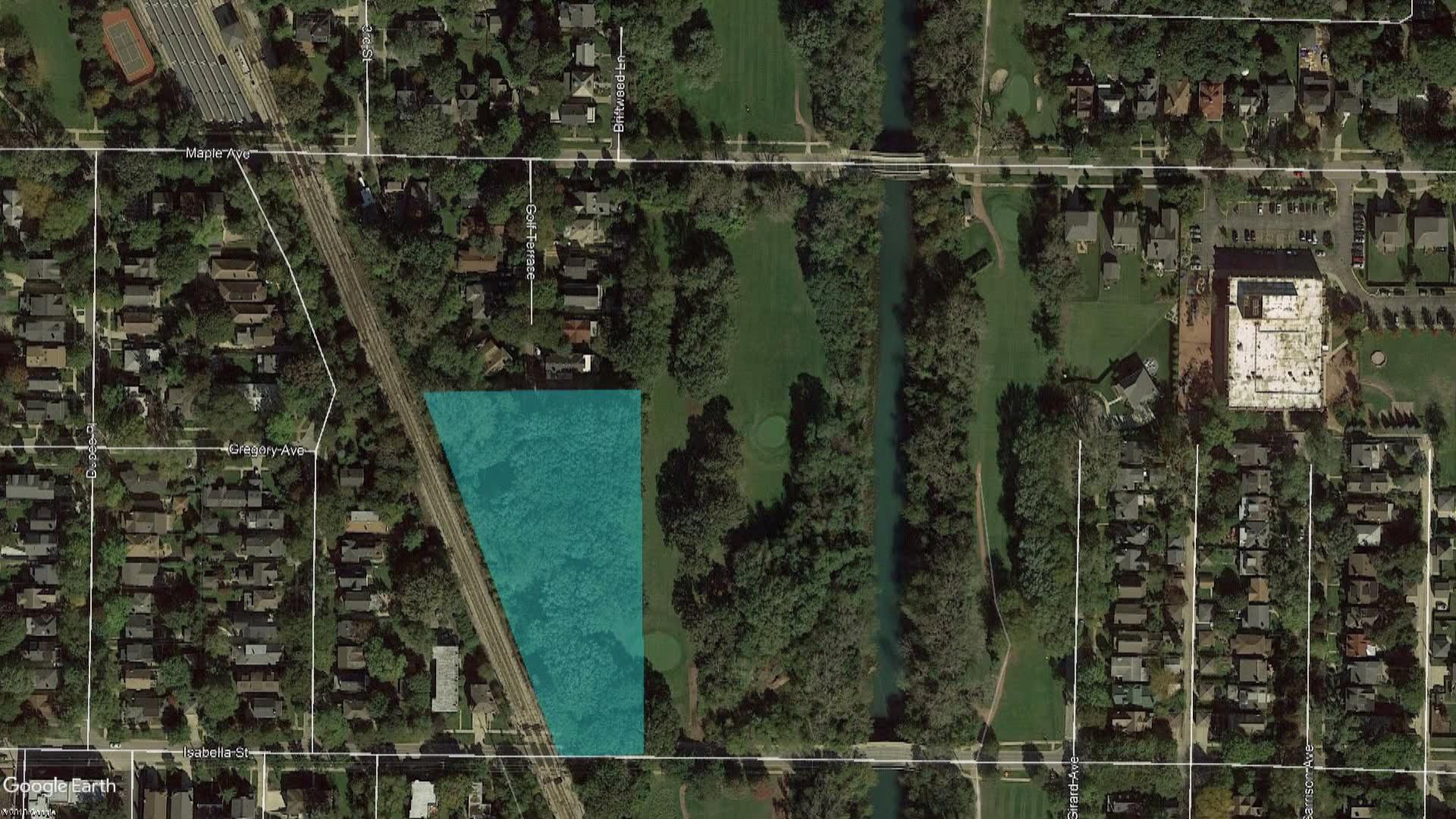 The property is owned by the Keefe Family Trust and controlled by Glencoe resident Joe Keefe. Cullerton, Keefe's longtime friend, also has a financial stake in the property. Keefe says he and Cullerton have tried unsuccessfully for years to get the local park districts to grant them an easement to build a road or driveway to the property. And he says they are owed that.
"It's fundamental to real estate law in Illinois that if you pay property tax on a property, you are allowed to access it," Keefe said.
The adjacent golf course sits on land owned by the Metropolitan Water Reclamation District of Greater Chicago. Keefe and Cullerton eventually persuaded Cook County Department of Transportation and Highways Superintendent John Yonan to, in turn, ask the MWRD to vote to grant an easement for the property. The first attempt proposed connecting the property to Isabella Road in Evanston, south of the property. MWRD commissioners, amid intense opposition from neighbors, voted it down.
In November, Cullerton and Keefe tried again, this time with a route from Maple Road in Wilmette to the north. Public opposition was near unanimous at a contentious board meeting that same months.
"Please say no," said one of a steady stream of public commenters. "Please continue to protect our public lands."
But this time, MWRD commissioners voted 5 to 4 to approve the easement. It would run through hole 10 and effectively turn Canal Shores into a 17-hole course. The commissioners voting yes said they didn't want to deny a private developer access to the property, and that they shouldn't tell the Cook County highway department it can't build a road.
"We are voting today to approve an easement requested by the Cook County Department of Transportation, a sister governmental agency," said Commissioner Kari Steele, now the MWRD Board chair. "Denying that would set a dangerous precedent of intergovernmental dysfunction that I'm not sure I want to be a part of."
But those voting against the plan said it amounted to giving away valuable public space to enrich private developers.
Cullerton personally lobbied each commissioner to ask for their yes vote on the project, although they say he made it clear that he was acting in his capacity as a private attorney and not as the Illinois Senate president.
"I went to every one of them," Cullerton told WTTW News by phone. "I'm very sensitive to being seen as helping them in Springfield. I'm a private citizen petitioning government."
But opponents of the deal say it's a case of a powerful public official personally asking other public officials for a vote that would benefit him financially.
"He personally lobbied MWRD commissioners, and I feel the pressure they must have felt when the Senate president comes in and insists that it's a private deal. It's hard not to pay attention to that," Abbott said.
"Public officials are allowed to own private property," said Keefe. "That's a fundamental aspect of any occupation in Illinois. (Cullerton) has been circumspect and careful as much as any attorney I've been involved with."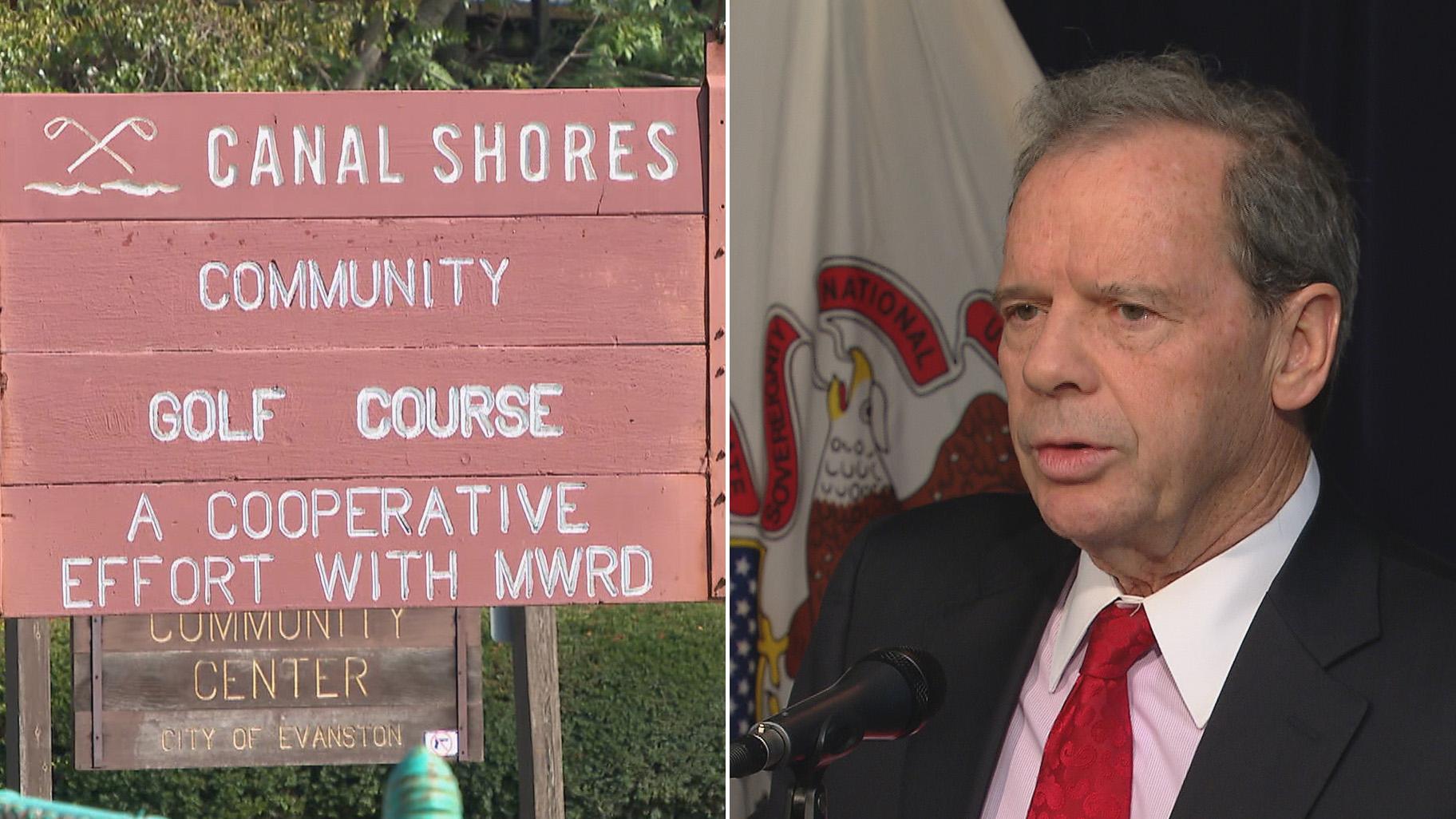 A sign for the Canal Shores golf club, left, and a file photo of Illinois Senate President John Cullerton. (WTTW News)
Cullerton lists the land interest on his official state economic disclosure form. MWRD commissioners we spoke with say there was never anything promised in return for a favorable vote. Former Commissioner Ken Dunkin was a yes vote, but said he was wary when Cullerton first approached him about it.
"I don't give a damn about making Cullerton wealthy," Dunkin told WTTW News. "But government should not impede access to someone's property."
Abbott says none of it passes the smell test.
"I can't tell you the legality of any of this stuff, but I can say that it certainly doesn't look good. And that's what has people upset. I would say the optics of this are pretty bad," Abbott said.
Before the vote, the land was worth virtually nothing, according to Keefe. Now, it's up for sale: $1.25 million. The listing agent in line for a commission is Garritt Cullerton – John Cullerton's son. Both Keefe and Cullerton say that too should not raise any eyebrows.
"Garritt's very talented. It wouldn't make sense for us to go for anyone we don't know if there's someone we do know to do this. Nepotism would be offering the opportunity to make money in a manner that's illegal or unethical. There's nothing unethical or illegal about this," Keefe said.
Cook County's Independent Inspector General Patrick Blanchard investigated a complaint in 2018 alleging there was bribery involved in the early stages of the easement talks. Blanchard concluded that the allegation was unfounded. But sources tell WTTW News that inspector general's office, which also has oversight over the Metropolitan Water Reclamation District, is still probing other aspects of the deal.
Keefe says he's still open to other solutions as long as other stakeholders let up on their relentless opposition.
"I'm daunted by the notion that people are concerned about private property development in Wilmette," he said. "It concerns me that forces will combine to say, you are not allowed to develop your property."
Canal Shores Board President Karl Leinberger said, in a statement:
"While we disagree with the need for an easement adjacent to our 10th hole, we remain committed to working towards a solution that balances the interests of all parties."
Cullerton told WTTW News that the easement vote was a way to avoid a lawsuit from the Keefe Family Trust.
"If you have property that is landlocked, you can sue for an easement," he said.
Cullerton and Keefe said they have offered the land to the Wilmette or Evanston Park Districts for a fair price, but have been denied.
Follow Paris Schutz on Twitter: @paschutz
---
Related stories:
Ald. Leslie Hairston Stands By Comment That Nature Sanctuary is 'Dead'
General Iron Deal Spurs Debate About Land Use, Air Quality
The Legal Battle Over Lincoln Yards $1.3B TIF District
Tiger Woods' Jackson Park Project: Where the Proposed Merger Stands
---