At the Mitchell Museum of the American Indian, more than 80 pieces of Native American jewelry reveal cultural history and spiritual beliefs.
How this wearable art helps preserve indigenous stories in the new exhibit "Stunning Stories in Native American Jewelry." 
For generations, Native American artists have passed down design techniques to enhance the beauty of their jewelry. In creating jewelry to gift, trade and sell with other tribes and internationally, their goal has always been to make sure the stories of indigenous people live forever.
"Sharing these stories really keep the culture, the spirituality all of that alive for people," said Kathleen McDonald, executive director of the Mitchell Museum of the American Indian. "When you learn more about another culture, you're less likely to act against it. When you learn about it you learn to respect it, you learn why it's important to other people to sustain their practices. So that sharing and educating we do just by wearing a piece of jewelry can be really powerful."
American history can be seen all throughout this exhibit, including a necklace made with U.S. coins. The practice of melting silver coins to create jewelry was practiced during World War II so that Southwestern artist could earn a living on Indian reservations.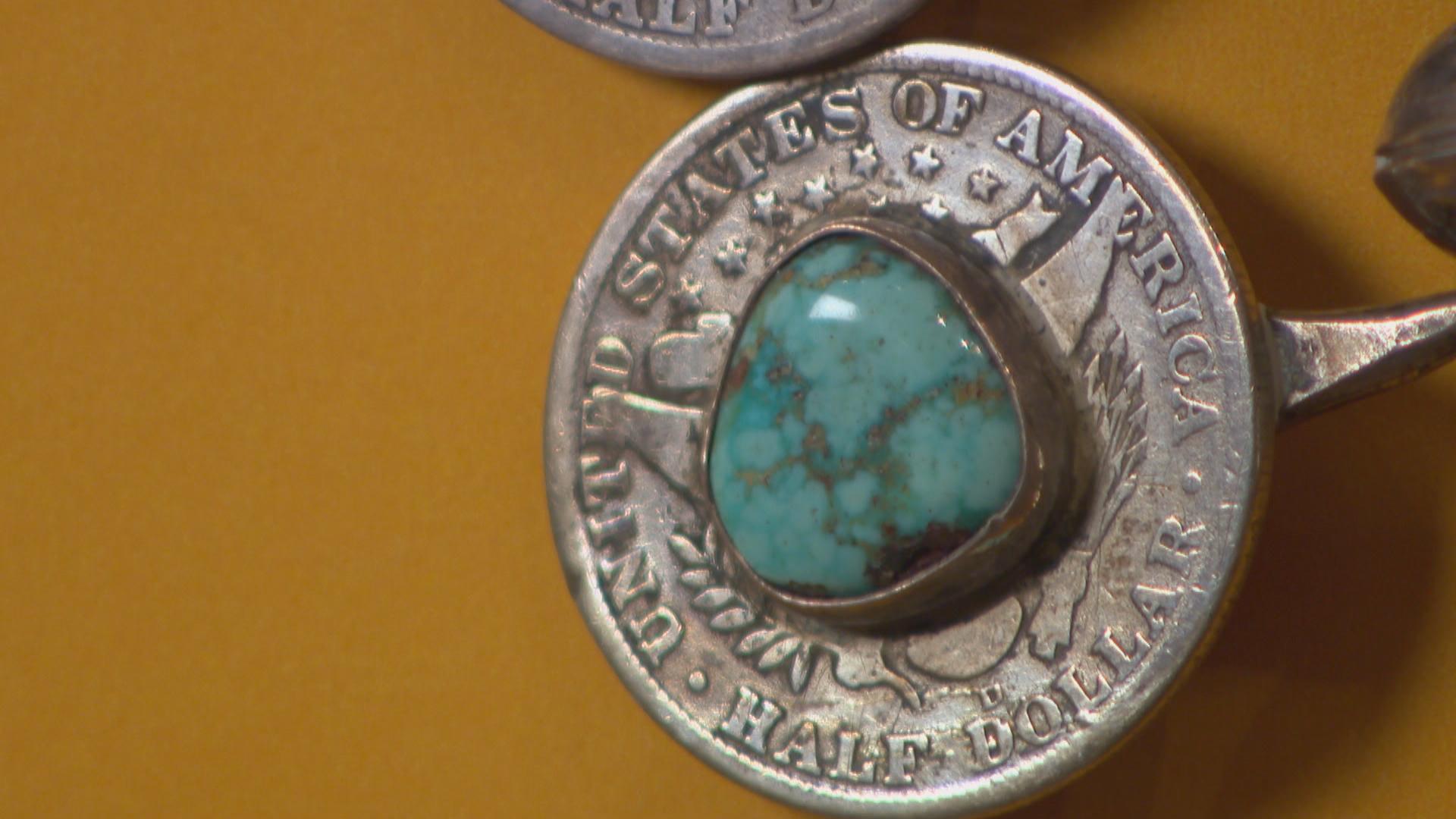 Many tribes were forced to convert to Christianity. By the early 19th century, the U.S. government banned certain practices of indigenous spirituality. While the ban was lifted in 1978, artists blend symbols of Native American spirituality in their work to keep their spirituality hidden in plain sight.
"This piece called a storyteller belt," McDonald said. "This was made by Denise Wallace, who's Aleutian. She creates these beautiful belts that talk about their culture. This is a woman and children's belt. Each of these figures is actually detachable in part so that you could wear like the little child on the woman. You could wear that as a pin. There's also the center piece, the oval piece that's made out of ivory with scrimshaw markings to make the face. That pops out as a pendant, and then there's a cutout silverwork design underneath that. A lot of Native artists do that with their jewelry – they make it very multifaceted so that you can actually wear pieces."
The artists are also resourceful with what they use to create jewelry. Repurposed animals can been seen throughout the exhibit, from a necklace made of bear claws to bolo ties made with porcupine quills. Many of the pieces feature blends of bright colors created from either crushed stones or ornate beading.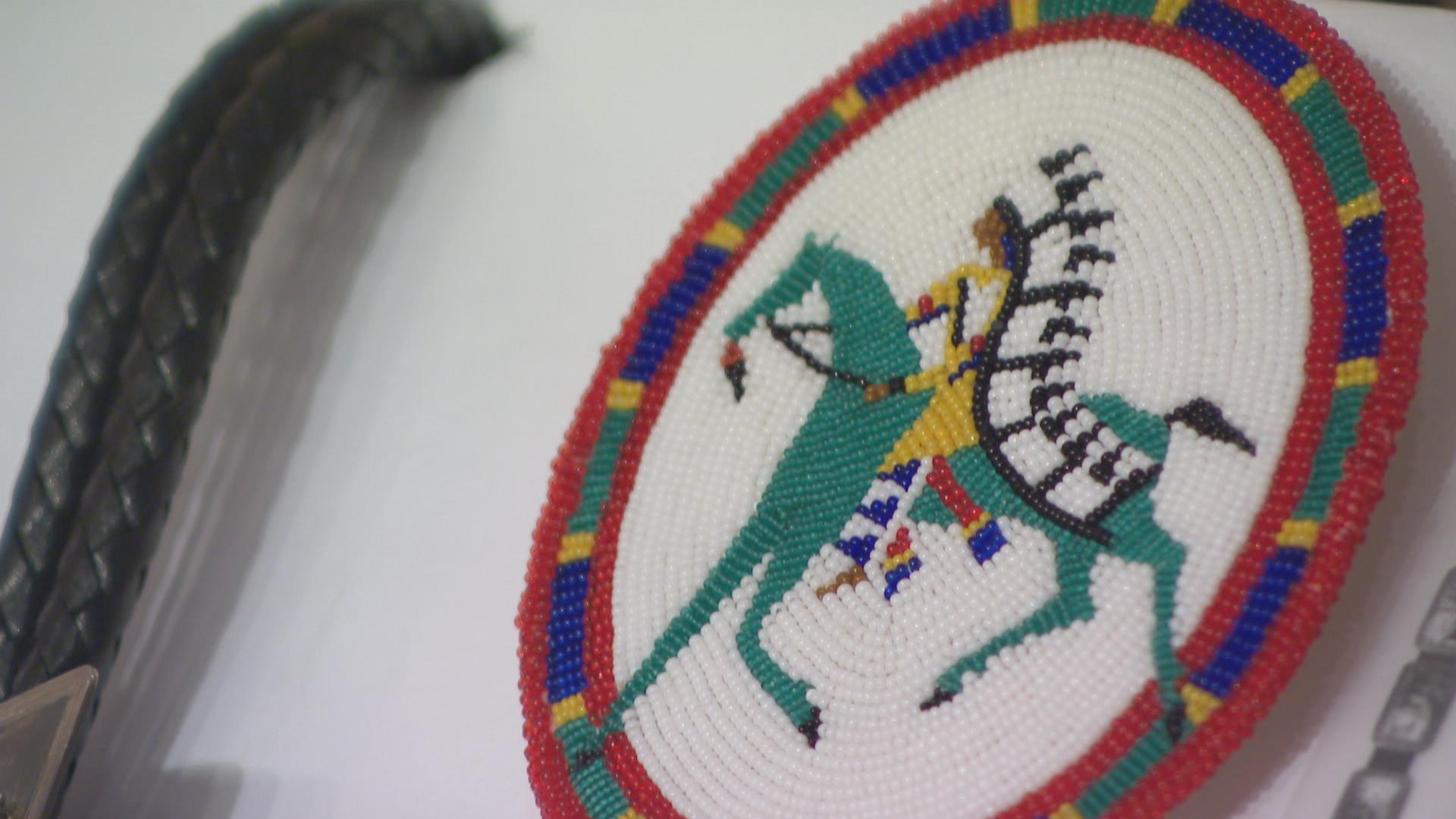 One museumgoer says it's that attention to detail you don't see much of anymore.
"Handmade is very different than mass manufactured jewelry that we see so often," said Kathy Renfro. "I think it's just a reminder to appreciate the intricacy and the handwork of each piece."
"We have a lot of figures that are a part of Native American legends or Cosinas or Dedes in native culture," McDonald said. "Most of this work is silver with stone inlay. So they would've had someone creating the background silver piece, then someone else would've cut the individual stone. So each color change is a new stone and they would have to be carved very specifically to fit within those space to create very smooth piece."
---
Note: This story was first published on Oct. 3, 2019.
Follow Angel Idowu on Twitter: @angelidowu3
Angel Idowu is the JCS Fund of the DuPage Foundation Arts Correspondent.
---
Related stories:
Free Art Collections at CPS Based on Unique 'Art Subscription' Model
Mobile Museum Stops in Chicago to Preserve Family Histories
A Shipping Container Gets New Life as Lawndale Pop-Up Spot
---