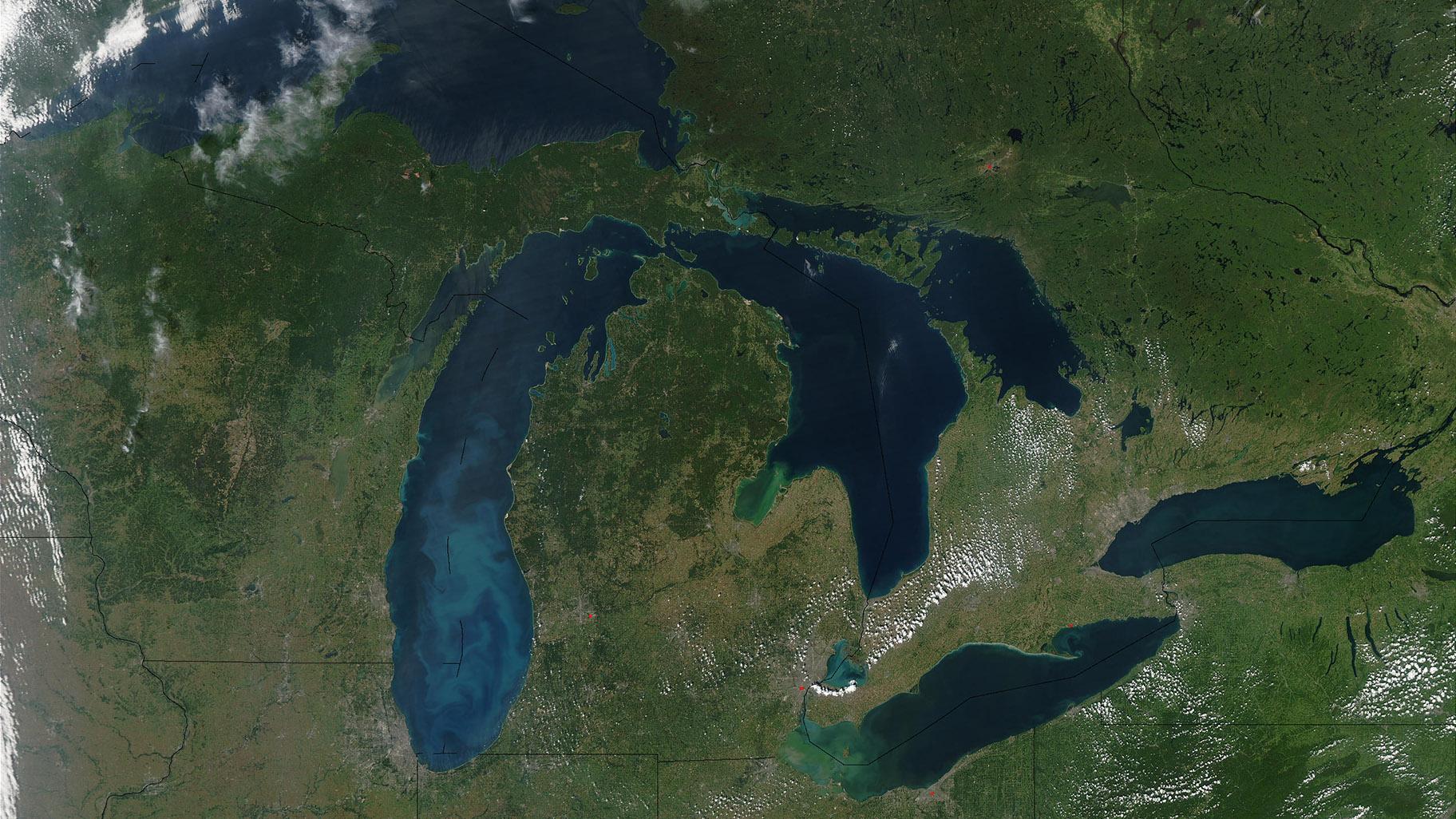 (Credit: Jeff Schmaltz, MODIS Rapid Response Team, NASA/GSFC)
The U.S. House Transportation and Infrastructure Committee voted Thursday to boost funding aimed at protecting and restoring the Great Lakes.
In passing the Great Lakes Restoration Initiative Act of 2019, the committee moved to increase funding over five years from $300 million to $475 million annually.
The bill, which still needs approval in the full House and the Senate, would expand a 10-year effort to clean up toxic pollution, restore fish and wildlife habitat, manage invasive species and reduce runoff pollution in the Great Lakes.
The funding would help local communities in Illinois, Indiana, Michigan, Minnesota, New York, Ohio, Pennsylvania and Wisconsin.
"This is excellent news for the 30 million people who count on the Great Lakes for their drinking water, jobs, and quality of life," said Laura Rubin, director of the Healing Our Waters-Great Lakes Coalition, in a statement.
The coalition supports Great Lakes restoration efforts in order to ensure that people in the region have access to clean drinking water and safe environments free from pollution, according to the group's website. The coalition represents more than 160 groups throughout the region focused on protecting the Great Lakes.
The House vote comes less than two months after Illinois Gov. J.B. Pritzker and his counterparts in four other states unveiled a six-part plan aimed at protecting the Great Lakes. The plan, which called for increased funding for the Great Lakes Restoration Initiative, also requested funding for a project to prevent invasive Asian carp from reaching Lake Michigan and efforts aimed at addressing contamination from toxic chemicals detected in drinking water systems across the region.
In addition to invasive species like the Asian carp and pollution from toxic chemicals, the Great Lakes face other challenges like threats linked to climate change, water contamination from the inadvertent dumping of sewage and stormwater runoff and eroding beaches and shoreline.
"The funding increase in the Great Lakes Restoration Initiative Act of 2019 acknowledges that we have a lot more work to do," Rubin said in a statement.
Contact Alex Ruppenthal: @arupp | (773) 509-5623 | [email protected]
---
Related stories:
Pritzker, Other Governors Pitch Plan to Protect Great Lakes
Duckworth, Durbin Reintroduce Bill to Halt Sewage Dumping Into Great Lakes
Heat Waves, Heavy Rain, Flooding: Report Details Dangers of Climate Change in Great Lakes Region