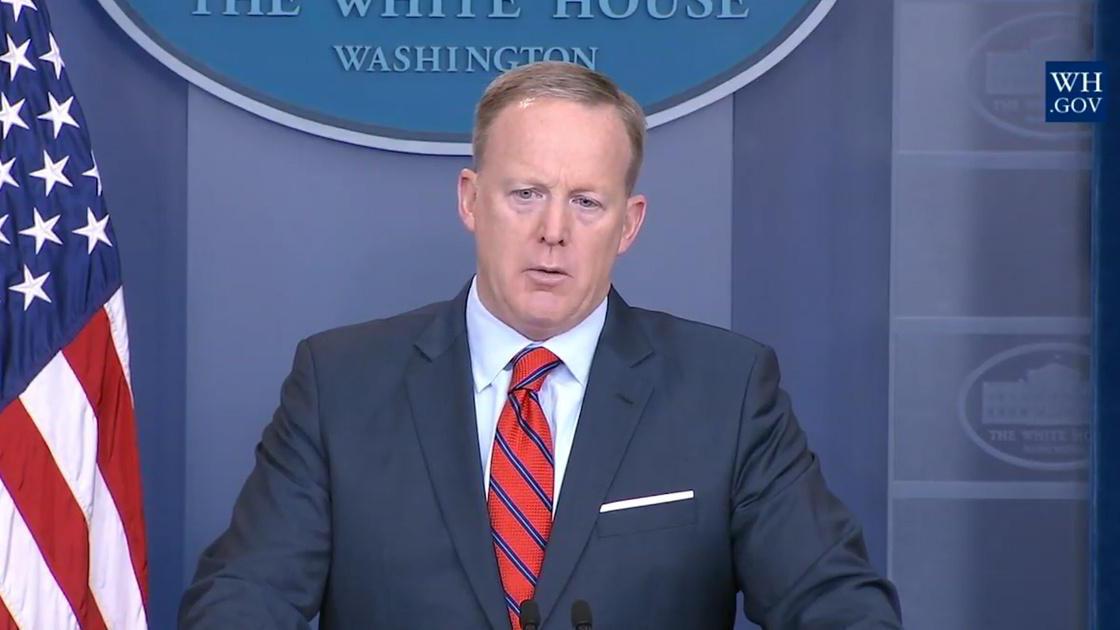 Sean Spicer served as White House press secretary under President Donald Trump. (whitehouse.gov)
A group of Northeastern Illinois University students, faculty, staff and alumni plan to protest a discussion Thursday evening on presidential elections featuring former Trump White House press secretary Sean Spicer.
The sold-out event is scheduled to take place at NEIU's North Park campus.
A Facebook event for the planned protest by the NEIU Coalition for Campus Justice listed 90 people as "going" as of Thursday morning. "In his role as press secretary to President Trump, Spicer promoted policies that have terrorized many NEIU students, their families and their communities," organizers wrote on Facebook. "NEIU should not provide a home for white nationalism and other forms of bigotry."
But the panel discussion on the 2016 and 2020 presidential elections will proceed as planned, said NEIU spokesperson Mike Hines. The event is the sixth installment of the Daniel L. Goodwin Distinguished Lecture Series and scheduled for 7:30 p.m. in the auditorium on the university's main campus, located at 3701 W. Bryn Mawr Ave.
Spicer will be joined by Donna Brazile, a Democratic political strategist and pundit who ran Al Gore's presidential campaign in 2000. Brazile was a commentator for CNN for 15 years before joining Fox News as a contributor this year.
WBEZ reported last week that Spicer and Brazile will split $50,000 in speaking fees for the event. Hines said the cost is being covered by a donation from Daniel L. Goodwin, an NEIU alumnus for whom the university's Distinguished Lecture Series is named.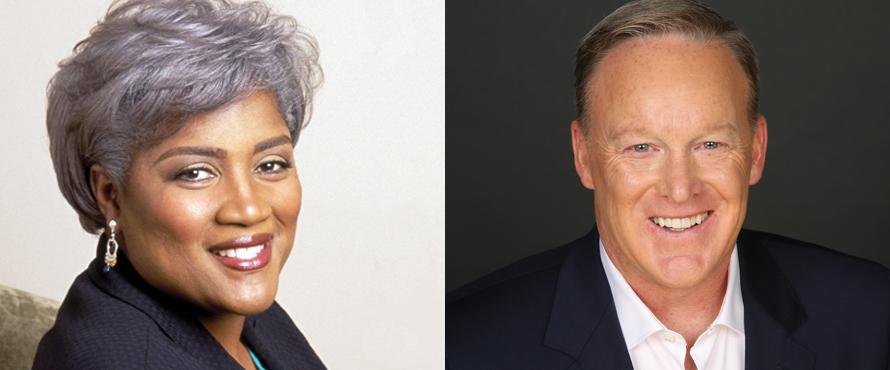 Donna Brazile and Sean Spicer (Courtesy Northeastern Illinois University)
"The announcement of Donna Brazile and Sean Spicer as the speakers did elicit a strong response from some members of the Northeastern community, but we anticipate a robust and insightful discussion from two individuals who held top positions in – and can offer insights on the inner workings of – their respective organizations and political parties," Hines said in an email. "They will provide Northeastern a unique opportunity for comment and discussion as we head into an election year."
The group behind the planned protest had called on the university to cancel the event, noting that NEIU is home to many students who have been targeted by Trump's policies. According to the university's spring 2019 enrollment figures, 34% of its students identify as Hispanic and about two-thirds are students of color.
The group expressed fear about "escalating right-wing violence" in the U.S. and around the world.
"The role Spicer played – and that the Trump administration continues to play – in this violence is one of creating space for these acts to occur," the group wrote on Facebook. "Any platform he is provided, including ones where people are allowed to debate and argue these policies, serves to legitimize these policies, and creates more space for right-wing extremists to escalate their attacks on our communities."
In supporting the decision to host the event, Hines pointed to the popularity of a previous discussion hosted at NEIU featuring political pundits James Carville and Mary Matalin, "who provided both liberal and conservative viewpoints," he said.
Thursday's discussion featuring Spicer and Brazile will be moderated by "Chicago Tonight" host Phil Ponce.
"The appearance at NEIU by Sean Spicer and Donna Brazile underscores key roles of a university – to expose students to different points of view, to acknowledge the right to protest, and to generate discussions about pressing matters in society," Ponce told WTTW News. "All of us can benefit from robust and civil conversations on the current state of politics, the press and the future of the presidency."
Contact Alex Ruppenthal: @arupp | (773) 509-5623 | [email protected]
---
Related stories:
Chicago Rally Planned Ahead of Possible Immigration Crackdown
May Day Protests Take on Anti-Trump Fervor
Bob Woodward and Carl Bernstein on Politics, Then and Now
---