As Jonathan Annicks, 21, steps into a room called "the gym" at Schwab Rehabilitation Hospital, he remembers his first day of treatment.
"I spent a lot of time here, where I learned how to walk again," he said.
It was April 2016, when a bullet pierced his shoulder just weeks before his senior prom and graduation.
"From the chest down I have no feeling. I have some control of upper abs. Other than that, I have no control over anything below there," he said.
Annicks was sent to Schwab Rehabilitation at Mount Sinai Hospital on the city's Near West Side.
"I didn't know how to pick myself up anymore. So it started with simply getting in the wheelchair and becoming familiar with that," he said. "So I remember doing floor transfers, you know getting on the floor and getting back up to the chair. Putting clothes on, getting dressed after a shower."
After six weeks, he earned more physical independence, working with therapists and doctors here so much that they've become like family.
"Family are people that come through in times of need, and they did just that. Yes, it's their job, but I could feel it was more than that," he said. "You know, there was a connection because I was trying to accomplish something and they were there to help me with that."
Today, Annicks is entering his senior year at DePaul University. He's able to drive himself to class and get around on campus unassisted.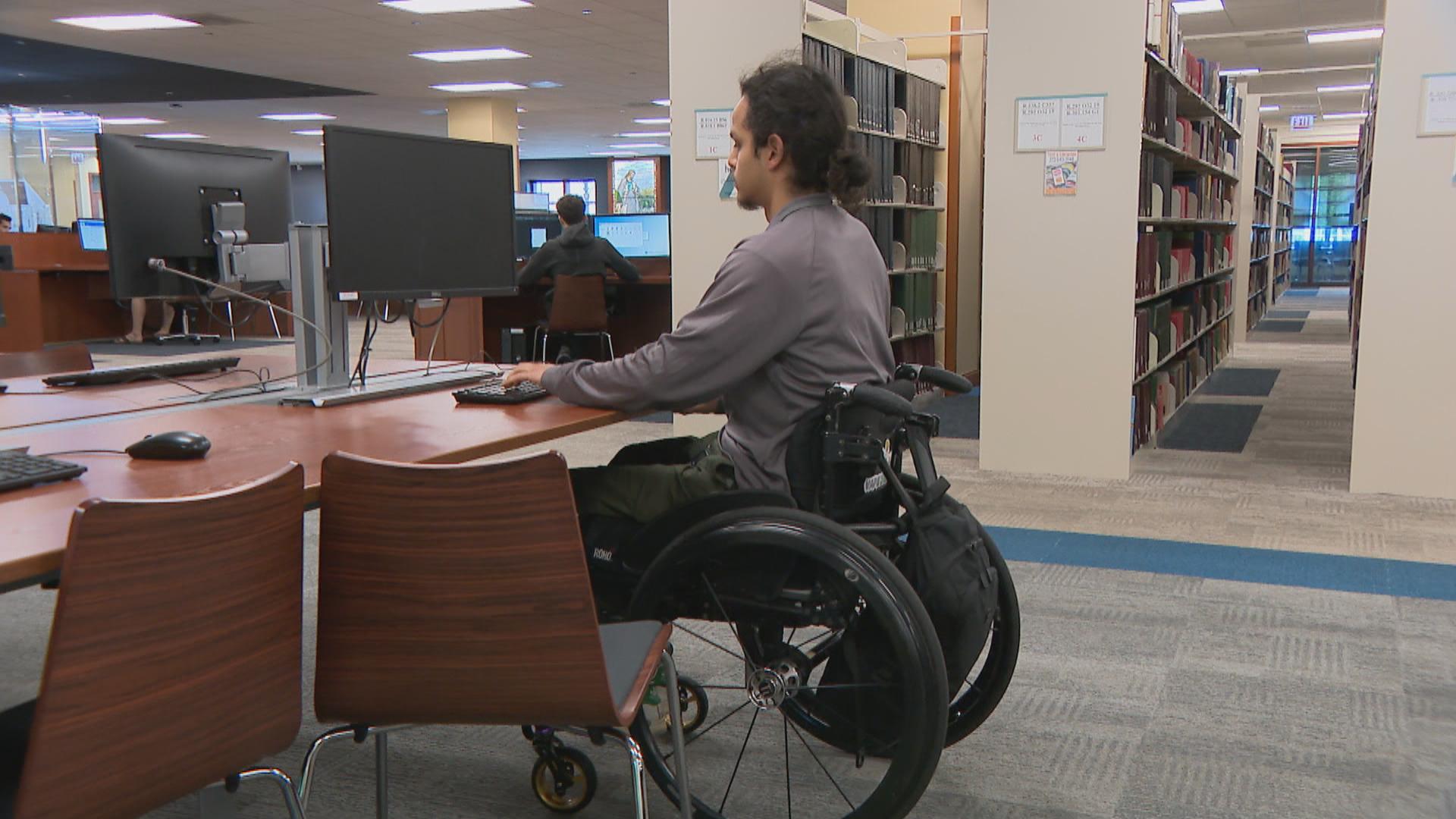 Jonathan Annicks (WTTW News)
His young age is typical of the gun-violence victims the staff here treats, where more than 50% of gun violence survivors are between 16 and 24 years old.
Their youth will help with the tough road to recovery.
"What's really hard for people is navigating the idea that you're not going home the way you left home, before the injury," said Schwab medical director Dr. Michelle Gittler, who's worked at the hospital for 27 years. "It's a long road," Gittler said. "Things don't end when you go home. There's ongoing therapy."
"What we want people to do is to adapt to what their reality is today and continue hoping, but become independent at the level they're at," she said.
Because of its location on the city's Near West Side, Schwab sees a large amount of the city's gunshot victims – most of them young, black or brown, and male.
Also, it's one of several safety-net hospitals in the city, meaning it treats any patient regardless of their insurance or ability to pay.
Staff at Schwab end up teaching a lot of knowledge, both physically and mentally, in a short amount of time.
"They know how to teach people how to adapt to the new body, the body that doesn't work the way it did before. They know what kind of equipment people need. They know how to teach families how to move people safely in and out of a bed, in and out of a car, until someone can do it themselves," Gittler said.
In addition to the physical and medical work, there's also trauma counseling.
"Before, I was pretty angry about it. Because I was active, I was healthy. I would get around on my bike, I was on the track team. I was used to being active," Annicks said. "But, in a way, I'm grateful I have as much feeling as I do currently, because if I had any less, a lot of things I do now would be way harder than they are."
Through it all, Annicks was able to make it to his senior prom and graduation, weeks after sustaining the gunshot wound that would change his life.
"It's a time of growth, learning, change. Fond memories though. I don't have a negative association of my time here, everybody here was just trying to help me out, and they did that in ways they couldn't even know," he said.
One example of Annicks' growth is that he initially started at DePaul's downtown campus because it was closer to home and he needed more support from his family. But he's since enrolled at the Lincoln Park campus. He isn't quite sure what he wants to do for a living, but he knows he can get there.
"I haven't let my disability change my identity. It's just added to it," he said.
Note: This story will be updated with video.
---
Related stories:
Janice Jackson: Trauma is a 'Fact of Life' for Many CPS Students
Trial to Begin in 9-Year-Old's Killing That Shocked Chicago
Chicago Police: Shootings, Murders Fall in August
---