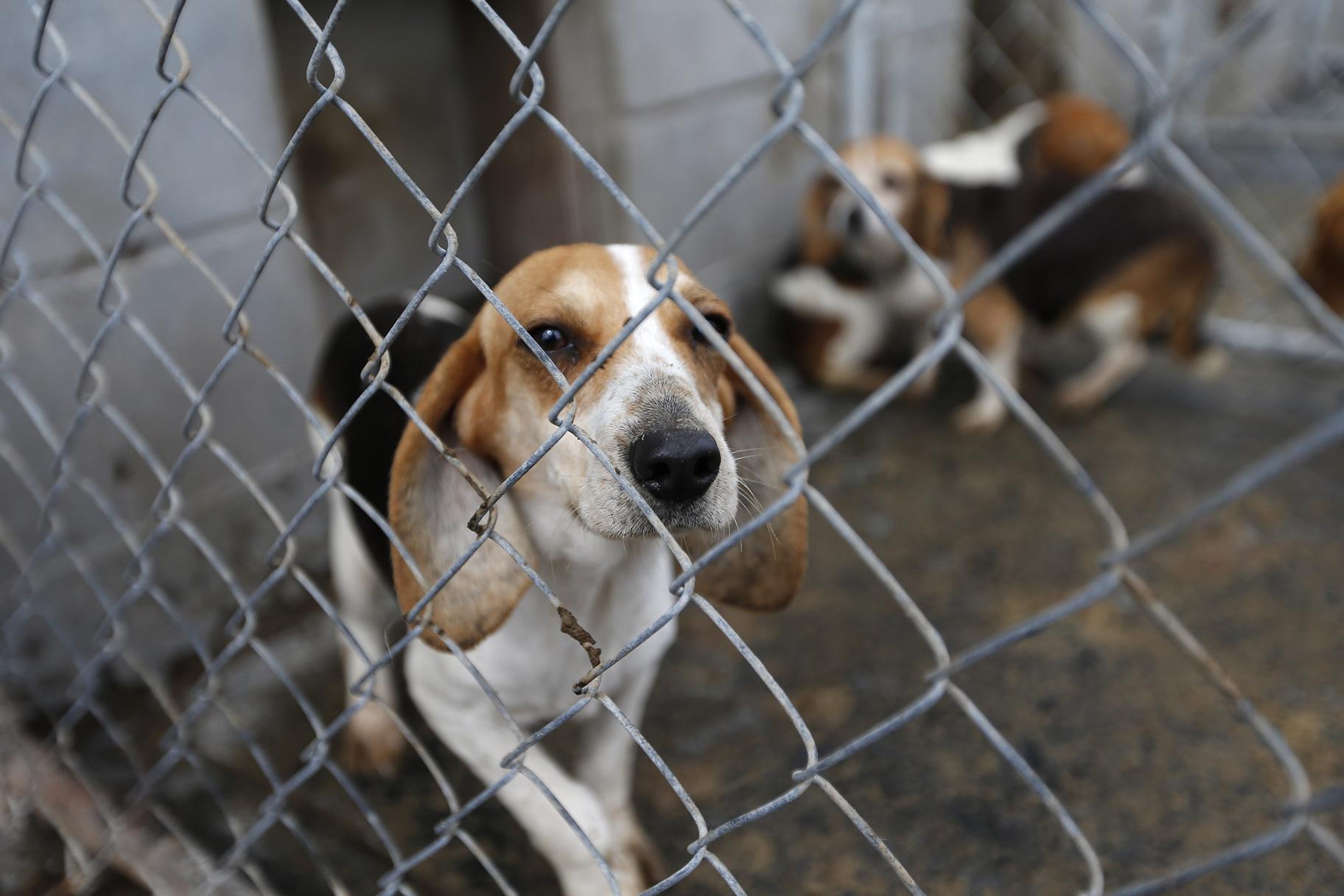 Research by the Humane Society of the United States has found that many puppy mills cited by state agencies went on to receive entirely clean inspection reports from the USDA. (Courtesy Humane Society of the United States)
In response to a decline in enforcement of animal welfare laws under the Trump administration, a new bill proposed by U.S. Rep. Raja Krishnamoorthi seeks to crack down on negligent commercial dog breeders, petting zoos and other animal businesses that have faced few consequences despite repeated violations.
The legislation introduced this week aims to boost enforcement of the federal Animal Welfare Act through a number of measures, including implementing a stricter licensing process for animal dealers, authorizing citizen lawsuits to enforce the law and requiring the U.S. Department of Agriculture to publish all inspection and enforcement records.
Within a month of President Donald Trump's inauguration in 2017, the USDA, without notice, removed inspection reports and other information from its website related to animal welfare cases involving zoos, dog breeders and other facilities.
In an analysis published last week, the Washington Post found that the number of animal welfare citations issued by the USDA has dropped by 65% since Trump took office.
More than a dozen former USDA employees recently told the Post that the agency's more lenient approach to enforcement has hampered inspectors' ability to document violations, thereby putting animals at risk.
According to the Humane Society of the United States, the changes at USDA's Animal Care division have resulted in the rubber-stamping of licenses for animal dealers and exhibitors, even in cases where a facility had been cited for multiple violations.
The agency's hands-off enforcement mentality is seen as part of the Trump administration's broader anti-regulation agenda, which has led to significant declines in enforcement at the Environmental Protection Agency, Food and Drug Administration and other federal agencies.
Under the legislation introduced by Krishnamoorthi on Tuesday, the USDA would be prohibited from renewing a license if an animal dealer or exhibitor is found to have violated federal, state or local animal welfare laws.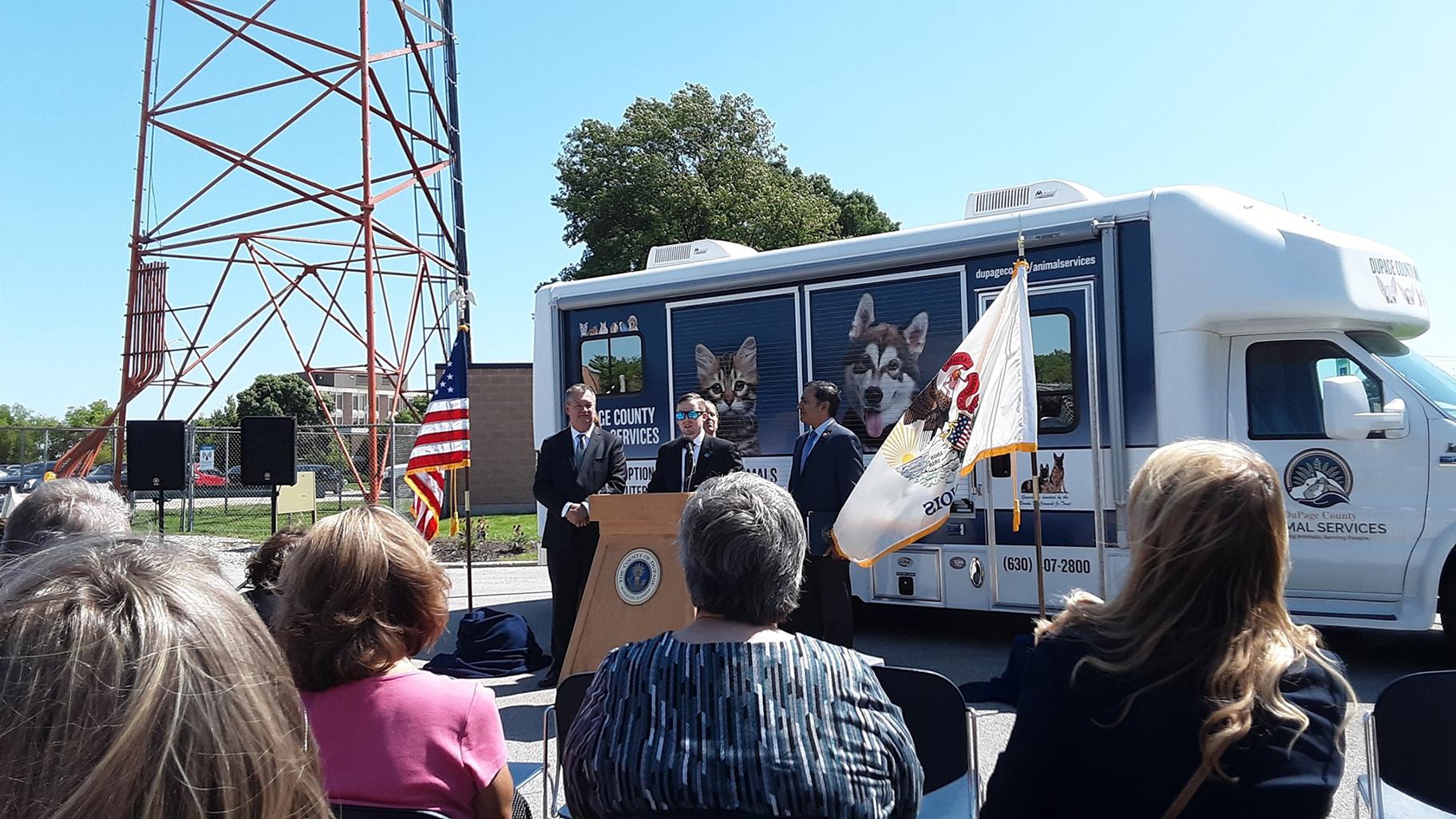 Animal welfare advocates joined U.S. Rep. Raja Krishnamoorthi on Thursday to announce new legislation aimed at strengthening enforcement of the Animal Welfare Act. (Jamie Leinss-Doyle / Facebook)
The bill calls for annual license renewals involving unannounced inspections, as opposed to the pre-announced inspections carried out by the Trump-led USDA, Krishnamoorthi said. It would also require the agency to publish all inspection reports, enforcement records and animal inventories online without redactions, as had been the agency's practice prior to February 2017.
"The process unfortunately has become terribly broken," Krishnamoorthi said during a press conference Thursday outside the DuPage County Animal Services building in Wheaton. "Bad actors have their licenses renewed repeatedly despite the fact that we may even know they are mistreating animals today."
In one such example, an animal exhibitor in southern Illinois had his license suspended and received an $8,000 fine in 2016 after failing to care for injured, sick and dying animals, which led to the deaths of two tigers from heat stress, according to the Humane Society. The man continued to exhibit animals while his license was suspended, committing additional violations for mishandling a distressed bear cub and failing to provide adequate space for a tiger.
Yet, the exhibitor's license was renewed each of the past three years since the 2016 suspension, according to the Humane Society.
Krishnamoorthi, a Democrat representing Chicago's west and northwest suburbs, said constituents write to him about animal welfare issues more than any other topic. He said his staff have received 20,000 pieces of correspondence on enforcement of the Animal Welfare Act alone.
In addition to breeders and zoos, the Animal Welfare Act also covers wildlife parks, circuses and some animal sanctuaries. 
Krishnamoorthi said USDA officials have started to acknowledge flaws in enforcing the Animal Welfare Act, and that the agency has proposed a rule to prevent licenses from being automatically renewed.
"However, these rules don't go far enough," he said.
The new legislation would require the USDA to suspend the license of any animal dealer or exhibitor who commits a violation that presents a risk to animal welfare, and to permanently revoke the license if the violation continues or if the operator has committed multiple violations.
It also prevents dealers and exhibitors whose licenses are suspended or revoked from obtaining another license under a different business name or through a business partner or family member.
Krishnamoorthi's bill has received widespread support from animal welfare advocates, including endorsements from the Humane Society, Animal Welfare Institute, American Society for the Prevention of Cruelty to Animals and People for the Ethical Treatment of Animals.
Contact Alex Ruppenthal: @arupp | (773) 509-5623 | [email protected]
---
Related stories:
Chicago Animal Welfare Group Sponsors 'Anti-Horse Carriage' Pedicab
Should Horse-Drawn Carriages Be Banned in Chicago?
Advocates Rally at Fairlife Over Alleged Animal Abuse at Indiana Farm
---