Descendants of the Depression-era bank robber John Dillinger have been granted permission to have his body exhumed in September, claiming they have evidence that the body in the Indiana grave may not be his.
Dillinger was the leader of a gang accused of robbing more than 20 banks and also several police stations across the Midwest, stealing more than $300,000 – the equivalent of roughly $6 million today when adjusted for inflation.
But despite his crimes he came to be regarded as something of a folk hero.
"There's something about John Dillinger just like Al Capone where they've crossed over from being historical figures to being legends. That means they'll never go away," said John Binder, University of Illinois at Chicago professor emeritus and the president of ChiTown Gangster Tours.
"Part of it was Dillinger's rise and decline," said Binder. "He was the closest thing to a gentleman bandit of all of those Depression-era robbers. He would walk into a bank and be very polite."
Binder also notes that there was not a lot of sympathy for the banks, given the wave of foreclosures that accompanied the Great Depression.
Dillinger grew up in central Indiana and his first brush with the law came after he robbed a local grocery store.
"That seems to be Dillinger's first criminal offense," said Binder. "Rather than getting some sort of leniency in his case the judge throws the book at him and Dillinger, being over punished, seems to have turned against society. He uses his time in the Indiana prison system to get a master's degree in bank robbing."
After his release from prison, Dillinger breaks out some of his friends and forms his gang, going from obscurity in 1933 to public enemy no. 1 and nationally and internationally famous by 1934.
By that time Dillinger's ability to evade justice had made him a "gigantic priority" for FBI head J. Edgar Hoover, said Binder.
"It wasn't so much the bank robberies but escapes from jail – a spectacular escape from jail in Crown Point, Indiana – and the fact that the FBI tried to corner Dillinger and his gang at the Little Bohemia lodge in Wisconsin and they shot their way out in a spectacular escape that made the FBI look at best comical," said Binder.
Dillinger ultimately met his demise – or perhaps not – when he came to Chicago to lie low.
"Chicago was a place during that era where a lot of the bank robbers and outlaws would come between jobs," said Binder. "The logic was to hide in plain sight."
While on the run, he had plastic surgery to change his appearance and also attempted to erase his fingerprints with acid.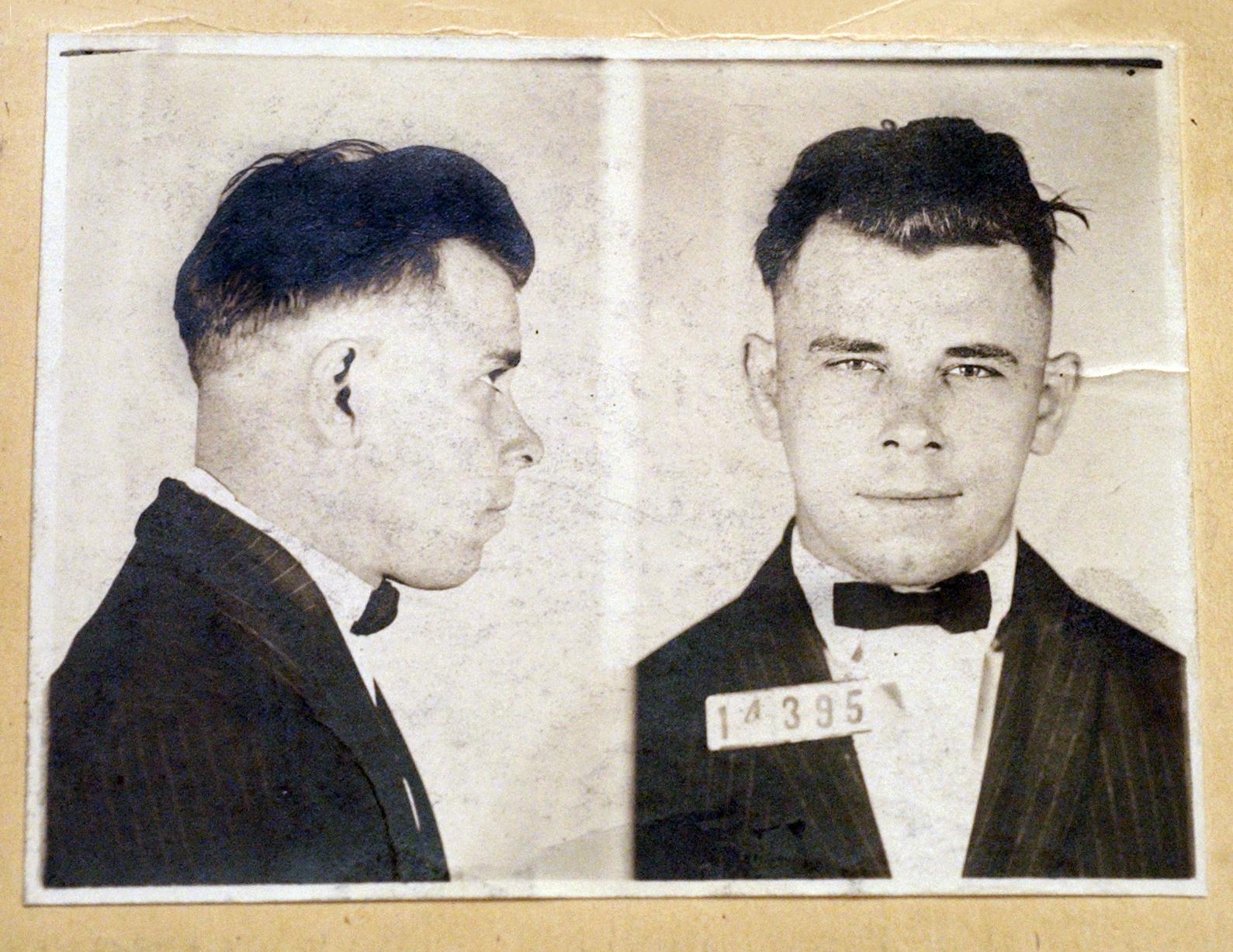 This file photo shows Indiana Reformatory booking shots of John Dillinger, stored in the state archives, and shows the notorious gangster as a 21-year-old. (AP Photo / The Indianapolis Star, Charlie Nye, File)
But on July 22, 1934, Dillinger was betrayed by Anna Sage, nicknamed "the woman in red" by the press, who was a friend of Dillinger's lover Polly Hamilton and who tipped off authorities that they would be going to the Biograph theater that night.
"She was under a deportation order because she had been involved in prostitution and she had been ordered back to her native Romania," said Binder. "She was hoping to turn in Dillinger and in return not be deported."
Dillinger was shot and killed by federal agents as he attempted to flee but almost immediately, rumors began to circulate that the agents had shot the wrong man.
"Dillinger's father and sister see the body and his father looks at it and says 'That's not my boy' – well that could just be because of plastic surgery – he didn't look the same," said Binder. "The sister Audrey Hancock also reacts negatively at least initially but then she has a closer look at him and sees that he has a scar exactly where he should from when he had an accident when he was a boy.
Speculation that Dillinger had somehow eluded the authorities gained new life in the 1983 with the publication of "The Dillinger Dossier" by Jay Robert Nash that claimed authorities had killed the wrong man.
"He tries to make the case for Dillinger not being killed at the Biograph and that the person killed was a small time criminal known as Jimmy Lawrence who was killed instead," said Binder. "He essentially makes a conspiracy theory that the wrong guy was killed."
But Binder is skeptical. He believes Dillinger's descendants are more motivated by the possibility of making money from a History Channel documentary than a sincere belief that the body in the grave is not that of the legendary outlaw.
"In the first few days the motive was not clear but now it has come out that it will be part of a History Channel documentary. It's really motivated by their desire to cash in, quite frankly," said Binder. "I would bet that the most likely possibility is that the body will be that of John Dillinger."
---
Related stories:
John Dillinger Relatives Doubt Body in Grave is the Gangster
Body of 1930s Gangster John Dillinger to be Exhumed
John Dillinger Returns to Crown Point with Opening of New Museum
---