For anyone who remembers listening to Harry Caray call a ball game, it almost seemed like he was born to do it. And as Caray himself recalled, the appeal of baseball was always obvious to him.
"When I went to the ballpark, every game seemed to be so exciting when I was there," Caray said in a 1985 "Chicago Tonight" interview. "I saw so much that excited me. And then the rest of the week I'd be listening on the radio and it seemed so dull. I came to the conclusion that either I was very fortunate and only went to the ballpark when it was exciting, or that the announcers who were doing it didn't see in the game what I saw. And I figured that that was more probable than the other choice."
The longtime White Sox and Cubs broadcaster is the subject of the new book "The Legendary Harry Caray: Baseball's Greatest Salesman."
"He always described himself as a fan behind the mic," said author Don Zminda. "Sometimes the team did things that made him happy, sometimes they did things that made him upset and exasperated and disgusted, and he was never afraid to voice his opinion on the air. He was totally unfiltered."
Zminda, who was director of research for sports statistics and data company STATS, grew up in Chicago listening to Caray call games. He spent more than a year researching and conducting interviews for the book, and says what he learned about Caray as a broadcasting pioneer surprised him.
"When he started out, baseball broadcasting was still pretty new," Zminda said. "Most teams didn't even bother to broadcast road games, and when they did they would just do them from the home team's studio and have a telegraph feed sent in (and) the broadcast would have to recreate the game from that telegraph feed. Harry was fantastic at this. He would pipe in crowd noises, he would pipe in vendor sounds, he would make the game come alive to the extent that a lot of people were actually convinced he was at the game, and used to take bets on if he was actually at the game or not. He became so good at recreating these games that within a couple years, they decided they might as well send him on the road because people were so interested."
A St. Louis native, Caray spent 25 years calling games for the Cardinals before landing in Chicago, first as an announcer for the White Sox and then, in his final years, for the Cubs.
"He became kind of a caricature and kind of a food for imitations – Will Ferrell most famously. Harry even knew about that when he was alive, and took it good-naturedly. He knew that if he mispronounced words or missed some of the action or his voice was a little slow, nobody was going to mind because he was such a beloved figure," Zminda said. "But I certainly didn't want that to be the Harry people remembered, because he was a great announcer, a great technical broadcaster for most of his career. He was great at describing the action on the field, and he had such a colorful and interesting and fascinating life that really the story was worth telling."
Below, an excerpt from "The Legendary Harry Caray: Baseball's Greatest Salesman."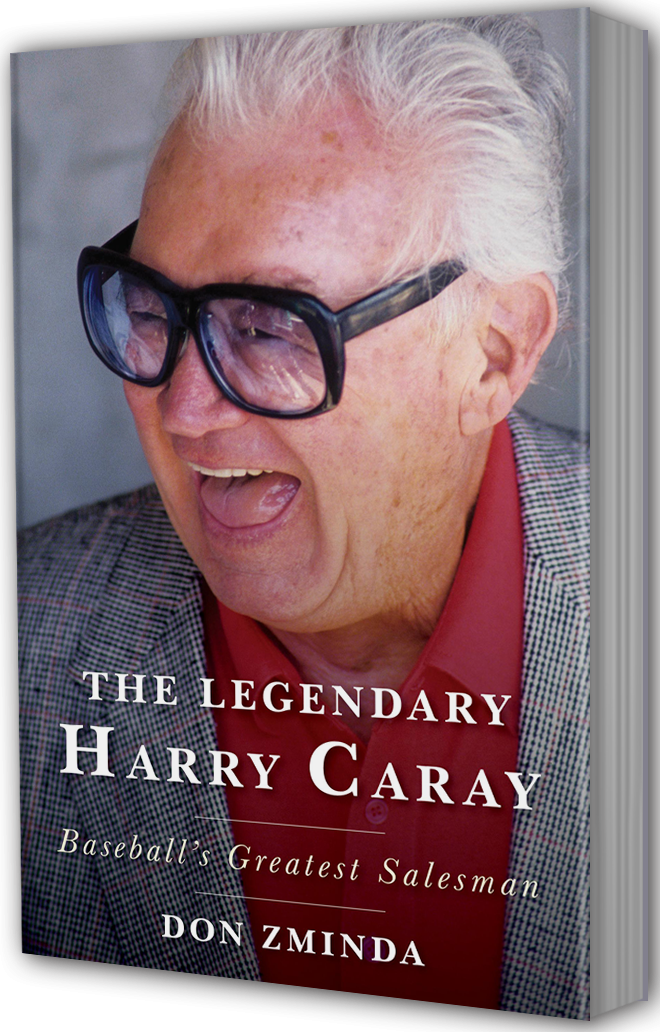 No one ever broadcast a game like Harry Caray. "They sent me a tape of him and said, 'We want you to be like him,'" recalled his longtime St. Louis Cardinals broadcast partner, Jack Buck. "But there was no way I could. There's only one guy who could broadcast like him." Some critics described Harry as a "homer"—a broadcaster who openly roots for the home team—but Caray was more accurately, as he liked to put it, a fan behind the mike. Like most fans, Caray rejoiced when his team did something good. His home run calls ("It might be… it could be… it is!... a home run!) were epic; his famous phrase "Holy Cow!" punctuated exceptional moments during a game; and his shouts of "Cubs win! Cubs win!" (or earlier, "Cardinals win!" or  "A's win!" or "Sox win!") at the end of a victory reflected pure, unadulterated joy.  
But like most fans, Caray was also unafraid to reflect his exasperation when a player or team was struggling. "Get him outta there!" he would sometimes groan when a pitcher was having a rough outing. He could use his voice and his power to zero in on a player's perceived shortcomings, and the results weren't always pleasant. Some players who became Caray targets—notably Ken Boyer with the Cardinals and Bill Melton with the White Sox—found themselves the objects of merciless booing. "I had to get out of Chicago," said Melton after the White Sox traded him. "People turned against me because of that man upstairs [Caray]. If I had to go back, I'd probably have quit baseball."
---
Related stories:
Ask Geoffrey: Did a Crosstown Baseball Series in 1901 Actually Happen?
White Sox Host 1st MLB Game with Foul Pole-to-Pole Netting
Cubs-Cards Set for London on June 13-14 in 2020
---