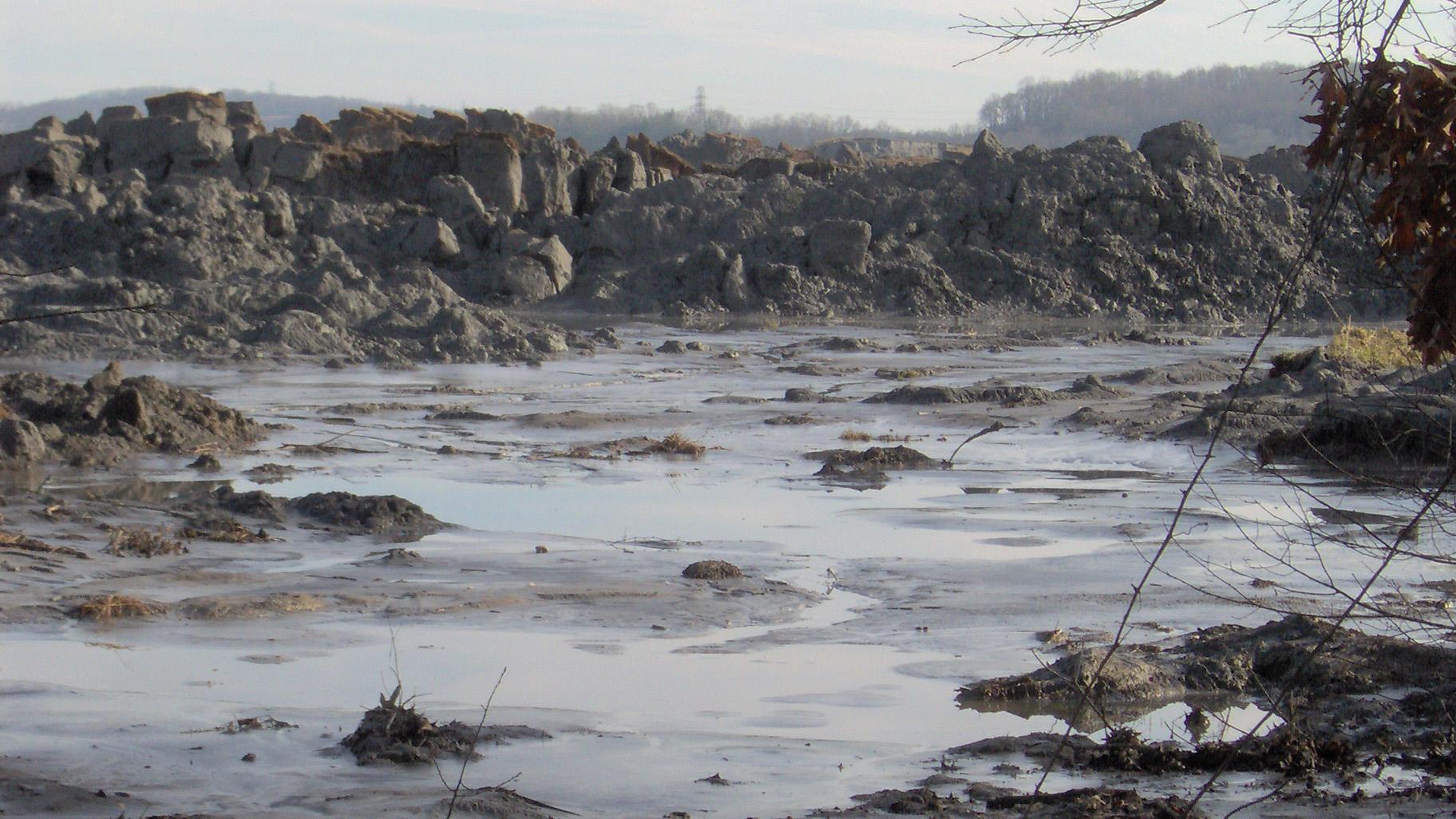 Piles of coal ash after a 2008 spill at the Kingston Fossil Plant in Tennessee. (Brian Stansberry / Wikimedia Commons)
Gov. J.B. Pritzker on Tuesday signed into law a bill making Illinois the most recent state to adopt stricter requirements on power plants that produce coal ash waste, a toxic byproduct of coal burning that can leak into sources of drinking water.
A recent report found "widespread pollution" in groundwater near 22 of the state's 24 coal ash dump sites, with Illinois identified as one of the worst states in the country for pollution from coal ash pits.
Another recent analysis found that coal ash deposited by energy company Dynegy Inc. has contaminated parts of the Vermilion River in east central Illinois, the state's only designated National Scenic River.
The new law prohibits discharge of coal ash into the environment and establishes a regulatory framework to ensure that polluting companies finance the cleanup of coal ash waste, according to the Illinois Environmental Council, an advocacy group that supported the bill.
The law will also help fund cleanup programs through permit fees and by requiring companies to set aside money to close and clean up coal ash ponds.
"This is the most significant step to protect clean water and public health that has made it into law in years," said Joyce Blumenshine, a board member with the Peoria chapter of the Illinois Sierra Club, in a statement.
Coal ash contains toxic metals that can cause cancer, heart damage, lung and kidney disease and birth defects, and can even lead to premature death, according to the advocacy group Physicians for Social Responsibility. A risk assessment by the U.S. Environmental Protection Agency found that people living within 1 mile of unlined coal ash ponds have an elevated risk of cancer.
However, last year, the Trump-led EPA proposed to roll back regulations overseeing the disposal of coal ash, a move that prompted outcry from environmental groups and elected officials. This week, the agency put forth another proposal to lift restrictions on coal ash waste.
Both proposals are expected to face pushback in court.
"Coal ash is a public health issue and a pollution issue, and the state of Illinois is taking action to keep communities safe," Pritzker said in a statement. "This new law will protect our precious groundwater and rivers from toxic chemicals that can harm our residents. With the Trump administration loosening standards on coal ash, Illinois is raising the bar to protect our environment and the health of people across our state."
Virginia and North Carolina have in recent years passed similar legislation bolstering rules overseeing coal ash waste.
Illinois' new law was sponsored by state Sen. Scott Bennett and state Rep. Carol Ammons, both Democrats from Champaign.
The law directs the Illinois EPA to write the state's new coal ash rules within eight months. The Illinois Pollution Control Board will then finalize the proposed rules. Both agencies are required to accept public comment before the rules are finalized.
Contact Alex Ruppenthal: @arupp | [email protected] | (773) 509-5623
---
Related stories:
Durbin, Duckworth Urge EPA to Dump Proposal for Weaker Coal Ash Rules
UIC Launches Guide for Communities Facing Pollution, Health Risks
EPA Proposes Adding Abandoned Chicago Slag Dump to Priority Cleanup List
---