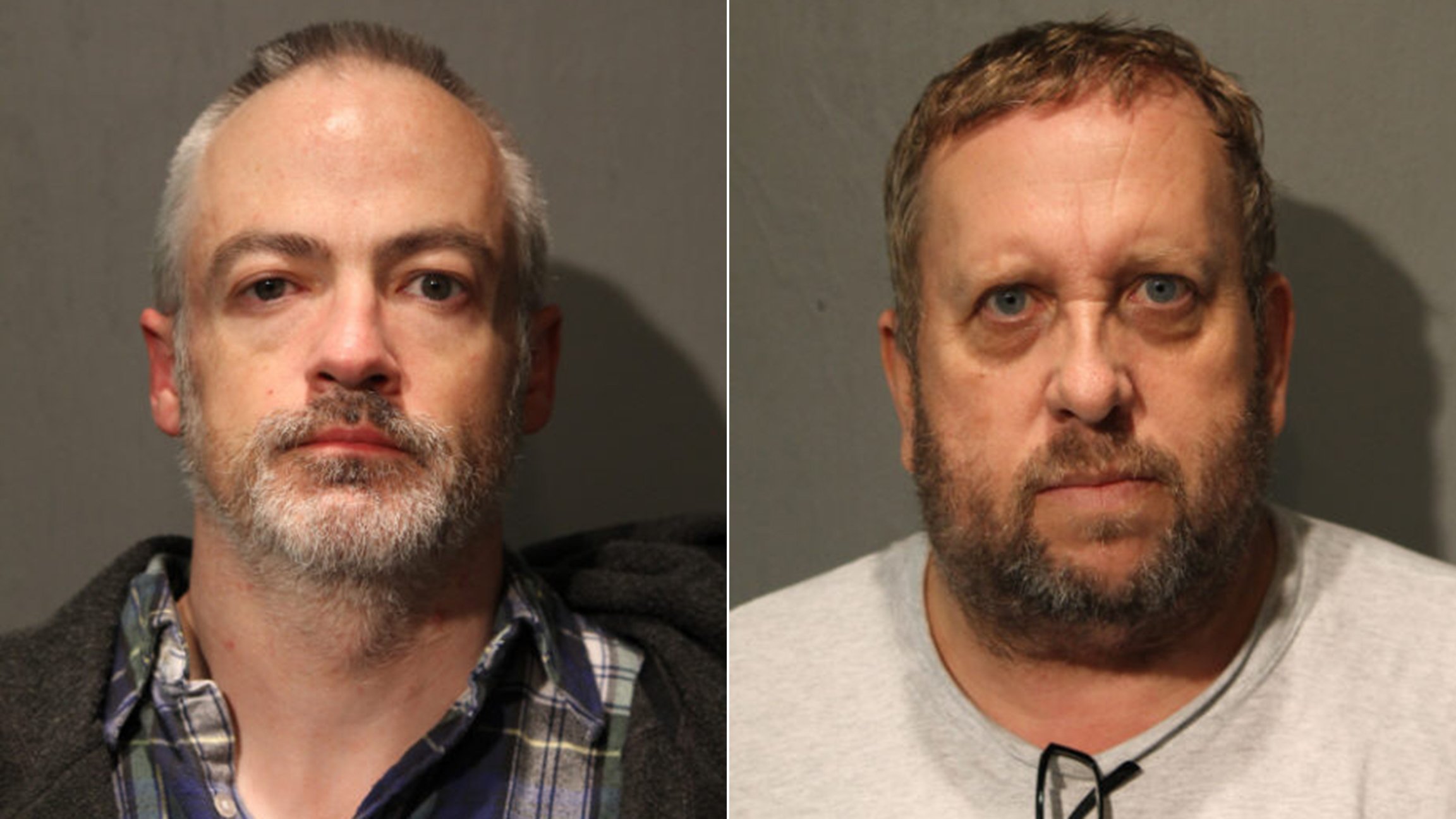 Wyndham Lathem, left, and Andrew Warren (Chicago Police Department)
A judge has agreed to make public the details of a plea agreement reached this week between Cook County prosecutors and a former Oxford University staffer who says he'll testify against an ex-Northwestern University professor at his upcoming murder trial.
Cook County Judge Charles Burns on Tuesday said he will unseal a plea deal for Andrew Warren, one day after the 58-year-old British national agreed to take the witness stand against Wyndham Lathem in the 2017 killing of 26-year-old hairdresser Trenton Cornell-Duranleau.
Warren and Lathem, 44, were both charged with first-degree murder after they allegedly plotted and executed a plan to kill Cornell-Duranleau as part of a "sexual fantasy" inside Lathem's River North apartment.
Prosecutors will recommend a 45-year prison sentence for Warren, assuming he "testifies truthfully in accordance with his statement at the trial of the co-defendant in this case," according to a state's attorney's office spokeswoman. Warren won't be sentenced until after Lathem's trial, which has not yet been scheduled.
Lathem's attorneys don't appear to be seeking any plea of their own.
The judge's decision comes as something of a surprise given that the case has remained under a decorum order limiting the public release of many documents since charges were filed nearly two years ago. This was done in order to ensure the possibility of fair and impartial trial for the men, Burns said.
Burns met with prosecutors and attorneys for both Warren and Lathem out of public view in chambers for more than 20 minutes Tuesday before re-entering his courtroom and announcing his ruling. He noted that media intervenors had not yet filed a motion seeking to make the plea documents public, but decided to release them anyway in the interest of transparency.
The plea agreement is expected to be made available later this week after the court redacts a single paragraph, which may contain factual allegations Warren has made that may not yet have been made public.
According to police, Lathem had been dating Cornell-Duranleau and lured him to his apartment on July 27, 2017, where he was beaten and stabbed more than 40 times. Lathem and Warren fled Chicago following the killing and eluded capture for more than a week as they made their way out west.
Lathem bizarrely made a stop during this journey to record a video expressing his remorse for their crime, calling it the "biggest mistake of his life," police say, and made a $1,000 donation in Cornell-Duranleau's name to the Lake Geneva Public Library in Wisconsin.
The two turned themselves in to California authorities after nine days and entered not guilty pleas before a Cook County judge in September 2017.
Lathem is due back in court for a hearing Aug. 26.
Contact Matt Masterson: @ByMattMasterson | (773) 509-5431 | [email protected]
---
Related stories:
Ex-Oxford Staffer Pleads Guilty to Brutal 2017 River North Murder
Hearings for Northwestern, Oxford Murder Suspects to be Held Together
Ex-Northwestern, Oxford Employees Enter Not Guilty Pleas in Fatal Stabbing
Criminologist: Suspects in Stabbing Case Don't Match Typical Profile
Former Northwestern Professor Facing Arraignment in 'Shocking' Murder Case
---