Across many Chicago neighborhoods, the shortage of affordable apartments and available starter homes is acutely felt. Earlier this year, DePaul's Institute for Housing Studies reported the loss of some 14,000 units in two-, three- and four-flat buildings. Likewise, housing analysts say middle-income buyers face steep hurdles in finding a home, especially a new construction. A recently completed design challenge hopes to tackle some of these issues, with a concept that's adaptable to different inhabitants and neighborhoods.
Consider the bungalow. The modest but mighty home was for years the backbone of middle-income, single-family housing stock in many Chicago neighborhoods. So organizers of the Disruptive Design competition used it as something of an organizing principle, putting out calls to architects for a "21st century bungalow."
"The cost of new construction is so high that we're not seeing starter homes, we're not seeing affordable single-family homes being built," said Sarah Brune, manager of innovation and public policy at Neighborhood Housing Services of Chicago. "In Chicago we have a unique opportunity. We have thousands of vacant lots owned by the city of Chicago, and it presents an opportunity to create affordable housing and make an incentive for middle-income families, working families, to stay here in the city and not move away, move to the suburbs."
NHS and the other organizers of Disruptive Design reached out to the American Institute of Architects for help and ended up with 130 entries, eventually whittled down by a jury to a single winner: Greg Tamborino's Adaptable House.
"It can accommodate a variety of different uses," said Tamborino, an architect with Perkins and Will. "It might be a single person that lives on one floor and rents the upstairs, or it might be a small family that lives upstairs where there's more room and rents out the lower floor. … (It's) accommodating in terms of being able to house someone that might be wheelchair bound or elderly and aging in place."
The house isn't just meant to work for different kinds of owners; it's also adaptable for neighborhood-level needs. Two vacant city-owned plots are slated as sites for the first two of these designs to become reality. In Humboldt Park, contest organizers say local Ald. Walter Burnett hopes to bring in middle-income residents who will attract new business development. In Ald. Pat Dowell's swath of Bronzeville, organizers say the project will help stabilize an area where housing prices have been spiking dramatically.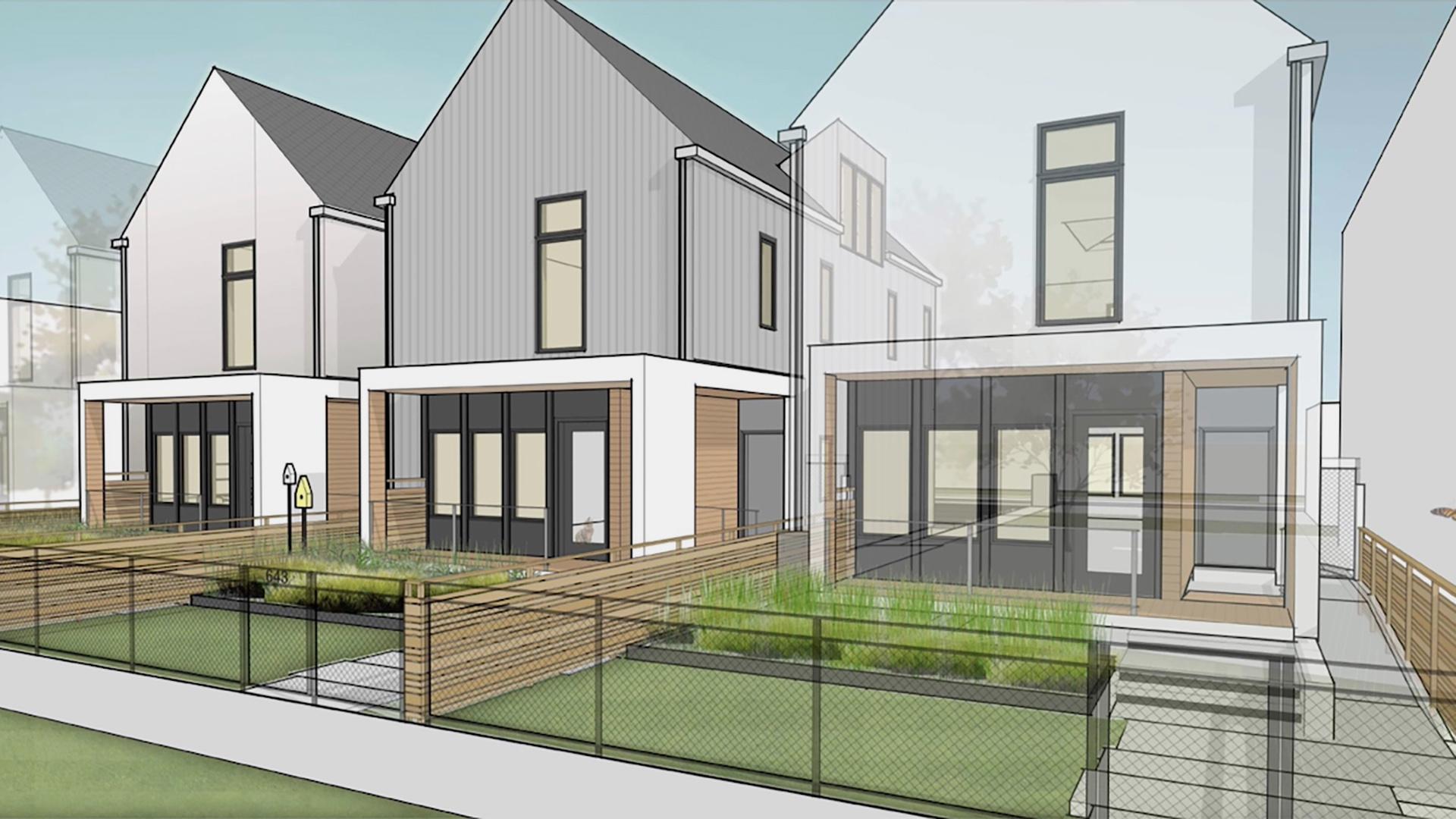 A design by Greg Tamborino, winner of the "Disruptive Design Chicago" competition. (Rendering courtesy Neighborhood Housing Services)
Geoff Smith of DePaul University's Institute for Housing Studies says ideas like the Adaptable House are a valuable strategy to attack part of Chicago's affordable housing crunch.
"I think it's a really exciting and innovative competition that hopefully can be replicated across the city and produce new affordable for-sale housing for middle-income families," Smith said. "But that doesn't solve the challenge of a lot of folks in the neighborhoods earning less than $35,000 a year, less than $25,000 a year, who are struggling to find affordable rental housing. That's a separate challenge and we need to address it with other strategies."
And with more and more higher-income families choosing to live and buy property in the city, Smith says the solution can't only be left up to developers.
"If you just leave it in the hands of developers, you'll just develop expensive housing basically. They want to make money. Unless you give them some incentive, the government providing some incentive to produce affordable housing, they won't," Smith said.
While you might not get jazzed about zoning changes to allow basement units or how to best implement the city's affordable requirements ordinance, Smith says the varied problems in the housing and rental markets require varied solutions, including ideas like the Disruptive Design concept.
"We need to think about repopulating Chicago's South and West sides, and I think this is one way to do it," said Ciere Boatright, vice president of real estate and inclusion at Chicago Neighborhood Initiatives and another of Disruptive Design's leaders. "I'm not saying this is the only way. But when you think about architecture, when you think about design, (this is) doing it in a way that's respectful, that's aesthetically pleasing – in a way that folks can say, 'I'm proud to live here, I'm proud to be a homeowner,' where neighbors are happy to live next to this really cool design – that's what matters."
Architects got feedback from area residents throughout the project. Tamborino says his plan is meant to be sustainable, offer a connection to the outdoors and be affordable – through an efficient floor plan, and hopefully through economy of scale.
"(It's a) highly replicable design, maybe portions of it that could be mass-produced. They're building two starter homes with the idea that you could build hundreds if not thousands of these all over Chicago, or in any place really," Tamborino said.
The major developer Related Midwest has committed to building the first two houses once Disruptive Design's organizers have secured the funding.
"It's one thing to create a beautiful and innovative design, which we have in our winner and we're so excited. But now we're really going through every single cost in our budget and figuring out how we can get this built for the price. There's still work to do, but we're very close," Brune said.
The plan is to break ground within the next year.
---
Related stories:
House Hunting: Design Competition Selects Bungalow for the 21st Century
Homeowners Across Chicago Brace for Higher Property Taxes
New Nonprofit Gives Old Furniture – and People – Second Chances
Is Rent Control the Fix for Affordable Housing in Chicago?
The 2 Chicagos: What a New Poll Says About the City and Its Residents
---